This Black Friday we have an incredible 70% OFF discount on our Grand Gallery Photo Book. Find out how to redeem this discount, why you need this in your studio, and how it will be your greatest business investment.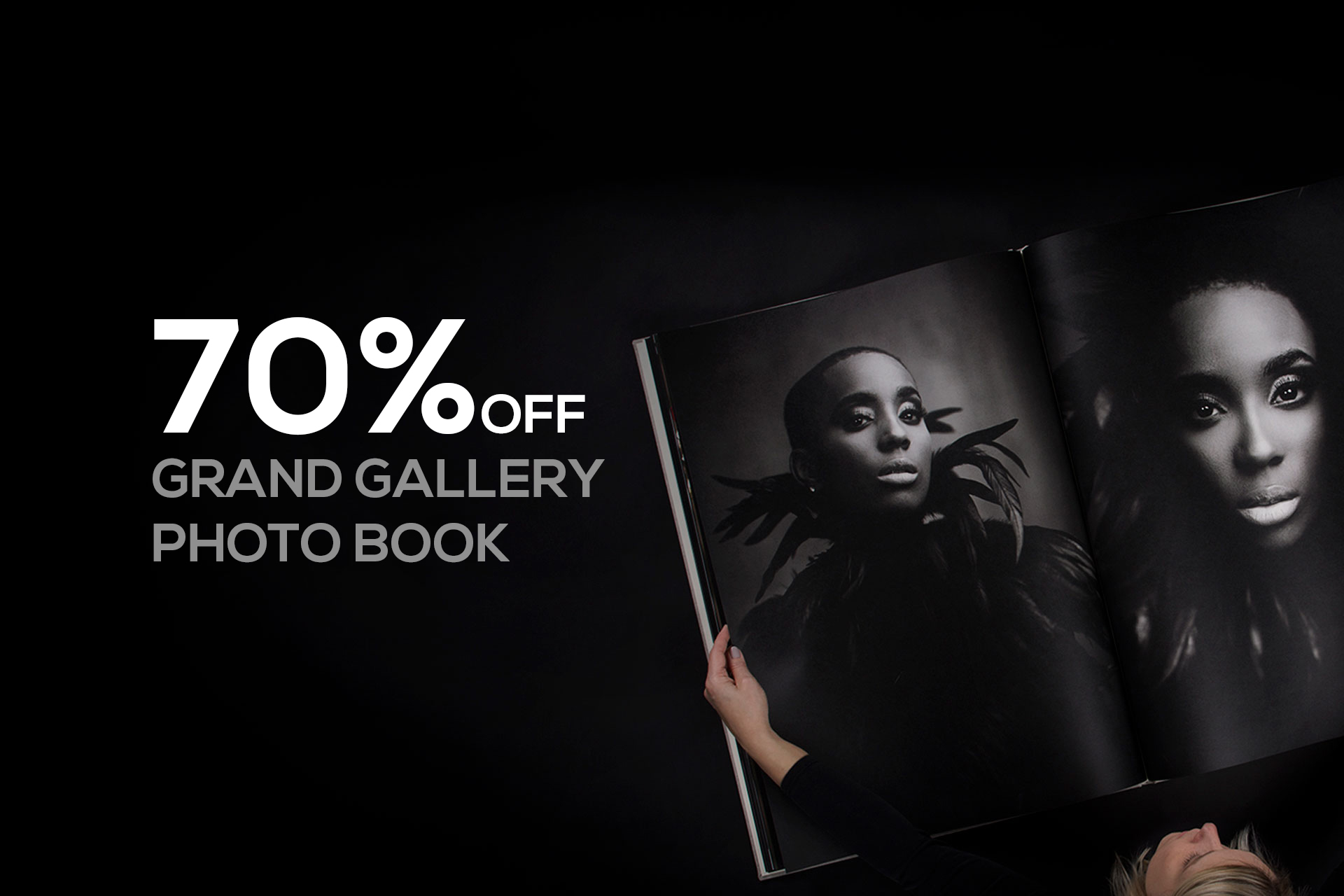 Artwork by Roza Sampolinska
It's time to bring out the big guns.
I hope you have space, because you'll need it; and you'll want it.
Why? What is it? It's our epic 20in x 28in (50cm x 70cm) professional display piece we call our Grand Gallery Photo Book.
This eye-catching photo book is a professional photographer's dream come to true. Not only will it breathe new life into your art, but also serve as a cant-miss showcase that will blow any potential client away.
Get yours today at an unbelievable 70% OFF discount price, but don't hesitate and let you plans of grandeur go up in smoke. Instead, act now as this offer will soon be gone forever.

Why Should I Bother with a Grand Gallery Photo Book?
Can I ask you a question?
Are you the only photographer you know?
What do you do; rather, what can you do to separate yourself from those other professionals you know of?
Let's put it like this...
In real-estate there's an old adage, "it's all about location." I'm sure we've all heard this before. Location. Location. Location. Those are the industry's self-proclaimed most important factors to ensure lucrative success in the field.
Well, in the realm of small business – or any size business for that matter – there is a similar truth. Only, instead of it being all about 'location,' for businesses it's about publicity. In fact, some go so far as to live and die by the words of Phineas T. Barnum, [yes, the circus guy] who infamously declared, "there's no such thing as bad publicity."
Whether or not you go so far as to consider that statement business law, there is no denying the importance of publicity if you're a business owner.
And, it's important to address the elephant in the room (see what I did there ;) ). As a professional photographer, regardless if you have a physical studio space or not, you're a business owner. You represent your work, your name, your brand. Again, all that exists with or without a studio space.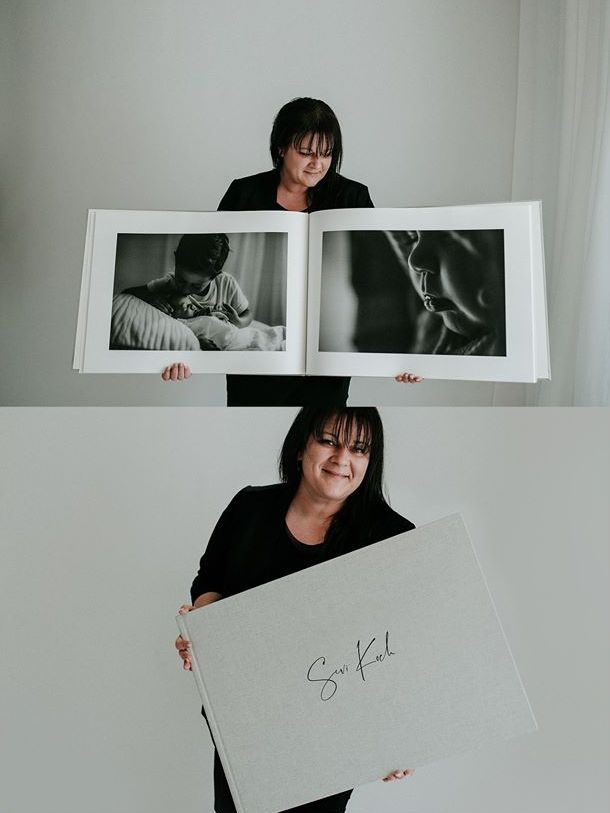 Photo courtesy of Sevi Koch Photography
Bear in mind, 'publicity' is just another term for 'marketing', which in itself is just a fancy term to encapsulate all the ways you can get your name out to the buying public, have yourself get noticed, and your services recognized.
As you can imagine this is essential for any and all businesses. The buying public is the lifeblood of any business – no buying clients, no business. Moreover, the more prying eyes you can attract, the more converted customers you are able to secure. That is why getting your name out is so important; and getting it out in a way that attracts those curious eyes most effectively.
Now, what is more attractive and attention grabbing than your artwork?
Nothing. But, to ensure its success you need to accentuate it as much as possible, and put it in the best position for it to succeed.
So now imagine your artwork printed in a museum-like, artifact-of-a-professional photo book; a medium generally reserved for priceless works of art.
Exactly.
Your work is a work of art. Display it as such and your clients will see it and feel it too. As client's turn through the colossal pages of your incredible portfolio they'll be immersed in an experience so profound that once they finish they'll be itching to get a piece of their own. Yet, even if it's not a larger-than-life printout they receive, any print should do; any print you offer will scratch that itch.
Why?
Because it's not the product they're even after. It's your work. This product just makes your work that much more clear; it makes it more visible to them; it makes it more impressive.
How's that for publicity? Not so bad, huh?
What are the Design Possibilities of the Grand Gallery Photo Book?
Let's take a minute and get to the technical aspect of our Grand Gallery Photo Book.
This behemoth of a beauty is an astounding 50cm×70cm (20in×28in) professional display piece. It is available in either portrait, or landscape orientation (landscape: 70cm×50cm [28in×20in]). Moreover, it comes available in six different textile color options and can be customized with text, or you own custom logo utilizing our UV printing technology; so it will be sure to always perfectly match your brand.

As if its impressive size weren't enough, this book is printed using the HP Indigo 12000 printer with its state-of-the-art 7-dye ElectroInk producing colors, skin tones, and shades that will do your images justice and leave your clients speechless.
Choose among three paper options and select between 60 to 120 pages to finish off the experience.
Tip : We recommend that you use the same image format on both sides of the pages (front and back) as darker images may show through due to the specifics of the papers.
How do I Get my 70% OFF Grand Gallery Photo Book?
To take advantage of our 70% off promo simply sign up for our newsletter and you'll be sent a code to redeem your rebate.
But note: this code will only be valid November 28th through December 2nd, so be sure to act fast not to miss it!
In fact, we wanted to make things easy for you, simply click on the button below and follow the instructions on the landing page.
Why is the Grand Gallery Photo Book my Greatest Investment?
Publicity. We go back to publicity. Simply, there is no better product to show off your skills. The expansive format allows for your artwork to breathe freely, without spacing constraints, and emphasize the perfection to detail your images display. This product is the ideal portfolio that will certainly make you stand-out amongst your peers.
Product review by New Road Photography
After all, of those other professional photographers you know, how many have such a product?
Because that's the real kicker. Truth be told the industry is awash with a sea of professionals, or at least professional wannabes. It's imperative to do all you can to separate yourself from this encroaching wave so it doesn't pull you under and force you to close shop. People want professionals, people want to work with the best; only nowadays it can be hard (and exhausting) to pick them out amongst the crowd. Do all you can to make yourself easily spotted, but in a professional way. The Grand Gallery will do that for you flawlessly.
Furthermore, clients will be thoroughly impressed when they view your work in such a large format and will appreciate the power of print as it's presented in it highest degree. Having the book prominently on display will also prove to prospective clients that you inhibit the right amount of confidence in your work and skill, and, of course, leave them with something – an experience – they won't quickly forget.
A unique experience that showcases the best of your photography skills, set you apart as a trustworthy, respectable professional, and has many walking away singing your name, what could be a better business investment than that?
T&C: Promo code to be used between Nov. 28th - Dec. 2nd, 2019. One product per customer. This offer cannot be combined with any other offers.
We reserve the right to extend production time for the Grand Gallery Photo Book Pro due to the amount of orders during peak season. We apologize for any inconvenience, and will do our best to get your Grand Gallery Books to you as soon as possible.
Fore more go to: