Change from the inside-out.
This year, for Black Friday, we're excited to offer you a valuable upselling tool fresh off a major makeover.
Change can be a good thing.
For us, in regards to our Triplex, it DEFINITELY is.
We've completely revamped our Triplex to help it meet all your needs as a professional photographer.
Now, you're able to upgrade your prints inside to be matted; have the choice among our FULL material range when designing the product itself; and, you can choose among 6 practical, portable size options.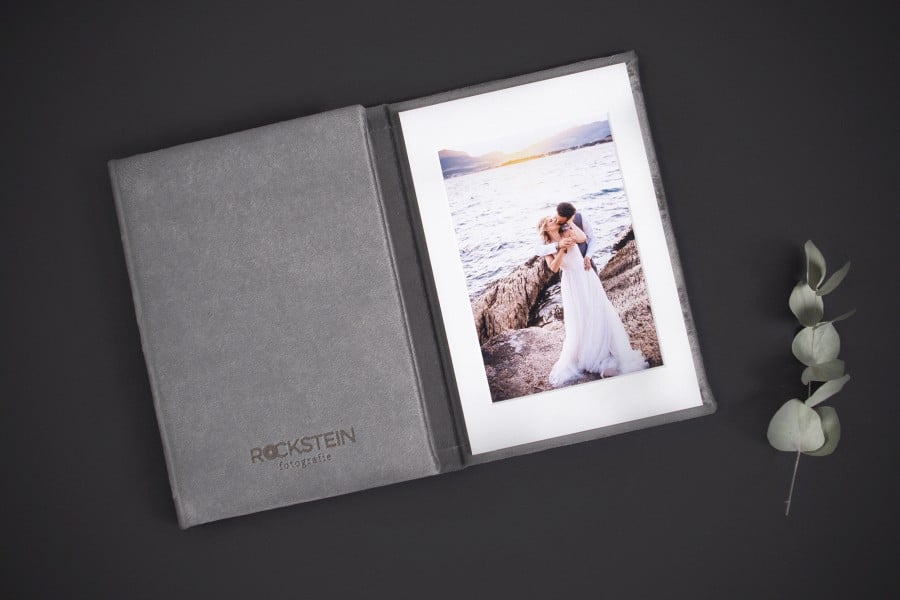 As part of our Black Friday promotion, get a fresh, new Sample for 75% OFF. But don't delay as this offer is valid only for a limited time!
So, act now – click the button below, sign-up on the page, and get a Triplex Sample for 75% OFF. This elegant tri-fold display is the ideal asset to get your photography business well into the black this coming year.
What Even is a Triplex?
Our Triplex is a print product that packs a powerful punch in a convenient, light-weight package.
More concretely, a Triplex is three printed images mounted into a tri-fold display. This center piece product delivers the look, feel, and quality of our high-end Photo Albums, but in an abbreviated form.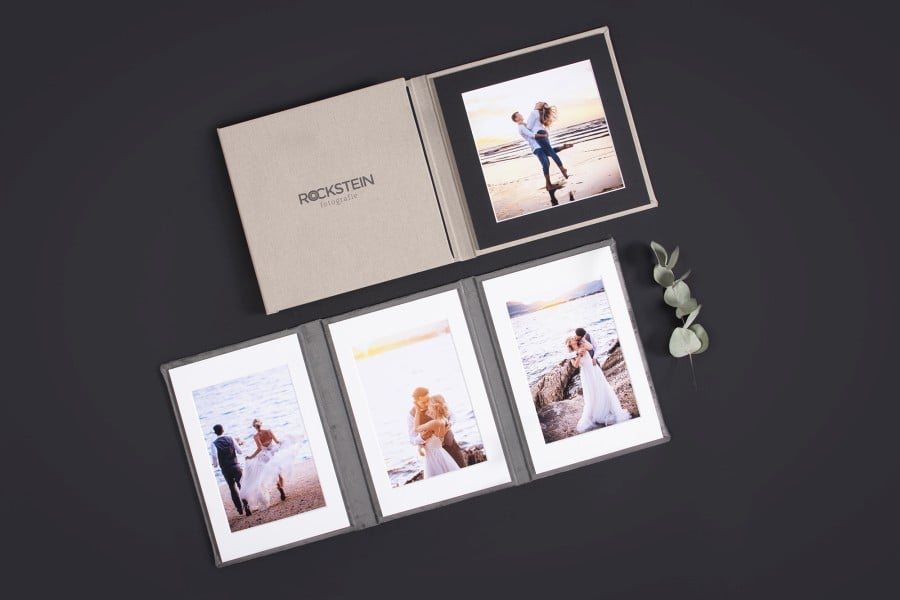 This product is the perfect combination of quality, beauty, and succinctness as you offer your clients a story in three profound images.
Our Triplex is the perfect compliment to any home. Perched upon a bookshelf, fireplace mantel, dresser, or desk it makes the ideal add-on to an album or other large print product purchase as a gift for a friend or relative.
And, now, thanks to it being available in our full material range, it's easy for you to match this product with our other flagship products such as our Complete Album Sets, Photo Books, and Folio Boxes to create irresistible, matching packages for your clientele.
What's New with the Triplex?
Everything.
Well, nearly everything. We've made changes from the inside-out to better suit your needs and the desires of your clientele.
For instance, you can now have the prints on your Triplex be matted to a frame. This method is similar to what we offer with our Folio Box's Matted Prints.
You can choose among 6 color options for the Matted frame and core color:

1) White Frame w/ White Core
2) Black Frame w/ White Core
3) White Frame w/ Black Core
4) Ecru Frame w/ White Core
5) Blue Frame w/ White Core
6) Grey Frame w/ White Core
Additionally, as mentioned earlier, our Triplex is now available in our full range of cover material options. That including eco-leatheretes, textiles, velvets, and suede textiles.
Those familiar with us know that before a Triplex was only available in eco-leatherette; so this is a major upgrade :)
However, rest assured, those who feel in the love with the original form can still very much create that version :)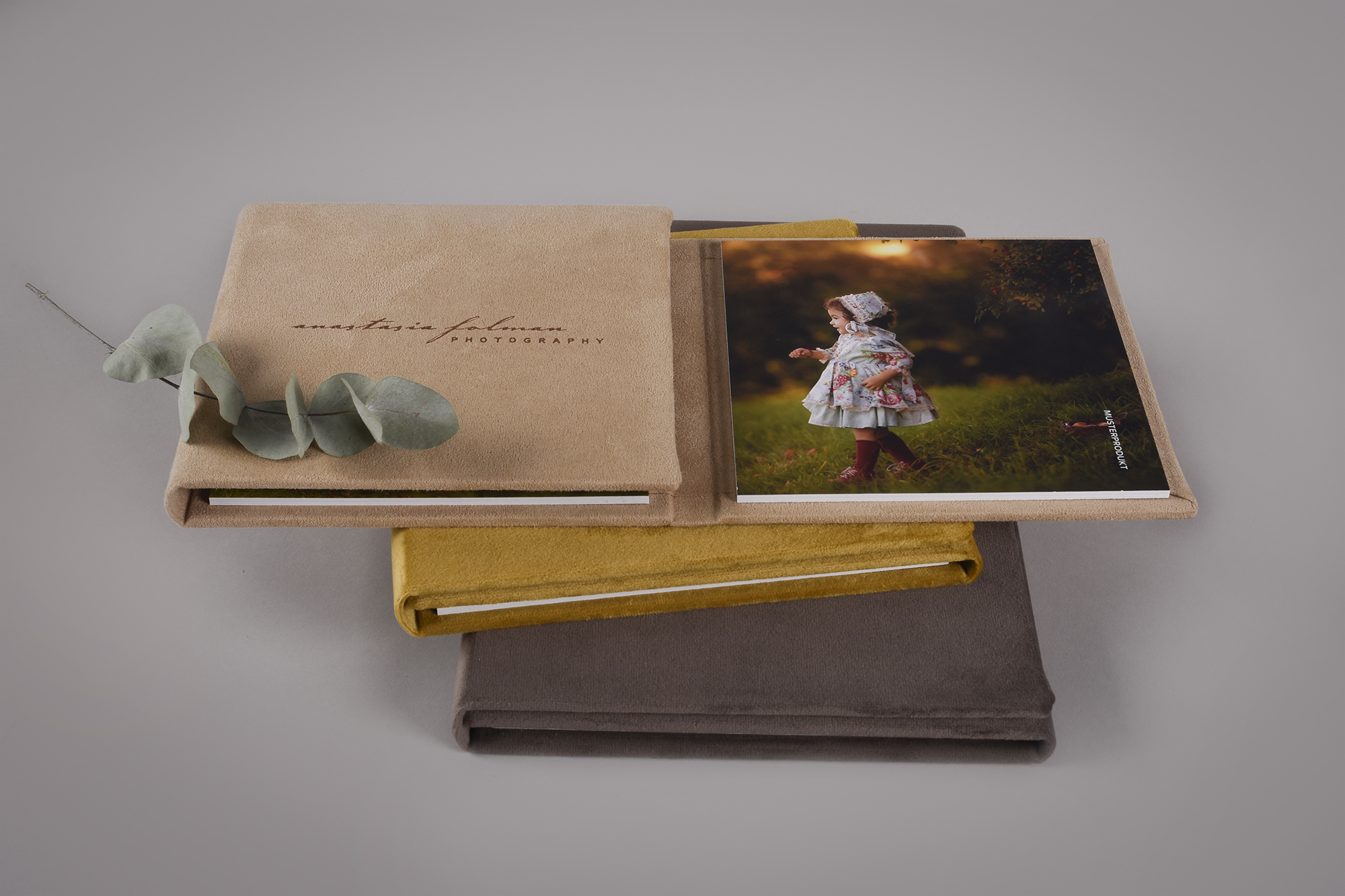 To summarize: now you can choose to have textile, eco-leatherette, velvet, or suede textile adorn the cover of your Triplex and upgrade to have your three prints matted in a choice of 6 frame options!
What Benefits does a Triplex provide me, a Professional Photographer?
Many. Think more sales and more dollars per sale.
But seriously, the Triplex is an excellent upselling product and the quintessential 'gift idea' for this holiday season.
Given its relatively low-cost, size, and weight it's an easy and ideal suggestion for a present for parents, grandparents, and other family members or friends. Unfortunately, now it's not easy for families to all gather for festivities, so offer your clients the next best option with a wonderful, heirloom-quality print product to send out to relatives instead.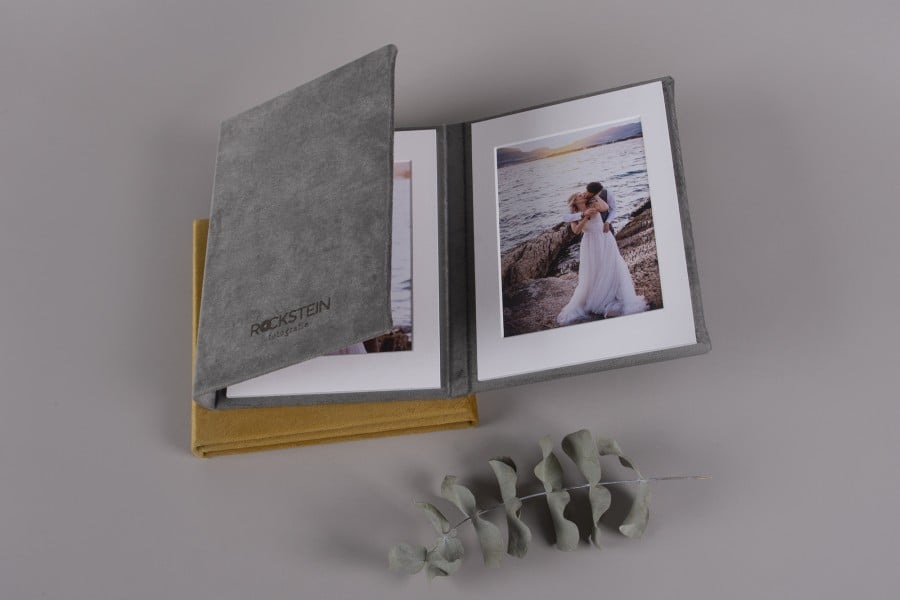 Moreover, your clients may be keen on keeping a tradition this holiday season, or, in general, buying print, but are as concerned as ever about money. The Triplex is a great product to offer that is big on value and experience, but kind on the wallet. You can also suggest to clients who've ordered albums or other major products in the past to get a Triplex to match their previous purchase and create a nice family photography set.
Or, encourage any 'digital' buyers to start their family heirloom photography print set and start small with the Triplex and later add on a matching album and/or Folio Box.
How to do this?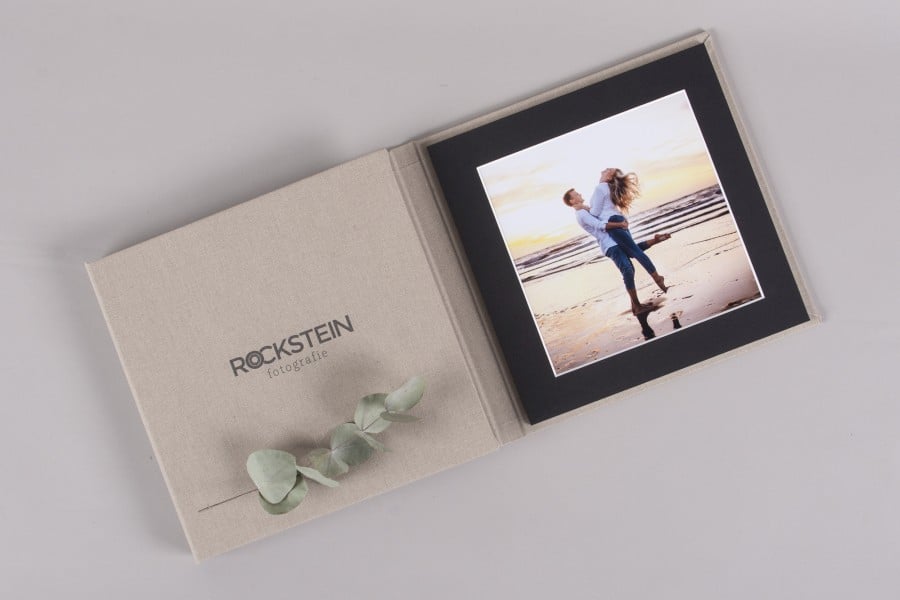 If possible, invite your client(s) for a consultation with your Triplex Sample and propose the idea. Otherwise, send them an offer via email with pictures of your Sample and even a small discount on their potential order, or future order.
As for your new and improved Triplex Sample, simply click the button below to get yours at 75% OFF, but act now as it's a limited-time offer only.
What about this Black Friday Promo?
This promotion entitles you to one Sample Triplex product for 75% OFF. The sample will be labeled "SAMPLE PRODUCT". This promotion is valid for one product per customer.
The offer is valid between 26-30 November 2020. This offer cannot be combined with any other offers. We reserve the right to extend production time for the Triplex due to the number of orders during peak season.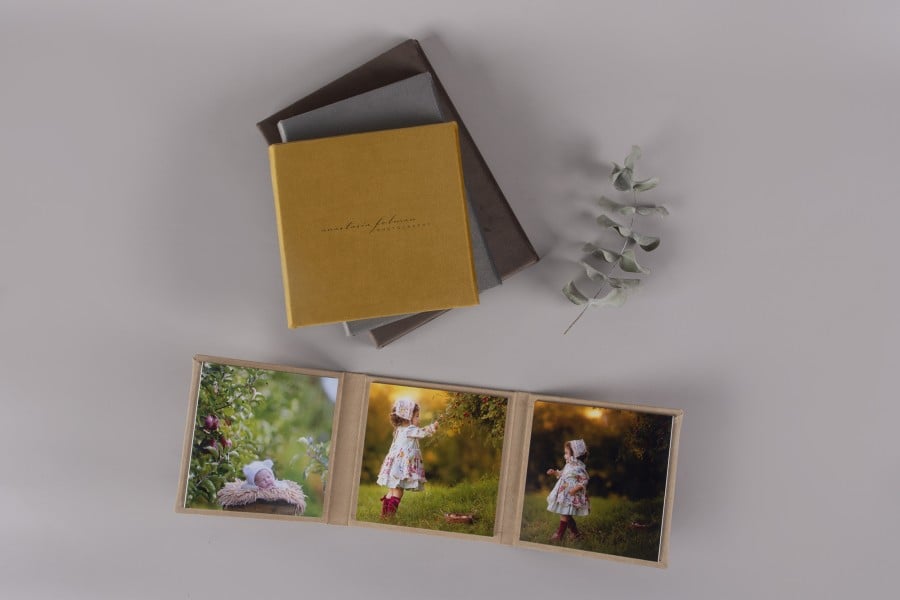 To take advantage of the promotion, simply click the button below and fill out the page accordingly. Your code will then be email to you :)
Remember, to act soon as this offer is only valid for a short time.
Free Professional Photography Education and Business-building Tips
Then, additionally, on top of all the great benefits this promo provides you - a wonderful new product at 75% OFF, you'll also be signed up to free notifications about our blog site.
Our blog site is a platform dedicated to helping you and other professional photographers better your business, make more sales, and better understand our products so you can use them to your best advantage.
By taking advantage of this promo you will become a subscriber to our blog and kept up-to-date on the latest. Don't hesitate to check out the dozens of articles already posted; articles with great tips including:
So sign up today, get a fresh new selling tool Sample at 75% OFF and get in the loop on all the latest tips, tricks, and advice to help your business grow and reach it's potential. Simply click on the button below.
Sign up for blog notifications
& Always be up to date on new posts