We'll walk you through, step-by-step, how to get a product ordered on our website. Fun fact: you design your products outside in.
1. Log in to your accountant. If you don't have an account register with us by clicking "Create New Account" on the right side of the screen.*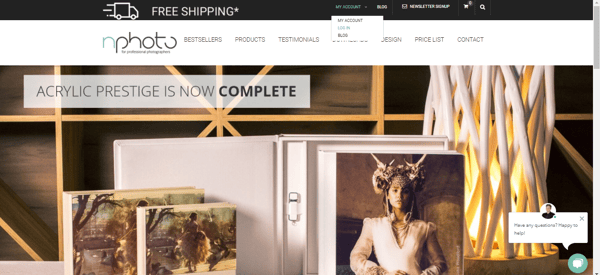 *If you're creating a new account please allow up to 48 hours for your account to be activated. We take pride in reserving our pricing details for dedicated professionals so we will take a minute to make sure your details match-up.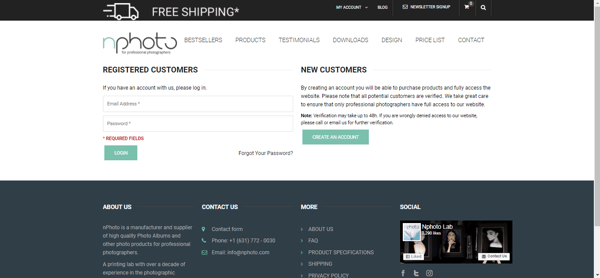 2. Select which product you'd like to produce and purchase from our "PRODUCTS" drop down tab on the top of the home-screen.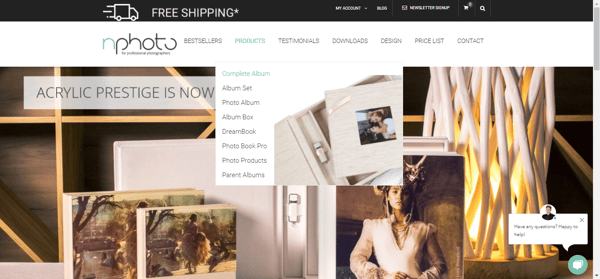 3. Choose which collection you'd like to design and purchase then click the green "START CREATING" button.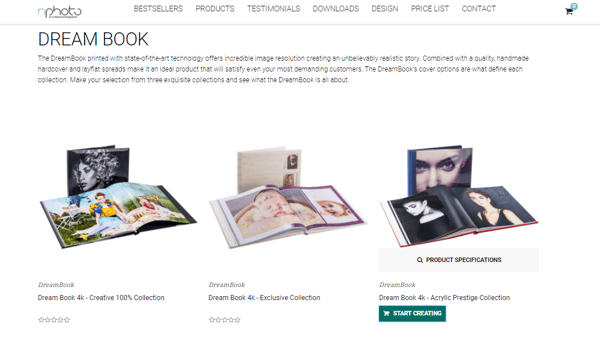 4. You will then be re-directed to a landing page for your product that will give a general overview of what design options you have available for the outside of your product.
To start creating the outside of the product yourself click the green "START CREATING→" button.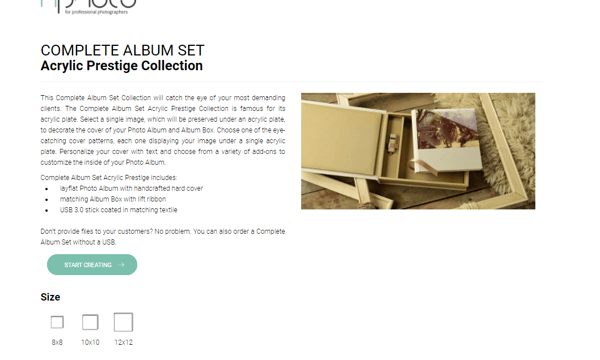 5. Now you have started the "Preliminary Design Steps," or the designing of the outside of the product. You will have three separate steps to create everything but the photographic project inside.
Don't worry that will come later.
Here we're are at the first step and you will decide if you want this product to be a sample, what size you'd like the product to be, the cut-out window pattern (if applicable), which cover material you'd like (textile, leatherette, DUO) and what color, and, if applicable, the USB capacity.
IMPORTANT – if you would like a Sample product: in each product at this first Preliminary Design Step you need to select "YES" at the first question where we ask "ORDER AS A SAMPLE".
When you have finished Step 1 click the green "NEXT" on the bottom of the page to move on to Step 2.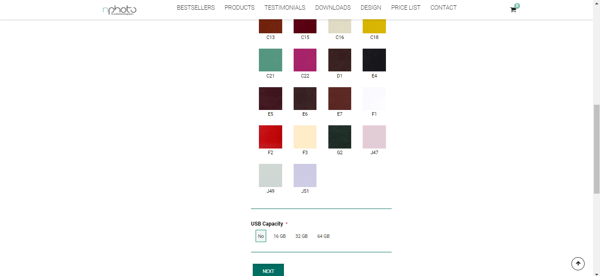 6. At Step 2 of the Preliminary Design stage you decide if you want text on your album and how you'd like it done either with Embossed Text, UV Print, or Laser-Etching.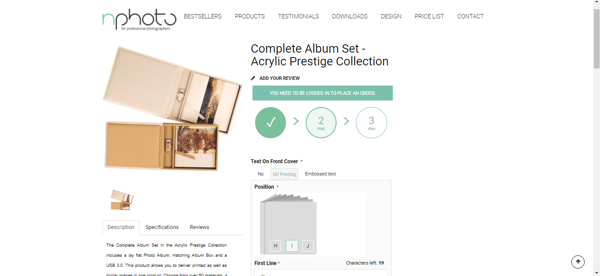 If you choose to have text on your album you'll then be prompted to show at what location on the album you'd like it to be and also to type in the exact text you'd like.
You will also choose which font you'd like to use when applicable. Note there is a 25 character limit per line.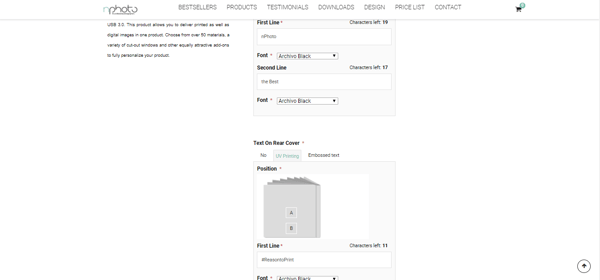 At this point you also choose if you would, or would not like a padded cover.
Once you've selected all the options click "NEXT" on the bottom of the page to go to the third step.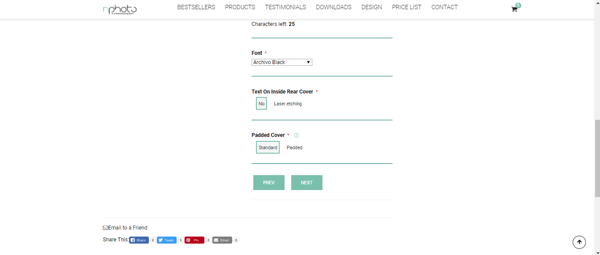 7. At the 3rd Preliminary Design step you decide how many spreads (by page for our Photo book PRO) you'd like in your product, which paper type you'd like in your product, for albums which spreads you'd like as Metallic Spreads – if any – the spacer color, if you'd like rounded corners, the color of your inside covers (both front and back), and if you'd like to use our free color correction service.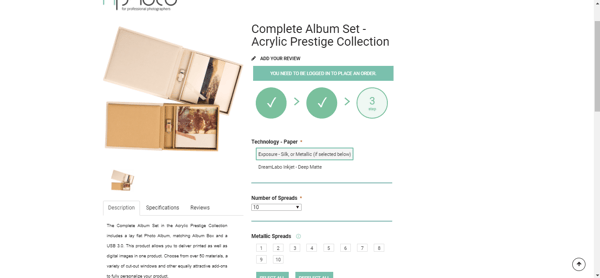 Once finished here click the green "ADD TO CART" button on the bottom of the page.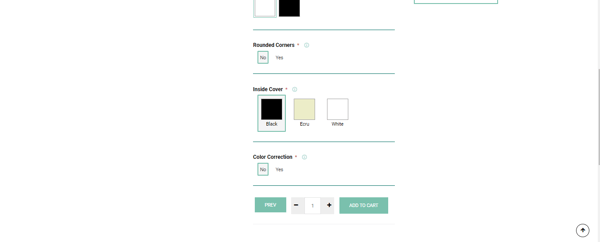 8. Once you've clicked "ADD TO CART" a pop-up will appear asking if you want to go to your cart and create your project or to continue shopping.
To add your photography project to your item click the "GO TO CART AND CREATE PROJECT," button.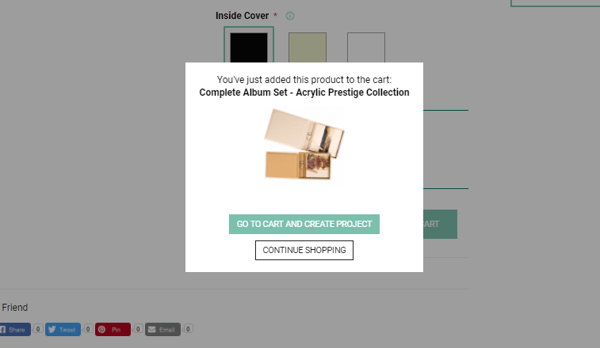 9. While viewing your cart, in the middle of your product is a green "CREATE PROJECT" button. However, you have two ways you can submit your project to us:
- You may use our own online designer software;
- or you may use our uploader and upload your project from a third-party source such as Fundy, Pixellu SmartAlbums, Album Stomp, PhotoShop, or using our own downloadable templates.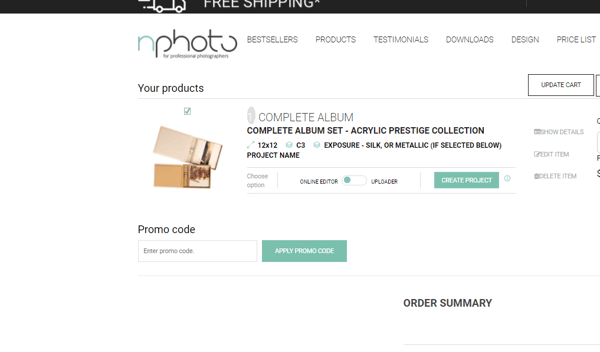 10a. If you chose to use our own Online Designer you'll be asked which part of your product to design and then you will be re-directed to the designer.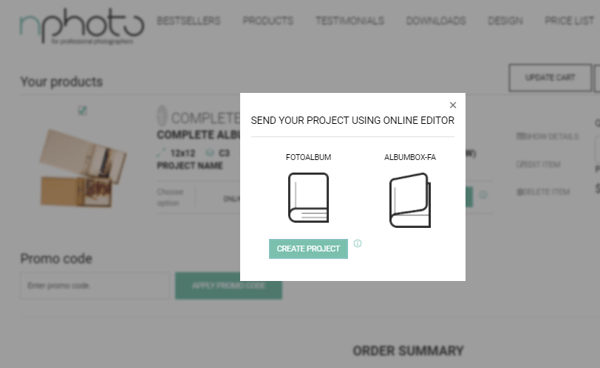 For tips on to how to use the Online Designer I encourage you to contact us or watch this video tutorial courtesy of one of our great clients.
10b. If you choose to use the Uploader simply slide the slide bar to the right toward the "UPLOADER" word.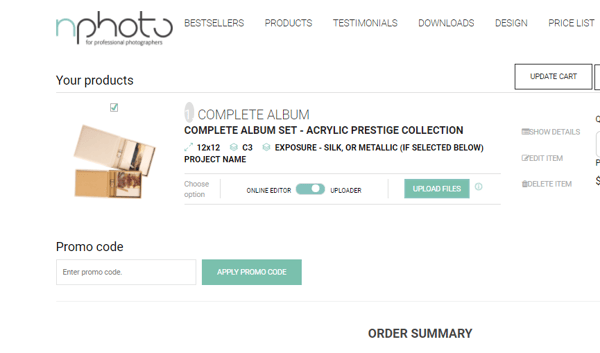 If you chose to use our Uploader you will be asked to upload your project.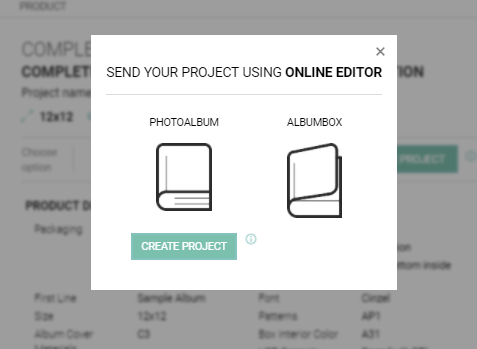 11. After you've finished designing your project save it and double check that everything is as you expect.
12. Viewing your cart double check the pricing details in the lower right corner. If something seems wrong DO NOT purchase, but instead contact us immediately.
Once you place your order it is final.
13. Once satisfied with your product, project, and price simply submit your order and we will be sure to process it as soon as we can.
Extra Tips:
When including your photography project you are able to save and leave the Designer or Uploader screen and have your project saved provided you clicked "Save" before leaving.

If, after you've inserted your photography project you decide you want to change something on the outside of your product simply view your cart and on the right-hand-side of the product bar you will see a small icon with a pencil and notepad "EDIT ITEM". This allows you to edit the outside of your item and will take you back to the 1

st

PRELIMINARY DESIGN step

with your original selections in place

. Fear not, your photography project will remain as is even you re-design the outside of your product.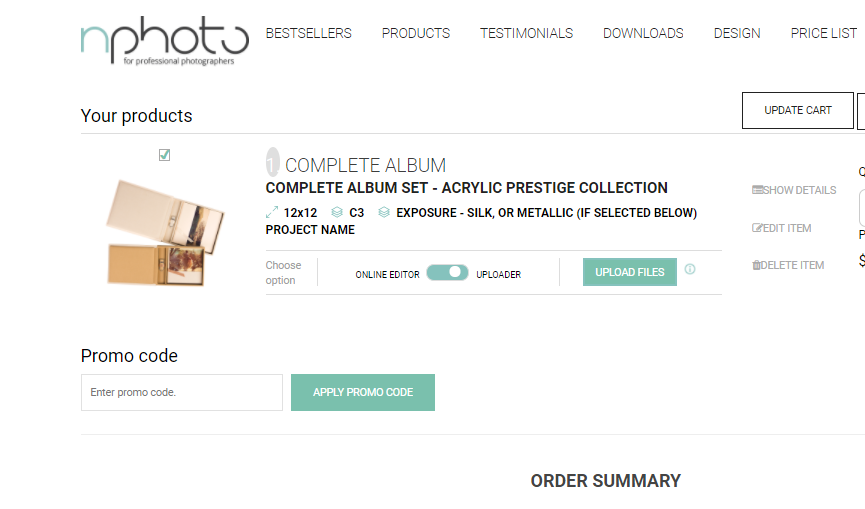 Center screen on the right-hand-side "EDIT ITEM" this will take you to the first design step. Your original design parameters are in place and able to be changed at any step.
If you click on the first icon on the right-hand-side "SHOW DETAILS," a drop-down menu will appear in the cart showing you all the design details and parameters you've chosen for the selected product.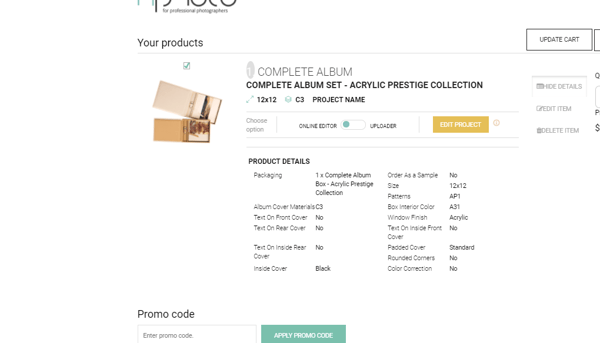 To hide the details of your order simply hit the button again and the drop-text will disappear.
If you have more than one pro

duct

in your cart and would like to save

all the products

but purchase

only

one, or some, but not all the products you are able to go through your cart

and

above the product picture on the left-side of the screen uncheck the check box. This will save the item in your cart but remove it from

the next

purchase.

To re-include it in a purchase simply re-check the box.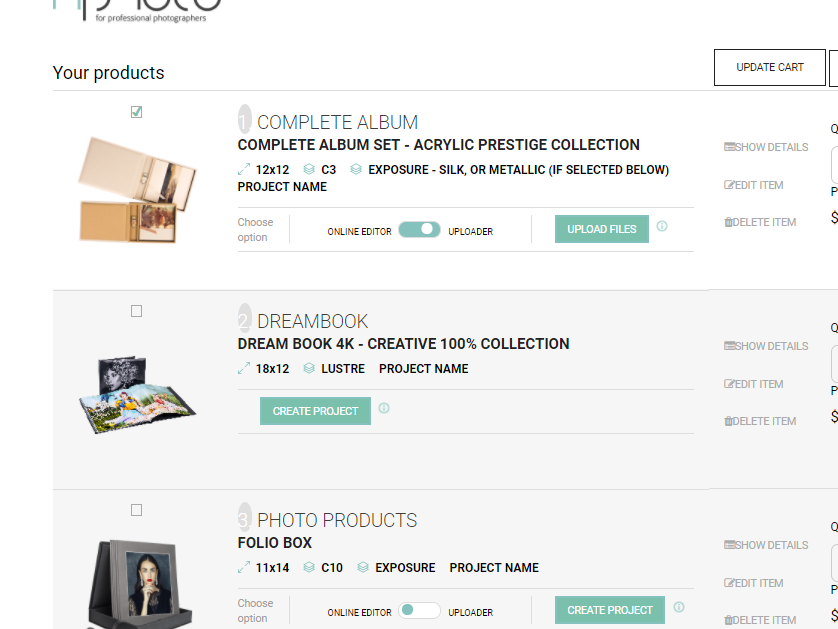 Notice the check boxes on the left above the product picture. Only the Complete Album is checked. In this cart only the Complete Album Set - Acrylic Prestige will be purchased on the next order, but the Dreambook 4K and Folio Box will remain saved in the cart.