We get it; how can I make more money as a professional photographer? What products do I need to earn more as pet photographer? Or, wedding photographer? Or, portrait photographer? What can I do to work smarter and earn more?
These are questions consistently filling your Google search as you're looking for that catalyst to riches. We understand, it only make sense. In fact, it's wise.
A strong drive and determination is half the battle to being successful in business – or any space. As for the other half, and a healthy portion of the answers to those questions, see below as we outline our aggrandizing acrylic wall décor.
What Are Acrylic Prints?
Acrylic prints come in a variety of shapes, sizes, print methods, and quality levels. Generally, there are two methods to produce acrylic prints: direct printing onto an acrylic surface; and face-mounting an acrylic cover onto prints, by which an image is printed onto photographic paper and then has an acrylic face mounted to it's surface.
In actuality, face-mounted acrylic prints are higher quality and more impressive than their direct printed counter parts.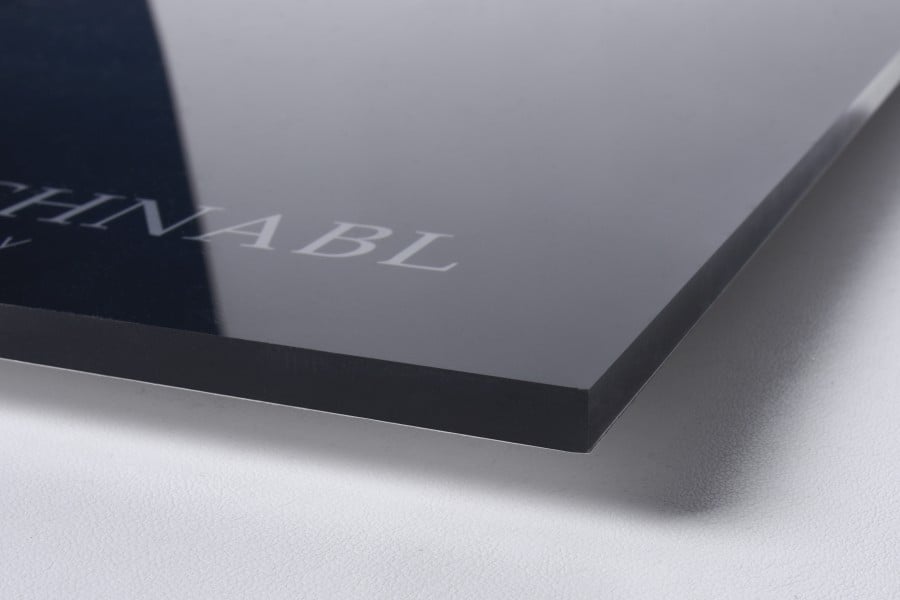 True, they may be slightly more expensive due to their more arduous production process, but the extra cost is more than worth it.
This is due to the fact that face-mounted prints are able to have the image replicated on specialized photographic paper, a medium more suitable and sustainable for photographic prints. The result is an acrylic print with more color vibrancy, pop, and a longer colorlife and permanence (less likely to fade over time) compared to those created via other methods.
As such, at nPhoto, we are proud to offer you a selection of acrylic print options that are exclusively face-mounted and sure to give your photographic work the best possible finish and visual results.
Specifically, our Acrylic Print options in our Wall Decor selection are printed on professional-grade photo paper with a smooth, matte finish. The prints are then mounted onto a 1/4'' inch acrylic face that has been finished to perfection using a state-of-the-art diamond-end mill. The end result is a breathtakingly reflective and popping display piece.
You can see more of our Acrylic options, and a get a Sample for yourself, here:
What the Acrylic Print Options at nPhoto?
To get a little more specific, at nPhoto we offer you two fantastic acrylic print product options. Those are our standard Acrylic Prints, and our sleek Stacked Acrylic Prints. Just for the record:
Acrylic Prints are arguably the hottest photography product on the market at the moment.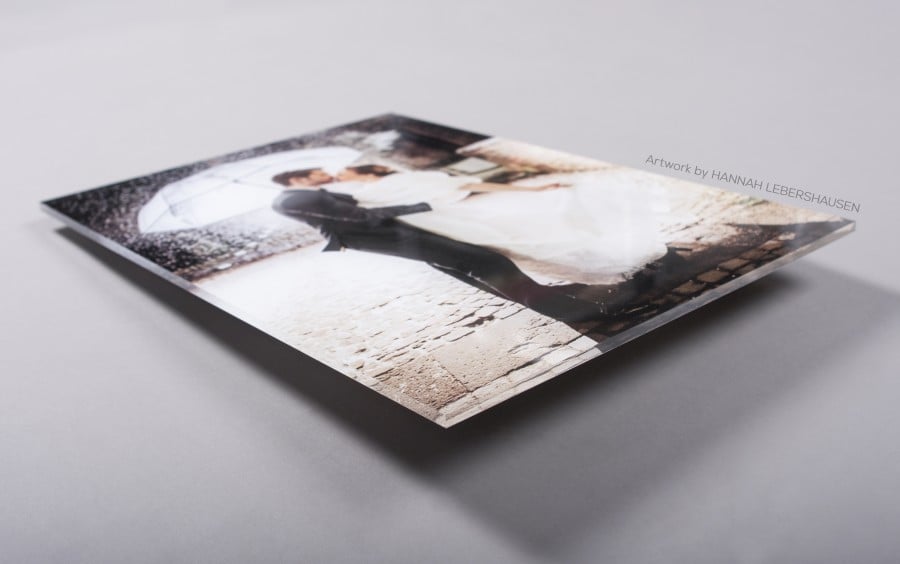 Ours are your standard acrylic print wall-art products. No extras, here, but they do more than enough to impress on their own They boast a 1/4" inch (6mm) acrylic plate face-mounted to an image printed with the latest pigment inks and inkjet technology, and come ready to be hung. (NOTE: they do NOT include screws or nails)
Stacked Acrylic Prints, however, are similar to our Stacked Dibond Metal Prints. That is to say these take one of our Acrylic Prints and stack it onto an over-sized, finegrain MDF wood board to provide a wonderful layered, framed, and floating effect.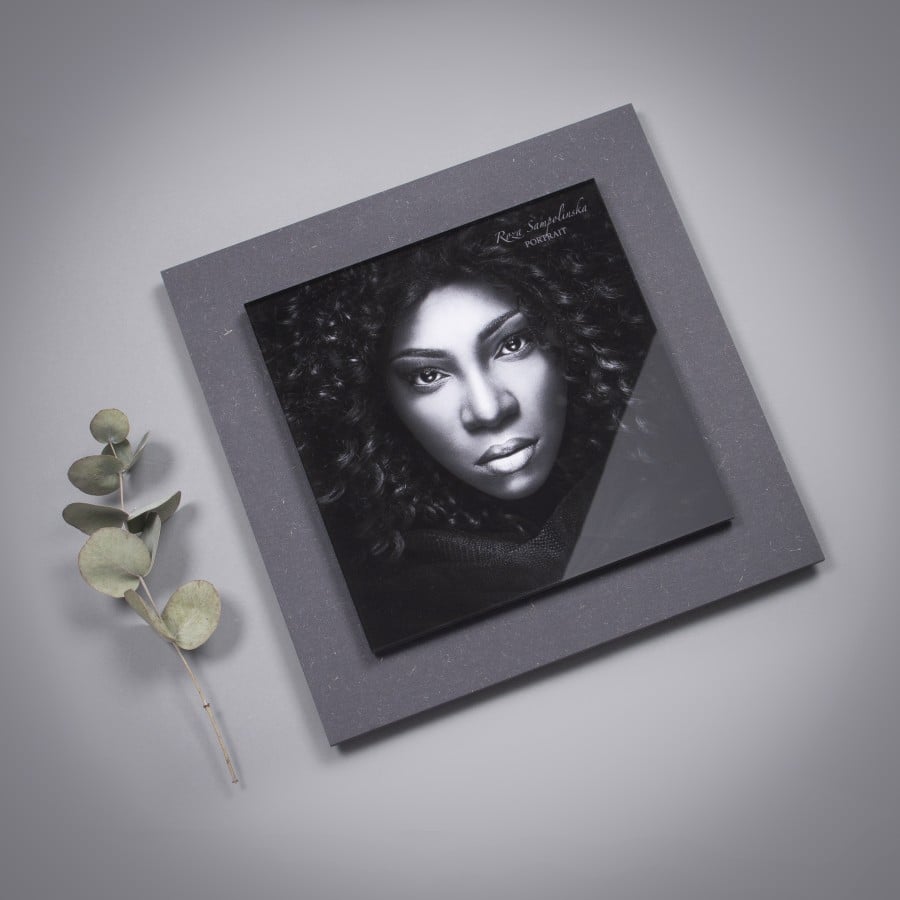 This product also has an upgrade option available where you can have the MDF board of the stacked plate be finished with a white passepartout finish.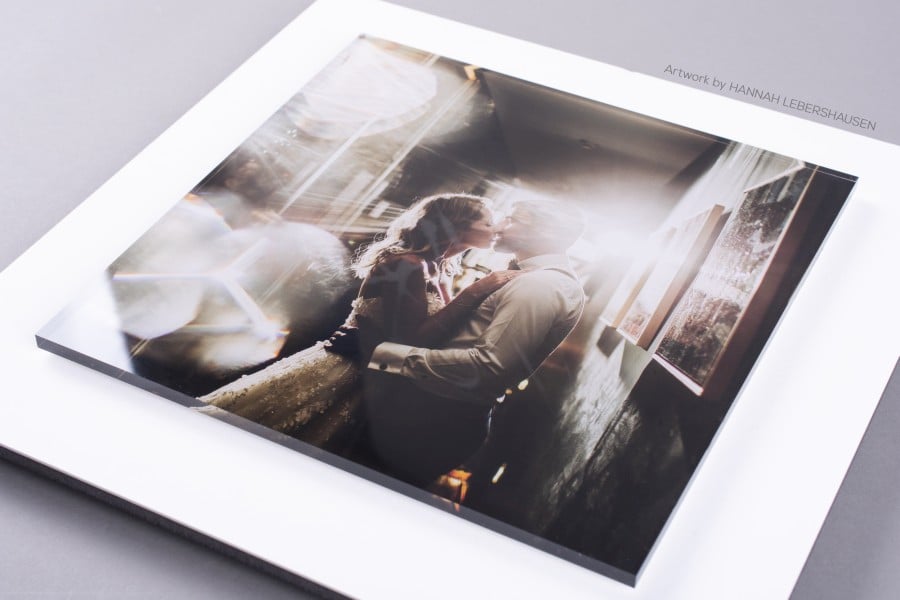 Why Offer Acrylic Print Wall Decor Products?
At this point we've discussed what acrylic prints are and a bit of what exactly we have to offer you, but the big question still remains unanswered; why even offer acrylic wall-art products in your professional photography studio?
It's an excellent question and one that can be answered by considering three primary factors:
Incredible Appearance & Visual Effect
Let's just follow through with this truth and knock it undoubtedly out of the park; acrylic prints are stunning visual displays.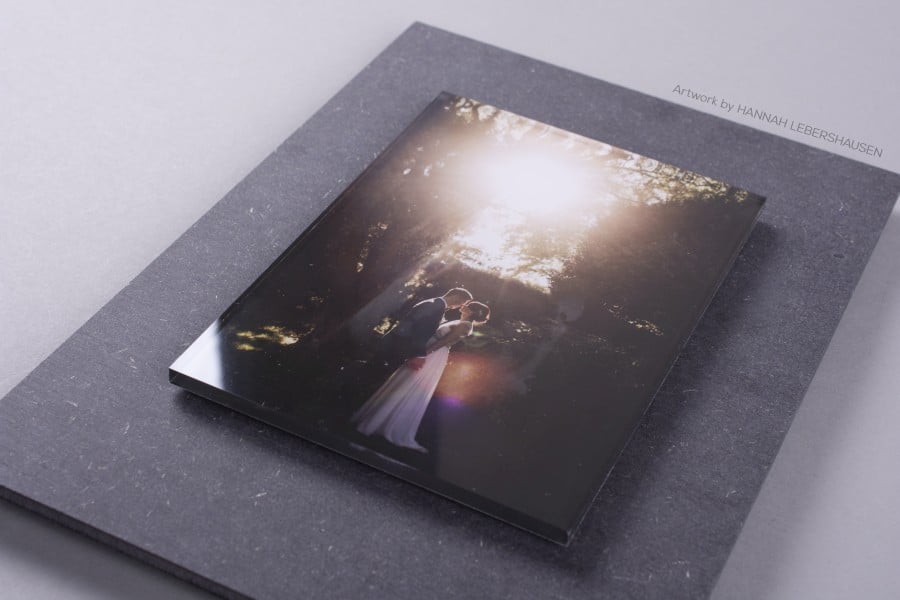 The reality is photos set beneath acrylic are inherently awarded an unmatched sharpness, vibrancy, and magnificence thanks to their acrylic cover.
In fact, it's light refracting within the acrylic that gives the material, and its products, its attractive 3D effect and color enhancing display.
Moreover, pigment ink applied via inkjet technology provides images with unrivaled color accuracy and permanence compared to other face-mount acrylic options, such as C prints, or dye inks.
Fortunately for you, our professional photographer audience, our Acrylic Prints Wall Decor range all utilize the latest, professional-grade inkjet technology and pigments inks.
Then, of course, the thickness and cut of the acrylic being used makes all the difference to the end result.
Generally, the thicker the acrylic front the more enhanced the effect it will have. Typically, these products are offered in 1/8" inch (3mm), or 1/4" inch (6mm) variations, while our acrylic prints all feature 1/4" inch thick acrylic plates cut with state-of-the-art diamond-end mills providing clean edges and a brilliant, near 3-D effect.
A 1/4'' inch acrylic face is considered to be typical gallery thickness, so you are sure to get high-end and the utmost professional products with our Acrylic Wall Decor range.
Durable
Not only are acrylic products some of the most beautiful professional options on the market, but they are also some of the most durable as well.
Remember we mentioned our acrylic wall décor has 1/4'' inch thick acrylic plate covers?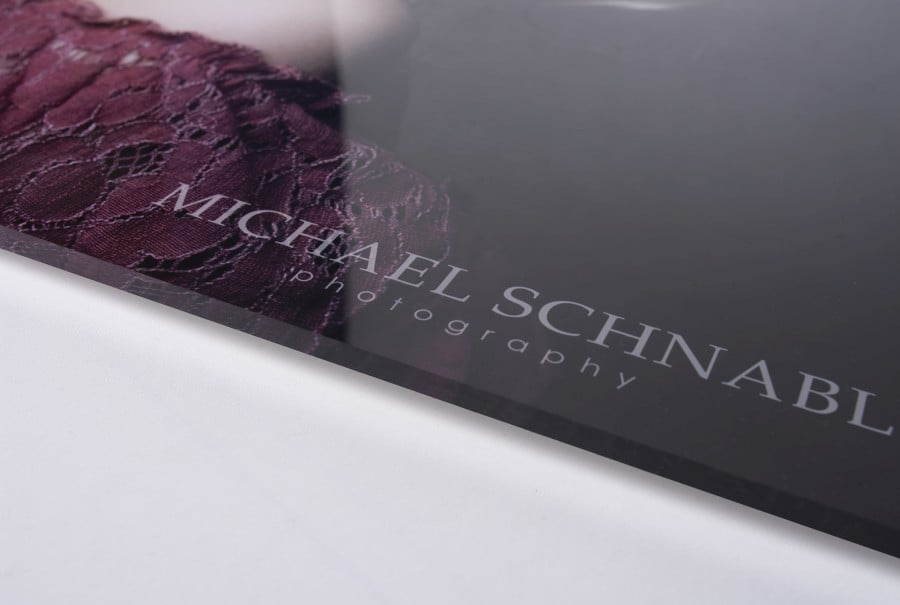 Well, that plate is more than just a visual enhancer, it also serves to provide excellent protection to your image. In fact, as acrylic is a member of the Plexiglas family, you can know you're getting a resistant, lightweight, shatter-proof material.
While we have specific product care and maintenance instructions included in every one of our wall décor purchases, as well as available online, that stipulate the same conventional care as with all other high-quality, professional products, rest easy knowing that by nature, acrylic is a just a bit more resistant than typical mediums.
This can be said especially for our products as they are all handcrafted, on-site by skilled professionals. In addition, as mentioned earlier, the images are printed using the highest quality pigment inks which provide you with photos that are more resistant to fading over time, have a higher smudge-resistance, and an enhanced overall durability compared to inkjet dyes.
As always, our products at nPhoto are sure to last you generations – especially our acrylic options in our Wall Decor range.
Professional, Quality Product
While we want to be more concise and say acrylic products are unique, we understand that might cause a mad uproar as they actually seem to be popping up everywhere. So we decided to be a bit more specific.
Yet, the key question to address they are popping up everywhere is; but made by whom?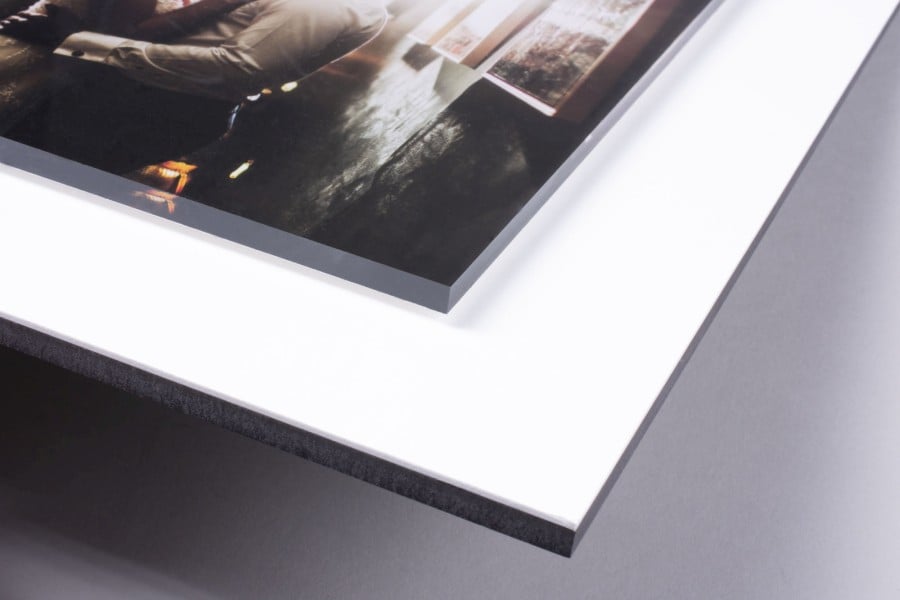 The reality is while the acrylic print product market, in its general sense, may now be as over-saturated as the noon summer air in Miami, professional, high-quality acrylic prints – read those done right; that will last generations – are still rare to come by on the photography product scene.
That is to say, if you get the right acrylic products you will still stand out, and, better yet, you will quickly become sought after.
Luckily, we understand this as well and have decided to add to that niche of high-quality professional acrylic wall products.
Just as a reminder, for good measure, our acrylics use the thicker 1/4" inch variations of acrylic plates that are in turn used in galleries and high-end, sophisticated viewing environments. These plates are finished using top-of-the-line diamond-end mills to give perfect cuts and dimensions. Finally the images are printed using pigment inks, which are actually a more durable, fortified variant to the more common dye inks. These are then are all handcrafted to their final glory.
These products truly are as professional and quality as they could possibly be. Such products will undoubtedly have you stand out amongst the competition. After all, once that bedazzling glare from the acrylic plate catches the eye of passers-by, they won't be able to resist. Suddenly, your studio will be full of interested clients.
Acrylic Wall Decor is designed to be showcased. Get a big, bold sample for yourself and put it front-and-center in your studio display case; then watch the magic happen.
Such products, when done right, are known to be perceived as more professional and sophisticated. With first impressions being everything in a visual medium, and a visual world, don't overlook these products that are sure to impress.
Just how much….?
Go ahead and see for yourself:
Sign up for blog notifications
& Always be up to date on new posts