Accordion Mini Books are the world's best Christmas stocking stuffers.
The Secret Behind the Christmas Feeling
For many worldwide, Christmas is the time for family reunions, snow, cookies, and gifts.
For kids, one of the most miraculous parts of Christmas is learning about Santa. They understand that Santa brings gifts to all the world's children in one night. Somehow, he knows every little detail.
He knows precisely what you want; if you don't, you'll be surprised at his ability to get the right gift.
Like most kids, you probably worried about not deserving a gift that year.
The most amazing part was that he managed to carry all those toys in only one magical gift bag. He brought enough presents for everybody, and they fit on his sled.
As kids, knowing that everyone got a toy made it even better. This made the holidays special because it felt like everyone would have a special Christmas morning.
The secret behind the "Christmas feeling" is the nostalgia that comes from all those good memories.
Even for the people that don't celebrate Christmas, there are holidays this time of year that bring back good and meaningful memories.
Giving is an act that also creates nostalgia and joy associated with Christmas and the holidays.
Nothing is better than knowing you've helped people have a good Christmas day. By giving, we enjoy the true meaning of the holidays.
Getting the Perfect Gift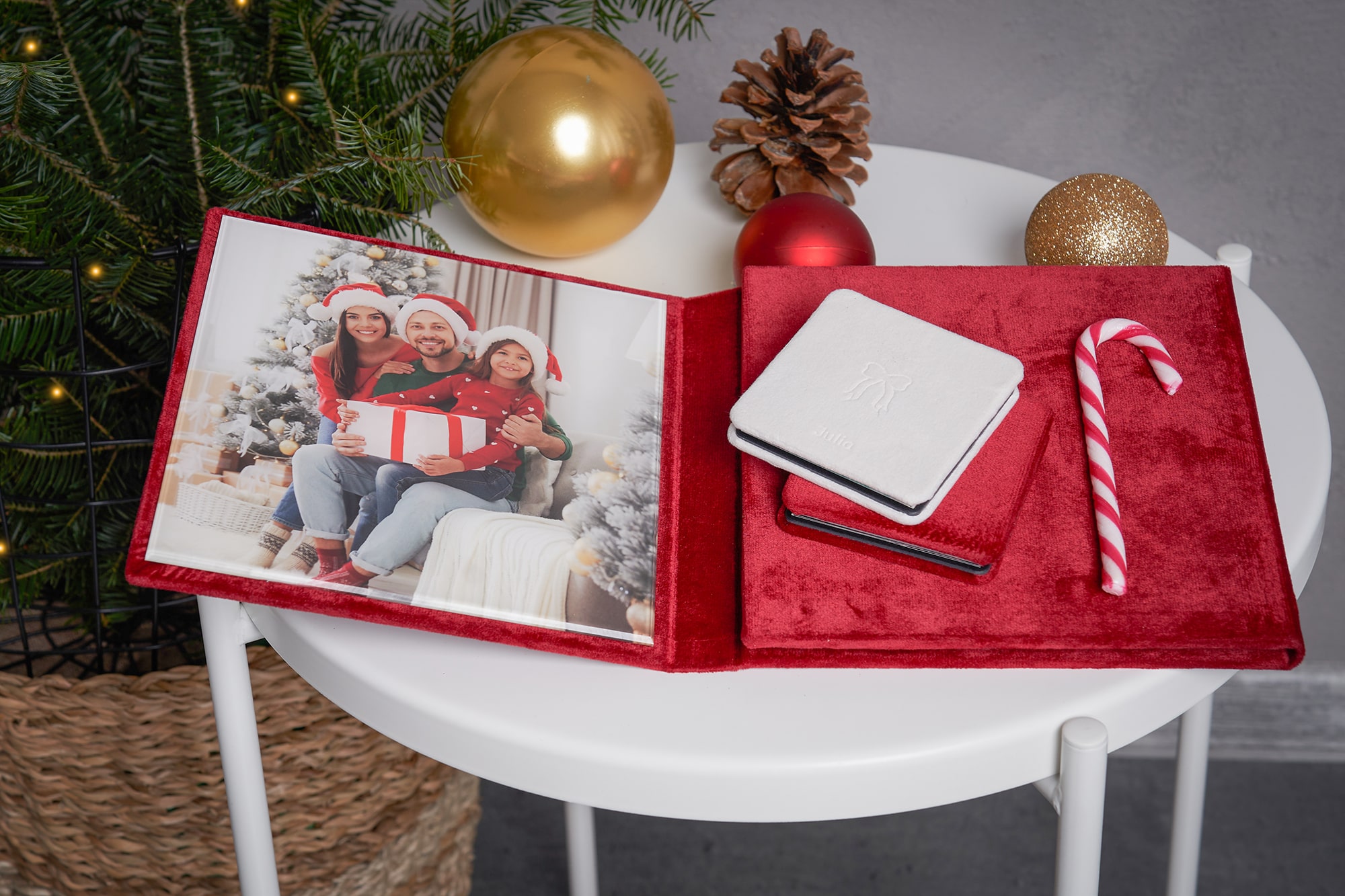 So, how do you get the perfect gift?
The best gifts and products, in general, are the ones that last a long time. Even better are the gifts that grow in sentimental value over the years.
Whether you celebrate Christmas or other holidays, you can appreciate the sense and wonder of giving this winter season.
The Accordion Mini Book symbolizes the same sense of surprise and wonders that wrapped gifts brought you as a kid. This gift means a lot because the photography adds priceless value to the product.
Imagine their emotions when they open a small, hand-sized product, and all their favorite pictures pop out in a neat, accordion-style presentation.
Moreover, you can offer your clients nine different suede and velvet cover options. These plush and fuzzy albums look and feel more like fun presents than your typical photo album.
You can also offer them in decorative packages with three different color options.
We know it's about the emotions around the gift that matter most, and we put our best ideas into creating the best options and quality for these moments.
That's why Accordion Mini Books will be a favorite choice for your clients this upcoming holiday season.
The photographer's favorite gift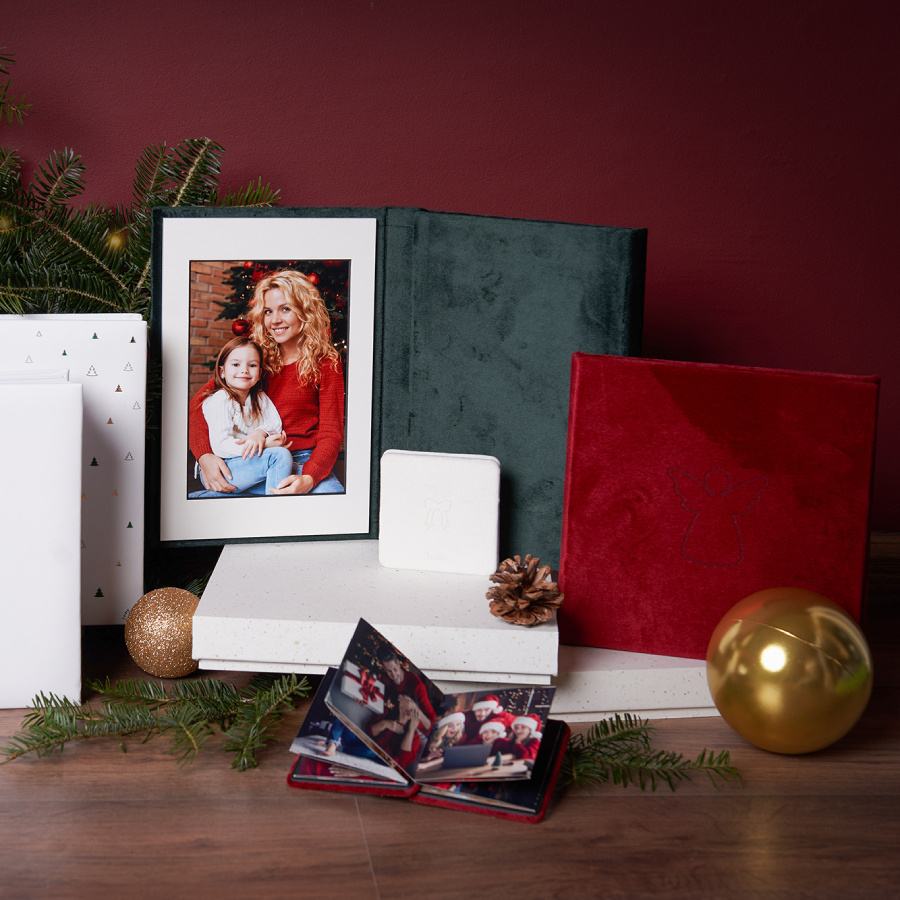 People come to you, the professional photographer, for pictures, and one thing you need to provide is a sample of your work. Clients want proof of your work; nothing is better than having a portable item you can grab anytime.
Imagine you're going to meet with clients. You're on your way over and want to bring a physical copy of your photography. Maybe you want to show the quality print products that you can provide.
Accordion Mini Books give you a smart way to bring high-quality samples that fit in any pocket. There's no need for a magic bag like Santa's.
You can keep it in your camera bag and not worry about having a perfect sample to show clients or potential clients.
Accordion mini books come with a magnetic seal within the hardcover to protect your pictures and their quality.
We love the accordion book not only for its small size and unique design but also for its ability to match any photography style.
Use it for wedding, maternity, and newborn photography, and the mini book is even great for mini sessions. You can use these as business cards, holiday cards, and whatever else you can imagine.
So this season, try something Christmassy.
This Christmas, provide your clients with the world's best Christmas stocking stuffers

.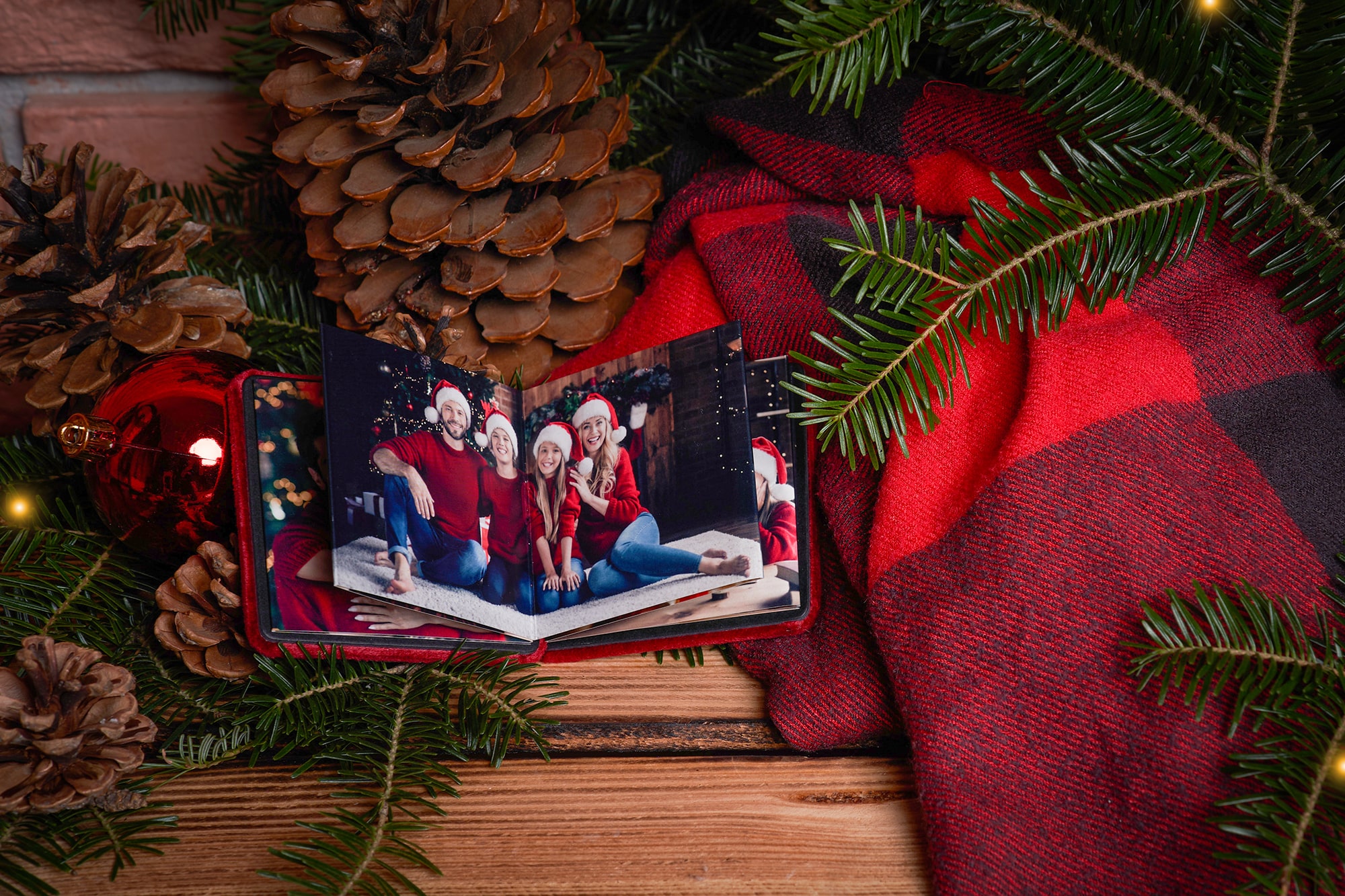 You not only reap the benefits of a small and portable photo album for samples, but your clients can order these cost-effective and quality products for their loved ones.
This is a perfect option that beats any other Christmas stocking idea.
Accordion mini books are mini albums for friends, family, and coworkers. It shares the Christmas spirit and sense of wonder in a modest but tasteful present.
You can include 12 to 18 pages and six to 18 photos in your designs. The paper options are Felix Schoeller 290g/m2 or the fine art Mohawk Eggshell 216g/m2, both durable and high-quality choices.
They come with 7x7 cm / 2.7x2.7" panels, which makes them a super small piece of quality artwork. The hardcover fronts are 7,5x7,5 cm / 3x3". The 3"x3" accordion mini book is the tiniest photo album you'll ever find.
Another reason these photo albums are great is that you can get creative with your ideas. They're double-sided, and you can base your photography as a theme for the entire book.
You can laser etch the cover with your design or choose from 25 different pre-made cover designs. Plus, you still have the option of personalizing the text.
Don't forget to include this in your Christmas and holiday gift guides. These print products are sure to sell.
To spread the holiday magic around, we've built a list of free items for you this season. Plus, we've got a great discount on Accordion Mini Books so that you can enjoy the Christmas season even more.
Santa's gift bag might carry all the toys in the world, but I'm sure he will be ordering from us this year.
Merry Christmas and Happy Holidays!
Sign up for blog notifications
& Always be up to date on new posts