The holiday season is fast approaching, and clients everywhere are thinking of how to display their family photos while professional photographers ponder how to best satisfy their clientele.
Well, our professional photographer friends, look no further than our Framed Prints at nPhoto; we'll even help breakdown why these are the ideal products to have in studio as we discuss five reasons why Framed Prints are the way to go.
If you're interested, read exact Framed Print specifications below - you may have a chance of finding a sample deal as well!
Which gets us back to where we were - 5 reasons why you can't afford to not have Framed Prints in your professional photography studio offer.
1. Framed Prints are Professional Photography Standard
Do you have clients wondering how to get the most of out of their priceless professional family photos? Do you have clients with wall space in their home they don't quite know how to fill?
Framed Prints are the answer. A practical product that satisfies a variety of client needs Framed Prints give your customers a way to have their professional photos constantly on display as well as adding an attractive and personal decorative piece to the walls of their home. Help your clients improve their living space by offering Framed Pints.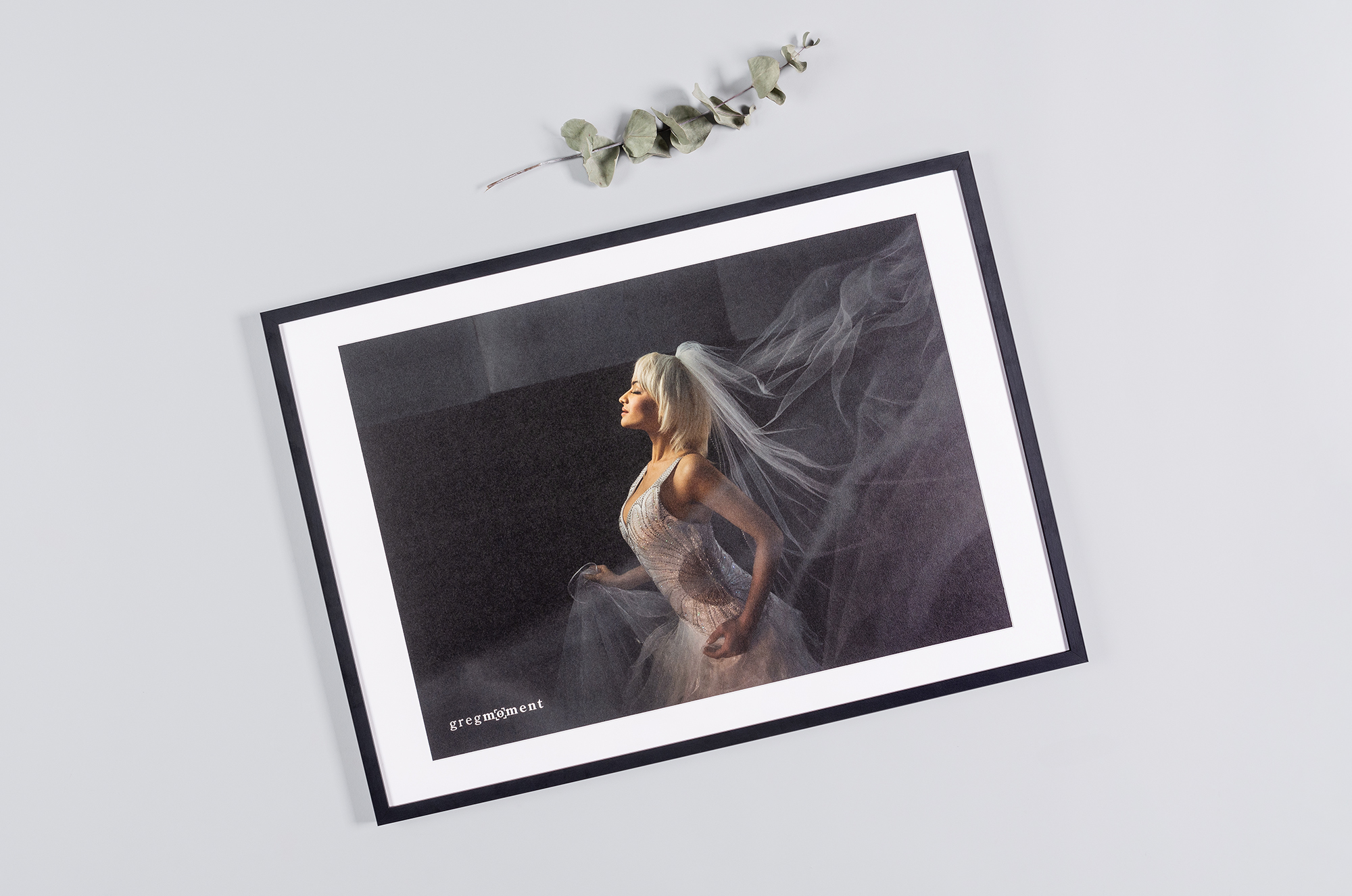 After all, as renowned maternity and newborn photographer Ana Brandt of Ana Brandt Photography reminds us, "…hanging pictures on a wall, it's what makes a house a home."
Moreover, the Framed Print is a classic photo product that is both traditional and yet versatile with its style. The product is recognized by any type of client and has a subtle style that can match any décor. While all photo products have their purpose, with Framed Prints you won't have to worry about to trying to convince potential buyers the benefit of the latest style trend or matching a specific product's design to a specific home décor.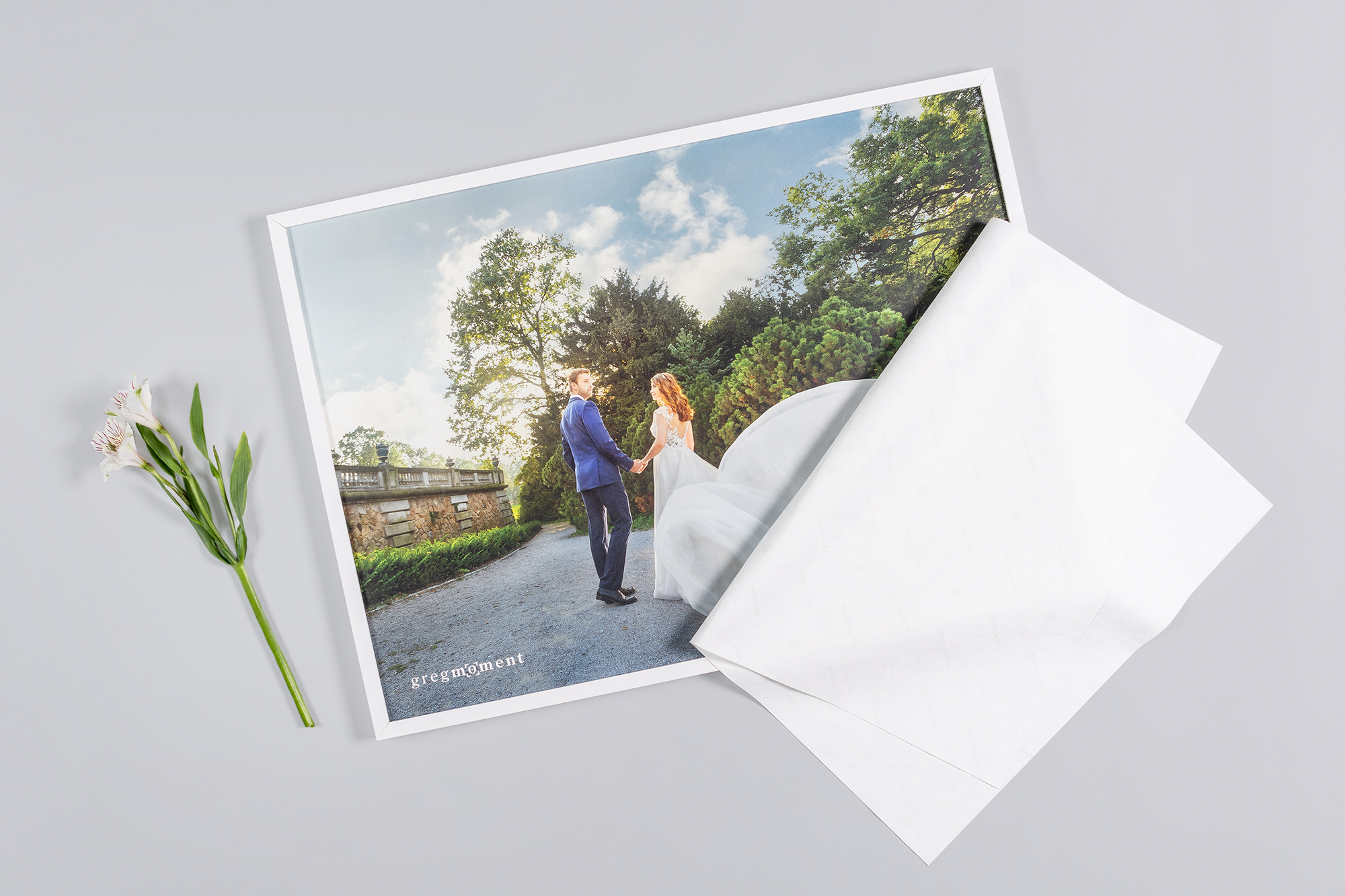 A quintessential professional photo product that has stood the test of time, Framed Prints always have a place.
2. Professional Quality and Variety that Impresses
All photo products and prints from nPhoto are of the highest professional quality and standard. Our Framed Prints are no exception. Crafted on-site with European quality our Framed Prints use light-weight, eco-friendly; stylish frames of natural materials available in three color choices: black, white, and oak; and are available in 16 size options ranging from 8x8" (20 x 20cm) to 20x28" (50 x 70cm). Additionally, all three orientations (portrait, landscape, and square) are offered so you'll be sure to create exactly what you need.
Moreover, you have the choice between two professional photo paper finishes to create a fine art framed print: a satin to give your images a smooth and subtle pop; or a matte to give your photos a soft and warm ambiance. Consider adding an artistic touch by including a white matted frame around your image set within the product's frame. This feature is available in all size options.
Regardless of the style, size, and paper type you select your Framed Prints will be printed with the most advanced and capable professional printers thus producing stunning images that stay true to color, won't fade over time, and will leave you eager to show them photography work.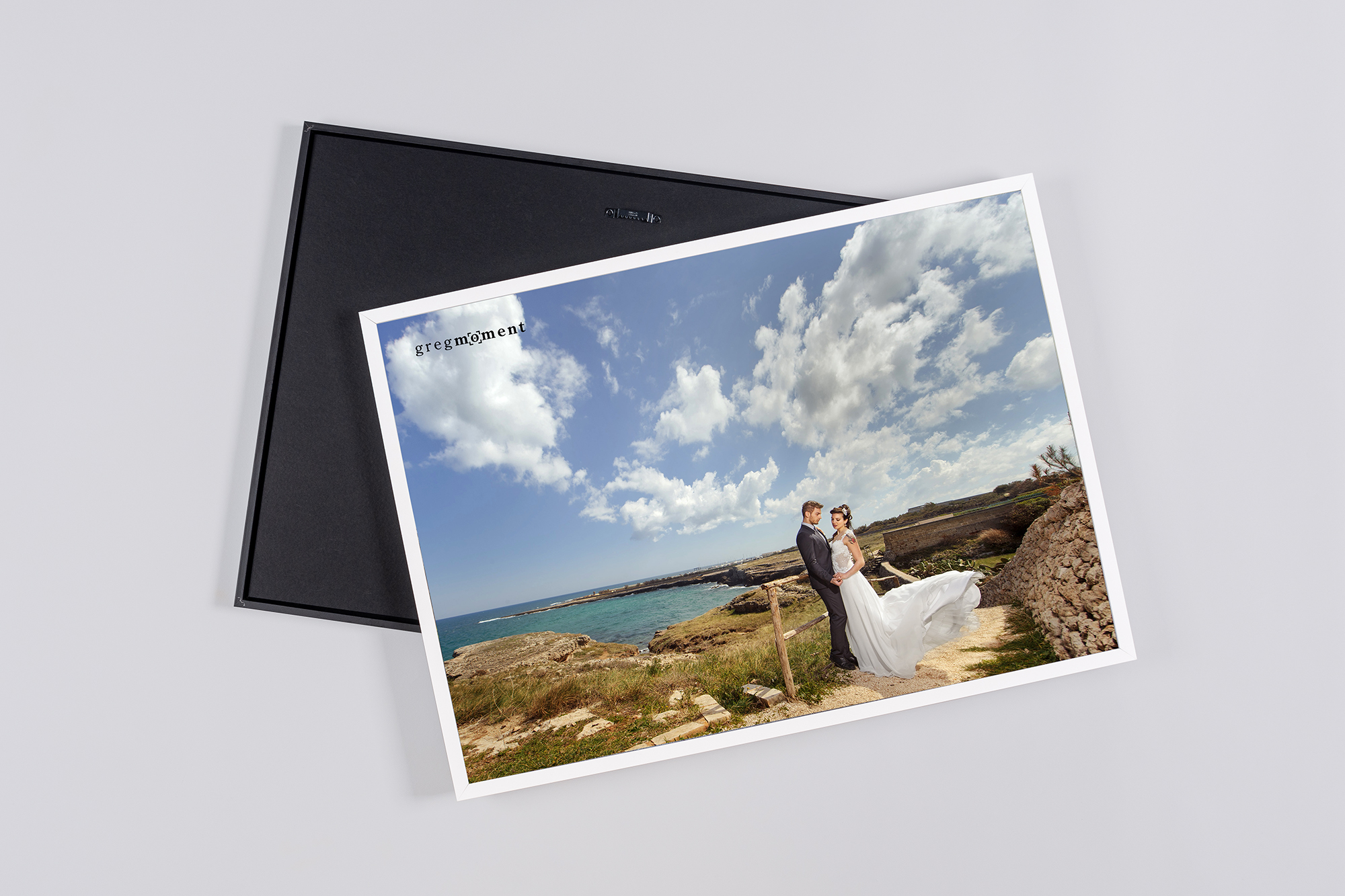 Our Framed Prints offer you and your clients a product that has the design flexibility to meet your needs and the professional standard crafted to last and impress.
3. Framed Print Wall Galleries (Framed Wall Gallery Sets)
Additionally, Framed Prints can be the gift that keeps on giving. As beautiful as one on a wall may be, galleries that include multiple only amplify that effect. Consider mixing and matching a variety of Framed Print size options and orientations to create striking wall galleries that will liven up a client's home.
Consider offering your Framed Prints in such gallery bundles to get the most out of the product offer.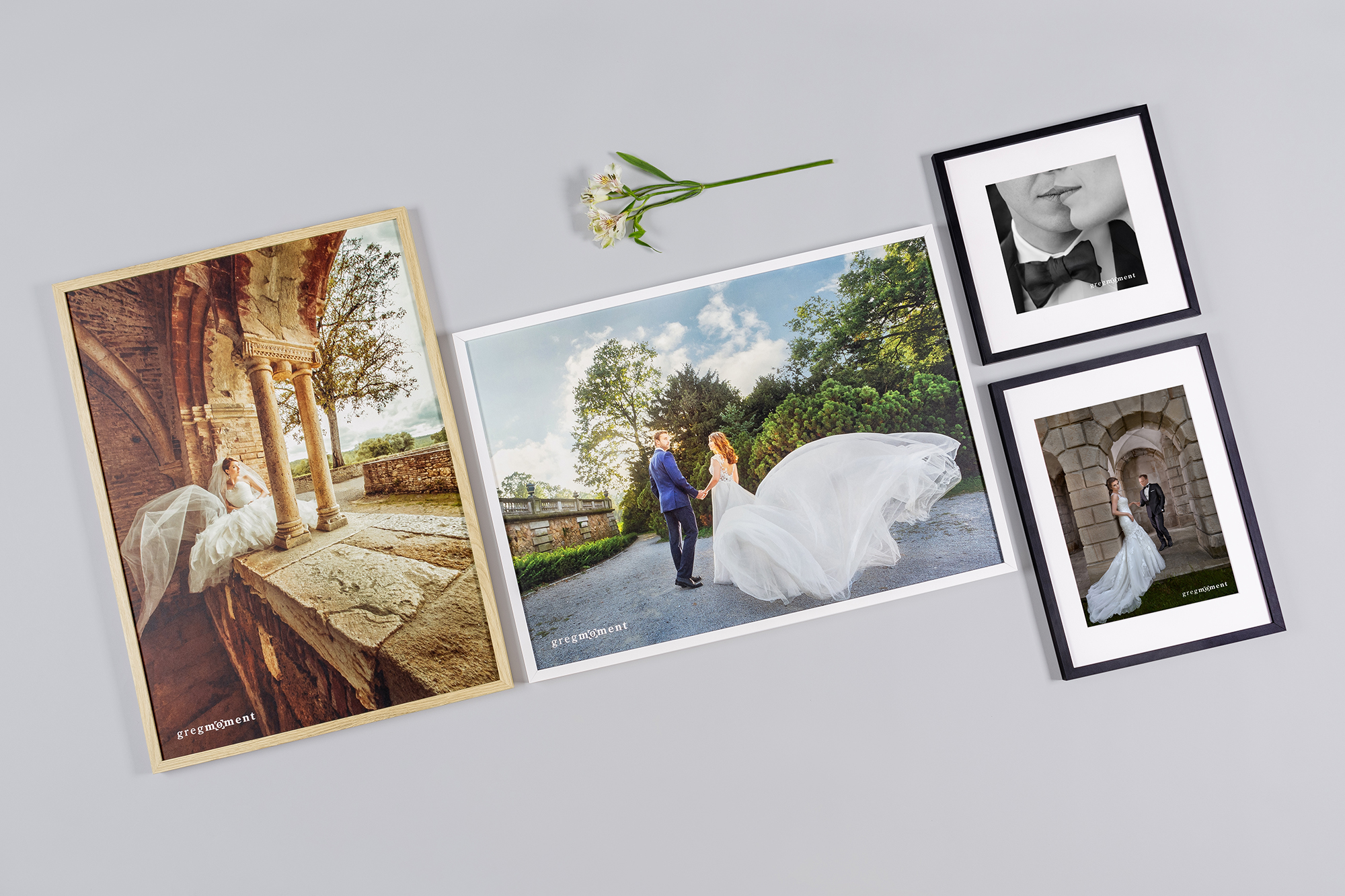 Yet, if your end goal is to create a beautiful wall gallery for your client remember that it can be assembled over time. Don't fear taking it slow and selling these bit by bit over time, at a pace comfortable for your client, that ultimately creates that gallery vision. In fact, if this is the case, try using it as a way to stay in touch; encouraging clients to purchase from prior shoots, or to come in again for another shoot and print (perhaps at a discount), to help them complete their gallery.
Finally, wall art galleries, of course, do not have to be exclusive to fine art framed prints. Their understated style means they can easily fit among other styles of wall décor and can act as a starting point to a new gallery, or an add-on to an existing one.
4. FREE Framed Print Product Mockups
Speaking of framed gallery wall sets and creating them, take advantage of our Framed Prints Mockups. These are .psd files that show off our products in real-life settings yet allow you to add your own photos into the products themselves. In this way, you can send your clients a preview of what to expect when discussing your product offer. You can find these under the "Marketing Images" menu of the customer area, if you're signed into nphoto.com.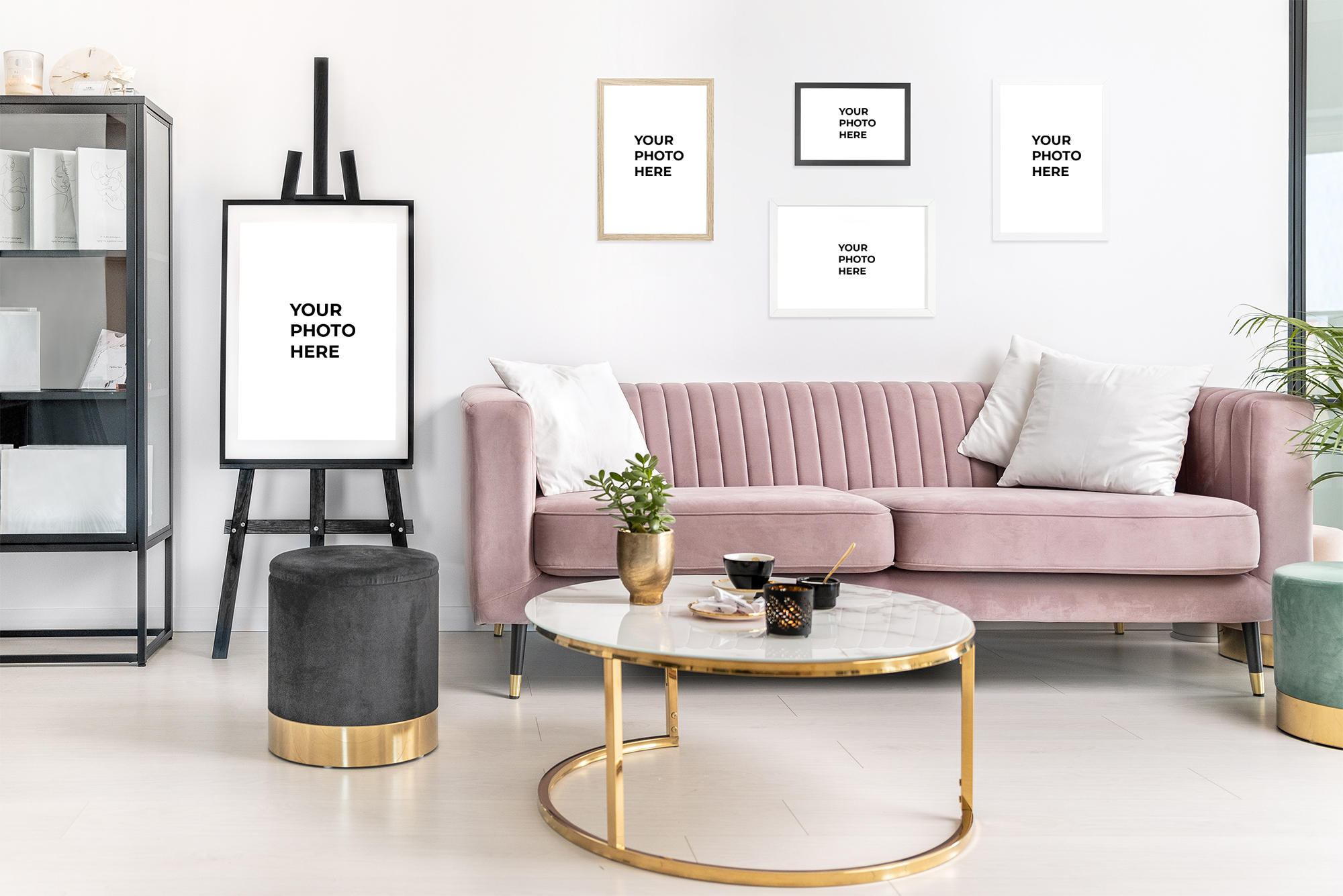 In fact, when possible, it is recommended to send clients mockups with their own images being used to increase the odds of their interest. So, if you are reaching out to a past client whom you have photos on file include those in the product mockups you intend to send out so they can envision themselves with such product, and in their space and home, more easily.
In this unfortunate environment of distancing that we find ourselves in product mockups and sending clients offers virtually are no longer just a savvy business tactic, but instead a necessity. Fortunately, it has proven to be effective.
5. A Unique Keepsake
Yet, the potential of Framed Prints goes beyond the simple fact of 'print and prop' on the wall. Rather, they can be amended to create wonderfully unique heirlooms.
Admittedly, all photo products are inherently a unique product as they contain the photos of your clients, respectively. However, Framed Prints allow you to take this element up a notch. For example, consider offering Framed Prints with the white matted frame and invite your clients and their friends and family to add their signatures, wishes, small anecdotes, etc to create a truly unique and personal signing frame print.
This could be a wonderful gift idea for any Seniors or teenage clients who may soon be heading off to college and starting a new chapter in their life. Simply select the best portrait of the Senior, include a matted frame, invite friends and family to add to the matted frame and create a personal yearbook for the client to enjoy for the rest of their lives.
The same can be true for a wedding couple. A signing frame can make for the ideal engagement session product. Use a warm and loving photo of the couple with the matted frame to then have the guests at the wedding fill up the matted frame and leave the couple a with an everlasting, heartfelt keepsake that's always on display.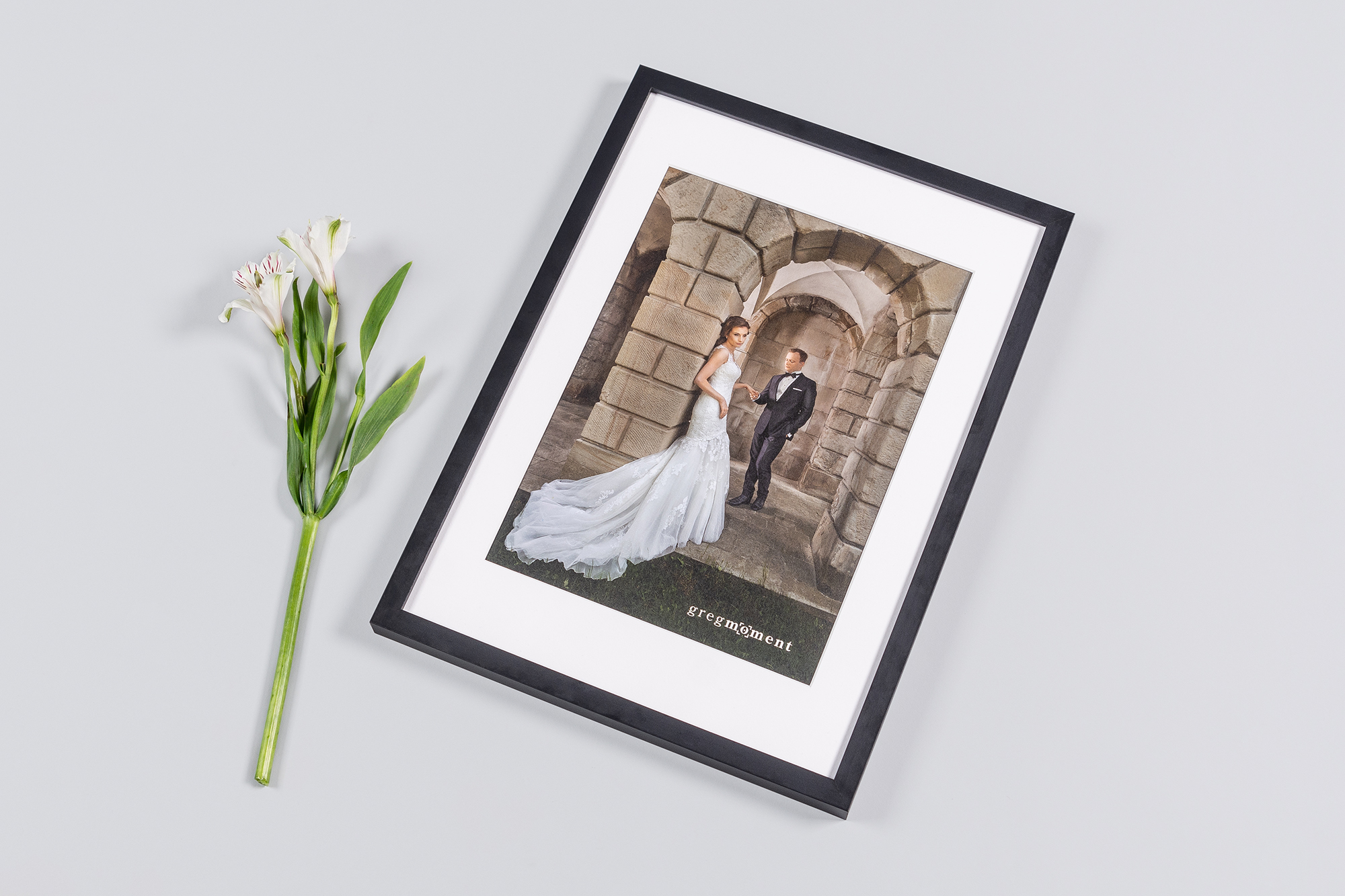 Our Framed Prints come framed and ready to hang but without any cover making these 'post-edits' easily possible.
Framed Prints are a foundational product offer for any professional photographer. Pairing them with a trusted, high-quality lab like us at nPhoto will give you a product you can rely on and pass on to your clients as professional quality that will leave a positive impression and last the test of time becoming a tangible heirloom. If that weren't enough these products through our lab, make for an excellent low-cost addition to your professional photography studio with an incredibly high reward.
Just another reason why you should have nPhoto Framed Prints in your studio offer.
Sign up for blog notifications
& Always be up to date on new posts