Is being an animal photographer a lot of work? Is it a job for everyone? What do you have to consider for the photoshoots? How do you successfully sell photo products in a pasture? Animal photographer Claudia Rahlmeier answered these questions and many more during the nPhoto live chat.
The Decision: I want to be an animal photographer!
Claudia wasn't always a photographer. She used to work in customer service and office administration. These experiences were what could be considered helpful in setting up her own business. However, the animals - especially horses - were still her passion. At first she only took photos as a hobby: "I took pictures as a hobby without knowing anything about the technology. I just got a single-lens reflex camera as a gift and so it went on ". Relatives, friends and the owners of the animals she looked after would say more and more often, "Take a picture of my animal". And so her hobby turned into a job.
A tip for you: think about what knowledge from your previous job you can apply as a freelance photographer. Think of your passion and what fascinates you and start to capture these things photographically.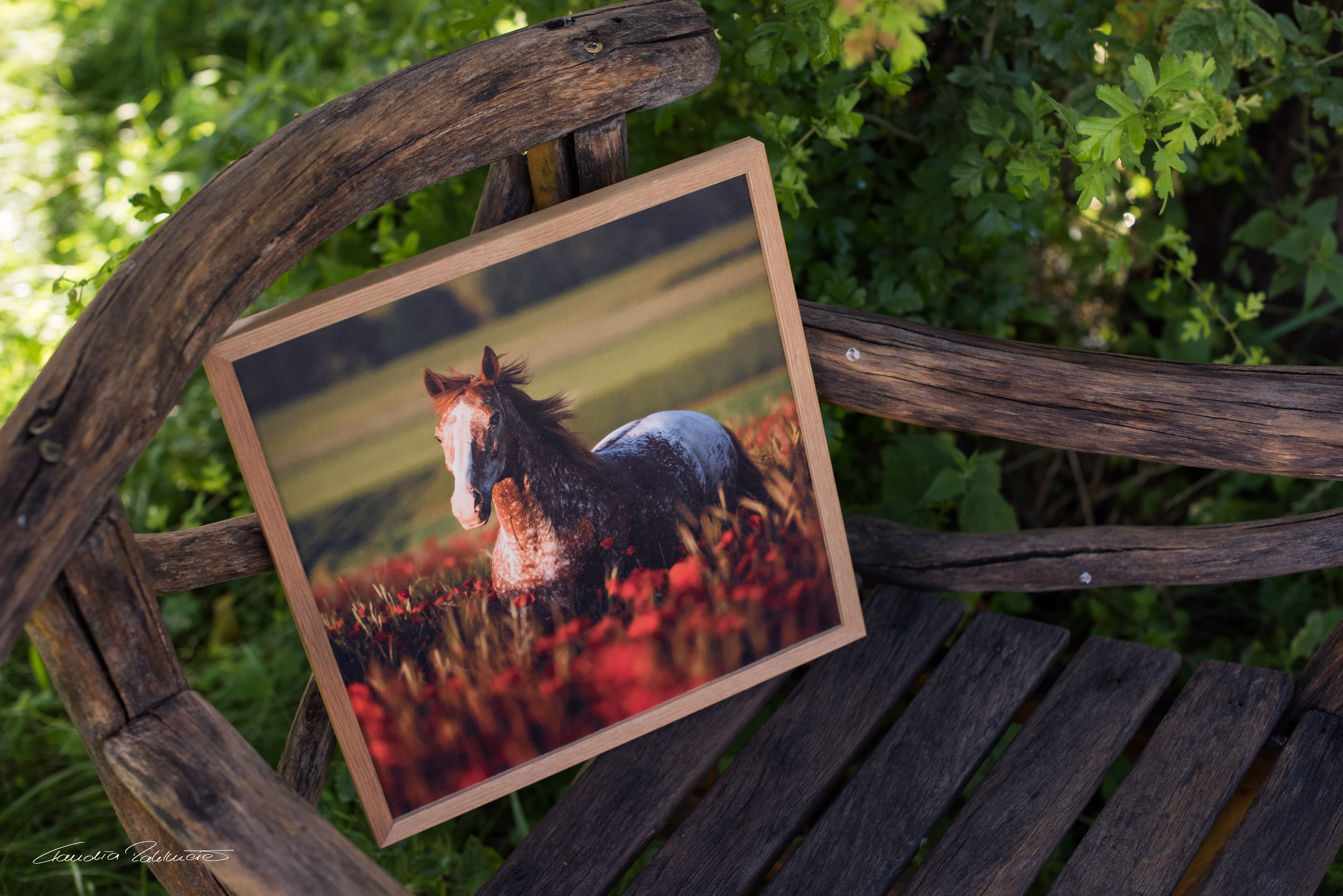 The Career: I build my business step by step
Claudia deliberately didn't want to take a plunge into the deep end and for several years her photography was just a part-time job. Then she started spending 3 days in the office and one day at a desk. It was only a few years ago that she decided to switch to full-time.
When Claudia took her first steps into self-employment as a photographer, she only had a Facebook page. The website and company followed later. She won most of her customers through word of mouth. Since she had ridden before, she already had a network of contacts to owners and breeders who could suddenly become her customers. She uses these familiar contacts to this day, especially when she needs to conduct an experimental photoshoot, for example.
This gives us the opportunity to mention a tip for beginners; not to put everything on one card until you have developed a certain market position and a strong brand. In times of Covid, it is all the more important to have a plan B.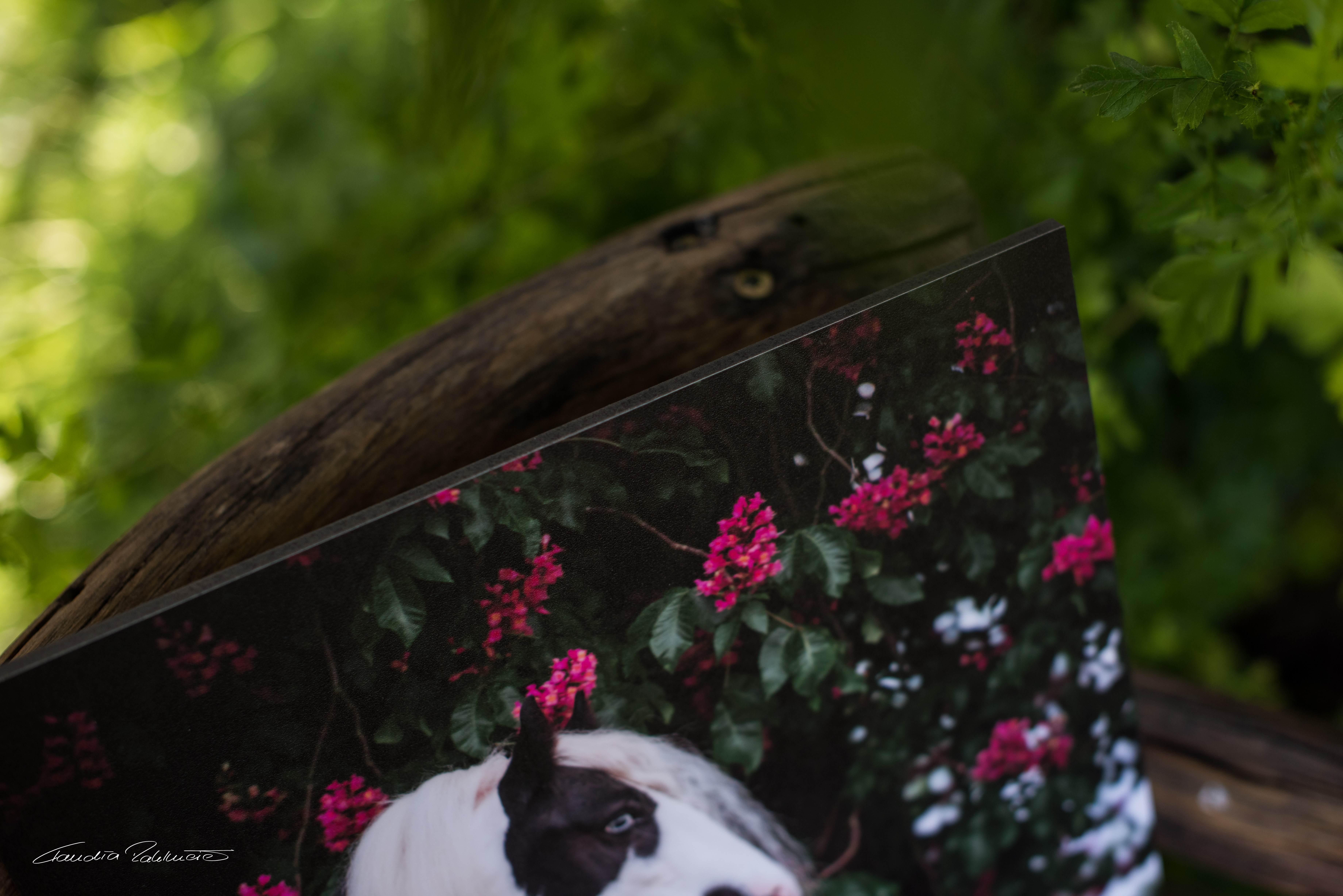 The Photography: As an animal photographer, I know how to deal with horses
As the story of Claudia shows, a successful career begins with passion. She knows exactly how horses "tick", that equines are quite temperamental and that cold-blooded horses show a little more calm. "If necessary, I reach into the bag of tricks, be it a treat, a reflector to animate, a Raschel bag, etc.". She understands the creatures she photographs and is familiar with their behavior. She knows how to make the horse fun - because only then can the best photos be taken. She knows which questions have to be asked in advance so that the photoshoot is successful.
A tip for you: Even if you are not an expert in a certain area, try to spend some time with children, animals or wedding couples in general until you get a certain feel for the selected target group you wish to work with.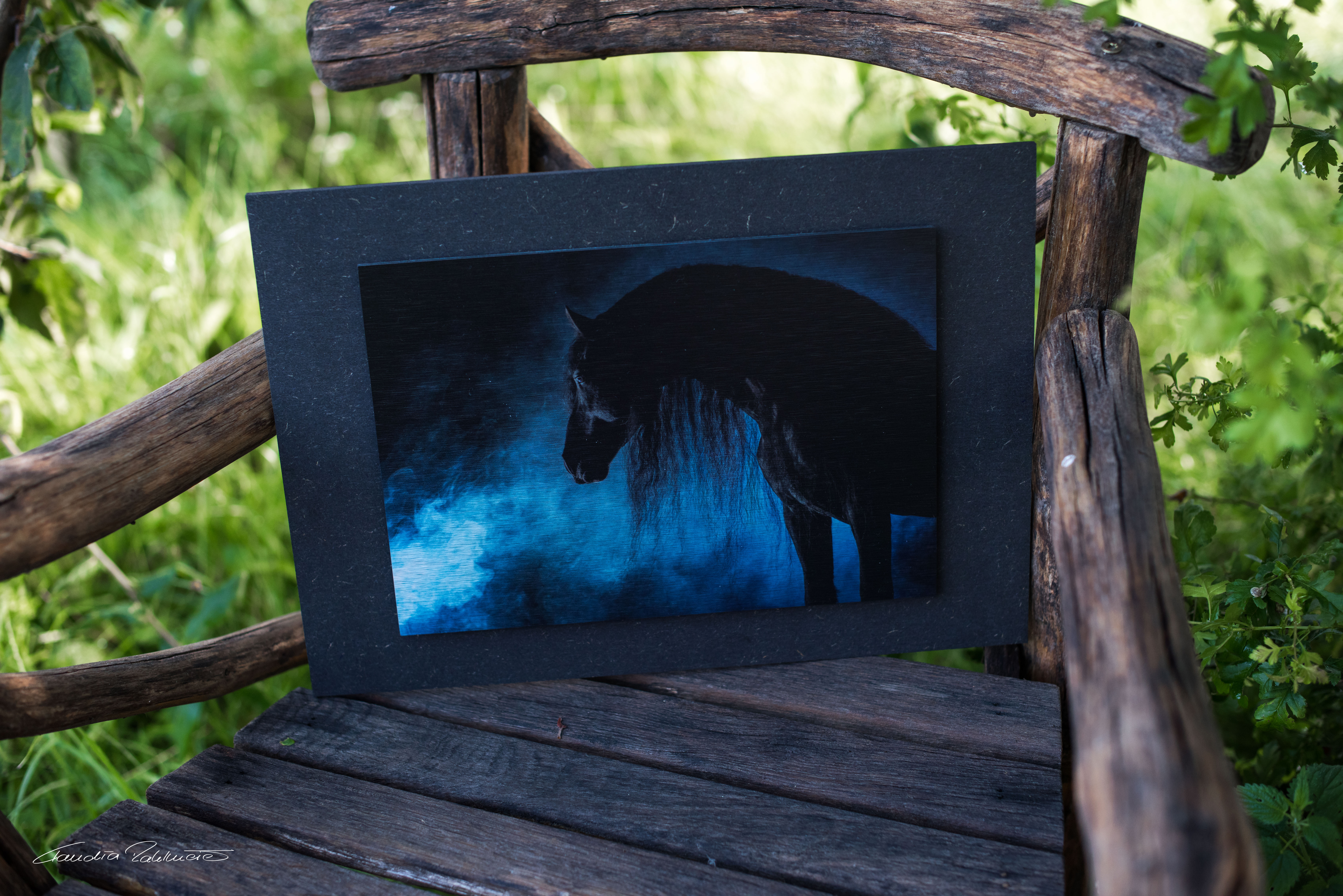 The Presentation: I show empathy first and only then the pictures.
Almost all of Claudia's packages contain DreamPrints, the quality of which largely exceeds the photos from an average lab. At the beginning she gets to know the customer and the customer decides which package they would like to have. The presentation of larger photo products only takes place after the shoot. "Then, we already know each other a little and communication works better. Nevertheless, I always try to remain transparent and say in advance that I suggest that they look at my photo products ". She does it in such a way that the customer, who otherwise gets to see the decor and products spontaneously, does not have the impression that you are trying to pull him over the table or to play with their feelings. He can then make a conscious decision.
A tip for photographers: During the shoot as well as during the conversation, explain the next steps that you are planning to the customer. Let them decide if they actually want to participate.
The Sample Products: I have a mobile studio
Claudia has created a mobile studio. As a result, she is not tied to any location and can carry out the shoots nationwide and abroad without any fuss. The rate per kilometer can also be found on their website.
Where else does Claudia present her photo products? At the stable there is often a room where you can talk or drink coffee. Otherwise her trunk is considered a small gallery. Of course you have to be careful and, for example, wash your hands beforehand so as not to make the wall decoration dirty, which you have to accept from time to time anyway. Nevertheless, she does not think it is a good idea to tell the customer, "Drive 50 or 100 km to me so that I can show you my beautiful wall decoration products". That wouldn't work. And the customer absolutely has to touch this or that print product in order to make a decision. Without offering customers such an opportunity, one cannot hope for high sales figures.
Tip: Let the customer see and touch your sample product. Otherwise it's hard to get them excited about it. Even if you are taking photos outdoors, think of the places where you can creatively display wall decorations and the like.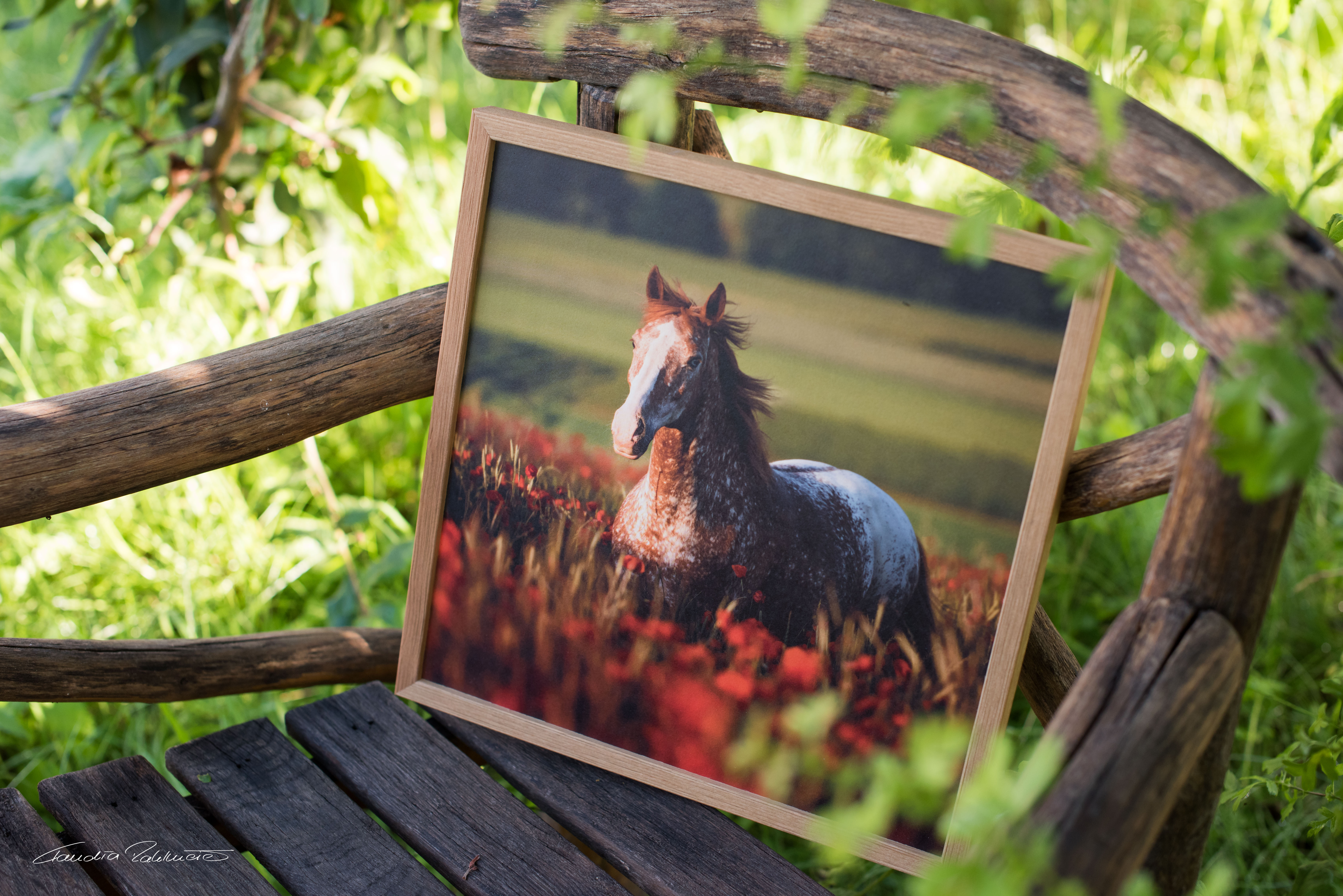 Getting started in an equine photography business of your own? Download our equine sample guide and get access to our wonderful offers. To great beginnings!
The Pricing: I put together my pricing packages with care
Just as you change the curtains in the apartment regularly, it is important to refresh the price packages from time to time. You have to be smart about it so that customers don't complain. You need a good reason. Claudia named a few of them. When you gain more experience, you can feel that the value of your own work also increases. "Even if you intend to change the customer segment and introduce new photo products or delete existing ones if they don't sell well - then there is a good opportunity to redesign the pricing".
Sure, the customer can say, "I would like just the files". But more and more people want print products, because we are already inundated with the photos on our screens. The photographer's job is to make it clear to the customer that he can have all of his wishes fulfilled in their studio without looking for a print shop to worry about quality and the like.
Note: price increase? Yes, but a good occasion also has to be on the ready. Recognize the needs of your customers and show them that you are the right place to go, where they can also save their time.
Wall decoration: I want to make more money with Wall Decor
The customers use the photos of their animals in the same way as they deal with the pictures of their relatives. They would like to have them set in elegant frames and hang them on the wall or publish them on social media. This is why wall pictures are more in demand with these customers than photo books, for example.
Only order the wall products that appeal to you, otherwise you can't possibly rave about them. Claudia decided, for example, on the photos on an MDF board, because she thinks their matte look and stable structure are excellent. In her eyes, the photos with wooden frames go perfectly with images depicting nature.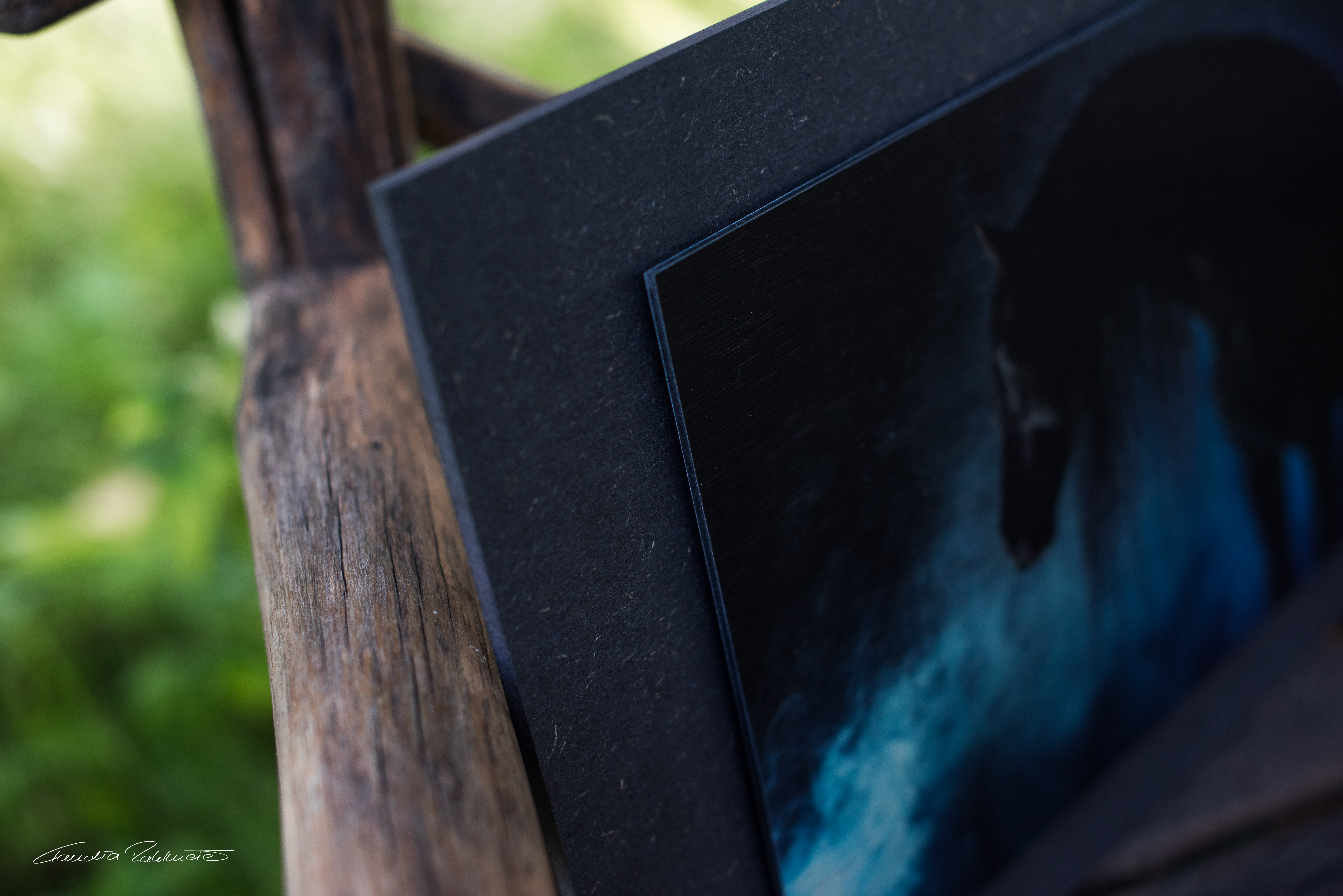 Market niche: Why it's financially worthwhile.
When Claudia started working as a horse photographer, there were a handful of photographers in Germany who specialized in this field. That is why there was no training or courses with this focus at that time. Since then, while many have embraced it, this area of the market is still far from saturated.
The clientele is also a little different. Those who can afford horses are often quite wealthy, and even when they are not, they are willing to spend a lot of money on their horse.
Since Claudia retains the rights to the photos she takes for her customers, she also sells many of the photos to external service providers.
Tip: Find a market niche around you. For example, are there many wildlife photographers in your area? Also, think about how you can sell your photos elsewhere.
If you are playing with the dream of becoming an animal photographer, you can watch this live chat and many more (if you are not already there, join the nPhoto community on Facebook) and maybe in the future, equip your studio with sample products from nPhoto - but only those that you like yourself! :)
Sign up for blog notifications
& Always be up to date on new posts