The holiday season is here! The clock is ticking, but it's not too late to entice your clients with these must-have professional photo products.
Too often, the holiday season is among the most challenging times for the overworked, over-stressed, and undervalued photographer.
But we're here to help stop all the doom and gloom for photographers this season.
This should be "the most wonderful time of the year" for professional photographers.
Why? Because this is the time of year when people usually pause and reflect on what matters most. Despite the constant flow of colorful ads for new products, people think of others - their family, friends, and old contacts.
What could be a better, more thoughtful gift than memories of those people preserved in high-quality products, capable of lasting lifetimes?
You, the professional photographer, provide the greatest gift of all, the memories of what people cherish most.
But how will you present these memories to your clients?
Printed photo products turn those memories into tangible, archival experiences that can be stored and retrieved by anyone and everyone. You provide an easy way for precious memories to be relived, again and again - and later by future generations.
So put your work to print, and use these five products to ensure that you and your client get the most out of your offer.
They will greatly appreciate your photography skills when they can see and view your work every day.
Client's all-time favorite: the photo album.
Too often, photographers shy away from an album because they fear their clients won't see its value. They imagine it won't sell and will result in lost profit.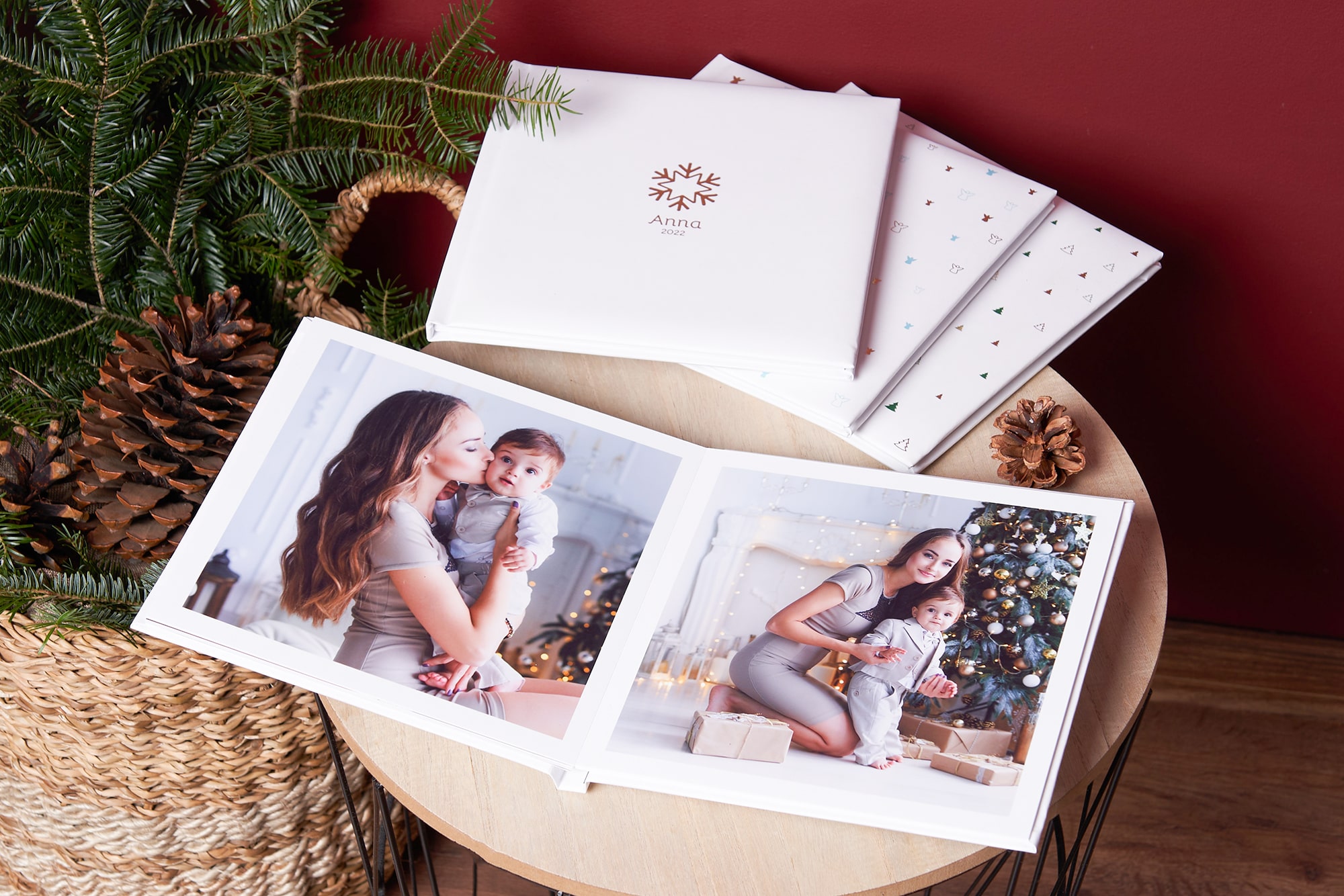 However, the holiday season is the ideal time to remind families to consider an heirloom product, a high-quality photo album. They will appreciate a gift that can preserve their precious moments for generations.
This time of year, invite your clients or prospective clients to book a holiday family shoot while everyone is together and propose one of our stunning photo album options.
Albums don't have to be extensive and costly.
At nPhoto, you can get an album in various sizes, with some as small as 6' in x 6' in, and for a great price. Small albums make the perfect gift for 'mom and dad,' 'grandma and grandpa,' or any family member or loved one.
We have a Lite Album option that's perfect for holiday mini sessions. We recommend the 8" x 8" (20cm x 20cm) for these sessions.
In addition, you can order the "complete set" photo album package, often called our "Parent Album" package. It makes for a great family gift.
This package is great for the holidays since it satisfies many gift needs and comes at an excellent price.
No matter what you select for your studio, you get the highest-quality album when you order from nPhoto. All of our albums come with the same high-quality standard.
You can select your final design from over 70 plus cover material options, including textiles, eco-leatherettes, suede textiles, and velvets, as well as over five paper finishes and three state-of-the-art printing styles.
Our albums are authentic luxury products that make the perfect gift for the holiday season or any special occasion.
Pro tip: Do you have a client who always wants the digital option? Grab our Complete Album Package! It's the perfect compromise since it includes our professional photo album and a USB in a stylish box.
This is for those clients who prefer the independent aspect of loose prints but want to retain that luxury feel.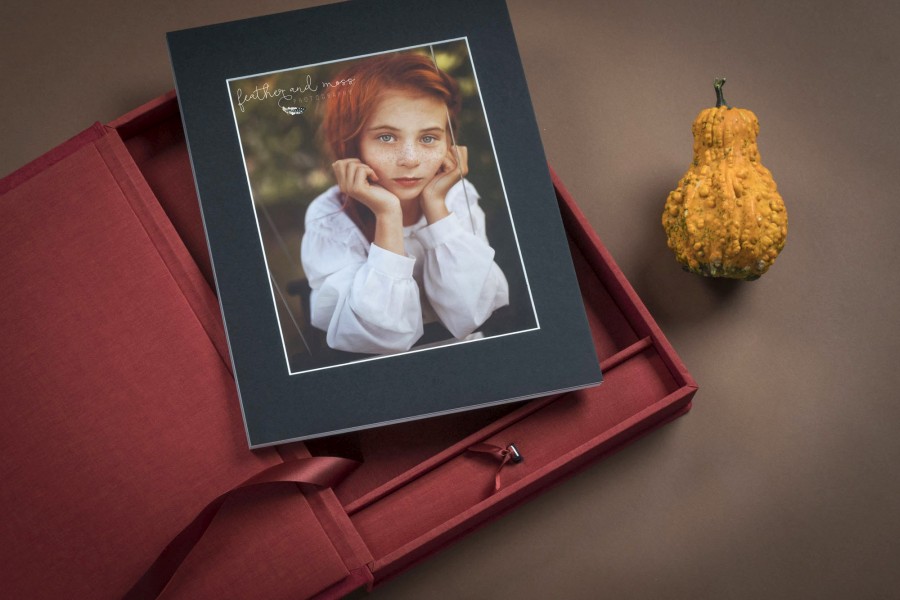 Our Folio Boxes contain prints that can be handled individually and are further personalized by either matted, urbane frames or sturdy, professional photo boards.
These prints then come in a hand-crafted box that can include a USB. (Folio Boxes are designed differently depending on whether they have a USB or both pictures and the USB.)
Of course, the most remarkable thing about Folio Boxes is their practical design. They are not as bulky as the often intimidating professional photo album.
Plus, the concept of the product allows for various display options. The prints can be beautifully displayed in their box perched on a shelf, displayed throughout a home as individual images, or hung as a collection on a wall.
The opportunities are vast, making the Folio Box one of our top products. We consider it an essential photo product for you to have in your studio.
This is an item that sells itself.
Our Triplex makes for the perfect shareable gift.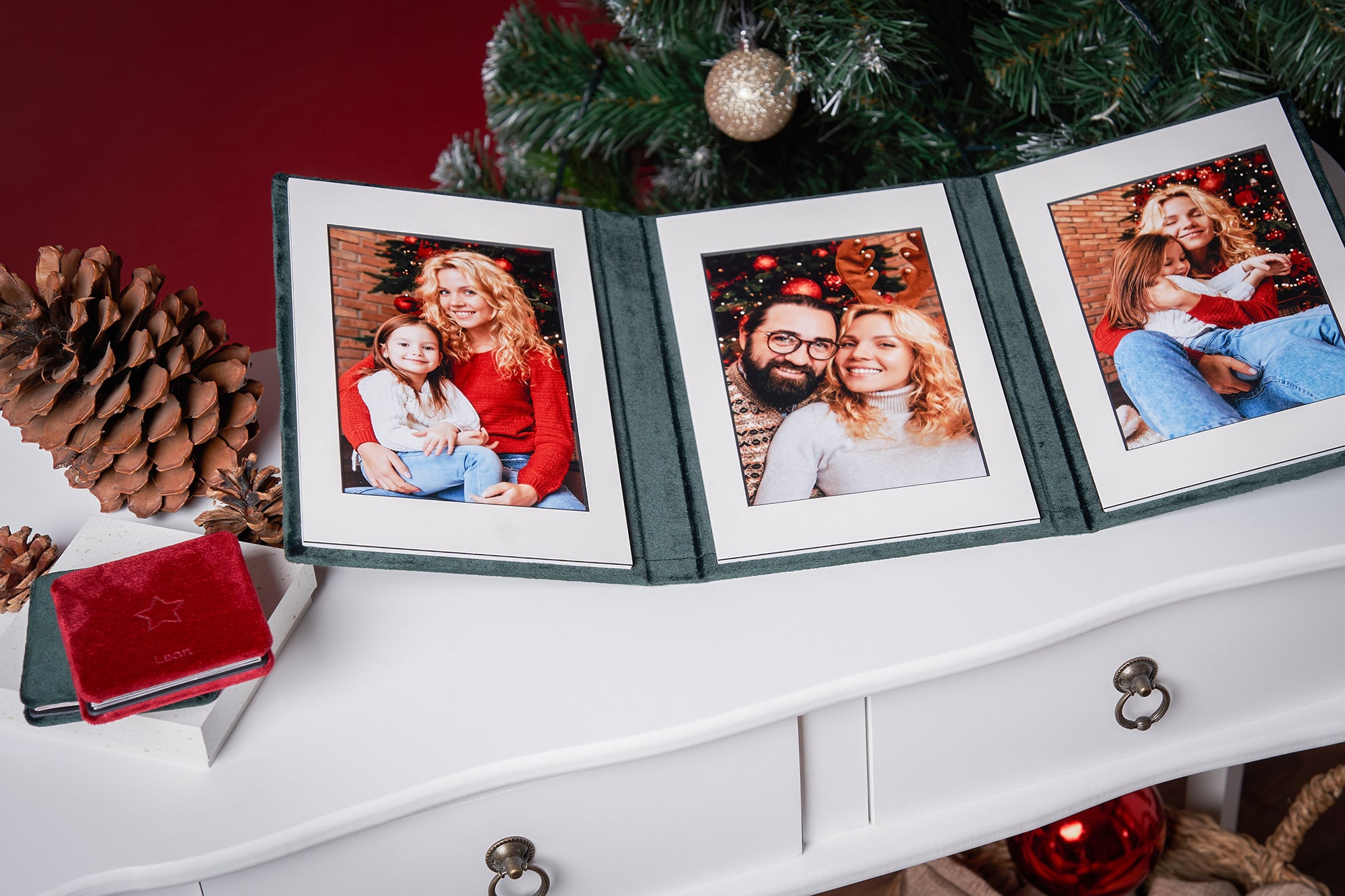 The Triplex is an essential sell as it is an excellent add-on to any order as an upsell. Particularly at this time of year when clients have the whole family in mind, the Triplex makes the perfect photo accessory for clients to give to relatives or friends.
It's also a professional-level photo product for those clients on a budget.
Moreover, while the Triplex may be a great, cheaper alternative to more substantial show-piece products, it's not for lack of quality.
The Triplex showcases three images printed with the same Noritsu HD Silver Halide technology used in our acclaimed albums. The photos are printed on thick paper and mounted to make 800gsm images. These are then mounted on a plush tri-fold.
Have one in your studio for clients to experience and be sure they remember about everyone this holiday season.
Nothing says 'photography' more than the good-ole-fashioned printed photographs.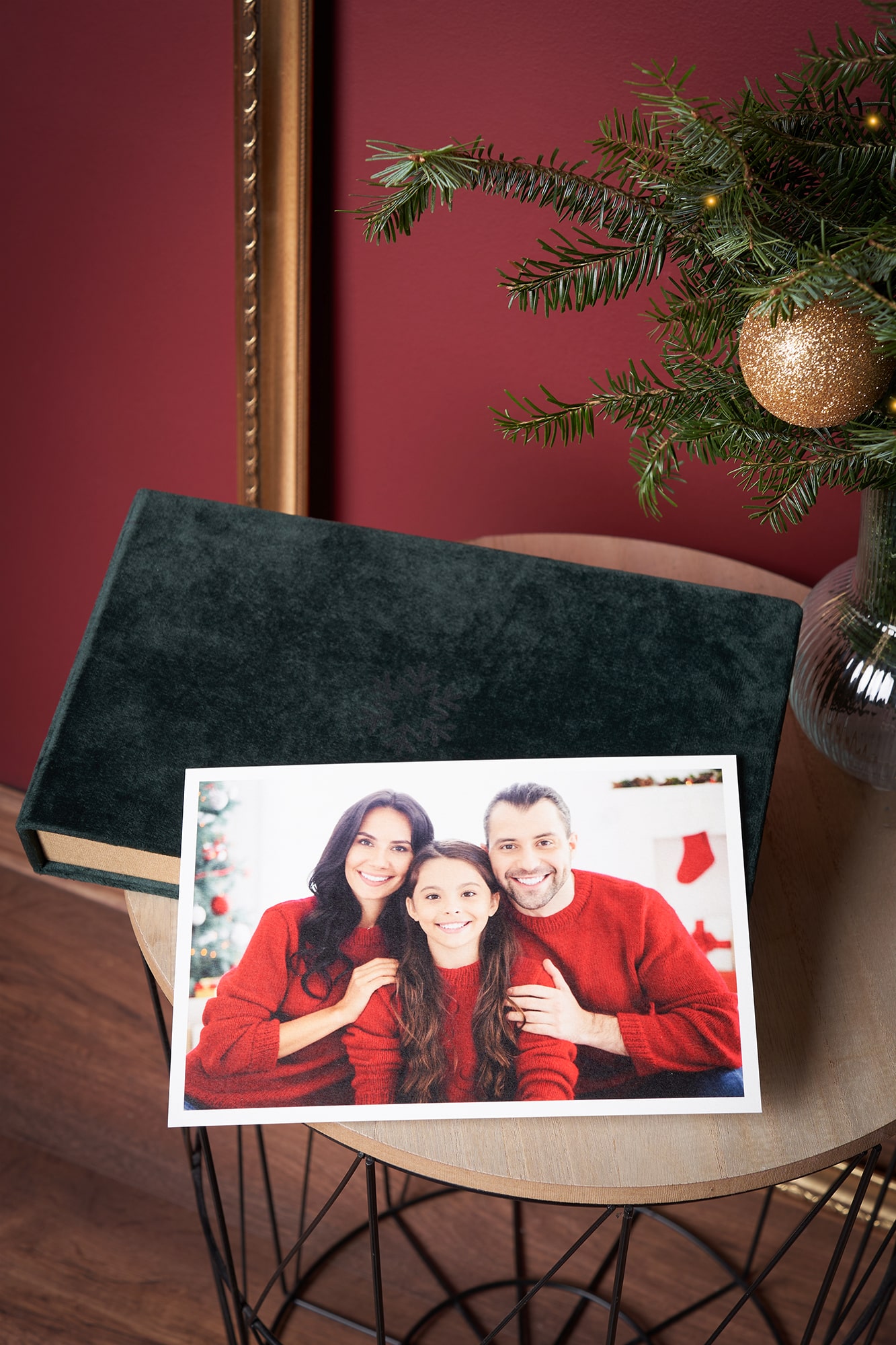 Photography evolved around the standard print, the product the general public initially loved. Even among digital, creative, and extravagant photo products, we still revere printed photos the most.
Nothing sits on a fridge like a standard photo print.
Although they're a more economical option, it doesn't mean they're not professional, high-quality products. Every nPhoto standard Print is printed with the same technology and care as our highly-acclaimed albums.
You can be sure our Prints will last generations and then some.
Select among 17 different sizes and four paper types to ensure you always have the perfect selection for each occasion.
No matter which prints you choose, they're an excellent choice for professional photographers to offer.
They're ideal as add-ons to bundles and upselling tools, especially when paired with bulkier items like albums or digital options.
If you're looking for top-of-the-line prints, we also offer DreamPrints.
Our DreamPrints are the highest-quality prints you'll ever find.
Available in six different sizes and printed on our Canon DreamLabo 5000, these prints boast an incredible 4K definition and 2400 DPI image output. This means skin will seem so lifelike that you'll want to know the secret behind our photo print creation.
Then, to accentuate its fine print qualities, you can select three specific Canon paper types designed primarily for use with the DreamLabo 5000 printer.
This product is perfect for those detail-orientated clients looking for the best possible family prints.
Pro Tip: Boxes for Prints - Complete the Experience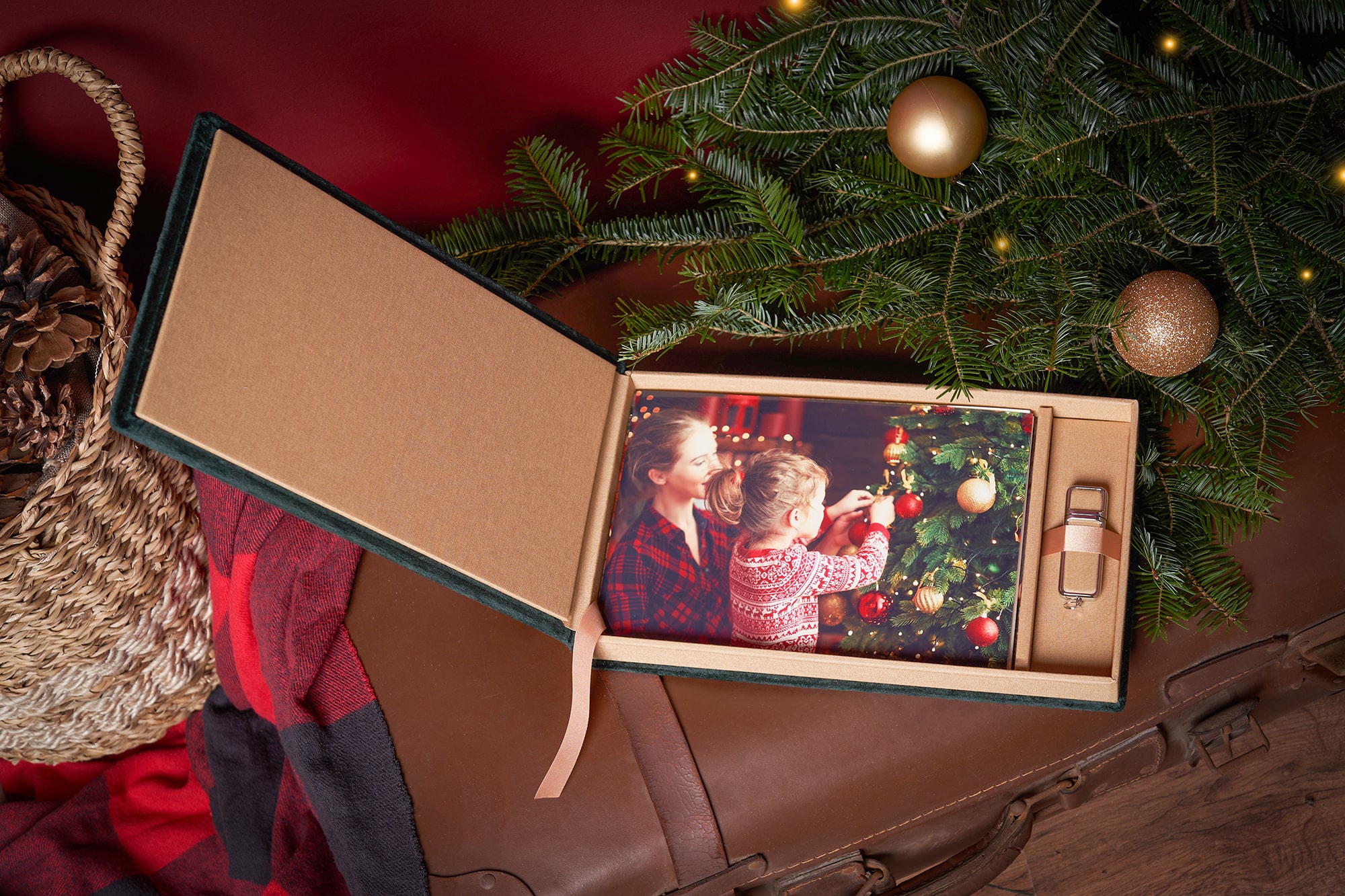 Pair your prints with our Box for Prints to give your clients a complete and remarkable experience. Our handcrafted boxes safely house their precious prints and can include a USB.
These inexpensive prints come in various styles, formats, and grades, so you can always match the best print quality to each occasion and client's circumstance.
Currently one of our most desired products. It's the best gift for clients looking for something convenient and easy to use, plus that's not all.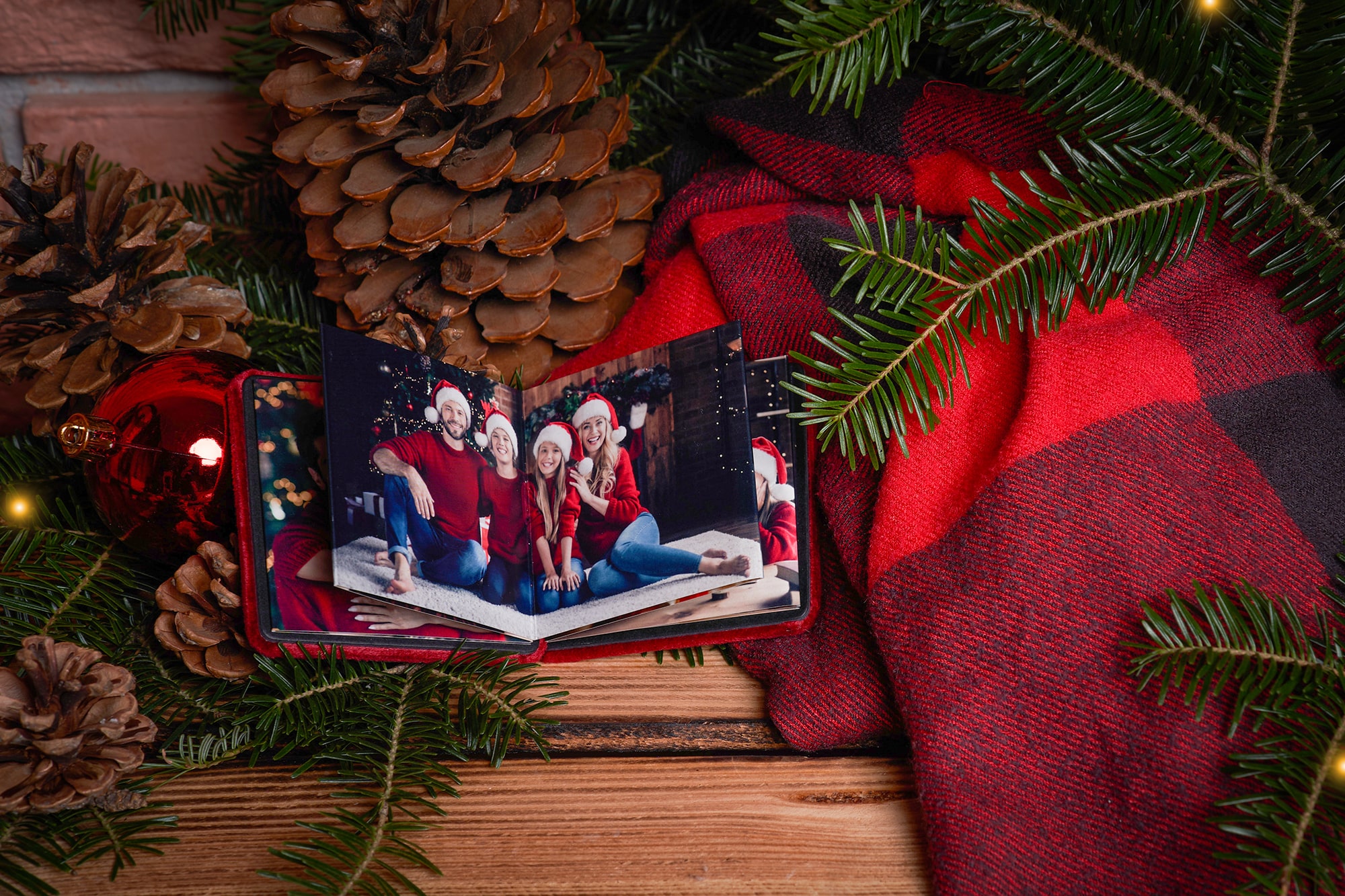 Think of this as a gift for yourself, the photographer.
This gift makes a super accessible and easy-to-get-to item. You can take it anywhere and always have a high-quality sample of your work.
Plus, your clients will want to know where you got this convenient and unique photo product.
It's the perfect "stocking stuffer."
Give your clients a gift they'll want to share with family & friends.
Our Mini Accordion is a mini-album that can be ordered with classy, square packaging that resembles a gift from the jewelry store. It is ready for clients to display in their homes or use as a family gift.
Design up to 18 pages and personalize your accordion with a choice of 9 different velvet & suede material options.
If you don't want to order the complete photo album set but would love to offer your clients more options, you can pair a Photo Album, Photo Book Pro, or DreamBook 4K with an Accordion Mini Book.
It's a great, creative way to brighten your offer. Also, as mentioned, the Accordion Mini can be an excellent package add-on or upsell. Advise your clients to use it as a gift for their family members.
Gifts for the Entire Family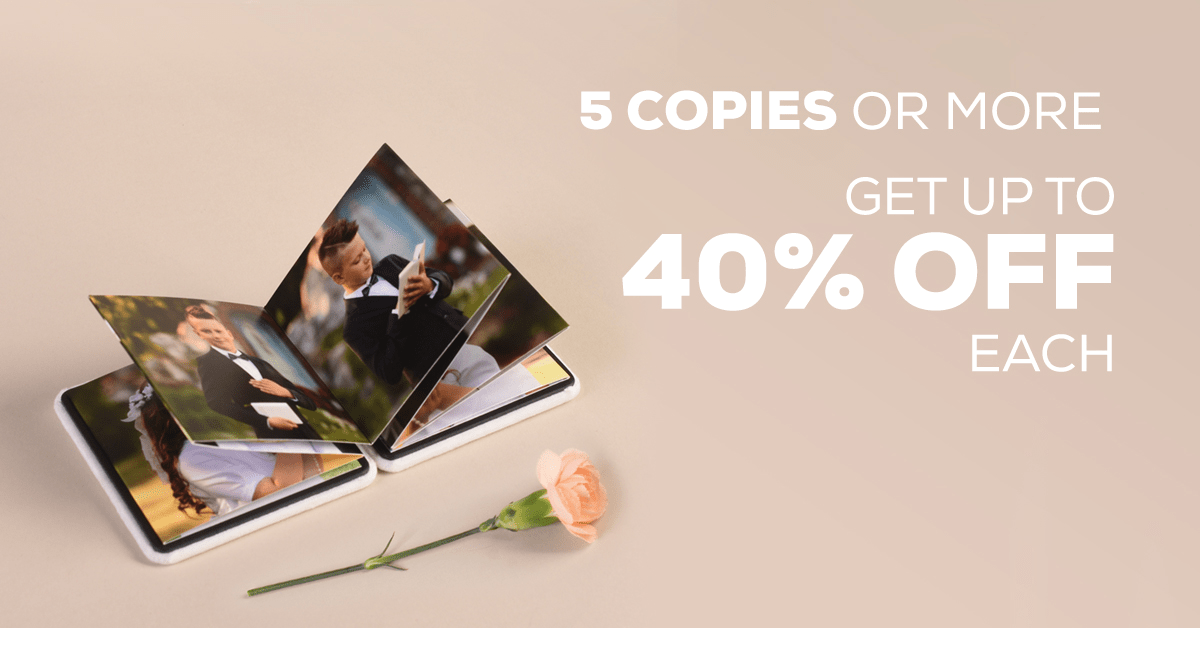 One more reason why the Accordion Mini Book is a must-have product for photographers is that we provide package deals when you order three or more accordions. When you order three to four books, you receive a 25% discount, and when you order five or more accordion mini books, you get a 40% discount.
This means that each family member can have their own mini album to cherish and share with others. It's a thoughtful and unique gift that will be appreciated by everyone. Plus, it's an excellent way to promote your business, as clients will be eager to share their personalized accordion mini books with friends and family, which can lead to new business opportunities for you. So, take advantage of this opportunity to increase your sales and give the gift of memories that will last a lifetime.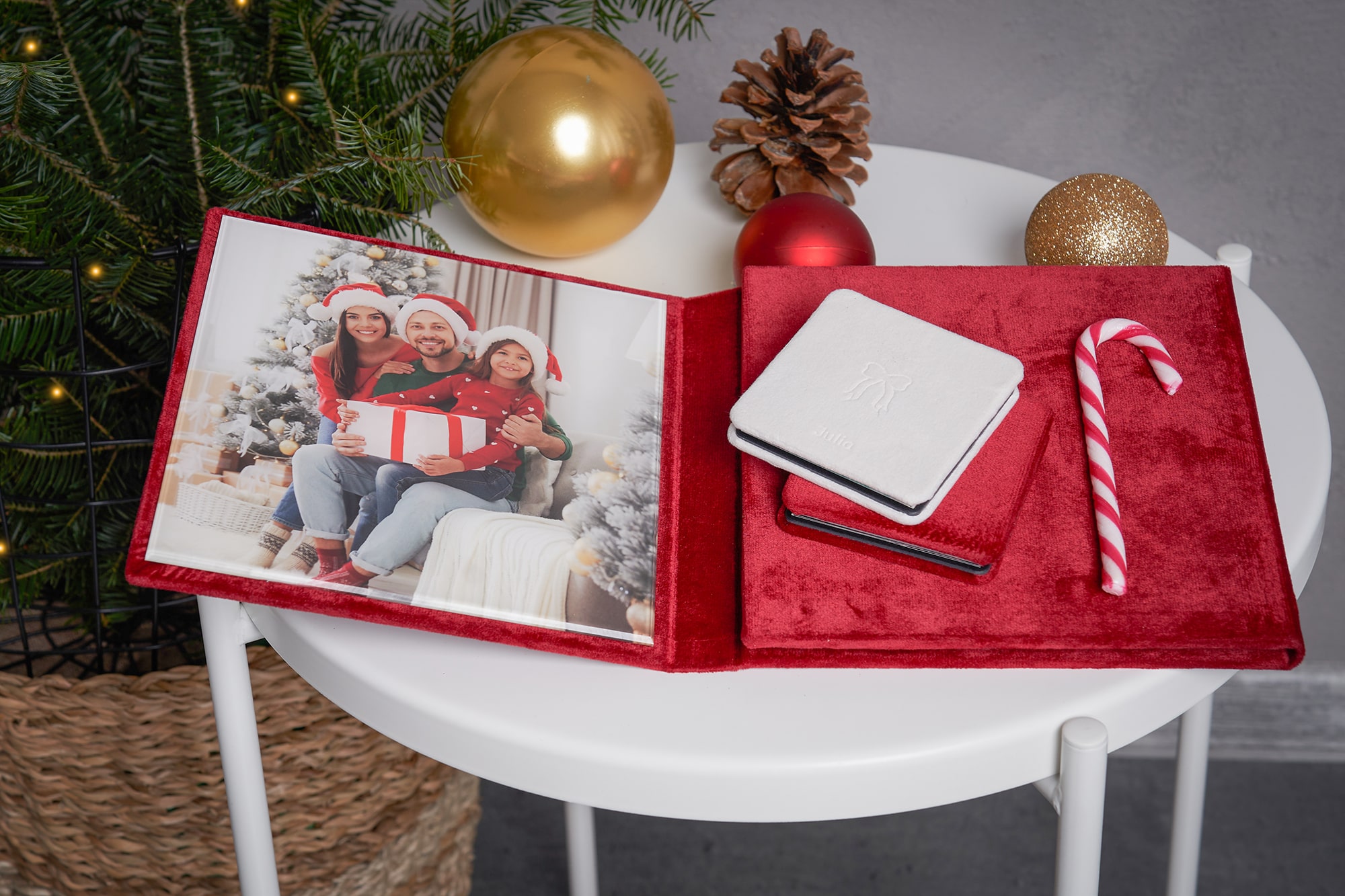 We recommend all these products because they can help create fantastic packages to service any style and photography needs. They can target various price points on your pricing scale and form a solid foundation for your studio.
These high-quality, professional products are available to you at a tremendous price for the quality and care that goes into creating these products. Using these products, you can make enticing offers with your creativity, imagination, and business knowledge.
Get more information about our products from the home page by clicking on the "Menu" thumbnail on the top-left corner of our page:
'Tis the season to be jolly after all.
Sign up for blog notifications
& Always be up to date on new posts