Stop the presses! Breaking news: We are officially introducing Prints and DreamPrints to our U.S. product offer.
That's right, our wonderful American customers - you can now order loose Prints and loose DreamPrints.
nPhoto Standard Prints
Our traditional loose Prints come in two general options: our standard prints and our DreamPrints.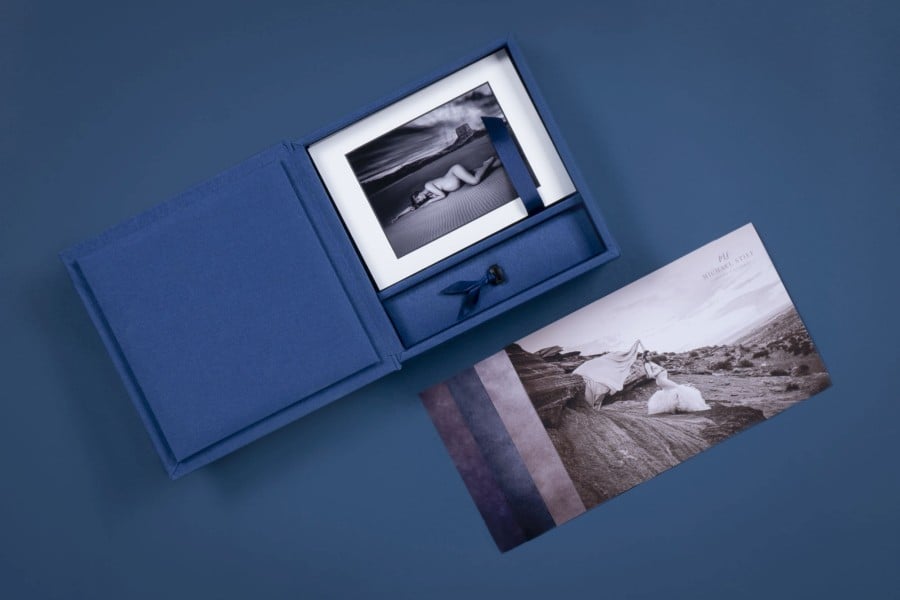 Pictured: Artwork by Michael Stief - 7x5" Folio Box in A38 textile, horizontal format, with Matted Prints in white with a black core, and a mini USB; & Prints 9x6".
Our standard prints are then available in four different paper options: Fuji Gloss (235 g/m2), Fuji Lustre (235 g/m2), Fuji Silk (235 g/m2), and Fuji Pearl [Metallic] (250 g/m2).
These prints, regardless of the paper type you select, are printed with our signature Noristu HD Silver Halide technology – the same technology used for our albums. So this will ensure the quality, clarity, and everlasting longevity you'd expect for your beautiful, professional artwork.
Moreover, our standard prints come available in the following sizes (in inches):
3,5x5" 4x6" 5x5" 5x7" 5x7,5" 6x6" 6x8" 6x9" 7x9,5" 8x8" 8x12" 12x12" 12x16" 12x18" 12x24" 12x35"
nPhoto DreamPrints
The other option for traditional loose prints are our DreamPrints. If you're familiar with our DreamBook 4K then our DreamPrints will feel like an old friend for you as they're printed using the same breath-taking technology. For those unfamiliar, our DreamPrints (like our DreamBook) is printed with the state-of-the-art Canon DreamLabo 5000 printer.
This printer's fortified seven-dye ink, 4K print resolution, and 2400 DPI renders images so clear and sharp it will bring your artwork to life. Even the smallest details in your image; down to the faintest freckle, or wisp of hair, will pop like you've never before seen.
Pictured: Artwork by Magdalena Sienicka Creative Photography - DreamPrints.
Our DreamPrints are offered in three different paper options: Canon Gloss (275 g/m2), Canon Luster (275 g/m2), and Canon Deep Matte (240 g/m2). Each paper is designed by Canon itself, specifically intended for use with the DreamLabo 5000; this is just another way you can be sure your DreamPrints are ultra high-quality heirlooms.
Our DreamPrints are available in the following sizes (in inches):
(Canon Gloss & Canon Luster) - 4x6", 5x7", 6x8", 6x9", 8x12", 12x16"
(Canon Deep Matte) - 4x6", 5x7", 6x8", 6x9", 8x12"
Pro Tip: If you can't help gazing in awe at our DreamPrints, then be sure to check out our DreamBook 4K. In essence our DreamBook 4K is a bound compilation of DreamPrints, but in reality it's much more than that. An ultra high-quality Photo Book such as this will make the perfect compliment to Photo Albums and other print products in your studio. Also available with a box and USB as a Complete Set.
The Complete Prints Package
Speaking of complimentary, while either of our traditional Prints choices are incredible as they are, enhance them and their value even more by pairing them with a Box for Prints and giving your clients the complete prints package. Our Box for Prints even allows you the option to include a USB for those who like to give the best of both worlds: print & digital.
Including a box for your prints will make the offer of prints more special and give your client an appropriate; beautiful place to store and protect their family treasures for generations.
Pictured: Artwork by Greg Moment - 9x6" Box for Prints in A19 interior textile, Creative Collection, Matte Laminate cover finish, and a USB mini; 12x8" Photo Book Pro, Creative 100% Collection, Matte Laminate cover finish; & 6x9" Prints.
Alternative Print Options: nPhoto Matted and Board Mounted Prints
For those who like the idea of prints but fear traditional prints are too naked, or flimsy check out our Matted Prints and Board Mounted Prints. These prints have some more 'umf' to them thanks to being matted in an urbane frame, or mounted on sturdy, professional-grade card board.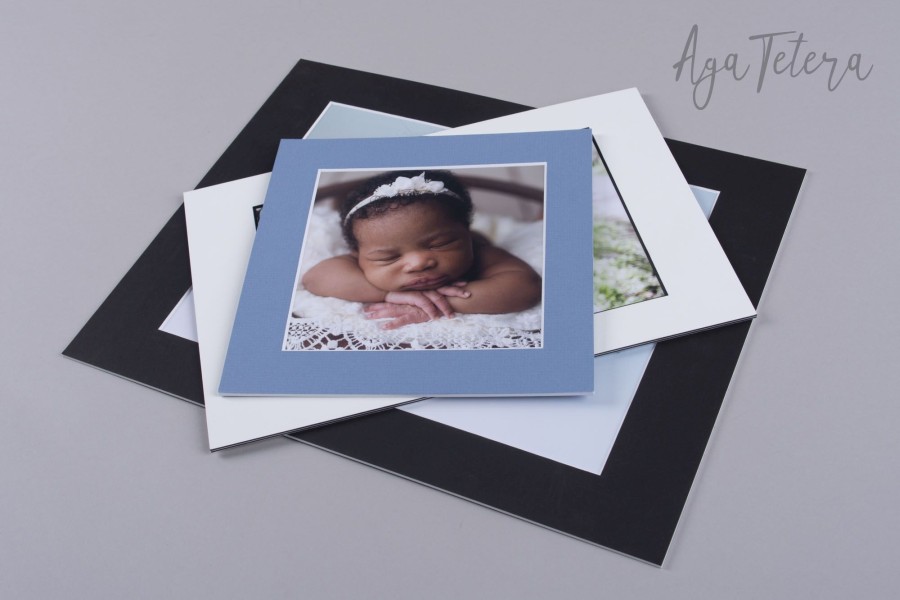 Pictured: Artwork by Agata Tetera - Matted Prints (top to bottom); 8x8" blue with a white core, 7x5" white with a black core, and 10x10" black with a white core.
Moreover, these options can also be upgraded to include a stylish, hand-crafted box, and USB option. For that configuration see our Folio Box.
The Place for Prints: Everywhere
The greatest thing about this news is the fact itself: that we are now offering traditional, loose prints. Prints are the quintessential print product that are appropriate anywhere and every where; for all occasions. A professional photographer without prints is basically like a photographer without his/her camera itself. They truly are the do-it-all photo product. And, let's face it, prints are the product all clients want.
Yet, perhaps, the most valuable use for prints these days for pros is their function in packages and bundles and the incredible upselling tool and space-filler product they provide. Tempt your clients to go to that higher-level with a brilliant assortment of loose DreamPrints in a matching Box for Prints.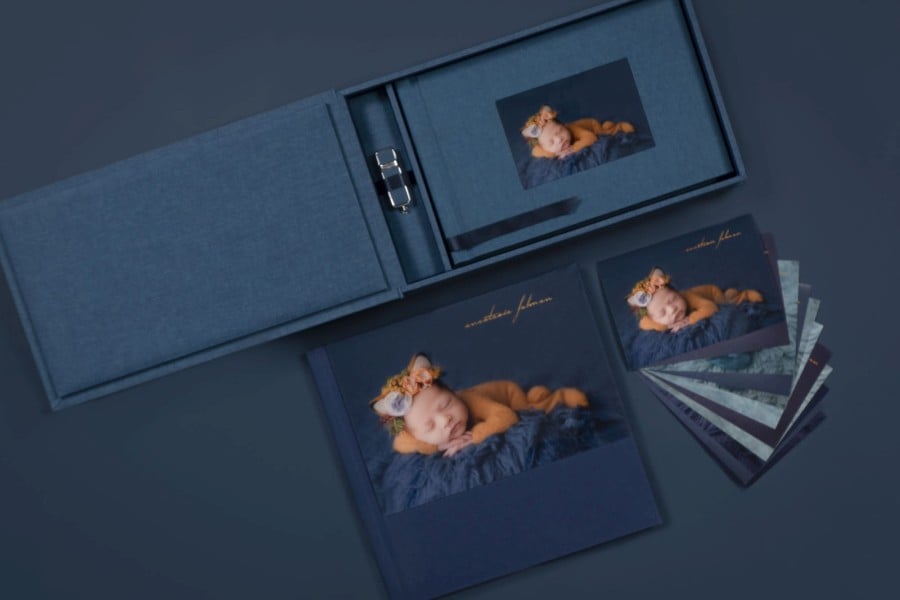 Pictured: Artwork by Anastasia Folman - 12x8'' Complete DreamBook 4K Set in H16 textile DUO (unfortunately discontinued). Exclusive Collection, P4 cut-out window option; 12x12'' DreamBook 4K in A38 textile, Acrylic Collection, AP4 cut-out window option; and 6x4" Prints.
Alternatively, don't let your client walk-away with only a digital option. Instead, insist they experience a taste of the print-world with Prints coupled with a Box for Prints and USB. This way both parties can leave happy.
Sign up for blog notifications
& Always be up to date on new posts