Baptisms, Holy Communions, Confirmations, and other religious ceremonies - all thoroughly photography-friendly events. How would one go about getting more clients for them? How do you organize your services for them? Are there photo products that are particularly suitable for such occasions? We'll answer all of these questions below.
Where can I get clients?
The Church. Picture the usual Holy Communion, Confirmation, etc. Now picture a vast, crowded rush of potential clients in front of what could be your photo studio. They all want to have their photos taken by you - certainly different from the kind of image that would usually come to mind.
And we don't want to tell you all that when you've implemented the tips from this article, you'll be busy setting your eyes upon a mile-long queue of those taking the holy sacraments standing outside your studio.
Even in the days of our parents and grandparents, people attended Holy Communions or Confirmations simply because it was the custom. A large crowd in church was no surprise.
Nowadays, it's usually far more common to see fewer sacrament recipients during mass. The difference is in the commitment - those attending now tend to have far more dedication than before because they go to church of their own accord. No one is forcing them to attend and social pressures to do so are far less.
So - we've just defined the target audience. It's all about young people and especially their parents, who are involved in practicing their faith.
But how do we promote our services to these people? Well. The easiest way is to belong to this group ourselves. But that would be too easy. So what do we do if we are not (particularly) (perceived as) believers?
Distribute flyers at your local church. It's not difficult to stand out from the "masses". You don't have to be afraid that flyers from 20 other photography businesses will lie on the table next to yours.
What other kinds of contacts are considered important?
It's advisable to maintain contact with local pastors and parishes. For example, perhaps the parish priest would be happy if you gave him some church pictures for free. Or if you photograph a local church event. This will make you recognisable and appreciated.
Again, the keyword is contacts: Familiarize yourself with entrepreneurs who photograph holy ceremonies and the like. There may be restaurants that organize the confirmation dinners. It can also be decorators who decorate the church. It may even be the local seamstress who makes the chasubles.
But what does it mean to make contact? What's the point? All of these service providers can recommend you as a photographer. But they will certainly not do it for free. So how can they benefit from working with you?
Delicious dishes, beautiful interiors, artfully sewn albums, or imaginatively arranged flower compositions. All of this needs advertising. Thus, all of it needs to be photographed. And if the parents feel enthusiastic about the restaurant they have seen in your pictures, then the chances of you being "ordained" as a celebration photographer in that restaurant will be even greater.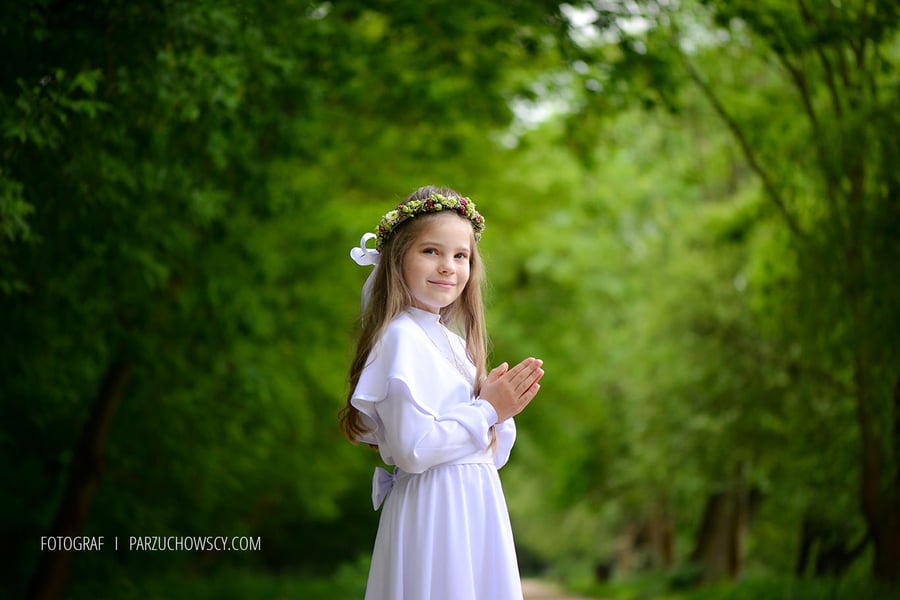 Church ceremonies: How can you prepare for the photo shoot?
There are priests and procedures. Especially if you're taking your first steps in Baptism, Communion photography, and the like, it's a good idea to ask the priest in advance if he won't give the baptism a few days earlier.
Then, you can sketch out a scenario to know precisely in which sequence everything will happen.
Will the sacrament be administered before, after, or during the service, or will it be done separately?
You can look for suitable backgrounds for group pictures inside the church.
Check the lighting conditions. How much do the ISO values need to be adjusted?
Such photos of the church, which you can take as test photos anyway, can also be given to the priest. You can set the building blocks for good cooperation with this little effort.
Are there galleries or other places in the church from which the events in front of the altar can be observed and captured particularly well? Will these places be accessible to you during the service?
Make a note of the objects that can serve as a suitable complement to your photos, such as the baptismal candle, font or baptismal font, tabernacle for first communions, dove carving (Holy Spirit) for confirmations, etc.
It's also generally good to know which religious items go with which denominations. So, for example, while a child holding the Bible is rather universal, the rosary belongs mainly to the Catholic tradition.
How can you benefit from meeting up with your clients?
If you receive an individual assignment from the family and want to photograph the celebration in a restaurant or at someone's home, meeting the family in person beforehand is worthwhile. How does this benefit you?
You can personally ask about the family's specific needs. For example, should all the guests be photographed individually? Who are the godparents? Should the photo shoot with the child take place indoors or outdoors? Should the pictures look relaxed, playful, or celebratory? Will there be a choir singing? Should the singers or organists also be photographed?
Should the couples at the party be photographed? Would the child open their presents during the party? (That's also an event well worth photographing).
The parents get to know you, allowing you to develop trust.
- Especially if the child is a bit shy, they can get acquainted with you and feel little or no stress when they get in front of the lens on the day of the celebration.
- For the more confident children, the opportunity opens up for them (especially the girls) to feel like real brides or models when the prep is photographed before the communion or confirmation.
Show matching photo products and product packages.
What could those be specifically? We'll get to that. But, for now, know that you can get a 45% discount on client-order print products well-suited for church events.
Baptisms, Confirmations, and more: What to keep in mind during the ceremony
Often, young photographers are tempted to run around the church all the time to get the best shots of everything. That's fair. By doing so, however, they risk the church attendees noticing. Moreover, it can distract them from what is most important.
All right, but every now and then, you have to move into a visible spot to get a critical shot, like a moment of water pouring. Sure. So go, take the photo, and pull back to remain inconspicuous.
Don't use flash. Apart from the fact that it's often not permitted, in a dark church, it would almost look like a weapon to those being photographed. For example, a pretty natural reaction of the person being baptized is to tense up their face. And that is certainly not the effect you want to achieve.
You should be especially careful during the service when there isn't much movement. One such moment is the sermon, for example. Do you want to photograph the preacher? Okay, but do it at the beginning: it'll be much less distracting.
Apart from the celebration in the church and restaurant, it's also worth offering an outdoor shoot. It is advisable not to do this on the day of the sacrament. On that particular day, parents and children will be very stressed. If you do it in the days after, everyone can relax and concentrate on the here and now.
Portrait photos with specific props give the photo even more meaning. But stick to the principle: only one prop per photo.


Which photo products are best suited for church events?
The Lite Album.
Not everyone can afford a full-sized photo album. So there are Lite Albums for those being baptized & confirmed at a "lite age".
The spreads are just as thick as on our full Photo Albums, so everything is well-preserved quality-wise. You open up the album, and its story begins from the very first page. Your customers can go minimalist and opt for five spreads, printing just the main highlights, or order one with up to 40 to hold the whole story.
Every communion, confirmation and so forth has its sparkle. And such a glow can also be reflected on the cover of this photo album. Gilding suits such occasions particularly well - by shining and reflecting light. Such a sight makes client faces shine too!
The Lite Album's covers can also be finished with pearl-like foil stamping. There are ready-made cover patterns to suit occasions such as the first holy communion or baptism.

The Triplex.
Picture the following gift. The Triplex has its core person of interest in the center and their parents in the photos on the left and right. This is what the Triplex can look like for your clients. When this fold-able triptych is slammed shut, the cover is on full display, which can also be embellished with the child's name, words like "Peter's Baptism" or a short quote.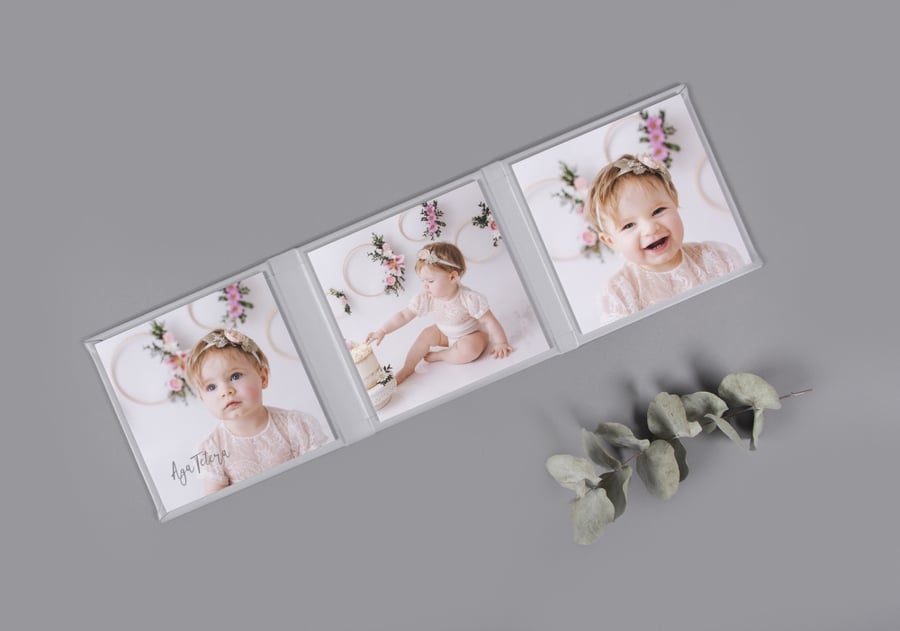 Triplexes are available in 6 formats. The cover can be finished with velvet, a leatherette, or many other cover fabrics. We especially recommend the leatherette for occasions such as a baptism or first holy communion. To make individual pictures even more prominent, they can be moved behind acrylic glass or framed in passe-partout to create a matted print.
Accordion Mini Books.
You would typically have one or more print products made. But you would also like to surprise multiple guests with a small gift. An Accordion Mini Book comes in handy for this.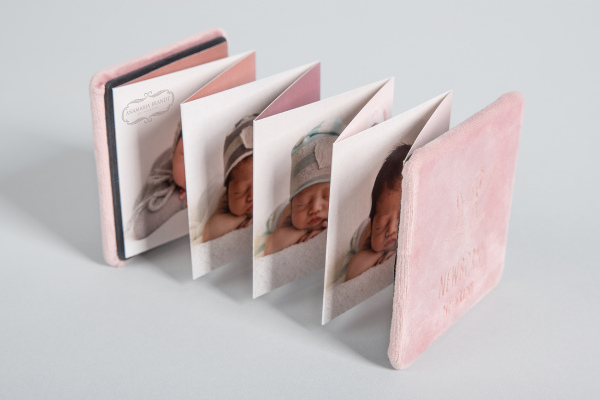 The mini offers space for up to 18 "memories". It could consist of pictures and matching clip arts or quotes, be it a Bible passage, good wishes, words of remembrance, or general life advice.
The Accordion isn't just eye-catching. It's also equipped with magnets that allow the little reminder booklet to be attached to a fridge, for example.
If you order copies of an Accordion for 3 or 4 guests, you get them all at a 25% discount. If five or more guests are bestowed with such a gift, nPhoto will discount it by close to 40%.
Prints & Envelopes.
Some customers only want prints. Of course, you have to respect that too. But you can also impress such customers by providing the photos in an elegant envelope. These envelopes can also be ordered in matching celebratory motifs. They are printed on both sides and can be folded on both sides.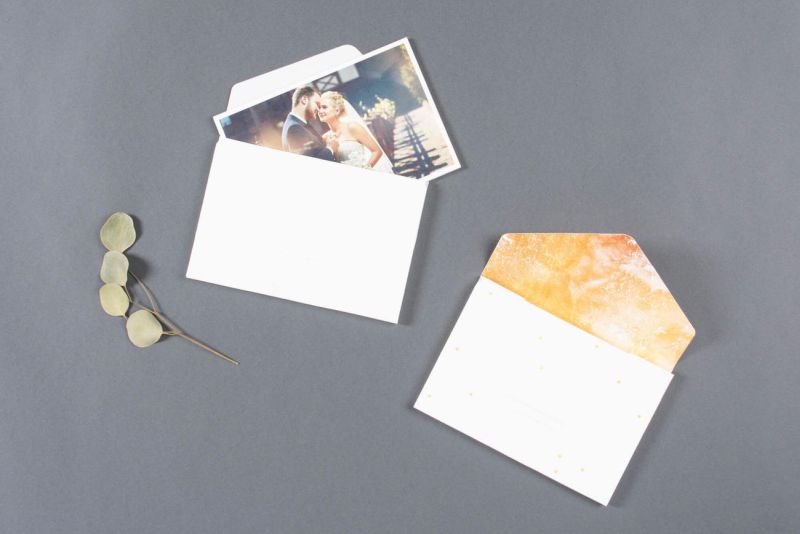 Luxury Greeting Cards.
Even the invitations can be offered as greeting cards. You can offer them as part of a larger package. If you've already been acquainted with the client, you can include portraits from their previous photo sessions in these cards. You may also use these cards to offer limited discounts and encourage more photo sessions down the line.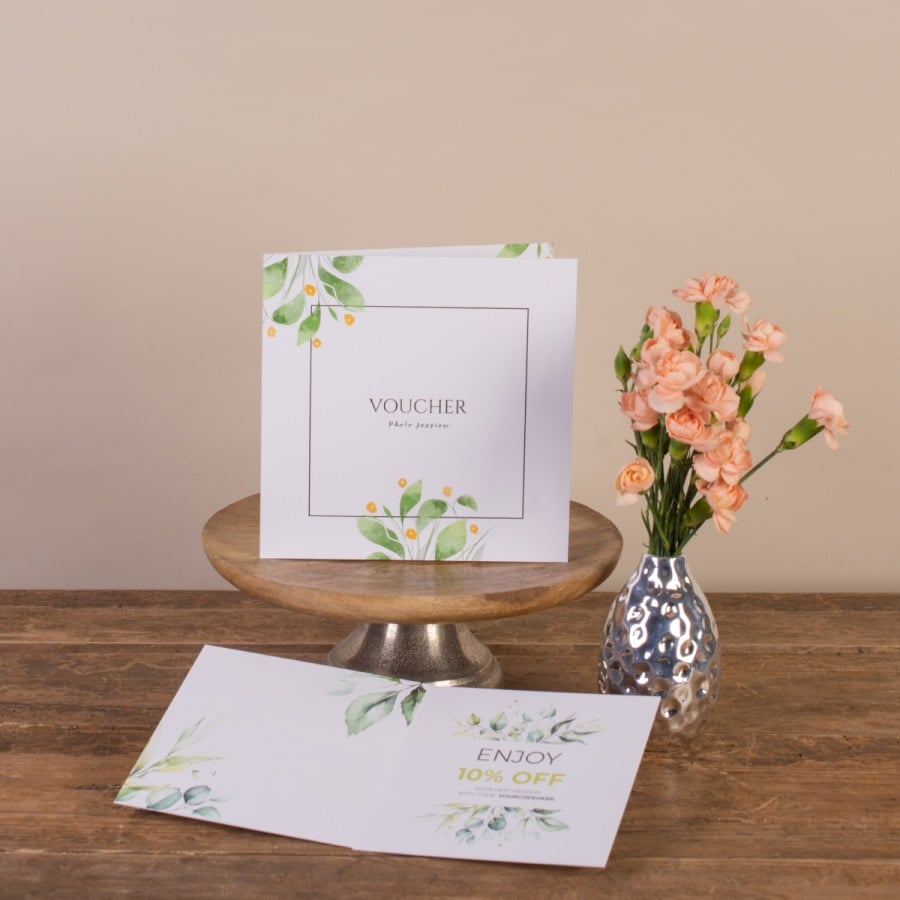 Framed Prints.
Confirmation witnesses, godparents, and grandparents would undoubtedly be especially pleased to see a portrait of their solemnly dressed darling on the wall every day. Classic wall decorations such as Framed Prints are recommended for this purpose.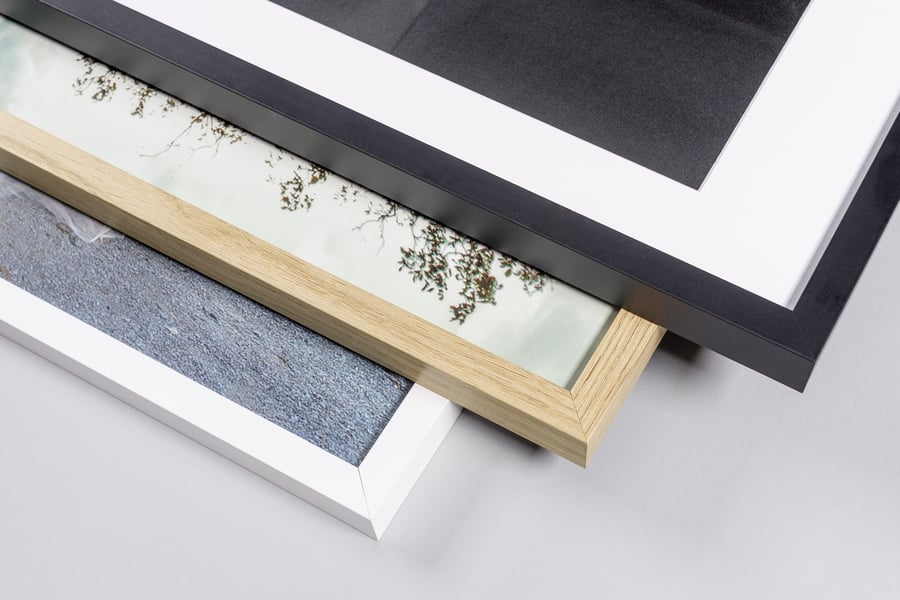 We currently offer a 45% discount on all Lite albums, Triplexes, Envelopes, Luxury Greeting Cards, Framed Prints, as well as Basic Photo Books, Folio Boxes & Easel Stands, which are particularly popular among school and senior photographers.
To claim this discount on any number of print products from these categories, enter the code:
BLOOM45
in your shopping cart.
Alternatively, you can sign up to receive the discount code here.
But what's the point of signing up when the discount code is right there?
Good question. When you sign up (which is completely free), you'll get a package of materials to help you with your photography business. Namely:
- A collection of social media templates
- A PDF guide with sales tips from Dorie Howell, a renowned US photographer & the host of our podcast
- A guide with tips for Mini Sessions
- A set of fancy and easy-to-use product mock-ups
- A set of ready-to-use product marketing images.
Sign up for blog notifications
& Always be up to date on new posts