That's right, mini sessions are powerful tools in your business arsenal.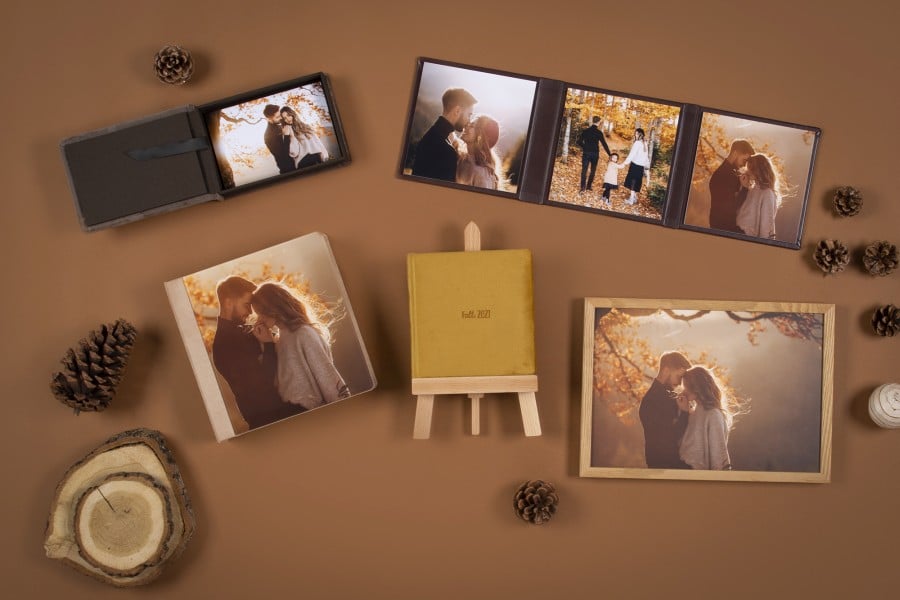 Think not of mini sessions like annoying, eye-sore weeds that need to be removed from your otherwise beautiful, lush professional photography garden, but instead as the seeds of a fragrant, bountiful fruit tree – as they actually are.
OK, in plain speak: mini-sessions are what can be, and should be, that solid foundation for your professional photography studio.
And, when done right, they really are the gift that keeps on giving; both in their own right, but also as feeders to your more typical, full-time offers.
Yet, what will allow you to really capitalize on mini sessions? Offering the right print products to compliment them.
Offer print products that are both great for mini sessions, but also allow for growth and an easy transition for your clientele into your more full-time product offers.
Below, we will go through some of the most practical and sought-after mini session products that will create big sales from your mini sessions, allow for growth, and ease your clients into the rest of your full-time product offer.
What are the Best Print Products to Offer with Mini Sessions?
Folio Box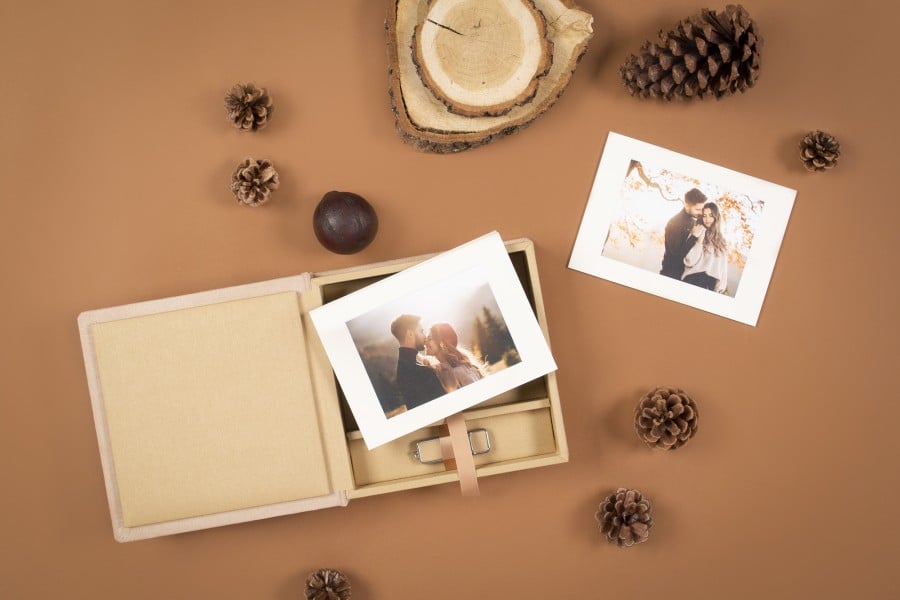 Did you know that you can order the box for our Folio Box and the prints that go inside it separately?
You can!
And, what does this mean for you exactly? It means you can essentially create your own Folio Box. Or, better yet, you can allow your clients to create their own Folio Box.
Well, OK, perhaps not quite like that.
Hear us out; maybe you don't literally let them create and design it, but from a mini session you can offer a Folio Box with a box designed for 20 images, yet only include 10 in the standard price offer.
Then, you can either encourage your clients to buy more than included from that session to round out the 20, or encourage them to book another session to help complete the Box.
For those who may be skeptical, this idea is used in popular 'Grow with Me' packages.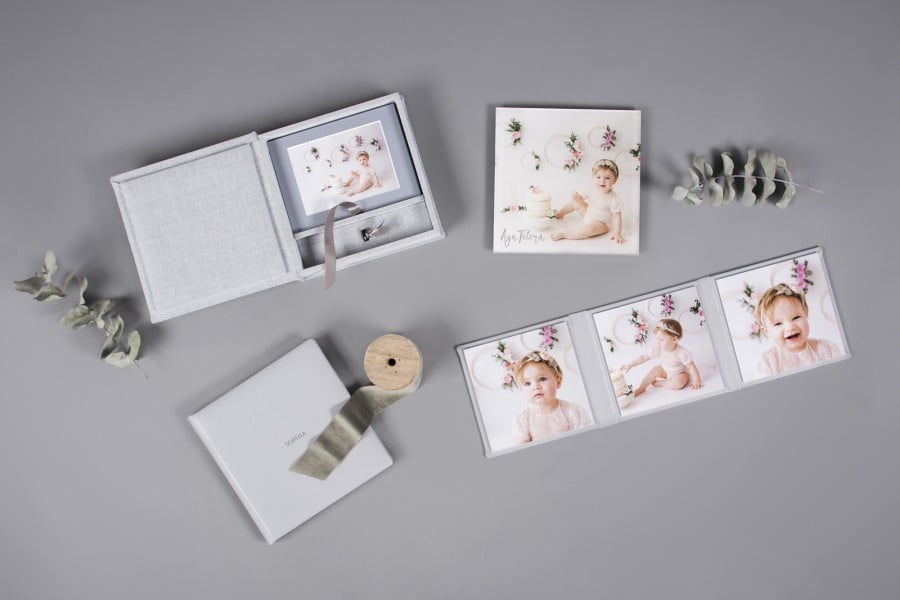 In these, photographers acquire pictures of their subject over time and then assemble them together to clearly portray their growth and development.
This is a practice seen mostly with professional maternity & newborn photographers and pet photographers, yet it can be used with child and family photographers as well.
[Even professional wedding photographers, too, if you want do the wedding and then anniversary shoots over time :) ]
You can offer such a package - say of 5 or 6 sessions - to your clients and be sure to schedule them a mini-session at the same time every year (on a birthday perhaps), or even a session every 6 months, or 3 months depending on the rate of development and change of the subject.
Of course, you can offer as many as you feel appropriate, but this is a great way to really stretch your mini sessions and get the most out of them.
To compliment this you can pair our Folio Box with the session offer. Simply order the box and prints separately.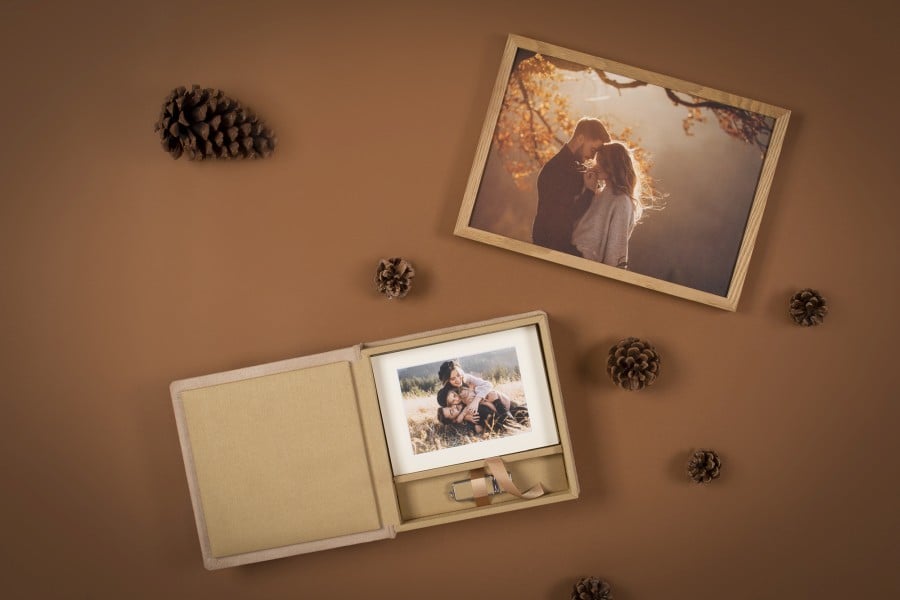 Start by ordering the box at it's biggest capacity and then add the images, ordered separately, as necessary.
Just be aware you need to order these products separately; if you order a set (Box and Prints together) the box will be made to a size specifically for that many prints.
Specifically, the boxes for our Folio Box are available at depths capable of holding either 5, 10, 15, or 20 prints at a time.
You can then customize the box by choosing among 12 different sizes options with all three orientations (portrait, landscape, square) available and selecting any one of over 80+ vegan leather, textile, velvet, or suede textile material options.
Also available is the option to include a digital USB that is housed in the box.
Don't forget, our Folio Box prints come in two types: Board Mounted Prints, or Framed Prints. The Framed Prints then offer their own choices for frame color and core frame color.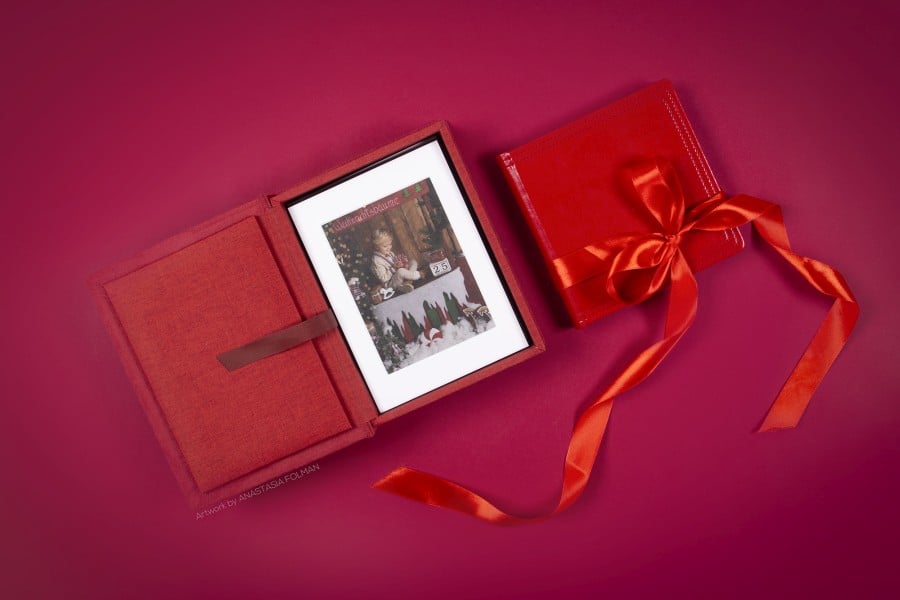 Yet, by combining our Folio Box (bought separate) with our Folio Box prints (bought separately) available at any quantity, you are able to create a variety of custom, scaleable options for your clients and mini sessions offers.
For example, if you order a box at a depth for 15 prints, you may offer any number of prints under 15 as standard, say, 10, but then work to upsell the difference – in this example that being anything from an extra 1 to 5 prints.
Even if your client chooses to exceed the capacity of their Folio Box you can easily order another box, separately, to house the difference, or simply display the Prints on their own.
Take advantage of our nPhoto Accessories, such as our Wooden Photo Ledge and Wooden Easel Stand to give your clients a great way to keep their Folio Box prints on display any time in their home.
One last point of note is the Folio Box is a wonderful introductory piece and gateway into the world or professional photography products.
Experience with a Folio Box familiarizes your clients with both professional photographic prints - opening their minds to things like Framed Prints wall décor and Box for Prints with photographic prints, as well as other premium packaged products such as our Complete Album or Photo Book Sets that also come standard with a hand-crafted box and incredible, everlasting quality.
Box for Prints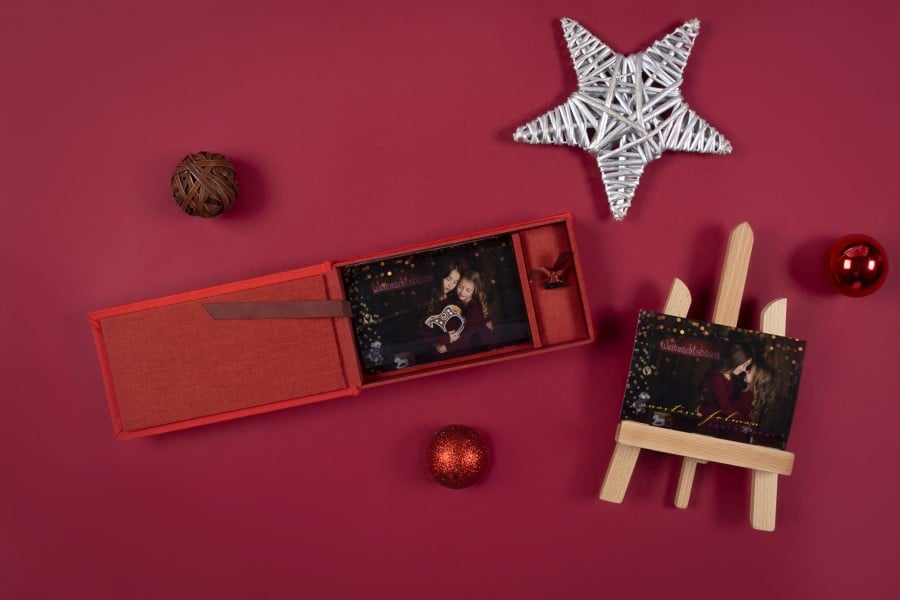 Our Box for Prints offers a similar principle as our Folio Box, only with 'the more traditional' style photographic prints.
Here, too, the possibility for growth is innate as the Box can be ordered with a bigger capacity than you might offer as standard through your mini session price.
With our Box for Prints you have the selection between two depths: 1.6cm which allows between 20 – 50 prints, and 3cm which allows for anywhere between 51-100 prints to be included.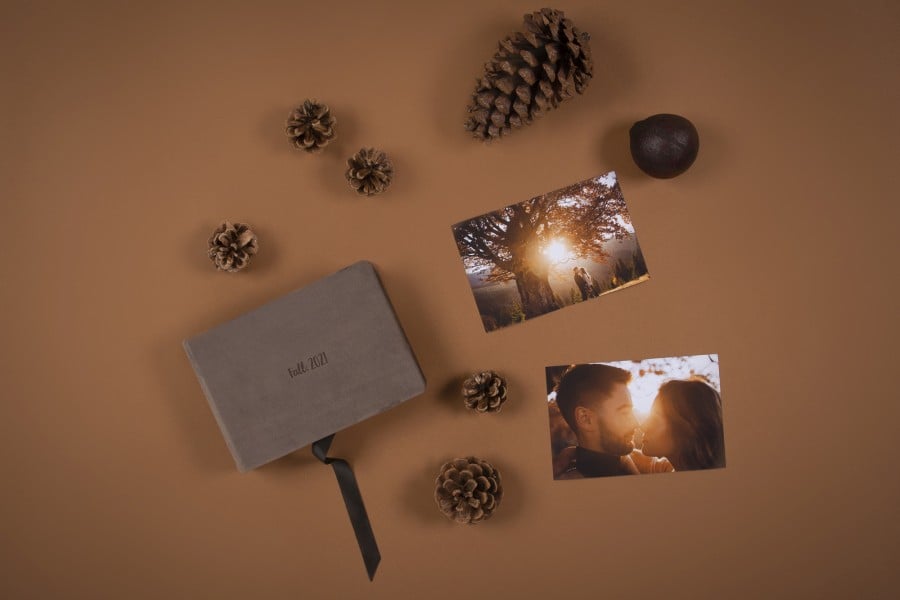 Moreover, our Box for Prints are great upselling products that are appropriate to pair with any occasion and any type of pro photography.
Always welcomed by clients, and, one of the more recognizable professional photography products, a Box for Prints with prints included will never be out of place, nor out of style.
With sizing and capacity at your complete control, our Box for Prints are a perfect, scaleable, compliment to your mini sessions or full-time service packages.
Fine Art Prints - NOW AVAILABLE!
For those photographers seeking a product a bit more urbane, our Fine Art Prints are for you.
After all, who says mini sessions have to be quick and dirty?
They can easily, equally be elegant affairs complete with only the finest, most artistic products.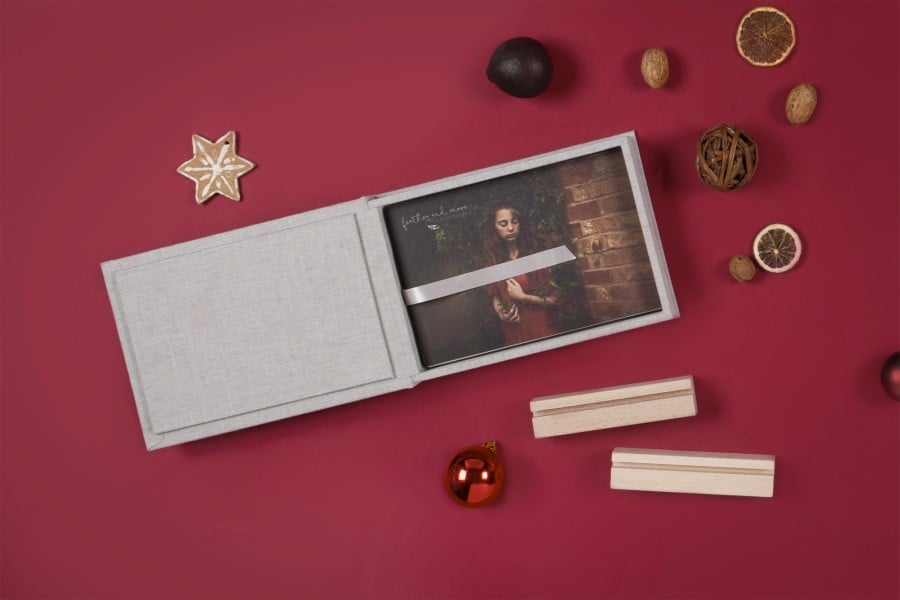 Our Fine Art Prints can function for your business similarly to any of the products mentioned above. Their tremendous flexibility makes them an ideal offer for low image count mini sessions as well as all-weekend-full-service luxury shoots.
Indeed, our Fine Art Prints are available to you at any size order; with the ability to even be ordered as one print!
Furthermore, you can compliment the prints with a variety of high-quality accessories such as a Box for Fine Art Prints, Envelope for Fine Art Prints, and a Wooden Photo Holder to help your clients keep their photos on display.
Framed Prints
Everyone loves a little wall décor and there's nothing more symbolic of professional photography than the Framed Print.
In fact, you'd be hard pressed to find any four-walled inhabitance that didn't include at least one image in a frame.
Mini sessions are the perfect moment to make of the most of the incredible popularity and desirability of the classic framed print.
Since mini sessions, by nature, produce a low image count per session and only require you to edit a handful of photos, offering a collage of framed prints in various sizes makes perfect sense.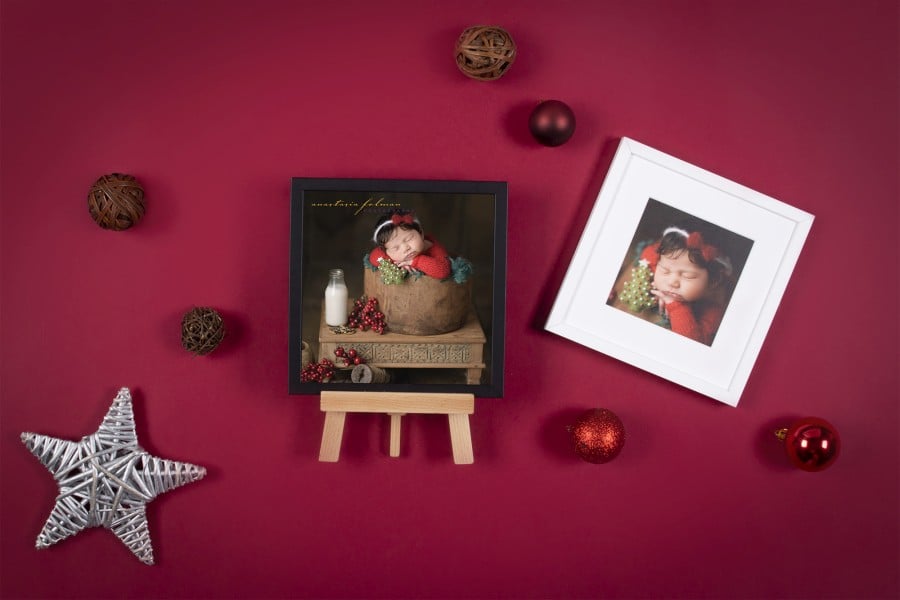 Clients will love their "Christmas mini session collage" hung over their fireplace.
Moreover, the flexible nature of framed prints makes it easy for you to grow or reduce your offers appropriately; or add to existing collections your clients may already have.
Often, clients will be focused on getting framed prints from a given session making this product one that has limitless growth potential as you can keep adding to a client's collection over time.
At nPhoto we offer a plethora of size and design capabilities for your Framed Prints so you can be sure to alway come with something unique and find suitable for any living space.
Professional Photo Album [MINI Size]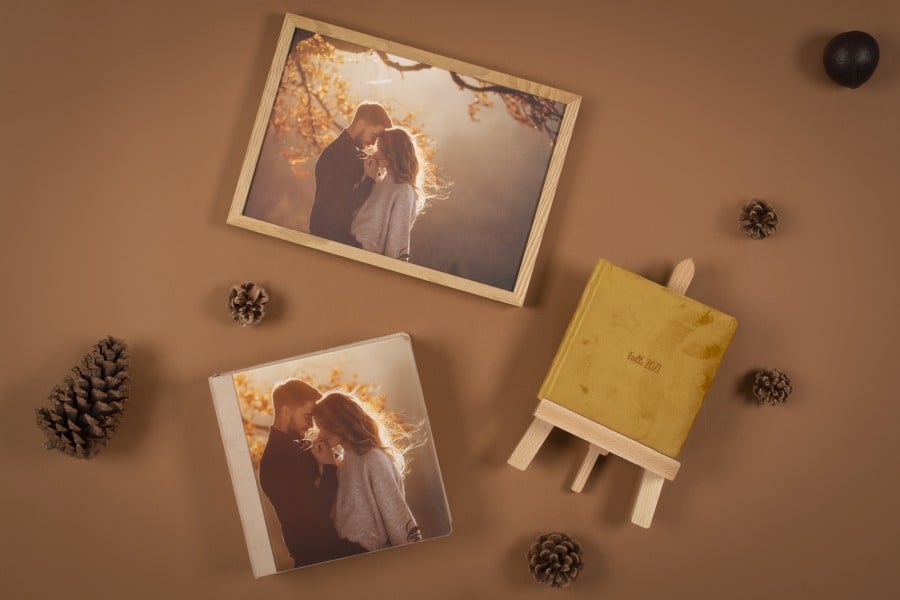 Mini sized photo albums are great products to pair with any type of mini session, however, they are particularly fitting for maternity, newborn, child/family, and pet photography related mini sessions.
Small sized albums do great to compliment the limited number of spreads that will likely inhabit the album.
Remember, the major purpose of a mini session - from the perspective of a pro photographer, is to establish a quick and efficient service that maximizes client satisfaction, but also keeps things moving for the photographer.
This means short sessions, often around 15 minutes, a low number of photos taken, and likely even less photos edited. Therefore, not much opportunity to include a large number of spreads in an album.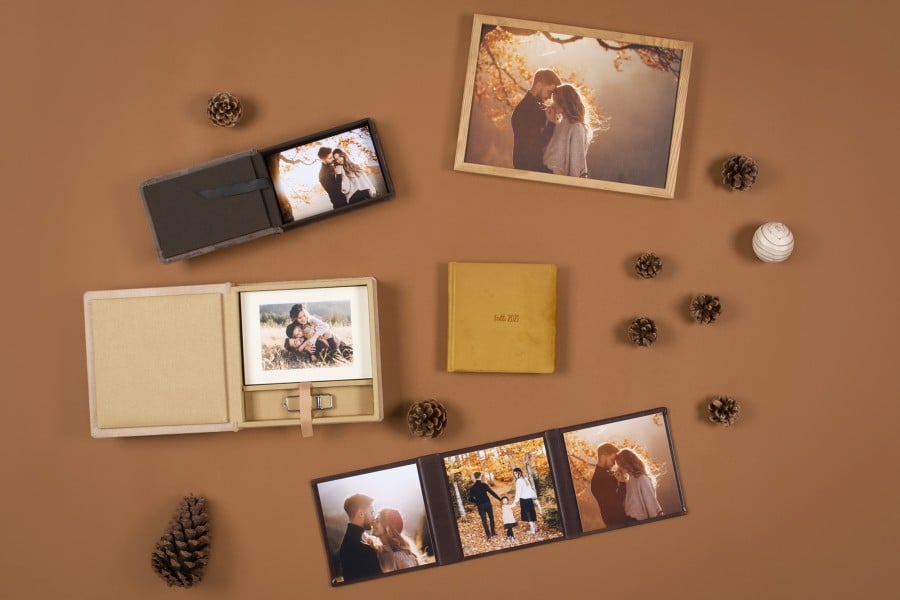 But, this is OK.
In fact, it's more than OK. It can be beneficial.
Offering your clients a small sized, low-spread-count, photo album can serve three rewarding purposes:
1) it gives your clients an incredible, everlasting product from their mini session that you can charge accordingly for,
2) it saves you time being bogged down in a lengthy editing process for a cumbersome album, and
3) it gives them a taste; a teaser of what is likely a big-ticket item of yours – a full-sized, numerous spread, professional photo album.
Such full-sized albums will often accompany your full-time shoots, and, so if clients get a taste of the small album and want more you can encourage them to sign up for a full-time session.
As for now, check out our 6x6, 6x8, and 8x6 Creative and Exclusive Collection Photo Albums to get the most out of your mini sessions and give your clients a taste of your service.
BONUS: Triplex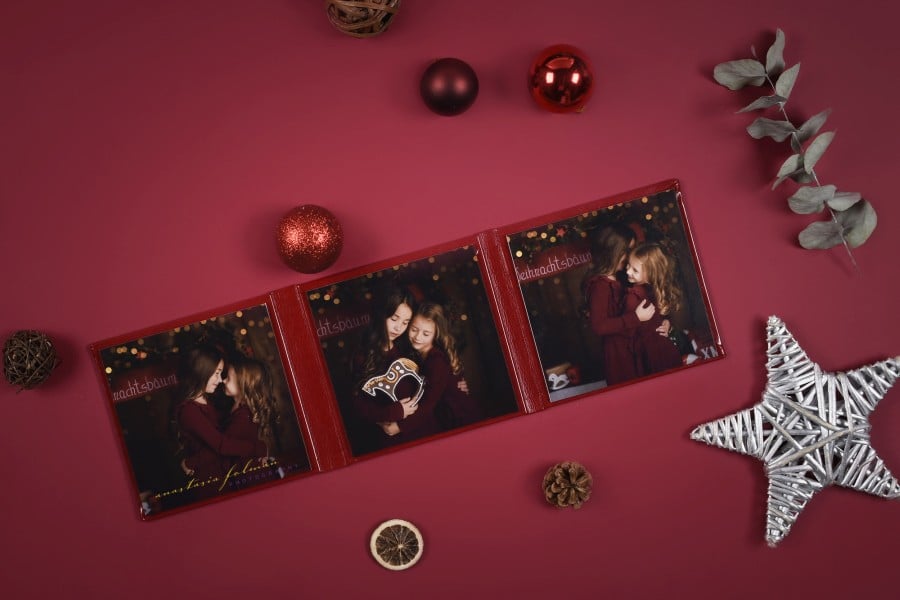 Our Triplex offers you a premium, coffee table photo product that includes three images printed in the same manner as our Photo Albums, then mounted onto a vegan leather tri-fold.
This product comes available in 6 different sizes and both square and portrait orientation making it an ideal add-on to any mini, or full-time photo session.
Similar to our Folio Box, if you photograph clients whom you've serviced for years, consider offering them a Triplex showcasing their growth-over-time. You can do this for the family as a whole, or single out a child or pet.
Such projects and products make for perfect presents for a grandparent for the holidays, or their birthday.
Mini Session Products with Package & Growth Potential
Depending on how elaborate you decide to make your mini sessions, these products can easily be mixed and matched to create incredible packages, or further upselling opportunities for your sessions.
Even if you like to keep it simple and only offer one product per mini session, you can consider offering a different product for each session.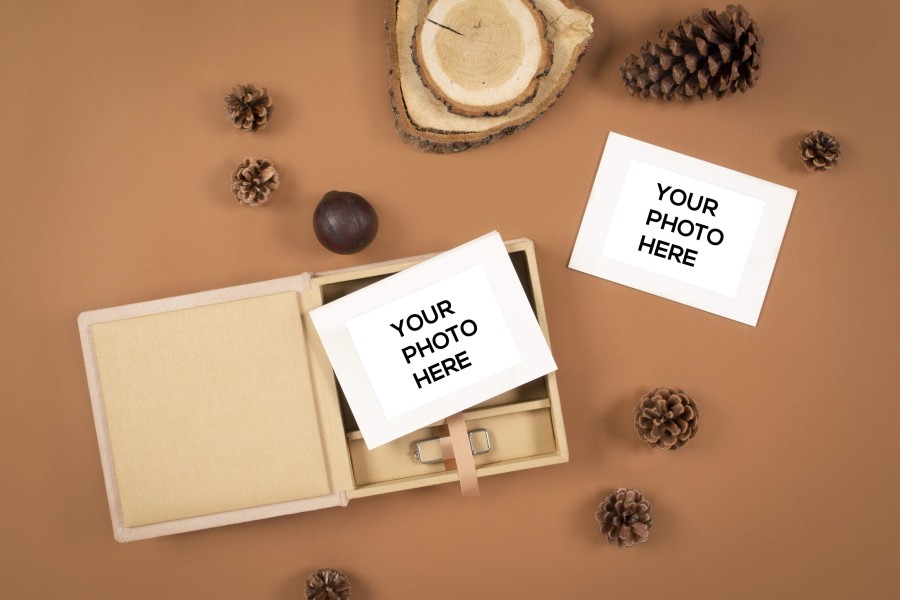 For example, you may offer a Christmas mini session and only sell small sized albums to accompany that session, but also have a Fall session where you offer up only 5 Framed Prints per session, etc.
These products then give you a great pool of resources and inspiration to draw from.
Is there a Mini Sessions Print Productions Promotion?
Yes!
If all said weren't enough, we are excited to extend to you a 45% OFF discount on select mini sessions products.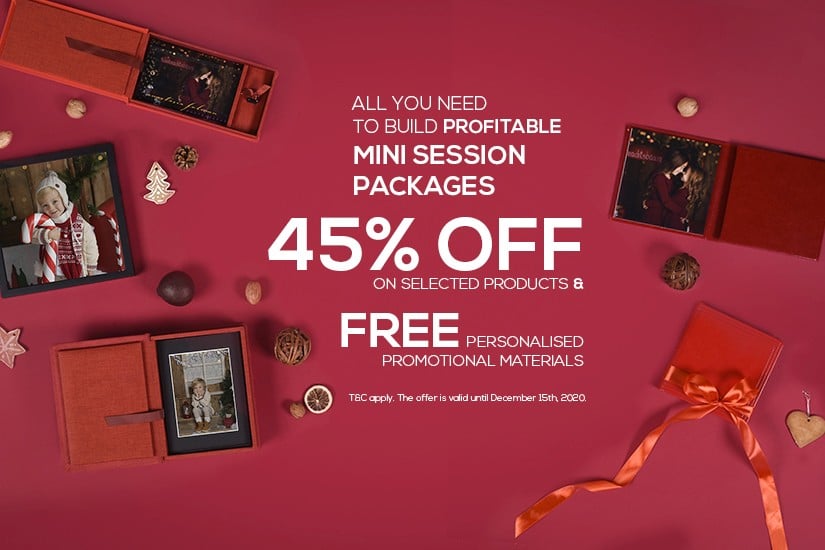 Specifically, the 45% off offer on selected products includes the following products:
Fine Art Prints, Envelopes for Fine Art Prints, Box for Fine Art Prints, Wooden Photo Holder, Triplex, small Photo Albums in size 6x6 '' / 15x15 cm , 6x8 '' / 15x20 cm and 8x6 '' / 20x15 cm (either in Exclusive or Creative 100% collection), Folio Box (either Exclusive or Acrylic Prestige collection), Wooden Photo Ledge, Box for Prints (either Exclusive or Creative 100% collection), Framed Print.
The promo code can be used multiple times during the promotion. The offer is valid until December 15th, 2020 and cannot be combined with other promotions.
Simply click the button below, fill out the form, and become eligible for the promo.
We know this year has been particularly rough on professional photographers and their business and we hope this offer can help you get your feet back on the ground and your business well into the black!
How can I use Mini Sessions to Grow my Business?
As mentioned earlier in this post, the truth is mini sessions can be invaluable foundations for your business.
They really are a tremendous opportunity to cast the net of your brand and business far and wide to get (when done right) good business from the mini sessions themselves, but also, (ideally) lock in some clients for other sessions and services as well.
To help ensure your mini sessions do as you want and keep your clients coming back for more, consider the way you market them.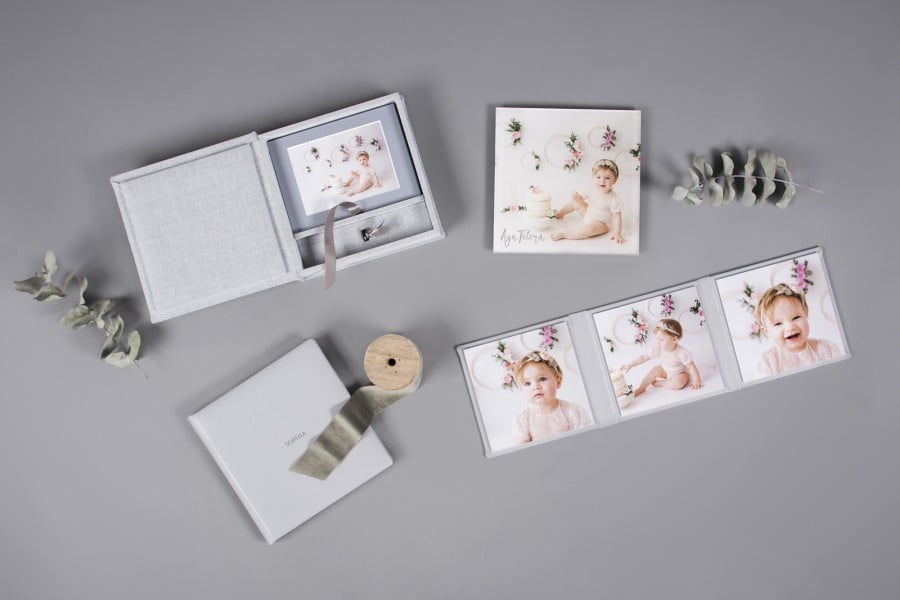 Consider bundling a few mini sessions together and offering a package deal.
Think of what we said about 'Grow with Me' packages earlier in the post.
For another, more general example, consider, offering more than one mini session a year; say 4 mini sessions a year, then providing prospective clients the opportunity to sign up in advance for all four at once at a discount compared to doing each one separately.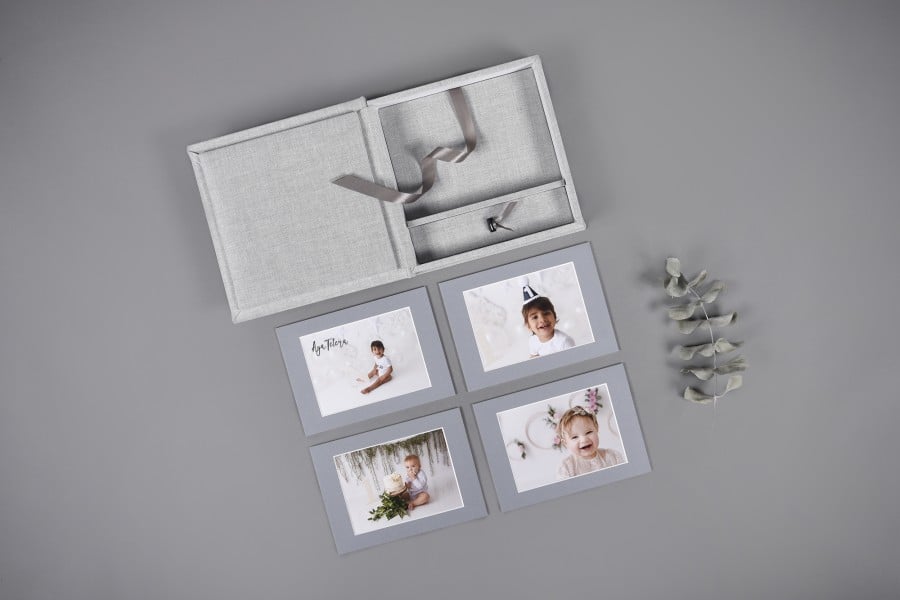 It's up to you how you want to work the pricing and the discount you award, but consider a well marketed, short-time frame (ie 24 or 48 hours) window to get a great deal (ie 50% off) and later another, say 72 hours, for a discount still, but not quite as attractive of one (ie 20%).
This will create a sense of urgency in your client base and initiate a sense of action.
Once they realize how much they could save, it's likely many will act.
Of course, you can cap the available 'discount' spots to not allow your whole schedule to be filled with discounted sessions and still leave room for 'full price' participants.
Another strategy we often come across is photographers liking to back-load their mini sessions.
In other words, the session fee is an adjustable amount merely intended to entice clients and get their 'foot in the door', then they simply keep product pricing similar to any normal session they may offer and see great returns on investment for their sessions.
Also consider offering specialty mini sessions that are based around a popular, or elaborate theme, but require the client to have used your services before to be eligible. This could be from a previous mini session that year, or a full-time session in the past.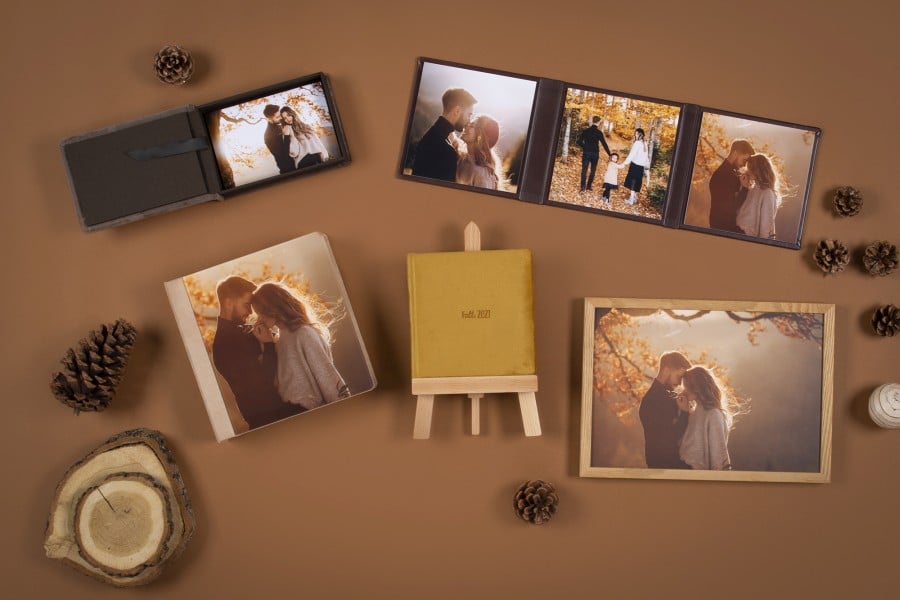 Finally, think of ways you could package mini sessions with your full-time sessions. Consider discounts for clients who book a mini session and full time session with you in the same calendar year, or whatever stipulations you feel best for you and your business.
The key here is mini sessions are incredibly flexible services that can be tremendously valuable pieces in the puzzle of a successful photography business.
Think of them as those opportunities to put your name out to the world, potentially meet new long-term clients, make a good penny, and mostly be extremely creative and have fun.
Yet, speaking of 'getting your name out', don't forget about our free, downloadable .psd file mockups.
We have these to match the theme of mini sessions including the products apart of this promotion.
These are great tools to use to reach out to your client base, or new leads, and excite them with great looking products, in theme, including your own images (perhaps, even of the client you're targeting!) Using these mockups and making them as personal as possible to your recipient is an effective way to land a booking.
Sign up to get them.
For more valuable insight into how to effective market mini session, check the blog post from our social media expert, Mini sessions - How to Promote them Using Digital Marketing - Checklist (2020).
Take advantage of our mini sessions promo; the free marketing mockups, and our products catered toward these sessions and intended to grow with your clients and business. Then, along with a little effort and TLC, watch as these seeds of mini sessions blossom into towering trees forever bearing that sweet fruit of success.
For more on how to master your mini sessions, check out our Facebook Live with Ana Brandt all about mastering mini sessions:
Sign up for blog notifications
& Always be up to date on new posts