Mini Sessions are a great idea to improve income in your photography business. In the unsteady time of COVID-19, it's even more than essential to promote them in the digital world. Today we're gonna give you a complete CHECKLIST on how to properly promote your Mini Sessions on Social Media and across the Internet.
#1 - Check Your COMPETITORS!
Before you launch any marketing ideas into action, the first thing that should be done is... benchmarking.
If you already have a plan in your head, it's cool to write it down, and after that – visit the websites of other photographers who are currently running their Mini-Sessions.
Verify what are their costs of shooting, what is included in their packages, and how they actually promote it. In this way, you'll have a reference point of prices in the business as well as industry-specific marketing solutions.
If your website is getting regular traffic, you can use the tool SimilarWeb.com to search for your "lookalike" competitors. Just put your address in the top form, click on the zoom icon, and scroll to the "Competitors & Similar Sites" section.
The system will provide you with a list of websites that are similar to your photography business, and you'll get additional insight into their monthly traffic and sources of users.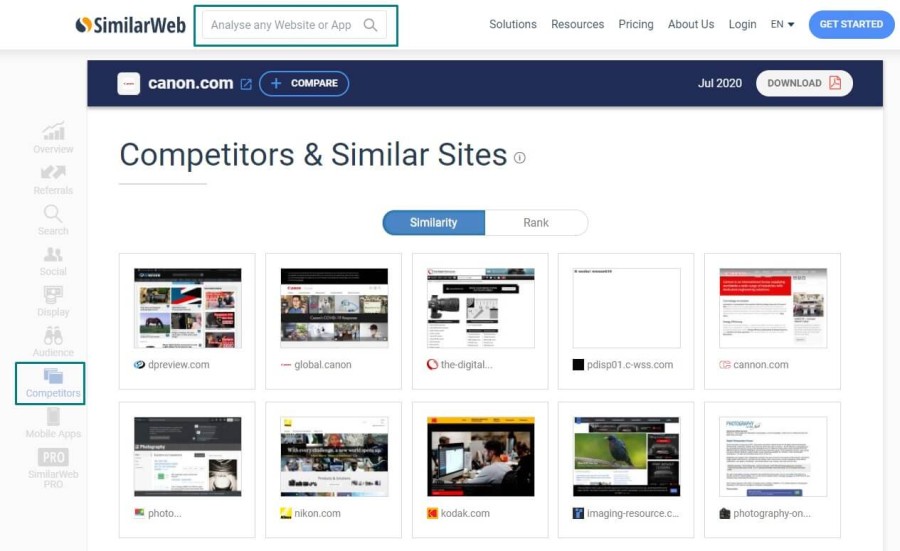 Source: SimilarWeb.com
#2 - Create a Landing Page
Everything you're about to post on Social Media or anywhere else needs to be linked somewhere.
That's why you have to create a so-called Landing Page – a place where people can use your offer.
There are many different solutions that you might implement here.
Your Landing Page might be a blog post or a dedicated subpage on your website. The crucial thing is that there MUST BE A (mobile-friendly) FORM INCLUDED. The goal of your marketing activities is to make people book your Mini-Session, so you have to make it as easy as possible.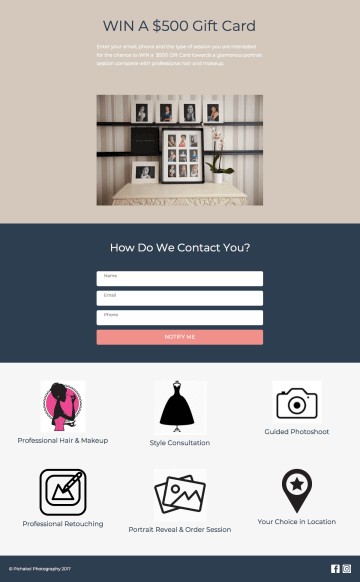 Source: mailerlite.com
If you are not a web design expert (why should you be? :) ), you can use FREE software and templates in order to create a Landing Page that will be good-looking and practical at the same time. Here are some examples that you can use:

a. MailChimp
b. Wix
c. ConvertKit

When designing a Landing Page be sure that it's mobile-friendly.
You'll probably promote it on Facebook, and about 80% of traffic coming from Facebook Ads are smartphone users. You can even start with creating a mobile version, and after finishing – go into the next stage and create the desktop version.
Include testimonials from your customers about your previous Mini-Sessions.
It's essential for acquiring new clients to be transparent and reliable. The video format is the best, but if you don't have that kind of opportunity, a text with an image of a person will be better than nothing.
...but you can go even higher in your User Experience level, and…
include within your Landing Page a booking schedule where people will actually see what dates and times are free to be booked.
Such a tool makes the conversion rate much higher as opposed to the 'regular way'.
Here are some software solutions that you can try:
a. picktime.com
b. simplybook.me
c. getsproutstudio.com
#3 - Create an Event on your Facebook Fan Page… and PIN IT!
It's the easiest solution to inform your Facebook fans that the Mini-Session season has started.

This will also be your 'hub' of information about such updates as, for example, your studio decoration (add such posts within the "Discussion" section).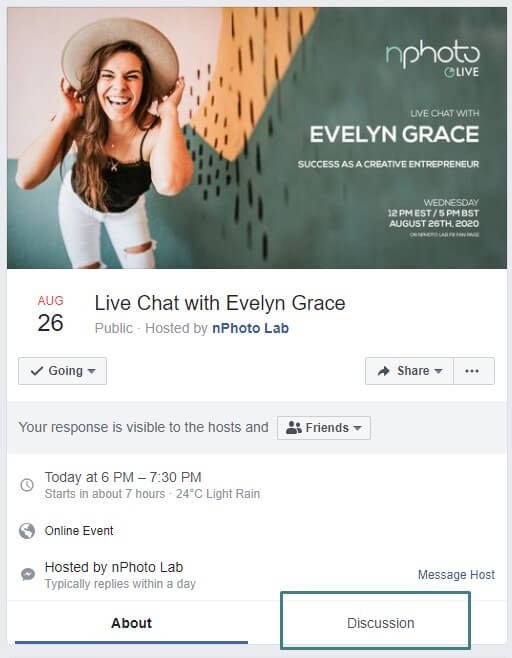 Source: Facebook.com
What else can you do with your Mini-Session event?
a. add there a link to your Landing Page
(in the "About" description and in the settings of the event)
b. include the address of your photography studio
(Facebook organically shows the proposition of events to people who are nearby. So, when you add it, it might also show your Mini-Session event!)
c. invite all your friends
(you'll get FREE organic traffic that is crucial in the first stage of your marketing campaign)
d. PIN the post about your event to the top of your Fan Page
(even new users will see that you're currently booking for Mini-Sessions)

For the main cover of your event, use a photo taken in the actual location and set-up that will be used for clients in that particular Mini-session. This way, when they see the image, they'll be introduced to the theme of your session (whether it's Christmas, Spring, etc.)
#4 - Add a Pop-Up to Your Website
There are two sides to every coin, and it's very similar to Pop-Ups.
Some people say that they are repulsive or ugly. However, I can guarantee that they actually work and can get you new bookings.
If you make them beautiful and user-friendly, then they can be additional help for you to get new leads.
In order to get people's attention, I suggest using a "lead magnet". It's a marketing method where you give an exclusive offer and ask for something in return.
In the case of your photography business, you can create a 10% OFF PROMO CODE for your Mini-Session, but in order to get it, the user has to fill out the form in which he/she provides an e-mail address that you can use for your newsletter.
In this way, you'll have a double win:
a. new potential booking
b. increasing your newsletter database
If you already have a pop-up module on your website, then it's very simple to create. However, if your website does not support that kind of support, you can use additional plugins (especially helpful for WordPress CMS users) or FREE software (i.e., HubSpot or Mailchimp) that can give you a bunch of design ideas and functionalities, such as launching on an exit-intent or after scrolling 50% of your website.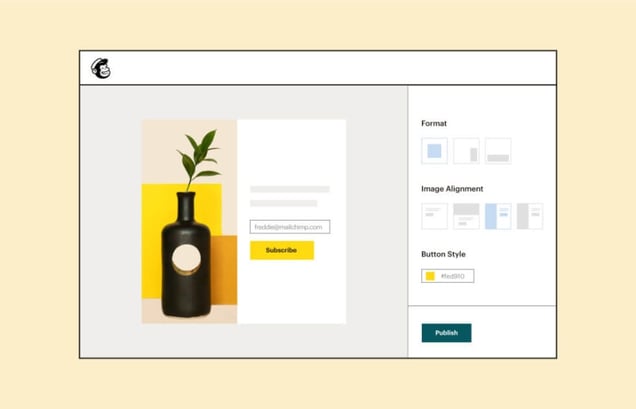 Source: mailchimp.com
#5 - E-mail your Previous Clients
Every Professional Photographer knows how important it is to have a proper database of your previous customers. Updating them about your current offers or new blog posts can guarantee you an income on two different levels:
a. they can make a new booking for themselves
b. they can inform their friends about your offer.
So, I strongly recommend creating an e-mail dedicated to your previous customers about Mini-Sessions.
However, due to the fact that they have already used your services before, you can additionally include a special gift (such as a 10% OFF voucher or additional photo product after the session). Be sure to put it in the title and in the main graphic as well because it will catch their attention.
If you don't (yet!) use e-mail software, it's high time to start. Here is a list of systems that might be useful:
a. HubSpot
b. ConvertKit
c. GetResponse
d. MailChimp
#6 -Show What You Sell
Visualization is the key to success in sales.
It can be done on multiple levels, i.e., you can use visual language when you talk via phone to people about products that they'll get. But, these days it might not be enough…
Now you can go to a totally new level and actually show them mockups with your photos on the actual products.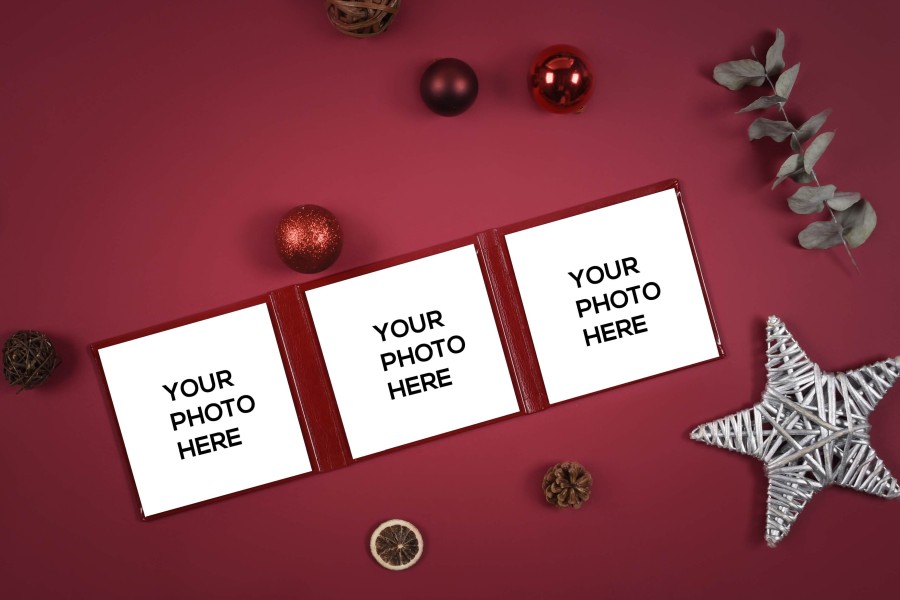 Source: nphoto.com
With mockups, you can insert your images into products and show it on your creative sites (you can include them in Social Media posts, Landing Page, e-mails, and ads).
At nPhoto, we've created PSD files that you can easily download and use with products that are bestsellers for Mini-Sessions (such as Folio Boxes or Framed Prints). Just click on the button below and fill the form to download it.
Source: nphoto.com
#7 - Run Facebook Ads for your Mini-Sessions
You want new bookings, right? At this point, the best way will be to use Facebook Ads.
The system gives us plenty of campaign objectives to use. For the purpose of Mini-Sessions I suggest using (or rather test) 3 of them:
1. Event responses (engagement)
2. Traffic
3. Lead Generation
In the article "Facebook Ads for Wedding Photographers – How to master it?" we've extensively discussed the possibilities in FB Ads (such as: selecting the proper audience, excluding your previous customers, etc.). I strongly recommend reading it before running your campaigns.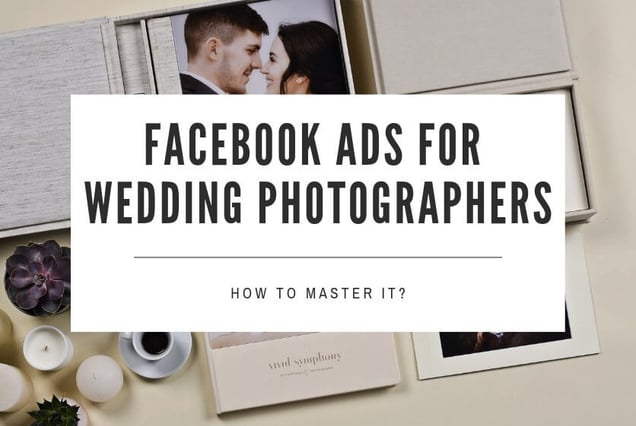 Source: blog.nphoto.com
A good solution for every ad connected with Mini-Sessions will be to stand out using (again!) - a lead magnet.
Within Facebook Ads, you can actually try every possible text/bonus/lead magnet in each Ad Group. In plain words – you can test whether '10% OFF' is better than 'ADDITIONAL FINE ART PRINT' or 'TRIPLEX!'
No matter which campaign goal you choose, it's important the user has the possibility to convert (in non-marketing words: to fill out the form and book a session :) ).
So, if you want to bring traffic to your Event, make sure to have included, in the description section of the Event, your e-mail address, phone number, and a URL to the Landing Page.
In case of Traffic – remember to have a Pop-Up turned on and a form properly placed on your website (mobile-friendliness is the key here!).
If you're running Lead Ads – inform your audience about the details of your offer in the text of your ad because it's the only place where people can get information about your offer.
Divide targeting people into (at least) 2 groups:
a. People who have visited your website or a fan page (remarketing)
(and exclude users who have booked your sessions)
b. People from your area
(who might be at the same time interested in your Mini-Sessions, so, for example, people with young children – it depends on the theme of your Mini-Session. Remember to exclude users who have booked your sessions and have visited your website or a fan page).
#8 - Create a Voucher (that you'll give after each Mini-Session)
In this article, we covered the subject of promoting Mini-Sessions. However, we can do something additional and use Mini-Sessions as a way to promote your regular sessions.

That's why you can give vouchers to your customers after each Mini-Session with an x% OFF for your regular photo shoot. It's a great way to maintain a relationship with your clients and get additional bookings.

Of course, you can send these vouchers as a digital file in an e-mail, but an IPS method will be much more accurate here. So giving it as an additional bonus face-to-face right after the photo shoot should be a much more effective way of upselling.
So, here is our COMPLETE CHECKLIST for Promoting MINI SESSIONS:
#1 - Check your COMPETITORS!
#2 - Create a Landing Page (blog post, subpage) with a form
#3 - Create an Event on Facebook
#4 - Add a pop-up to your website
#5 - E-mail your previous clients
#6 - Show what you sell
#7 - Run Facebook Ads for your Mini-Sessions
#8 - Create a Voucher
Looking for more advice and help with Digital Marketing? We've made a whole guide all about it in the form of a PDF; feel free to download it by clicking the link below. There is a whole bunch of other goodies packed along with it too!
Sign up for blog notifications
& Always be up to date on new posts