Got a bunch of newborn photos from your latest session and you're unsure how to present them? Perhaps your client is being a little indecisive and you want to take a new approach to their newborn album? We've got you covered. Here are a few baby photo album ideas you just might be able to make good use of :)
1. LITE ALBUM - A STARTER OPTION
Let's start off with something that can easily be used as a starter option, the Lite Album.
Lite Album. Artwork by Anastasia Folman - Children Photographer
This no-fuss selection gets you an album more than capable of showing off some amazing newborn photography all on its own. You'll be able to have the classic lay-flat album feel and make use of 5-40 spreads, sized at 8x8in/20x20cm. Available in the cover collections: Exclusive and Creative 100%. This product will be a perfect fit for bundles – and with that, some decent upselling.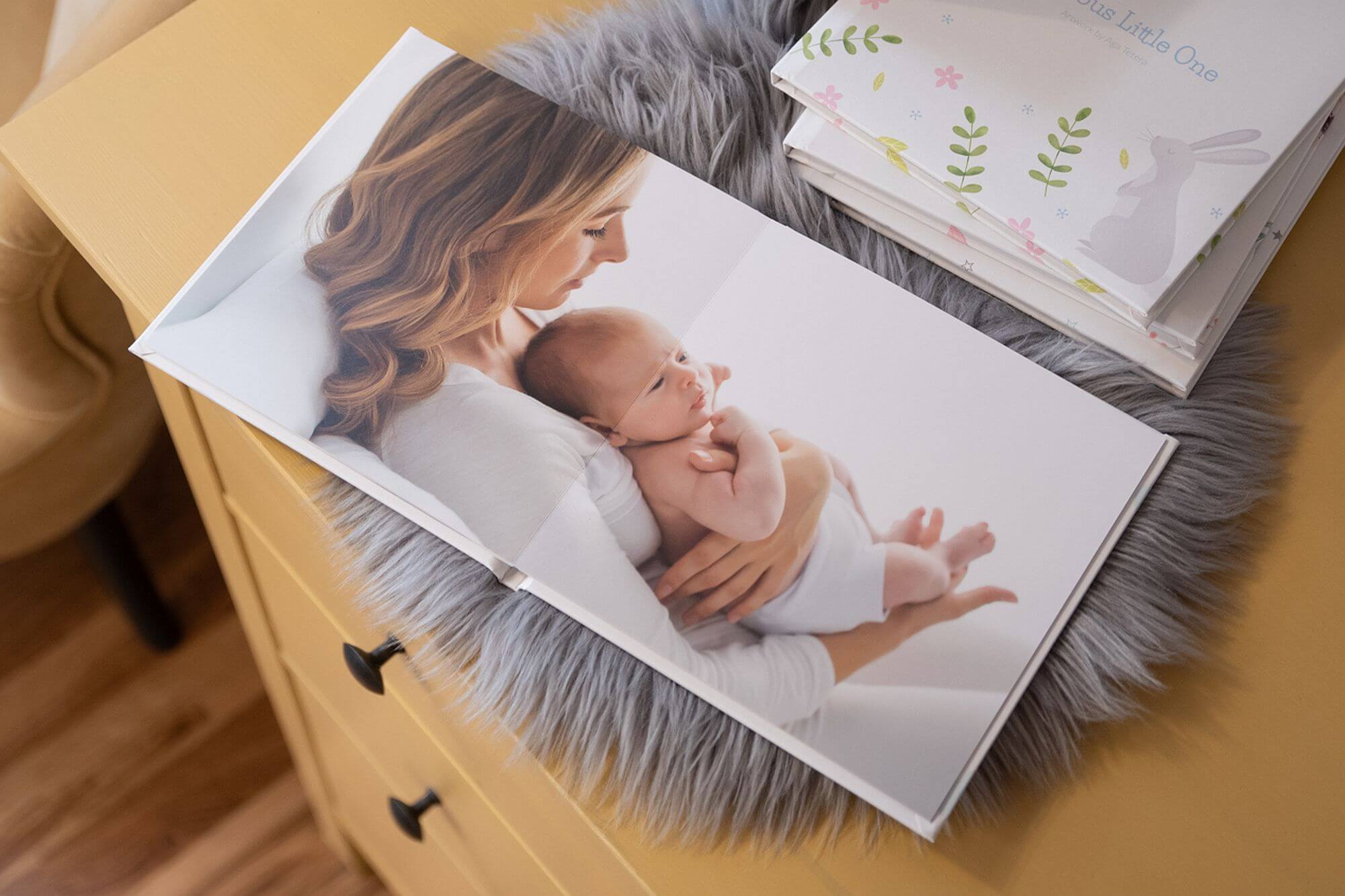 Lite Albums allow you a full-spread view of your newborn photography artwork
2. 6x6" MINI PHOTO ALBUM

Now, for something around the middle – let's say that 5 spreads just aren't enough to show everything, or you need something with a more premium finish on the outside just as much as on the inside. The Exclusive Collection Album would be the top pick just for that.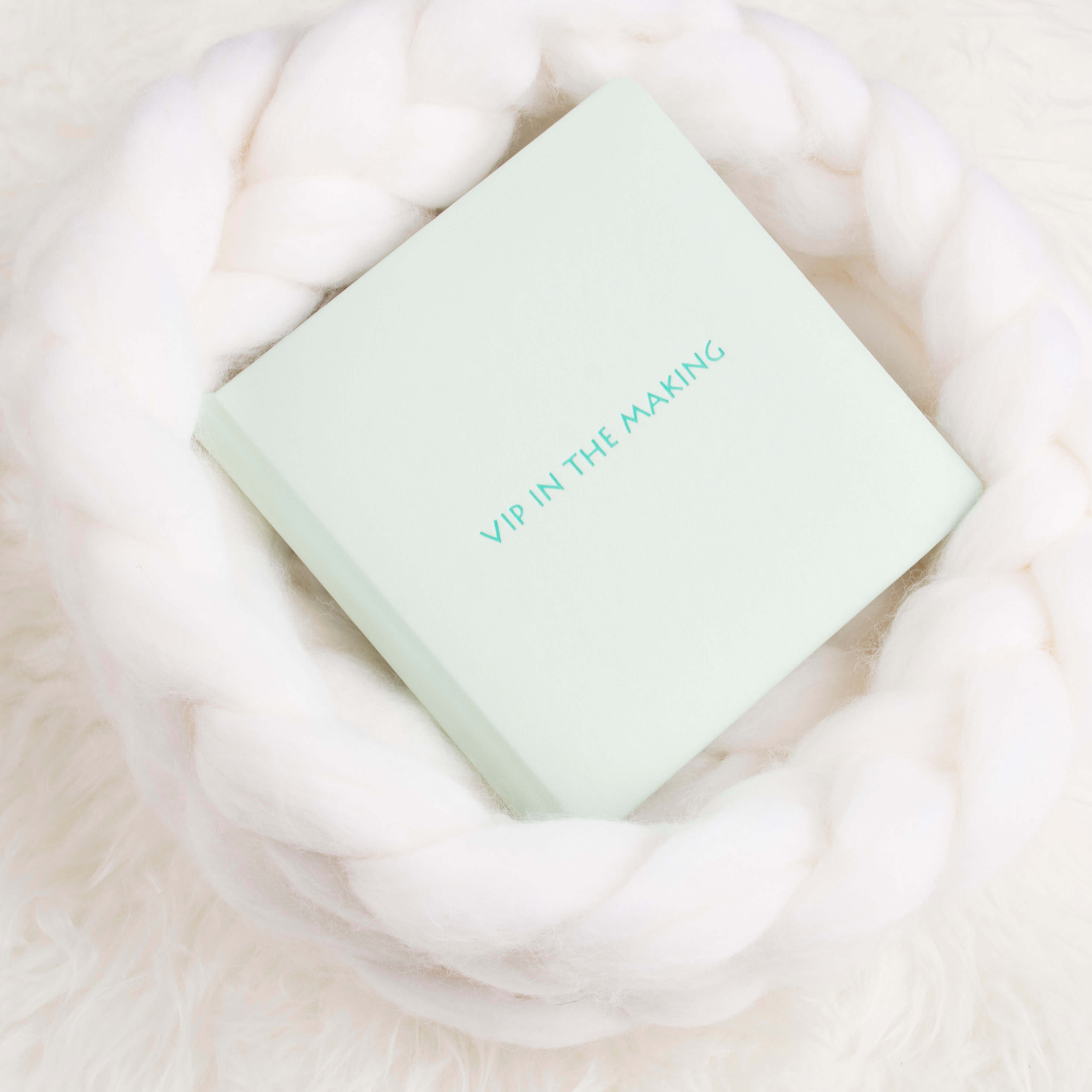 6x6 Mini Photo Album for Exclusive Collection in J49 Mint Green Plain Textile
With this album, you can get more photos thanks to the increased spread limit - and the cover is now replaced with a wide selection of material options, perfect for a balance between fanciness and simplicity. The different size options will allow you to accustom to your client's needs, with the 6x6" size in particular making for a nice little keepsake.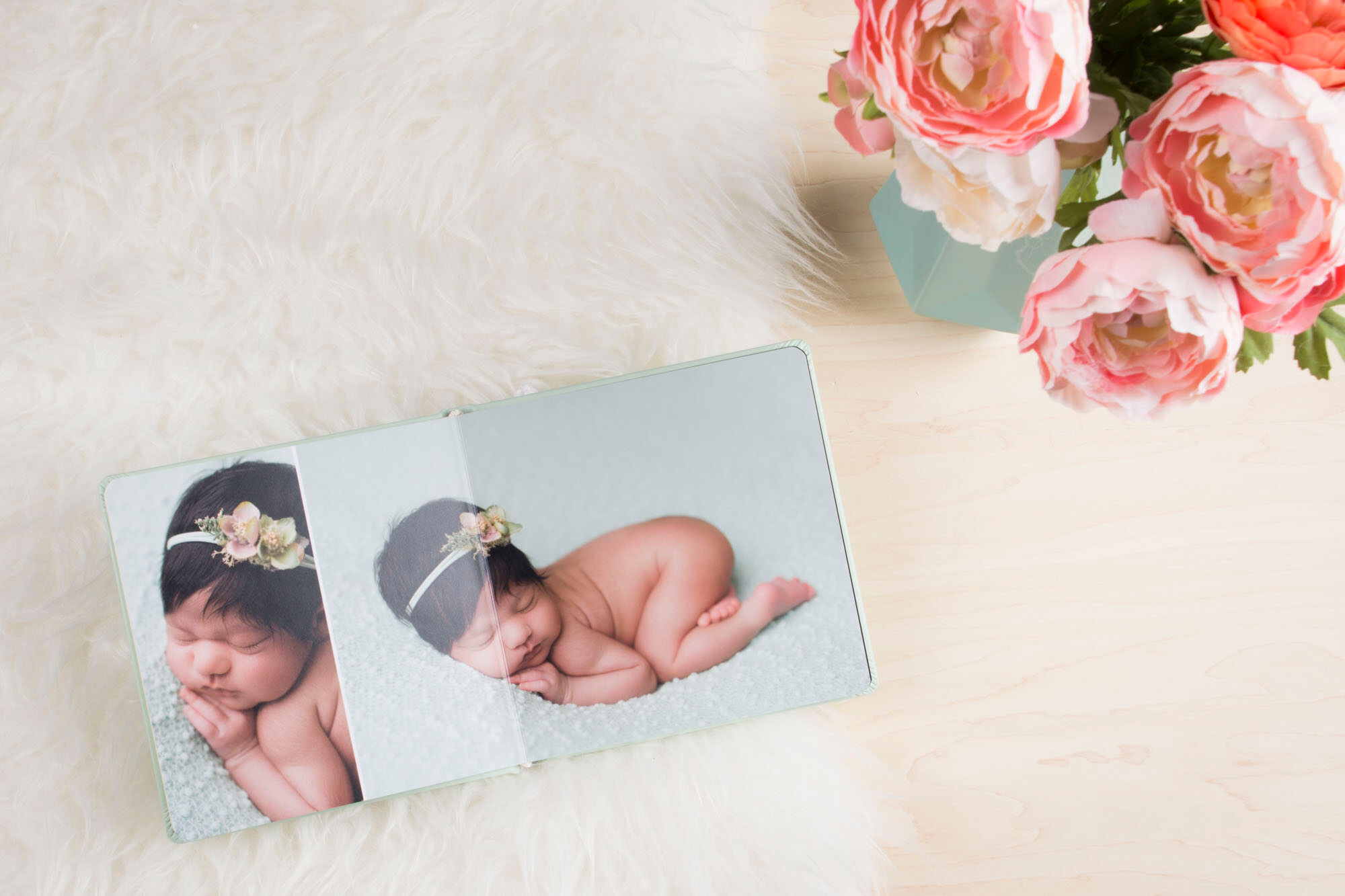 6x6" Photo Album. Artwork by Aga Tetera
3. PREMIUM PHOTO ALBUMS - COMPLETE SET ACRYLIC PRESTIGE COLLECTION
Moving on, let's say neither of these is enough and that you need to bring up a truly exquisite option to catch someone's attention. Thanks to the Complete Set Acrylic Prestige, you can be prepared for anything.
Fitted with unique cover designs which feature shiny acrylic windows by default, this little piece of art is bound to complement your work and make parents happy. As a step up from the Exclusive, it's a top-of-the-line addition that shouldn't be overlooked. To top it all off and definitively show your client that it's your best offer, the Acrylic Prestige Album is paired with a luxurious box that features matching colors - and the option of adding a USB on the side for all of your digital files. To sum it up, you get a premium product that would make any professional newborn photographer blush!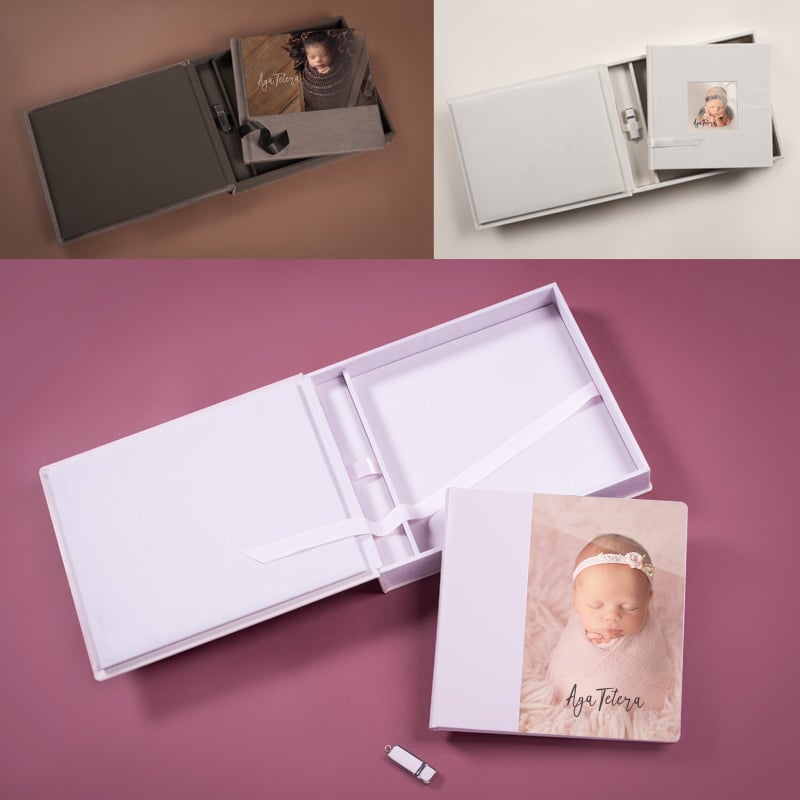 Using just these three picks, you can already formulate a very straightforward set of packages or bundles. There are plenty more ways to spice up your options, of course, the ones listed here only scratching the tip of the iceberg – just remember to stay creative, as always :)
NEWBORN STUDIO SAMPLE GUIDE

Show off your best with an impressive studio sample showcasing your best shots. Let your clients experience the quality of professional photo products firsthand. They will quickly realize this product is much more than what they get at popular consumer labs.
Creating the ideal sample product for your newborn photography business may seem a difficult choice when you have so many products and options to choose from. This is why we've prepared a free PDF full of inspiring baby photo album ideas and business advice from world-renowned newborn and family photographers, including Ana Brandt, Aga Tetera, Anastasia Folman, and more.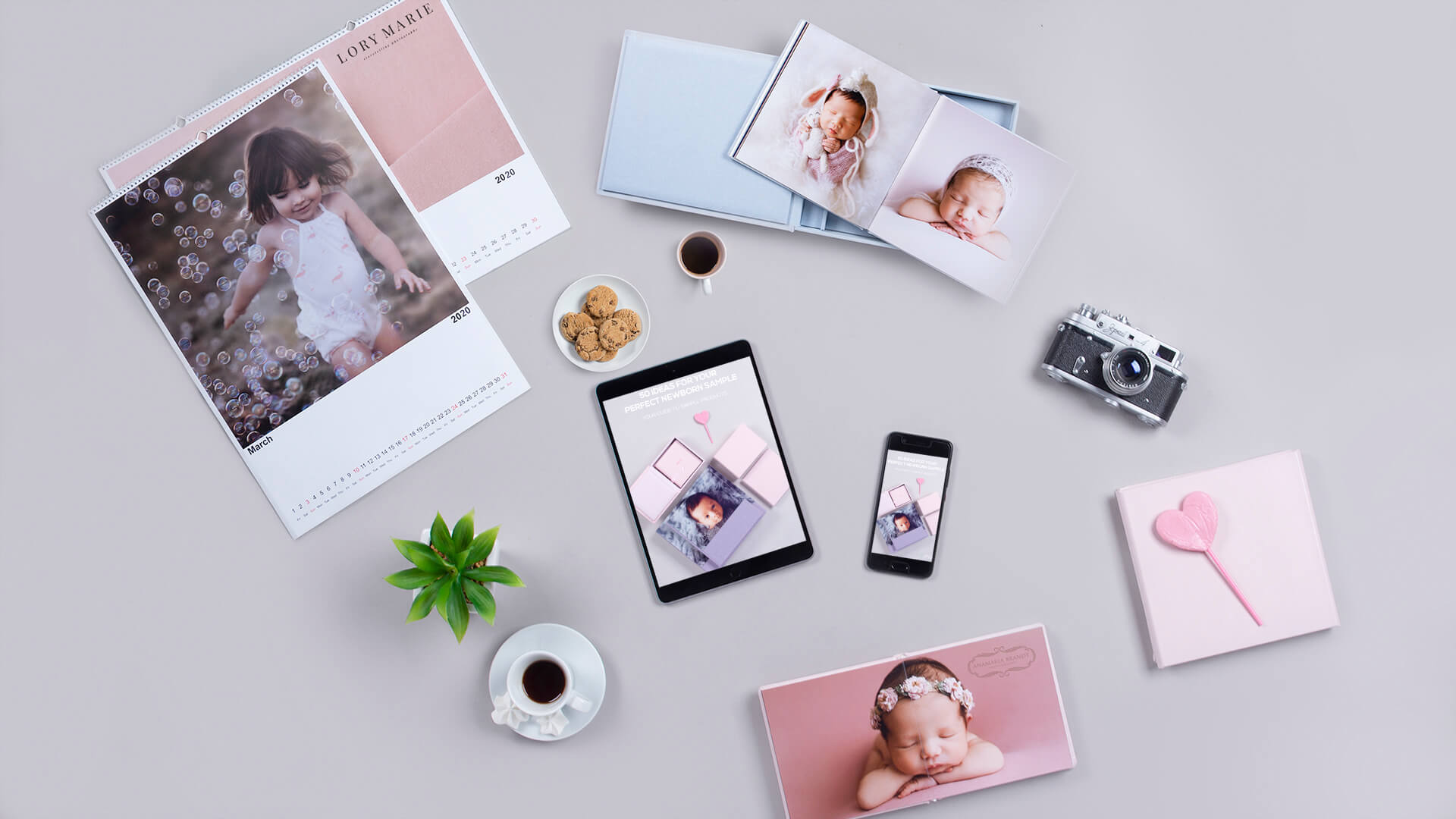 Sign up for blog notifications
& Always be up to date on new posts