Three products from us at nPhoto that your professional photography studio can't afford to be without.
Digital or Print?
That's the all-important question for professional photographers of today; Do I offer print products or digital products? What will be better for my business?
Well, why not both?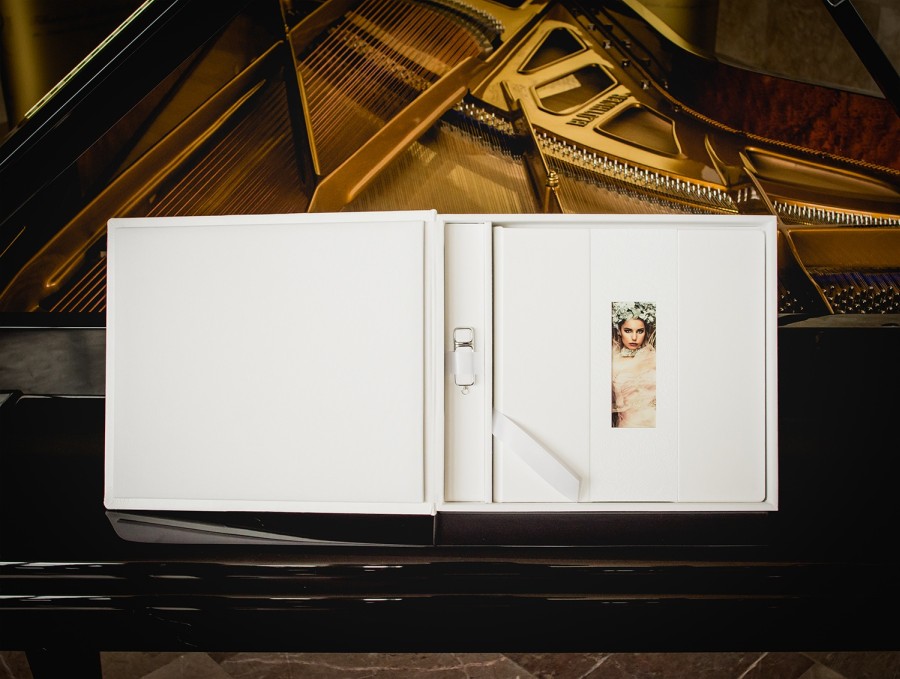 Our most popular print-digital combo product is our Complete Album Set combining a full album, USB, and matching box. Pictured above is a Set in our White Lady collection, 12 x 12".
Honestly, there's a market for both – and we recognize this.
That's why we've decided to make your life easier and offer you products that include print and digital, making it easy for you to give your clients each medium.
Specifically, these three products are not only knock-out, "wow" products in their own right but also allow you to give clients the best of both worlds:
1) Complete Album Sets:
OK, I admit, technically, this list will include five separate available items that combine print and digital.
This is because we have three different Complete Sets on hand: our flagship Complete Album Set, our ultra-high definition Complete DreamBook 4K Set, and our Pro series Complete Photo Book Pro Set.
Yet, what these three sets have in common is that they all offer a full-fledged print product, a USB of your choice, and a stylish box to house and protect both the print product and USB.
Now a quick snippet on each of the three print products that differentiate these three sets:
Albums
Give your clients something truly astonishing with our Complete Album Set Acrylic Prestige Collection—artwork by Luke Woodford.
If you decide on a Complete Album Set, you'll be rewarded with our hand-crafted photo album accompanying your box and USB. Our albums are flush-mounted, resulting in high-quality, 800gsm spreads sure to last generations.
You have the option among four different paper types: Fuji Silk (our standard option); Fuji Pearl; Mohawk Matte; or Canon Deep Matte.
Additionally, you are able to mix Silk and Metallic spreads in one album on a spread-by-spread basis with a minimum of five spreads and a maximum of 40 spreads possible.
For more information, click on the button below.
DreamBook 4K
Our Dreambook 4K Complete Set combines the absolute best in print quality with a digital option. Pictured above is a Dreambook 4K Set printed in 4K definition.
Select the Complete DreamBook 4K Set, and you'll be bedazzled by your work in unbelievable quality and definition. Thanks to the work of the Canon DreamLabo 5000, the DreamBook 4K delivers projects with unreal 2400 DPI and 4K definition. With this product, you can select among a Satin, Lustre, or Glossy paper type.
Combine that with the fact that it's bound by a hand-crafted cover in your choice of over 60+ leatherette or textile options and dozens of cover designs, and it's easy to understand why this product is a favorite among photographers and their clients alike.
Photo Book Pro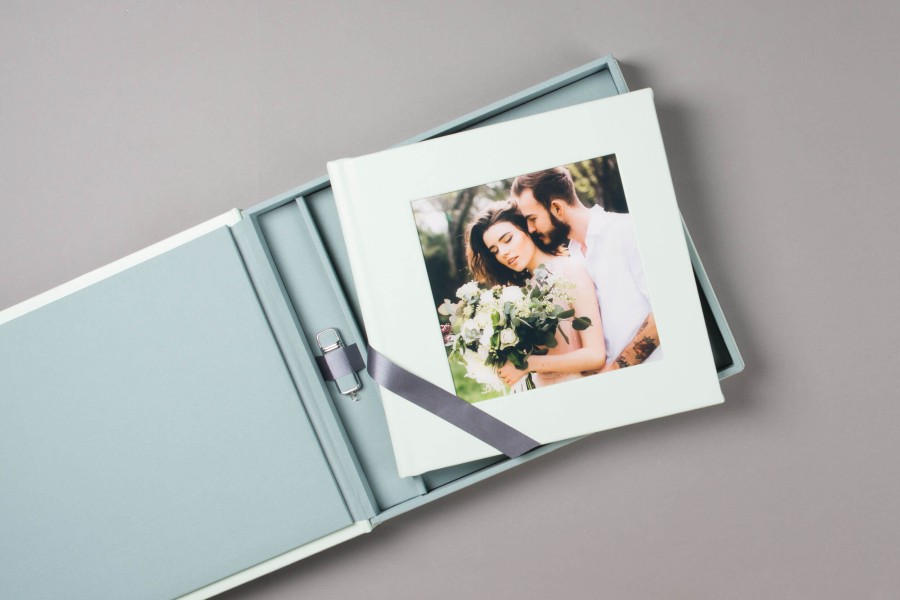 Our Photo Book Pro line is a cost-effective alternative, but you wouldn't even know it without seeing the price tag.
Our Photo Book Pro is a cost-effective alternative to our DreamBook 4K, but don't let that fool you. While it may be lower in cost, it's quality is hardly diminished.
Our Photo book Pros are printed on a state-of-the-art printer utilizing the latest 7-dye ElectroInk technology resulting in a powerful print that far exceeds its price tag. Choose among three paper options and three collection types to ensure the best match for each of your clients' photography projects. This photobook is certainly worthy of any Pro.
It's hard to go wrong with our Complete Sets, no matter which one you choose. Yet, these aren't the only products we offer that combine print with a digital option.
2) Folio Boxes:
A Folio Box Set containing a digital USB alongside Matted prints. Artwork by Anastasia Folman.
Folio Boxes are an incredible product that is in the midst of taking the photography world by storm. They are, quite frankly, that product everyone wants to have, and it's easy to see why.
Folio Boxes combine an album's integrity with prints' versatility and practicality. Yet, despite this desirability by design, we wanted to give it even more and decided to include the must-have prints with a digital USB option as well.
Folio Boxes also come in a variety of paper options. Pictured above; Folio Box Matted prints, landscape orientation, printed with the Canon Deep Matte paper—artwork by Luke Woodford.
Specifically, with our Folio Boxes, you are able to choose between two print-construction types – either Matted prints or Board Mounted prints.
Then you can select among three different paper and print options (options may be limited by your choice of either Matted or Board Mounted) and have a choice of 7 print sizes – with portrait and landscape orientations both available.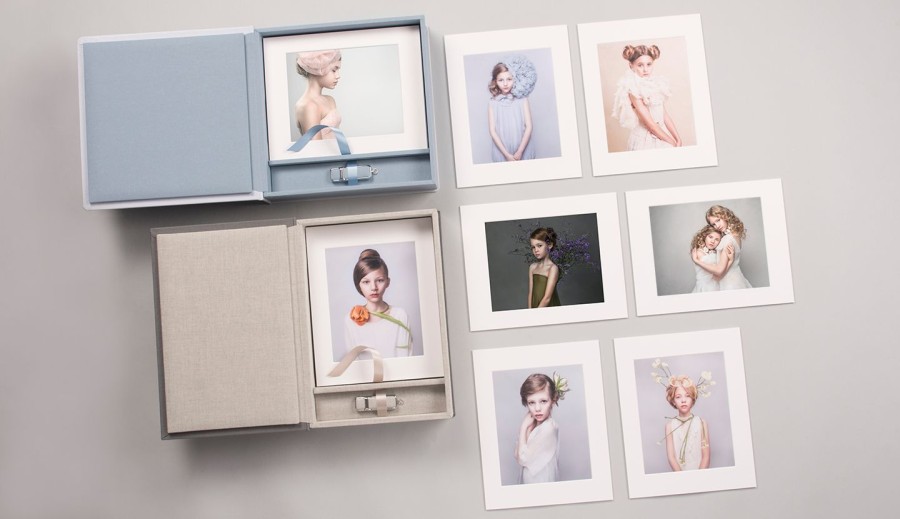 An example of the orientation options available with our Folio Boxes. Artwork by Magdalena Sienicka.
As for the digital option, choose between either a standard USB or USB mini in either 16, 32, or 64 GB capacity.
3) Box for Prints:
This product goes beyond what the name states. Sure, for all intents and purposes, it is a box for prints, but for your studio and your clients, it's much more than that. The box for prints will house your clients' most cherished memories, and for your studio, it will be a stylish upgrade you can customize any way you -or your client – wish.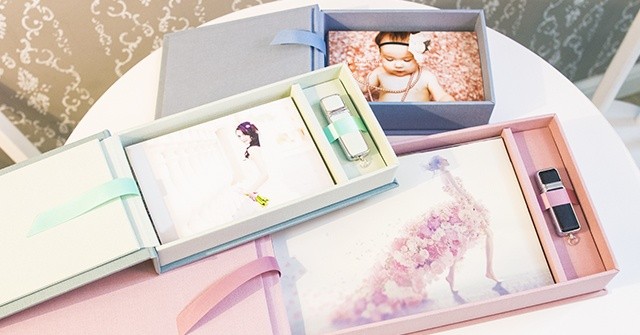 Boxes for Prints are available both with or without a USB.
Specifically, you can choose from our full range of over 60+ textile and leatherette options to design your box. Moreover, you can laser-etch or UV print your client's names and/or your own logo onto the product to drive home that personal touch.
Combine now with a digital option of your choice, either a standard USB or mini USB in three different capacities, and you can be sure that all your stones will be overturned.
Print AND Digital, Together
We may be a printing and album-producing company, but it's the 21st century, and we realize this and embrace that fact. This is why we offer these, well, five incredible protects that combine the traditional integrity of photography with the modern take of digital.
So the next time you find yourself contemplating that conundrum of print or digital, do yourself, your clients, and your business a favor, and don't settle for simply one or the other. Instead, embrace them both and watch the magic unfold.
Remember to register an account with us to get started on designing your products, see prices, and stay connected with us.
Sign up for blog notifications
& Always be up to date on new posts