It's always a good idea to appease your customer-base, but in these times especially it's essential not to mess around and provide not only what you like, but also what your consumer-base wants. That starts with professional quality products that offer a multitude of solutions.
And, that means nPhoto's Complete Set range.
But, just what is our Complete Set range? Well, let's back up a minute and make sure we're all on the same page (or spread ;) ).
What's nPhoto's Complete Set Range?
Our Complete Set range is a wonderfully diverse product offering that includes a core print product as well as a matching box and USB all collected together in that aforementioned elegant and practical box.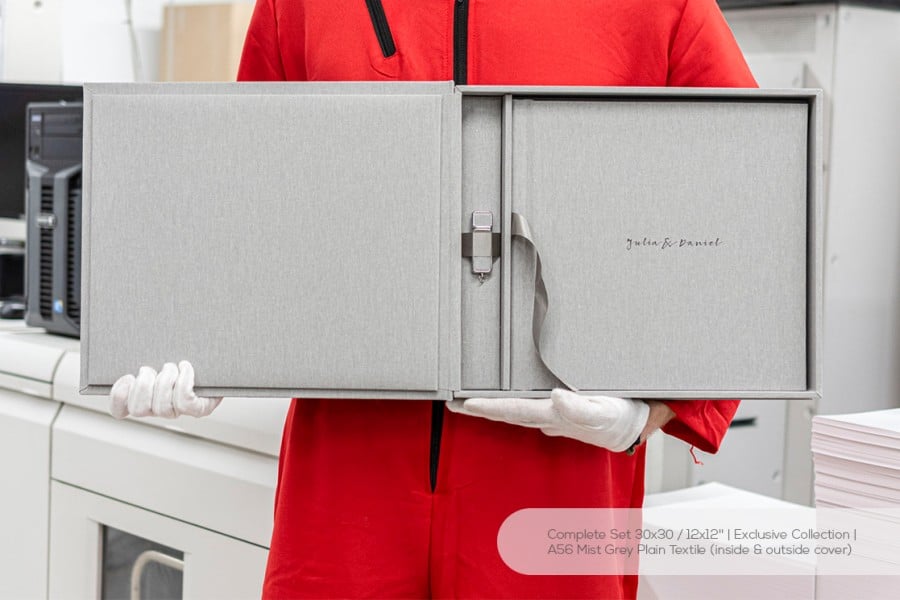 These Complete Sets are available with your choice of either an Album, DreamBook 4K, or Photo Book Pro as your core product.
Moreover, these sets come available in a variety of collections from our striking Acrylic Prestige, which garners an impressive acrylic plate cover for your cover photos; to our Exclusive collection which offers you the most design options for personalizing your product.
There are many more incredible collections that we'll dive into a little later, but first let's clear up what the difference is between our three core products.
How Do nPhoto's Core Products Differ?
It's a fact that are three core products have major differences. (Yes, these products differ more than by name alone)
But, fear not, they all offer their own advantages, and, of course, they're all impeccable professional, quality.
The most significant differences between these products is the printing method and printer used to print them; the pages, paper options available, and page thicknesses available; and the style of the product – meaning, whether or not it is lay-flat.
The Print
Each of these core products uses a different printer and a slightly different method to achieve it's end result.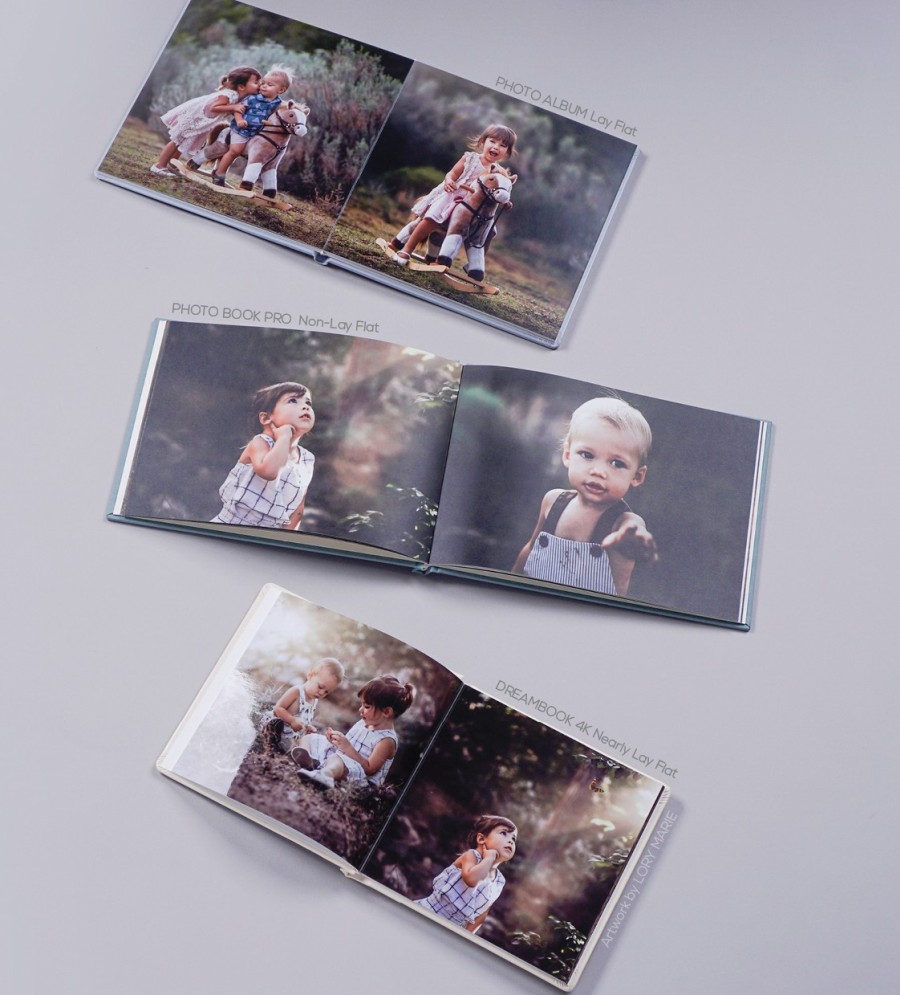 Albums: For the standard Fuji Silk paper option, as well as the Fuji Metallic option, our Photo Albums take advantage of Noritsu's HD Silver Halide printing technology. This process utilizes a direct exposure method that replicates your images to these paper types without actually using any ink at all.
Instead, silver crystals and emulsion is used to merge your image to paper and provide high-quality results capable of lasting generations.
This technique differs to those methods of our DreamBook 4K and Photo Book Pro which use an inkjet printing process.
DreamBook 4K: Specifically, our DreamBook 4K is printed using the state-of-the-art, ultra HD, Canon DreamLabo 5000 printer. Together with a fortified seven-dye ink images rendered for our DreamBook 4K come out in a stunning 2,400 DPI and 4K resolution.
The ink used in the DreamLabo 5000 is one specifically designed for the printer and papers it uses. It's based on the CMYK scale with additional grey, photo cyan, and photo magenta to give unbelievable color range and vibrancy to your photos.
Photo Book Pro: Meanwhile, our Photo Book Pro takes full advantage of the HP Indigo 12000's own fortified seven-dye ElectroInk.
This modern ink and printing system also boasts an incredible color and light reproduction output – particularly with skin tones and shades.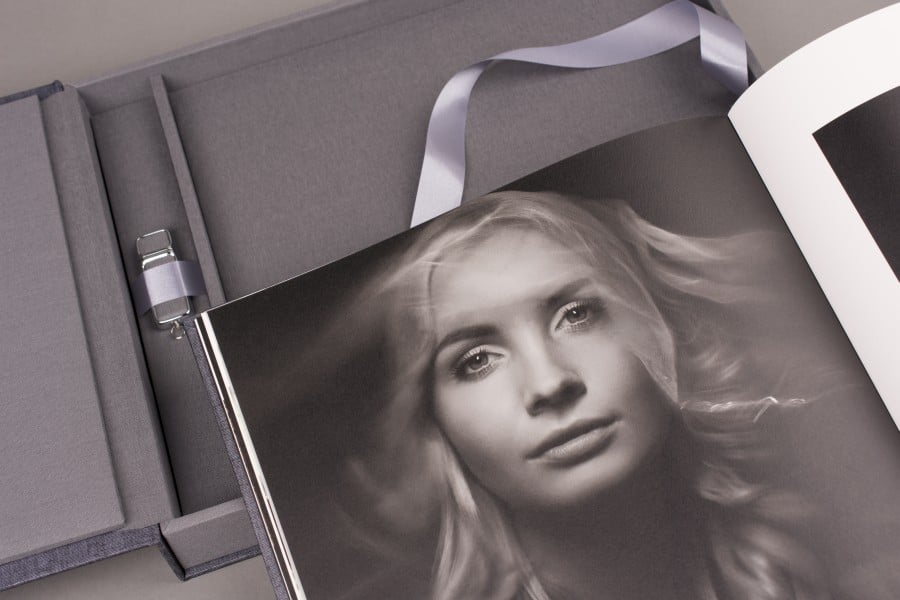 Artwork by Greg Moment
One quick point of note, our Photo Album also offers Mohawk Eggshell and Canon Deep Matte papers which are printed on the HP Indigo 12000 and Canon DreamLabo 5000, respectively, using their appropriate inkjet methods.
Pages & Papers
Speaking of paper types...as you might expect with different printers doing the work for these products, paper options (and weights) are another major factor differentiating these three products.
Albums: Our Photo Albums offer you the choice among four different paper types: Fuji Silk, Fuji Metallic, Canon Deep Matte, and Mohawk Eggshell.
Our Fuji Silk is the standard paper for our Photo Albums. Furthermore, our albums always come flush-mounted, therefore, they're always going to finish at a sturdy, rigid, durable 800gsm – no matter which paper you select to print with.
Also, our Albums are measured in spreads (or, two pages).
PRO TIP: Our Fuji Silk and Fuji Metallic Papers can be combined within the same album on a spread-by-spread basis. If you like our Fuji Silk, consider adding a few popping, full-spreads in our Fuji Metallic to really give your clients an unbelievable viewing experience.
NOTE: Mohawk Eggshell and Canon Deep Matte papers can NOT be mixed with other papers within the same album.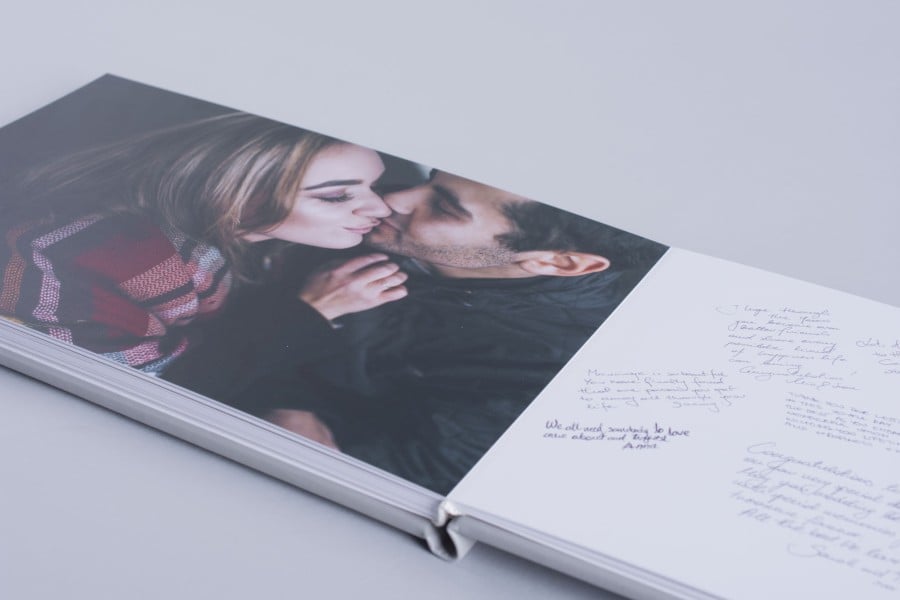 DreamBook 4K: Our DreamBook 4K comes with 3 different paper options all produced by Canon for specific use with the DreamLabo 5000. These papers include Canon Gloss (275gsm), Canon Lustre (275gsm), and Canon Satin (170gsm).
The pages in our DreamBook 4K are not mounted, and, therefore, are flexible dependent on the thickness of the actual paper selected for the product.
Do note that DreamBook 4K papers can NOT be mixed within the same product.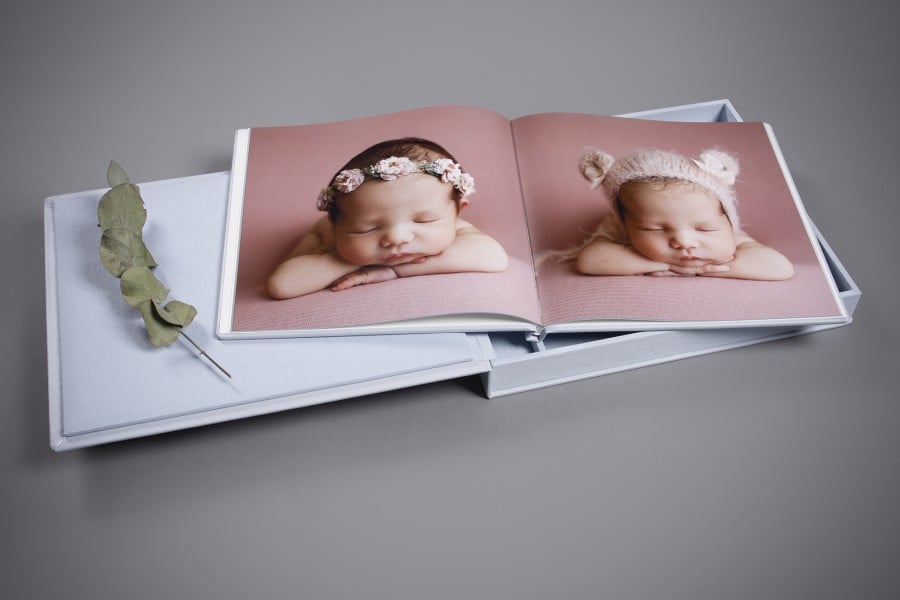 Artwork by Ana Brandt
Photo Book Pro: Photo Book Pro's have three paper choices on offer with four different paper weights possible. The possible paper options and paper weights for our Photo Book Pro are as follows: Felix Schoeller Lustre (190gsm), Arctic Matte (170gsm), Mohawk Eggshell (148gsm), Mohawk Eggshell (216.gsm).
As with our DreamBook 4K, the pages in our Photo Book Pro are not further mounted and, therefore, are flexible and their thickness is dependent on the actual paper selected for the product.
Paper types are NOT able to mixed within the same Photo Book Pro product.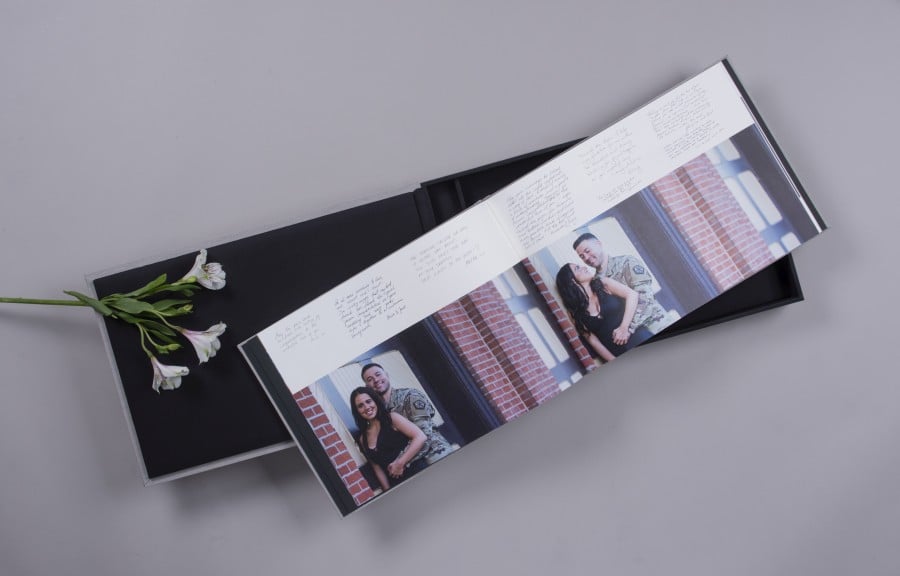 Artwork by Christopher Kuras
Display Style
As professionals looking to offer the highest quality products to your clients, it's imperative you are sure to know how your products will display.
There is a difference among our three core products in the way their spreads are presented.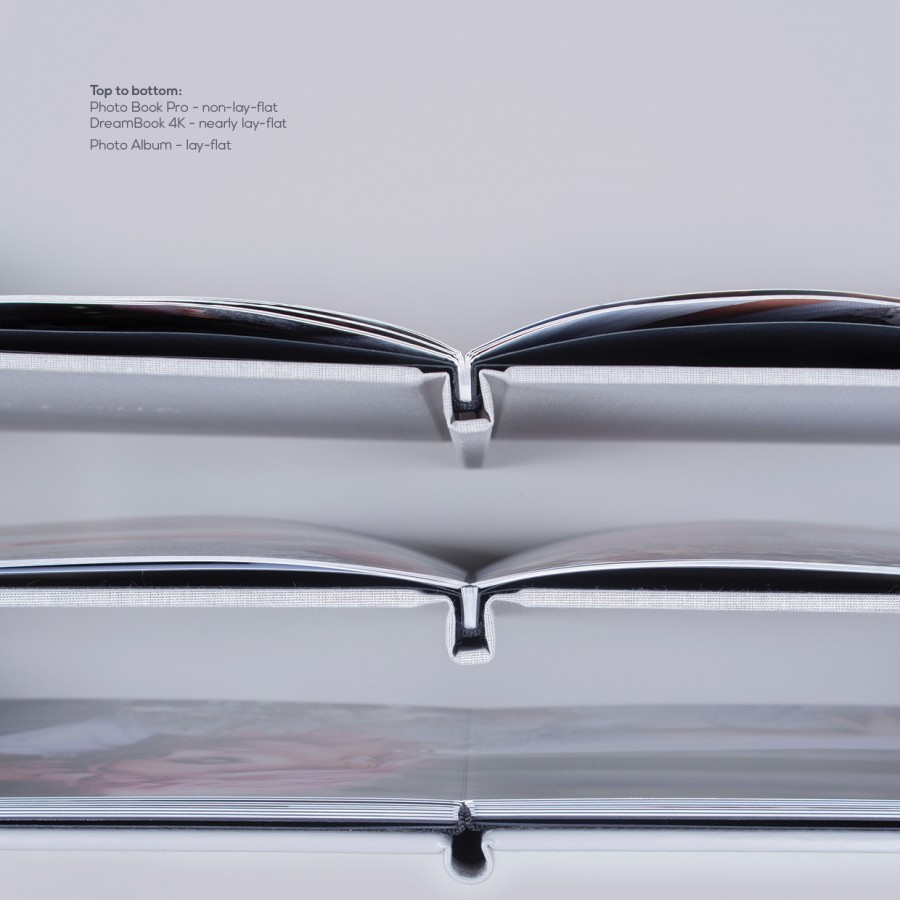 Albums: Our Albums are true lay-flat. This means you can create breathtaking, full-spread layouts without any worry of an unsightly crease, or facial features being lost in the abyss.
DreamBook 4K: Our DreamBook 4K's are classified as nearly lay-flat. While not as smooth as our Photo Albums, our DreamBook 4K's still produce a powerful, full-spread display without much distraction in the middle.
Photo Book Pro: Our Photo Book Pro has many amazing qualities, however, it is not lay-flat. With this, we recommend against using any full-spread layouts in this product, or taking a photo across the middle.
Those are the three most significant design differences among our three core products.
What Collections are Available for my Complete Set?
The specific collections available for your Complete Set will depend on which core product you choose for your set.
Our Complete Album Set offers you the most choice as it's available in several different collections. A quick glimpse into our collections available in our Complete Sets:
Acrylic Prestige – Astonishes with a striking edge-to-edge acrylic cover. A staple of this collection, each product comes with an acrylic cover plate standard with 5 styles available. Protect and accentuate your artwork; amaze your clients.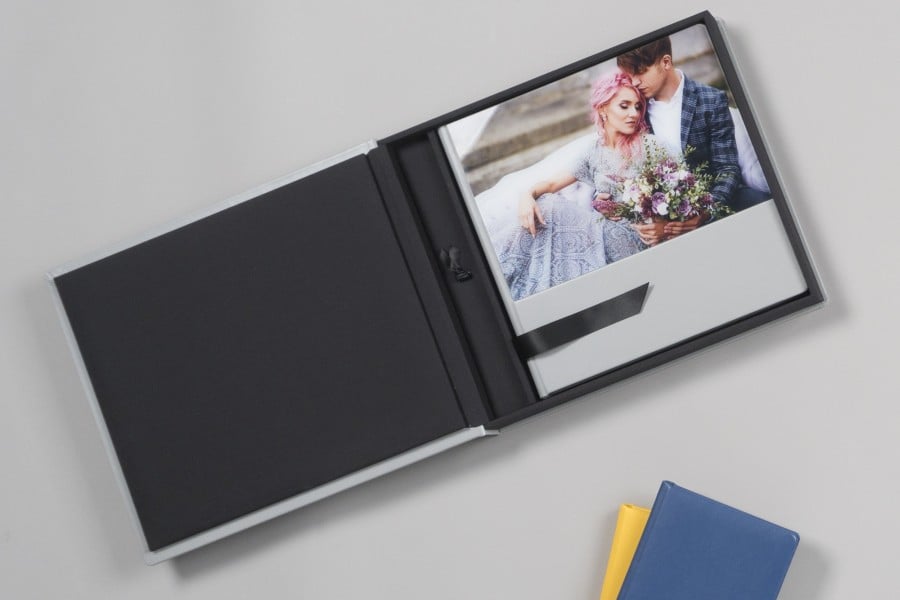 Exclusive – The most versatile, perfectly tailored line. Gain access to our full extent of design options and add-ons including 10 cut-window options (as well as none), personalizing text, and 70+ cover options in a textile, leatherette, or suede finish.
Creative 100% - For those ultra-creative photographers this collection gives complete control over the final design. With the ability to add your own photo to the cover, this collection's opportunities are endless. Truly 100% Creative.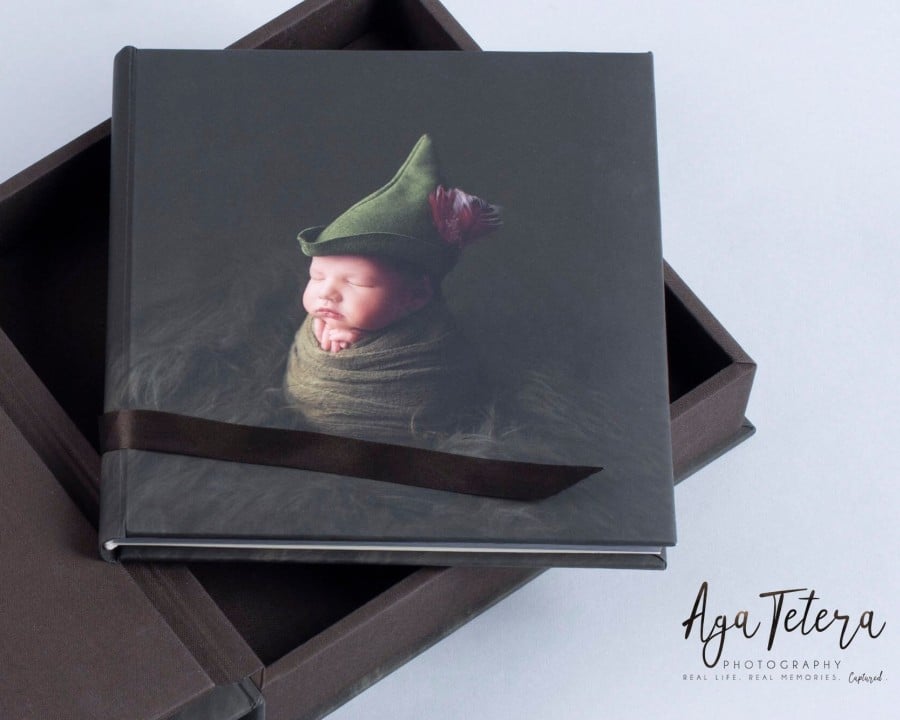 White Lady – A product to match the dress. Clean, elegant, sophisticated. Available in white or black leatherette and the option of two cut-out windows with a white acrylic engraved frame.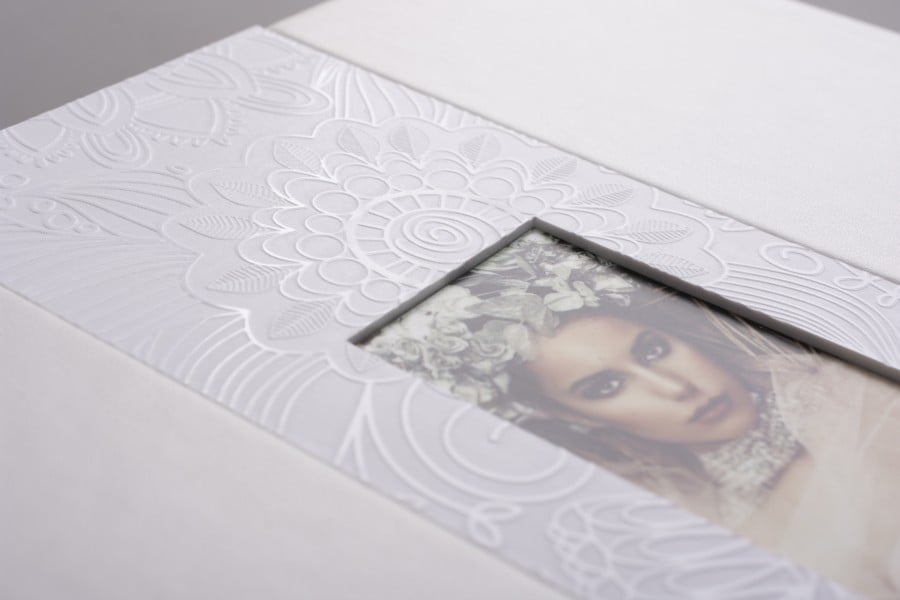 Black Star – Sure to be the star of your collection, our Black Star boasts seven sleek, engraved, acrylic plate designs to choose from accentuating the cover and leaving an indelible impression.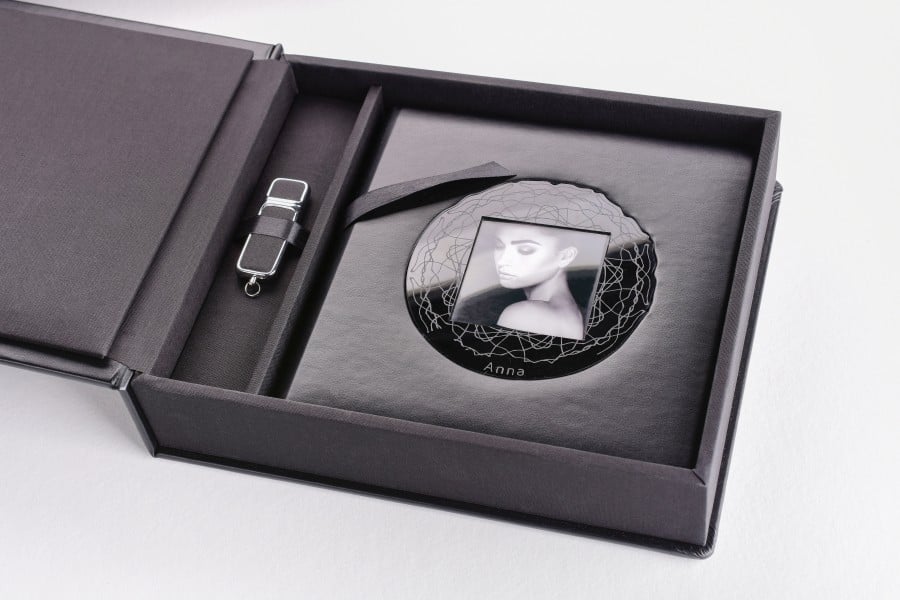 How Do I Know Which Collection to Choose?
This ultimately comes down to the style of your business and studio and what you want to offer. Or, if you're willing to go that far, you can leave it up to your clients.
Yet, there are ways you can match our collections effectively to different types of photography genres you may shoot.
For example, our Acrylic Prestige Collection – with its signature acrylic cover – is a very desirable product for Portrait as well as Seniors and Senior photography who love to standout and make a statement.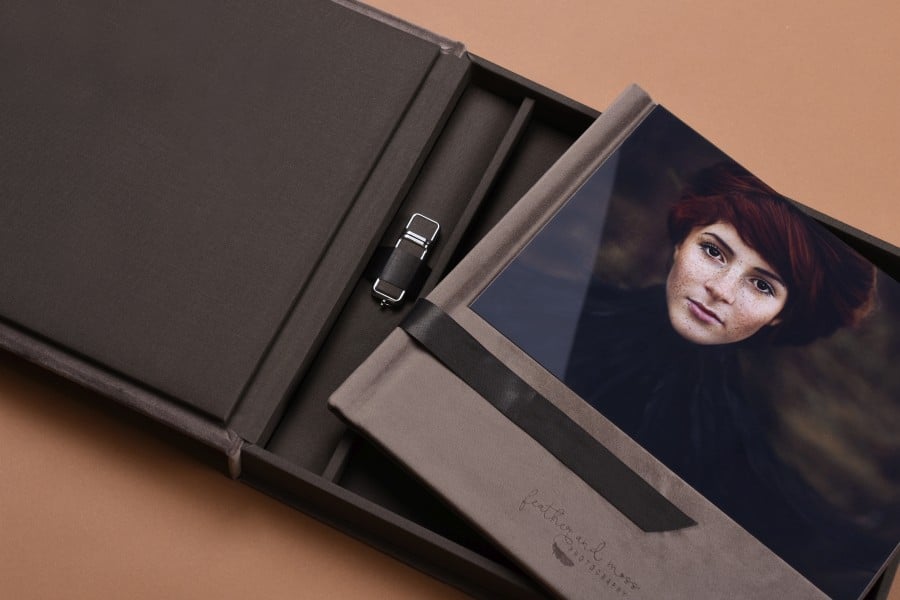 Artwork by Feather & Moss
On the other hand, our Exclusive Collection is popular among pet photographers as it allows them to easily add their logo and the names of the pets to the cover of their products.
This collection is also sought after for maternity and newborn photographers as it allows the most personalization options, cut-out window options, and physical size options.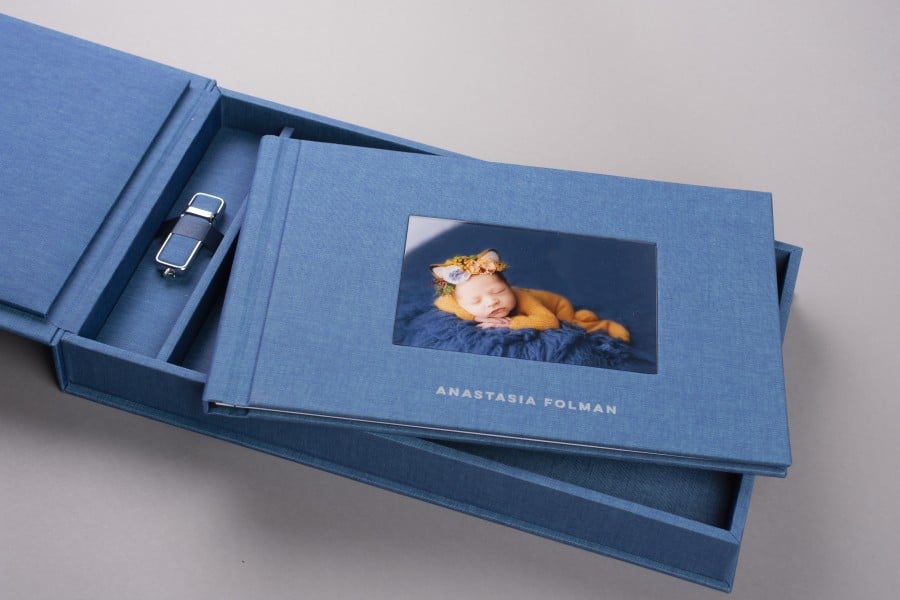 Our White Lady Collection, known for it's elegant white leatherette and cover options, was developed all for the bride on her big day. Appropriately, this collection is ideal for wedding photography and wedding photographers.
Get creative while trying to make the most of your products, and find appropriate, or incredible matches between styles and shoots and our collections on hand.
What Do Other Photographers Think of these Complete Sets?
Here's what some other pro photographers had to say about our Complete Sets and service:
"This was my first order from nPhoto and I am completely blown away at the quality of this product. It is breathtakingly beautiful and is definitely heirloom quality. I took the sample with me to my recent ordering session and it was an EASY sell. I'm planning on switching all of my albums and books over to nPhoto!!!" - Kerry Daly (Complete Photo Book Pro Set – Acrylic Prestige Collection)
"This is my biggest seller! My brides love the quality pages and mostly importantly the photo cover that makes this album stand out." - Les Atkins (Complete Album Set – Exclusive Collection)
"Highly impressed with the product and the customer service. 5 star review. Was under a time delay to get the product and got a call back after about 10 minutes after sending the email. Got help completing the order to get it to print that very day. Product was delivered before it was needed and the quality is worthy of the reputation that I heard about these guys and worth the price. Luxury product 100% happy and will be a repeat customer." - Michael O'Farell (Complete Album Set - White Lady Collection)
The Complete Set impresses. And, it works. But still not sure why, or why is it essential for you and your studio?...
Why Do I Need a Complete Set?
Three words: print and digital.
In today's world clients crave the digital option to easily be able to share their photos online; either on social media for their own exposure, or to send on to friends and relatives at a distance.
Often in the industry we tend to stress the print option; for the integrity of the art and industry as well as for the margins it allows as pro photogs as business owners.
Well, we certainly understand that print is preferable, for all those reasons and more.
But, even we need to remind ourselves that successful business (similar to relationships) is also about managing the delicate give-and-take. Don't be too stubborn about print for your own good (don't neglect it either ;) )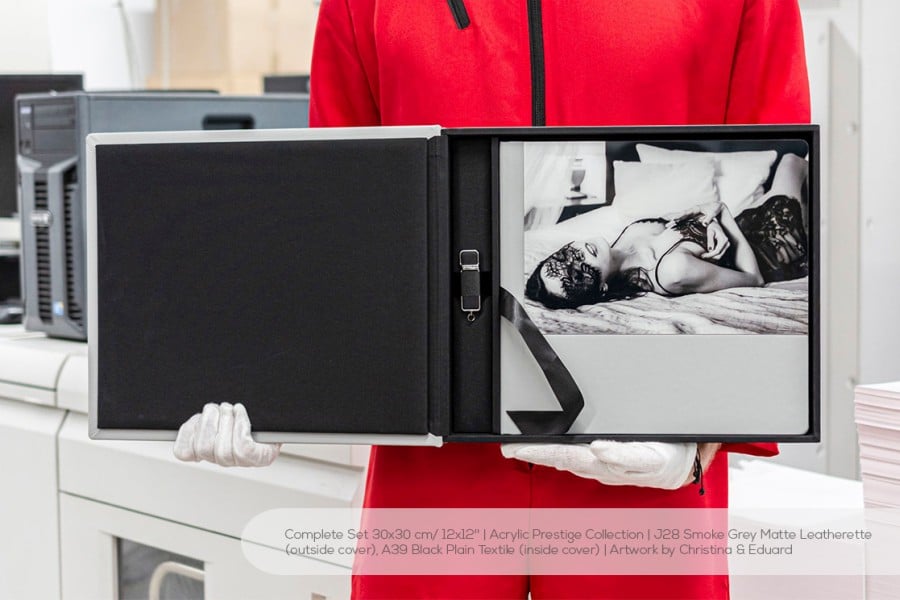 Clients are going to be spending some good money for your service (at least in their eyes) so offer them an inciting option they are excited for.
With our Complete Set options you get the best of both worlds in the form of a print and digital option all together in one great package. You can showcase this and advertise this to your clientele as well.
Of course, quality is important as well, which is why it doesn't hurt that these products are high-end, professional quality; hand-crafted in the heart of Europe.
Unleash your creativity with our practical Complete Sets and the multitude of design options at your disposal. There is everything you need to impress your clients into being return customers.
Don't miss out on this opportunity to take your studio to the next level and give your clients what they want – what we all want.
Sign up for blog notifications
& Always be up to date on new posts