Luscious, eye-catching full-spread designs of a Photo Album. Complementing, yet not distracting matted prints. Emotion-evoking wall arts - you can make all of these happen through the lens of boudoir photography.
Your boudoir photography will look even better in complementary print.
To assist you with that, we've compiled some thoughts and ideas for the different poses and scenes you may often use in your client orders, and how they may be utilized to their fullest on what we have to offer.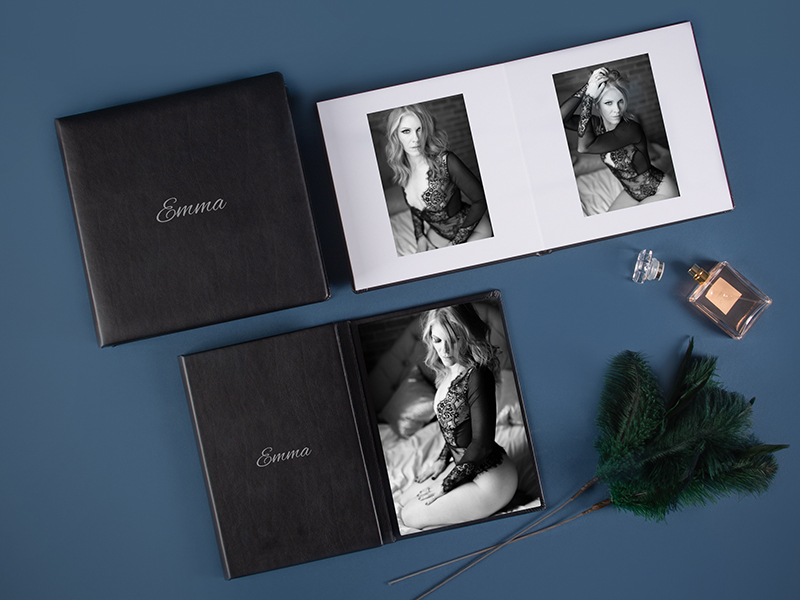 The Album
We'll start with something classic, the Photo Album. A staple for most boudoir IPS photographers, boudoir books allow the client to have something with tons of expression packed into it, while not necessarily being something open for the public eye. In recent times, among those daring to offer it, Acrylic Prestige Albums have become bestsellers - even in boudoir.
It is definitely worth using the possibility of dedicating a boudoir album's full spread or two for some of your wider shots by themselves. It leaves you with an easy upsell through the use of more spreads, and your client with some showstoppers which they can bask in. With these occasions, it would be optimal to make use of the horizontal space - so shots of your client lying on their back, with their leg on the side, or shots which purposefully obscure a part of the body to generate mystery would work really well. Don't forget that the Fuji Silk paper type can be interchanged with Fuji Pearl metallics for the extra effect, too!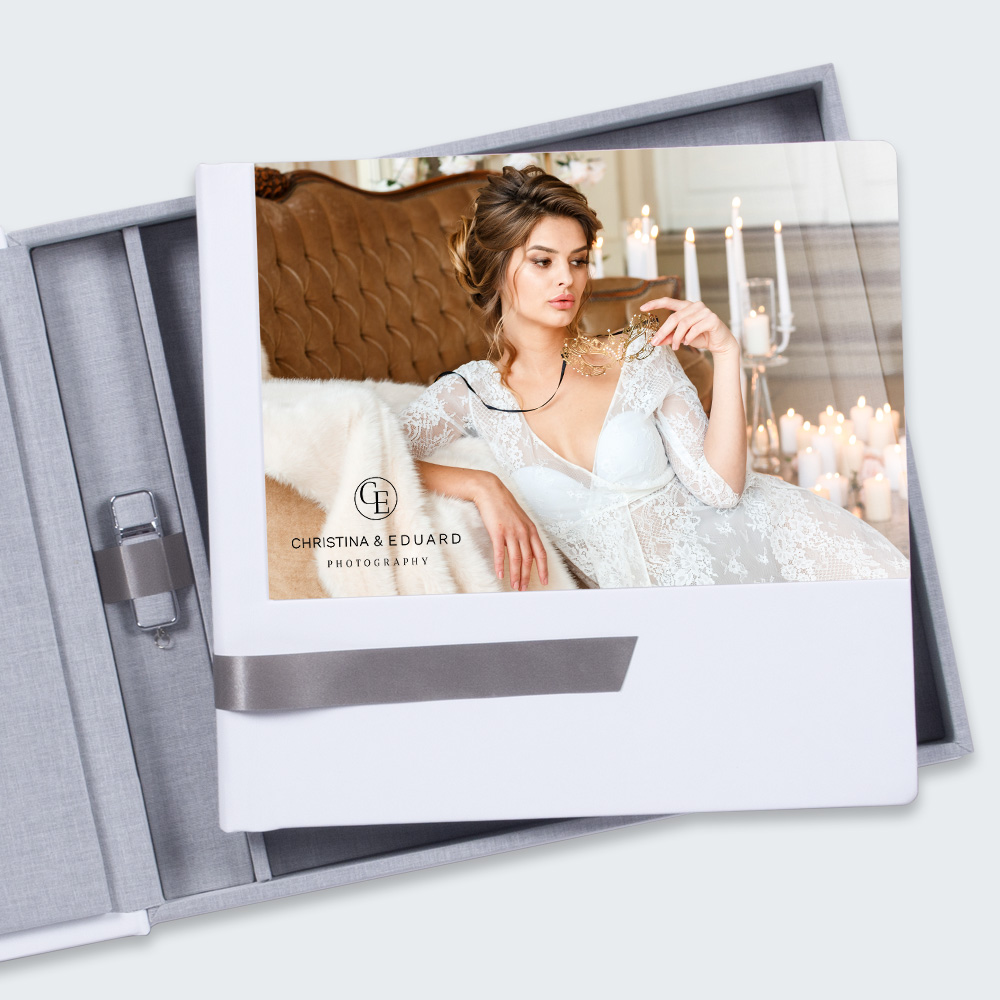 The Wall Art
Moving on, let's have a look at wall arts. While it requires an especially courageous client for those to work, you'd be surprised just how many different poses can work here, revealing or not. Simple portrait poses, close-up or otherwise, especially with a focus on the face, might swing the tide and convince your client to give boudoir wall arts a try. Many clients grow to love the addition after seeing the way it allows them to reflect their natural beauty.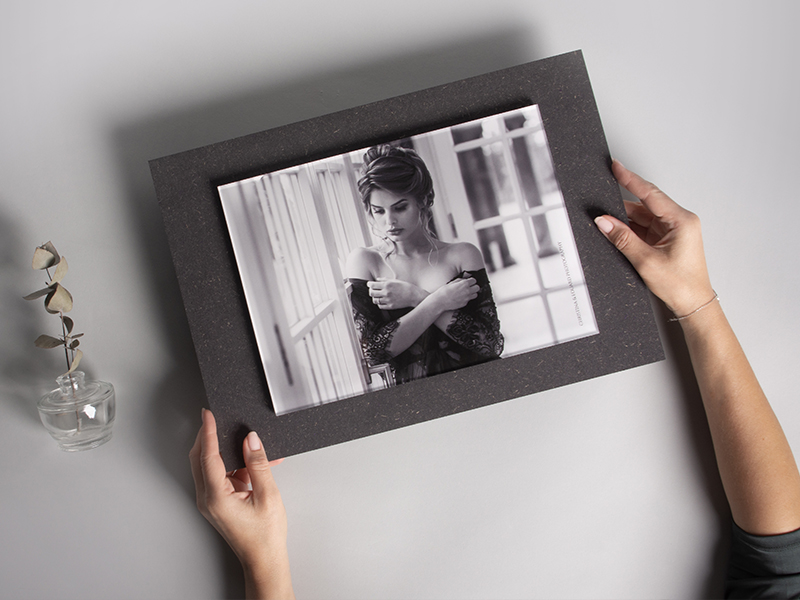 The Triplex
The triplex is also a comfortable choice to mention, due to the stylistic designs one can have when using 3 photos. 3 shots of the model, top to bottom? How about left-to-right with the client lying on their side? One could also take three shots of the same pose, adding more distance between themselves and the model with each shot, for an artistic flare. This would also make good use of the popular 50mm lens, used by most boudoir photographers. The unique size and nature of the product means that it can serve as a perfect gift to the client's loved one too.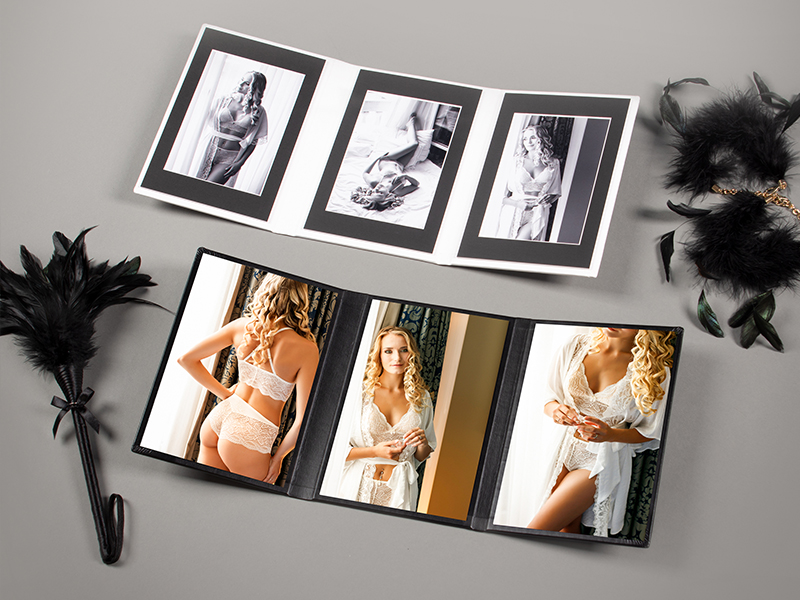 A truly Grand Gallery
Let's just say that none of this is enough. Let's say that you're thinking big. Undoubtedly, the Grand Gallery Photo Book would be your way to go. Whether it's for an especially incredible client, or for your personal, professional portfolio - both you and your client will be amazed by it. The magic lies in its sheer size - it will accommodate just about any shot or composition, not just a few signature model positions, all of them.
More on the Grand Gallery Book
The Box of secrets
Now, for those who want to keep these things cherished, but hidden in plain sight - the Folio Box. Of course, that's not its only purpose; one can simply like the general idea of a Folio Box and its prints. There's an acrylic cover available for those interested. Regardless, one can really tap into those classic portrait roots of boudoir through Folio prints. The varied size options will let you accommodate any client, and there's still room to change it up by simply uploading a landscape photo sideways (or, alternatively, uploading a portrait photo sideways if the size selected is the other way around.)
Naturally, some close-ups here would be golden, adding to the intimacy effect of actually holding the photo in one's hand, in print form. This is where many boudoir photographers would opt in for a 35mm lens. A specialized Folio Box for those kinds of photos would pair well with a Photo Album for the more open shots. Of course, we're not expecting you to prepare for a boudoir session with a print product already in mind - what suits best will depend on the photos you've produced throughout your session.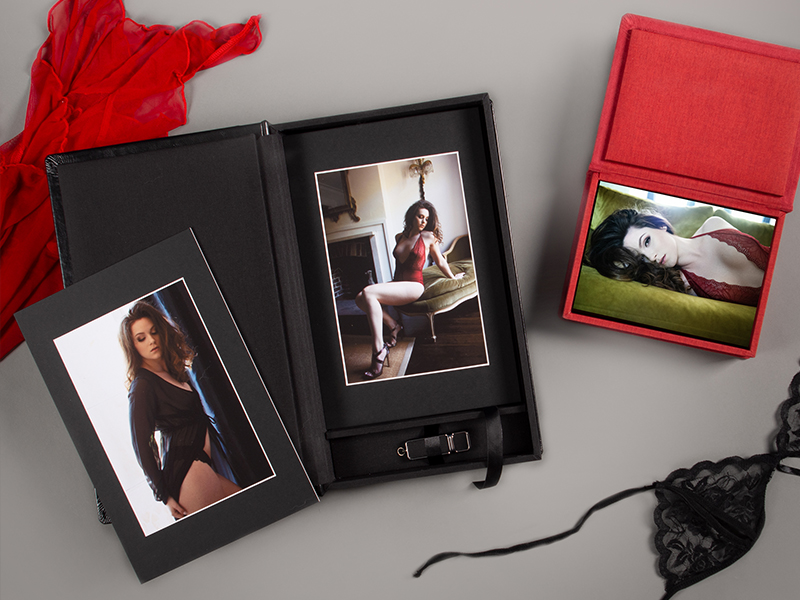 Upselling tip: Be sure to tell your client what's on your mind when taking certain shots. Comments such as "this would look beautiful on an album" will allow your client to visualize it during the shoot, and letting them check what end result comes up on the camera display once in a while will earn their trust. There's no need for stiffness, your client is there to relax and to enjoy the experience.
The Ace up your sleeve
To wrap things up, let's end it with something a little unconventional - the Accordion Mini-Book.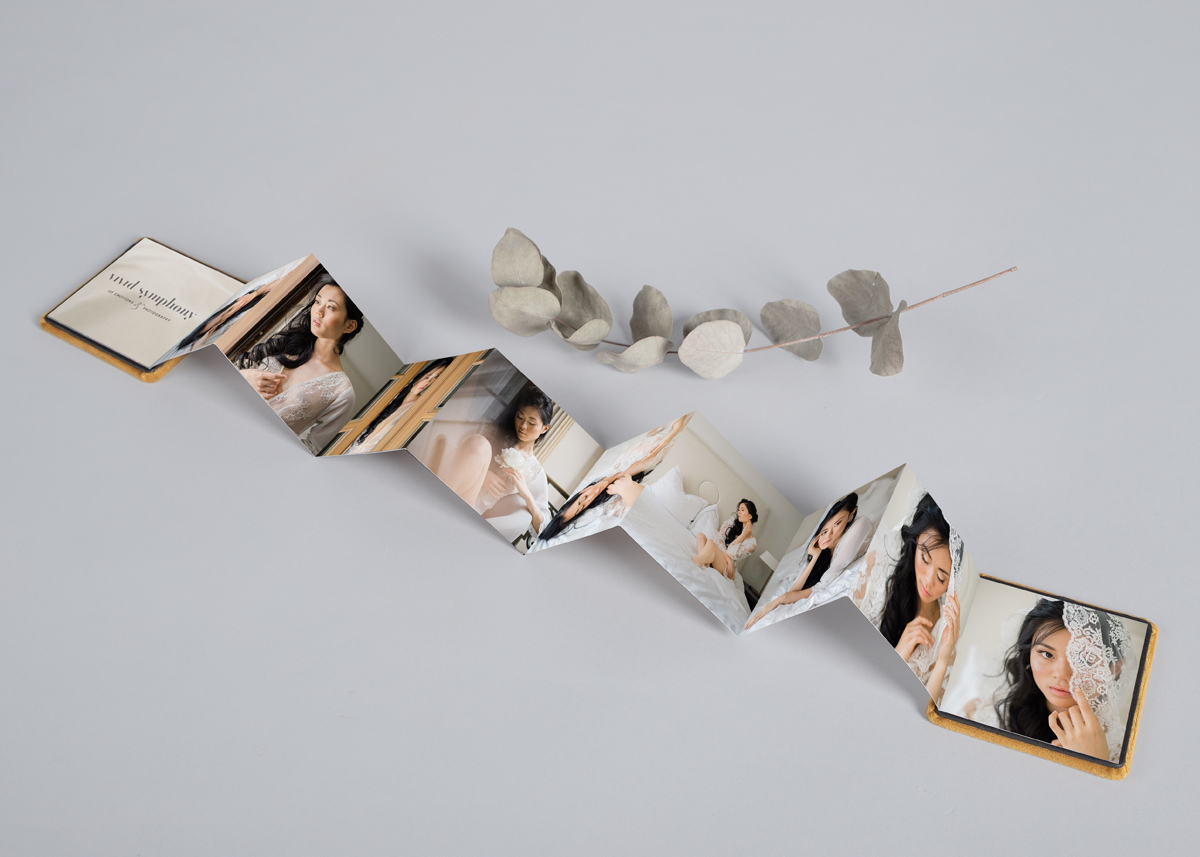 This little add-on would be a perfect fit to serve as a gift for a loved one. One can take advantage of its length and presentation style to produce a seamless set of shots, your client rapidly moving from one pose to another in each. A panoramic shot can be reproduced by using multiple pages for one, combined image.
Perhaps you're still undecided - fear not, we have something for you; a free ebook guide which will walk you through the importance of offering print in boudoir. It's topped with some helpful pointers from other esteemed boudoir photographers, so don't miss out!
Sign up for blog notifications
& Always be up to date on new posts