And a canvas isn't one of them.
Let's cut to it:
You want your print products to look great, but you also want them to make you some money. Understandable. In fact, sensible.
With that being said, it's clear the best print products are those that not only look great but also give you room to make a pretty penny.
Here's why canvases fall just a little short in the rankings of 'Best Print Products for Pet Photographers'.
The truth is – while certainly a great option for beautiful pet prints – the nature of the product doesn't allow much room for the price to be adjusted by the photographer after purchasing from the supplier. After all, your client is only getting a single piece of imagery with each canvas, whereas other product options offer much more value for the cost.
Moreover, with the pet photography industry rapidly growing and more and more people asking for the best for their furry, scaly, and/or feathered family members, there's no time to mill about with anything but the best.
So if not canvases, what are the best products for pet pictures and pet photography?
Pet Prints - Try Folio Box
Quite frankly, Folio Boxes are the quintessential product for pet prints. They are what the canvas fails to be – an excellent medium for portrait-style photography that provides prints to clients in quantity.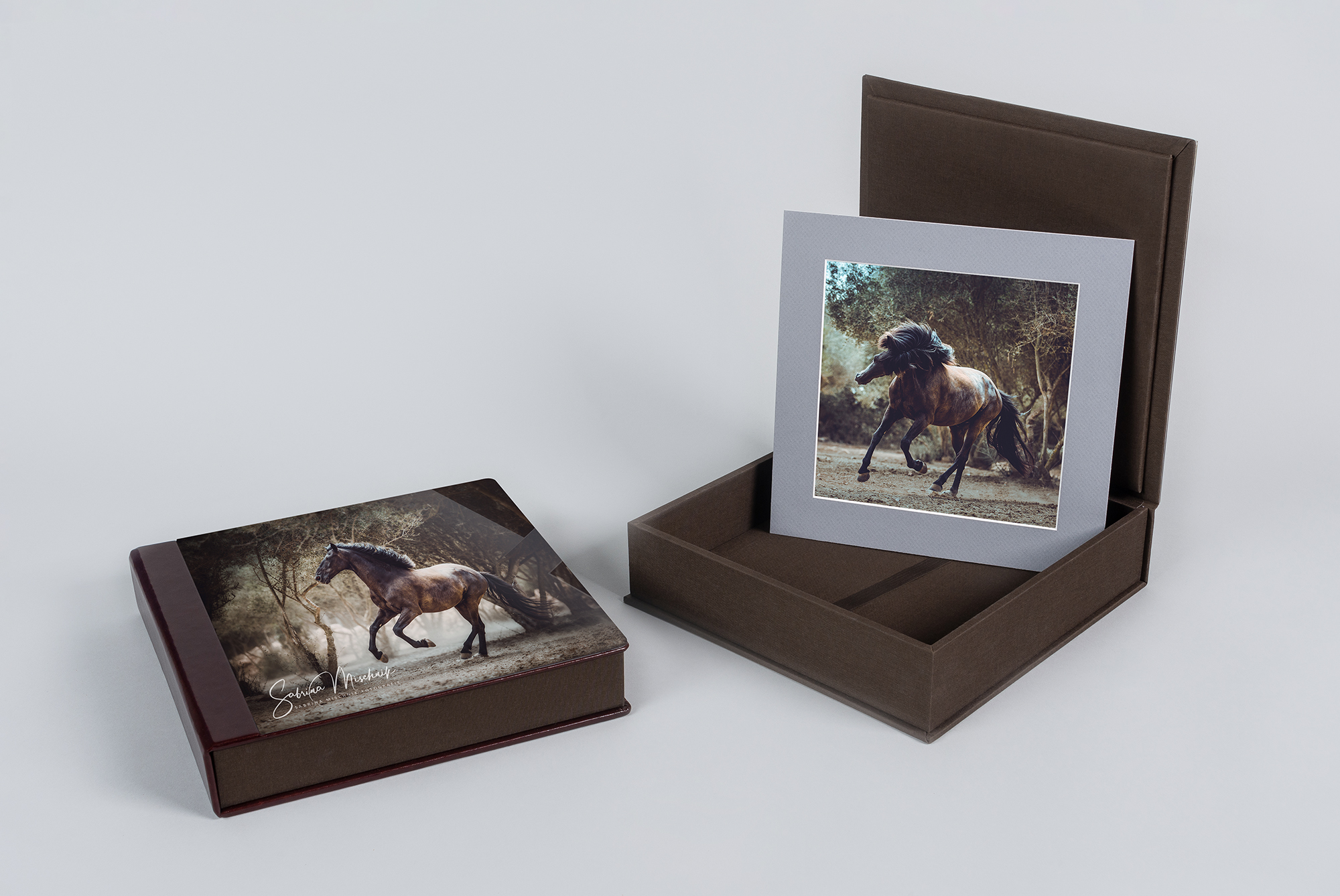 Like a canvas, Folio Boxes come with prints that are ideal for displaying either on the wall or perched on a stand around the home. Yet, unlike a canvas, they do so with more than one print. For example, with us at nPhoto, the Folio Box offers anywhere from 5 – 20 prints per purchase.
Moreover, the image they render is equally – if not more – professional in quality and fine in detail than canvases. Printed on the highest technology printers – that also print our highly acclaimed albums – the results of the Folio Box prints are second to none; head-turning heirlooms that are guaranteed to last.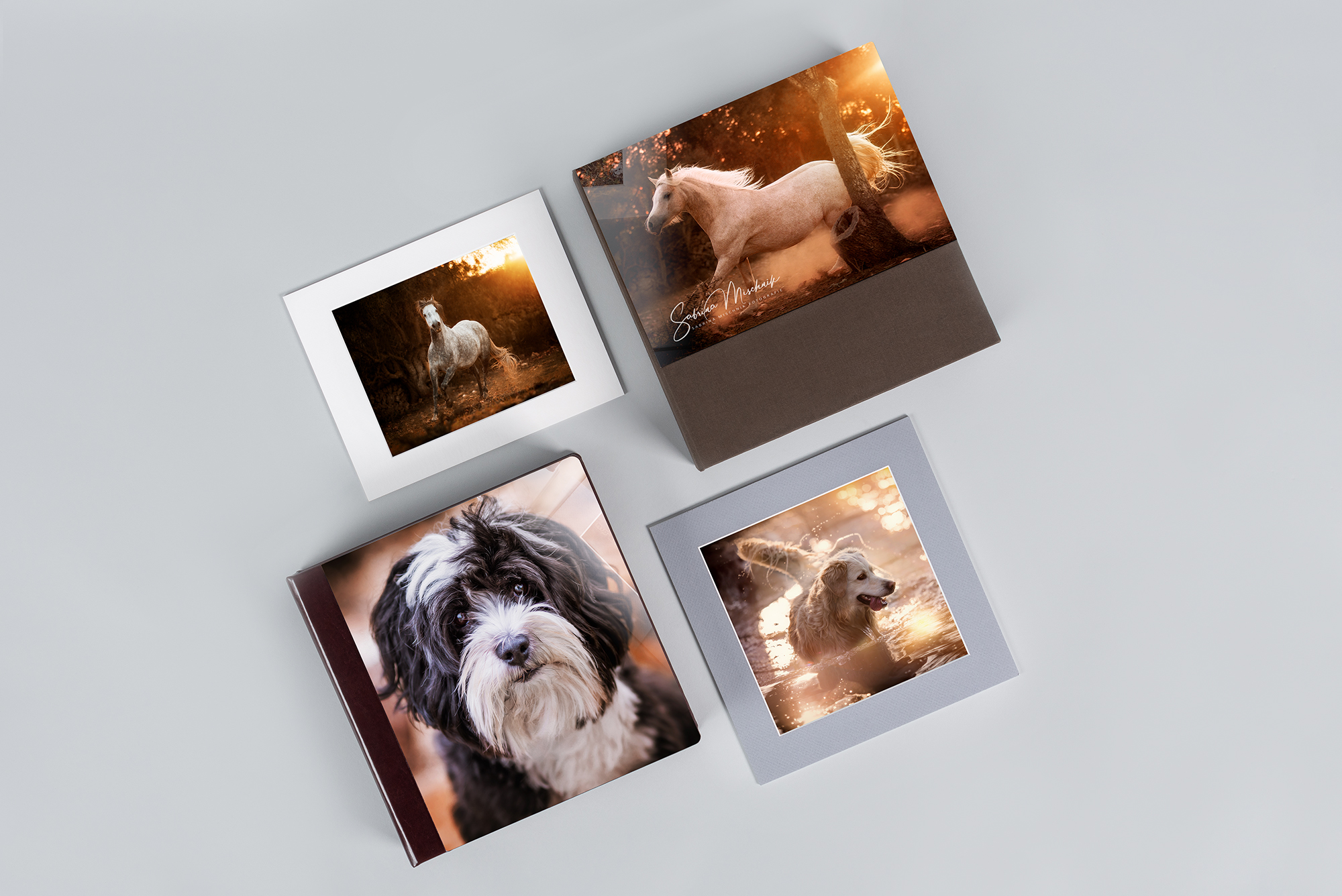 Additionally, they can be either board-mounted or matted with a readily-assembled matching framework.
Oh, and did I mention you can get them in stunning acrylic?
But let's come back to this idea of quantity.
With a canvas, you are only able to upsell one product, but with the Folio Box, you can essentially mark up per print.
Furthermore, we offer our Folio Boxes in sets, complete with a matching box, to house and protect the prints, and a choice of USB – all included. These elements come standard when purchasing through our website; however, they leave more room for you as the photographer to mark up the price and garner a good profit.
NOTE: If you'd simply prefer the prints included in the Folio Box Set, you are now able to purchase the prints alone - (or the box itself) – see Matted/Board Mounted Prints.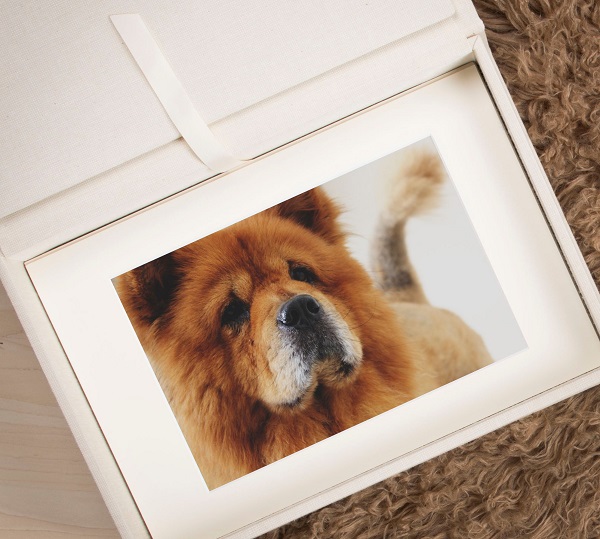 Yet, the power and this 'idea' of 'quantity' goes beyond just a cold, numerical sales strategy and also bodes better for the pet photography genre itself.
After all, pets are distinguished but dynamic subjects. Whether dogs or lizards, cats or snakes, parrots or ponies – they like to move. Offering a product that brings more than one image to the end-user allows you, as a photographer, to give your client a complete picture of their beloved animal subject.
Often, we'll see collages of canvases collected on a wall. Well, this is also perfectly possible with Folio Box prints and at a lower cost for your client. Moreover, with the print sizes for the matte/board mounted prints ranging between 5×7 to 12×16 and available in landscape, portrait, and square orientation, these prints can constitute a profound collage of their own, more than capable of expressing the full extent of your client's close creature. (For the complete listing of available prints, click the button below.)
PRO TIP: Offer up the board-mounted prints professionally framed using your favorite framing service to enhance their quality, longevity, and profitability.
The Highest Quality Pet Photography Book - DreamBook 4K
Quality is king (and queen).
People will go to great lengths and spend grand amounts to achieve the highest quality when they feel it necessary. Look no further than luxury cars, sports cars, luxury vacation retreats, or the fashion industry – all for that sensation of having 'the best'.
Well, I don't have to tell you, but today people see their pets as one of the family, like a child or sibling, and will intuitively desire and settle for no less than 'the best'. Well, in terms of print quality, it doesn't get any better than our DreamBook 4K printed with the state-of-the-art Canon DreamLabo 5000.
Images used for the DreamBook, and put through the Canon DreamLabo, come to life in 2400 DPI, 4K definition, and colors only made possible by a unique, fortified seven-dye ink.
But it isn't only colors. One of the biggest advantages of the DreamBook and DreamLabo is its output with black & white and the way it works the grayscale.
Do you often photograph pet subjects that are black, white, or gray? What about beautiful, bold colors?
You will not have their images produced any sharper, more defined, or more vividly than with the Canon DreamLabo 5000 and our DreamBook 4K. Everything included in the DreamBook is explicitly designed for compatibility with this printer to yield breathtaking results.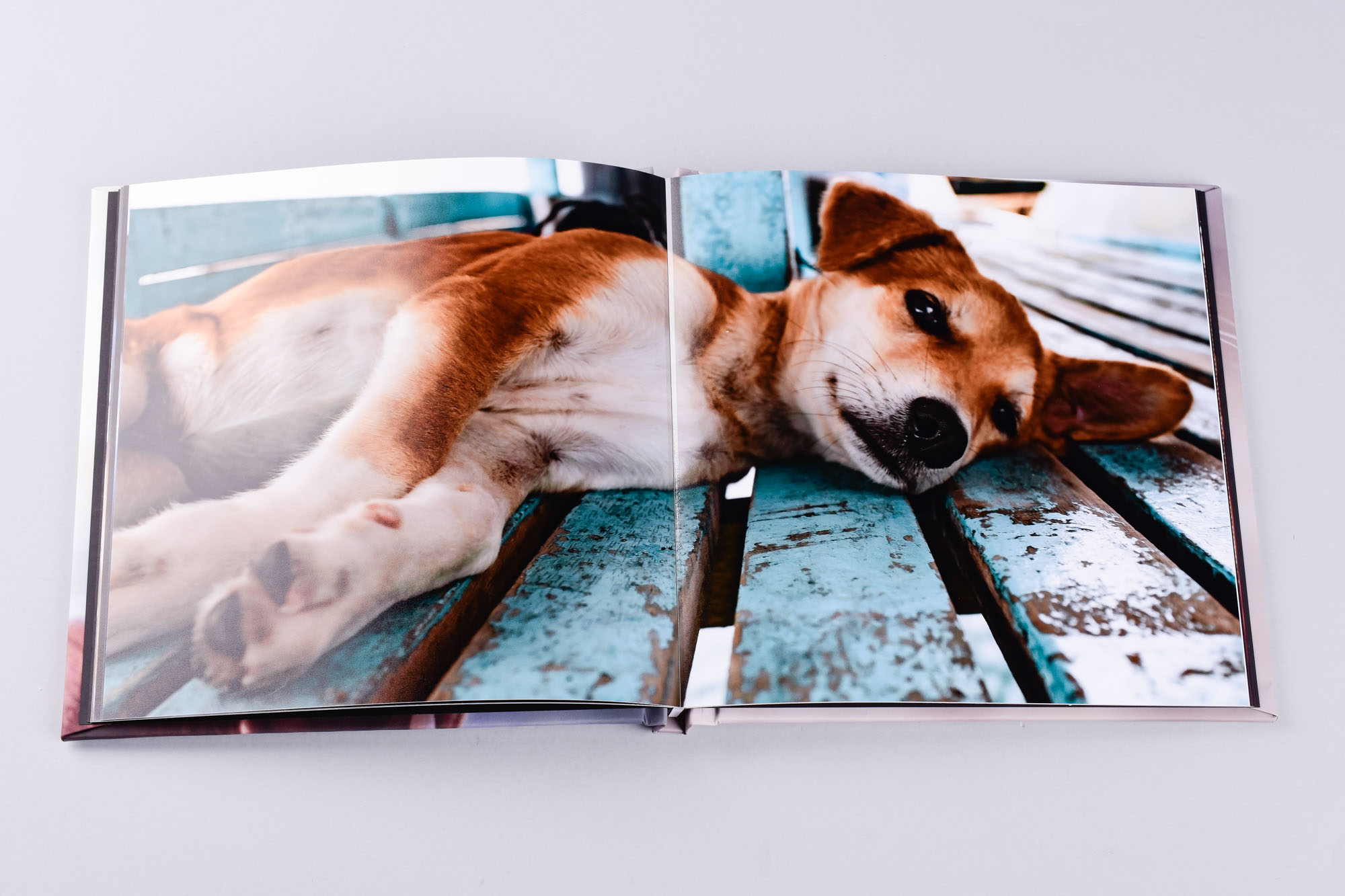 Our DreamBooks come available in three different collections, with three specific Canon paper types to choose from – glossy, satin, and luster. Also, you can choose over 60+ leatherette and textile options to personalize the outside of the product.
To see all the options for our DreamBook 4K, click the button below.
All this, and I didn't even get to the best part: remember when I opened the subject and mentioned luxury cars and vacation retreats?
Yeah, well, those cost a fortune. Yet, this crème-de-la-crème photography luxury product isn't priced like one. You can have the best of the best for the price of a middle-of-the-road product.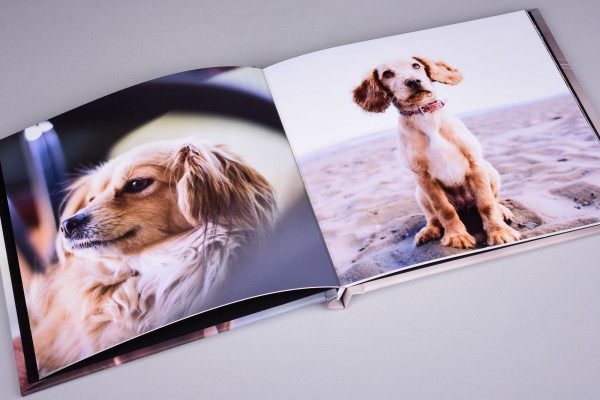 Don't believe me, check it out for yourself – you'll have to register first, but it'll be worth it. And then let's keep it between us; it would be a shame for your client to find out.
If you want to give your client the absolute best the print world has to offer and the chance to see their precious pets in vivid detail – down to the individual hair, feather, or even scale – then get yourself a Sample of the Dreambook 4K and watch as your client's eye's pop, jaws drop, and heads turn.

PRO TIP: Take advantage of our DreamPrints to offer your clients that best-of-the-best DreamLabo print quality in a traditional photo print format. These make for the perfect upselling product to add to other product purchases such as albums, Triplexes, Folio Boxes, and others.

Pet Photo Album with a Matching Box - Complete Album Set
And then there are albums….
Despite what's been said, the album remains the essence of quality and the traditional medium for prints of integrity. Luckily we specialize in albums and offer exquisite hand-crafted quality that is guaranteed to last.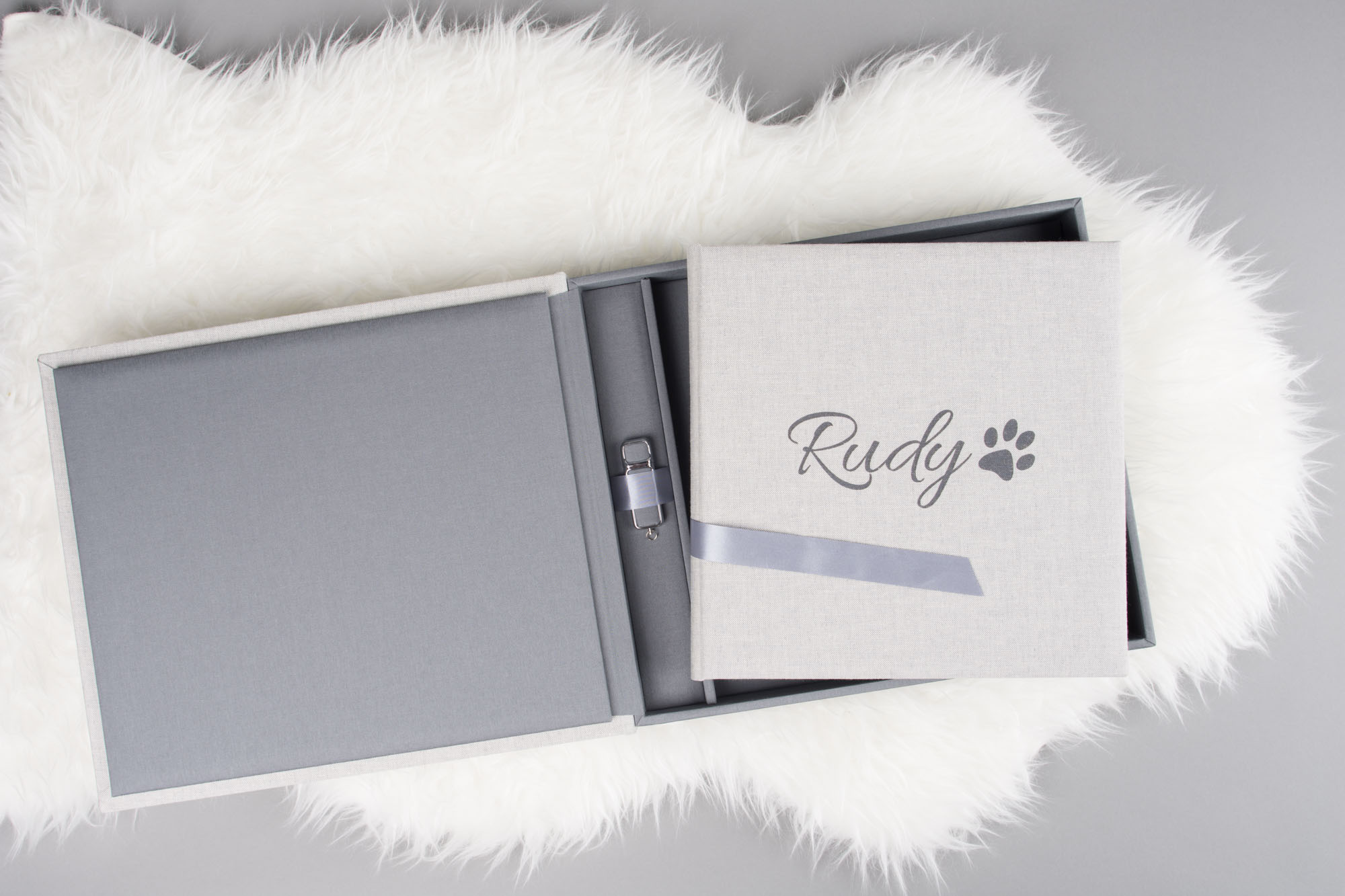 Our albums are all hand-crafted and flush-mounted on 800gsm spreads, giving them the strength to stand the test of time and even the occasional excited outburst of your client's subject ;) Our albums come standard with ten spreads in Fuji Silk paper with images that are exposed directly onto the paper – so you won't have to worry about any furry friends stealing away with loose images.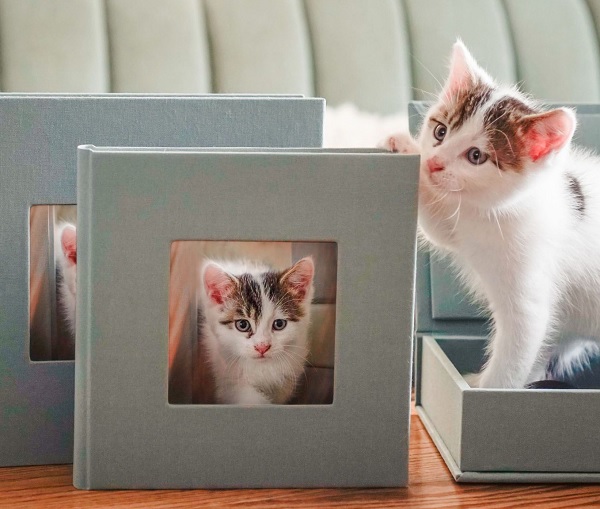 But above all, what elevates this product into the realm of 'must-have' is what it offers in its 3-in-1 package. Our Complete Album Sets are a combo including a full, high-quality, hand-crafted album with a matching box to hold and protect your album, as well as a USB option of your choice – 'no USB' is an available option, as well.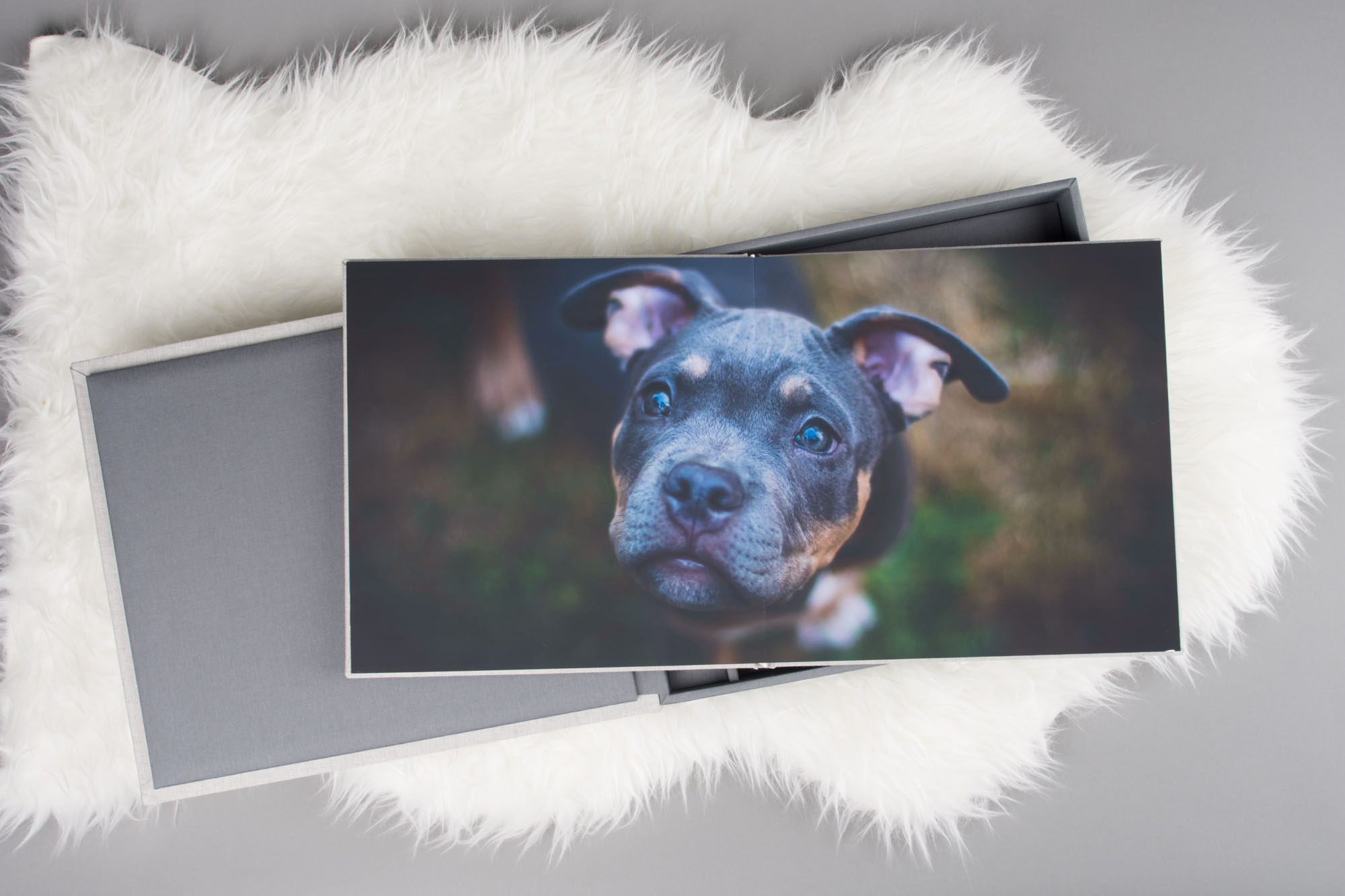 In this way, you can give your clients the best of both worlds by offering them a print album and a digital USB combined in a hand-crafted box.
So, essentially the client is getting two copies of their project, and, let me say – as an owner of an excellent Yellow Lab myself – I understand and appreciate the importance of back-ups.
Of course, for you, the photographer, the box, and the USB are part of the set; however, if you wish, they can present a fantastic upselling opportunity and a chance to make a deserved profit.
I just wanted to let you know that this resourcefulness is not something you can offer if you only provide canvases.

Ideal Product for Animal Portraits - Triplex
The true unsung hero of the print product world – that's what the Triplex is. Or, to put it in another way – and to use another cliché – it exemplifies that big things come in small packages.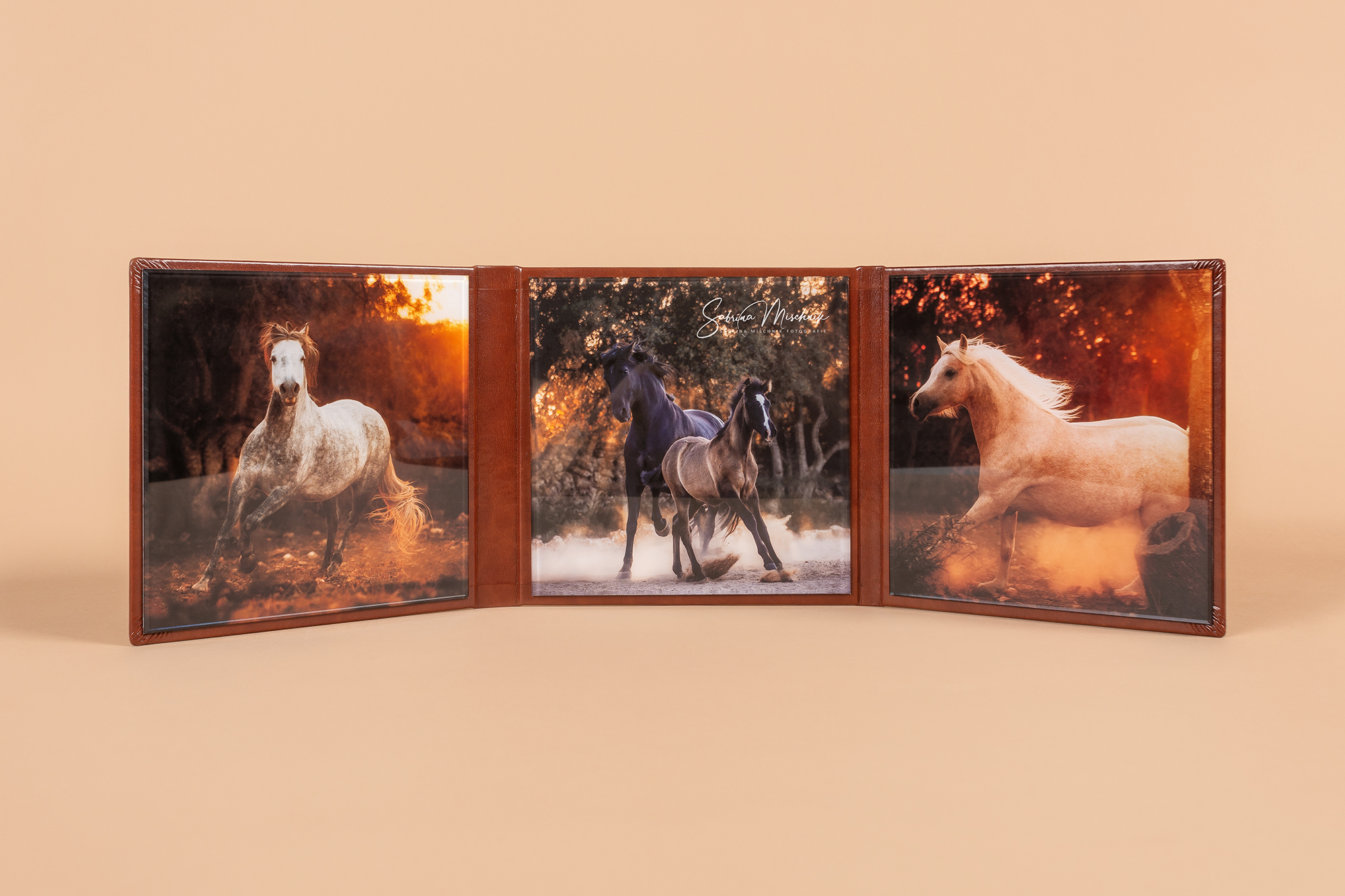 Triplexes are the ideal product for pet photographers and pet portraits in a similar way to the Folio Boxes mentioned above: they offer an easily accessible print product that includes more than one image.
As the name implies, the Triplex contains three images, printed with the same quality as our photo albums, mounted in a tri-fold display with your choice of leatherette, textile, velvet, or suede. Also, choose between traditional board-mounted prints or matted prints in your Triplex.
Oh, and the Triplex is also available in breathtaking acrylic!
The Triplex is designed to easily and elegantly stand on its own and provide its own display. Available in six sizes ranging from 6×6 to 12×18, as well as portrait, landscape, and square orientation - yeah, this product is more than capable of satisfying any photography project's needs.
Take advantage of the number of images available, yet a limited number, to display a profound, poignant story of your subject. Give your client something portable and handy that exemplifies their special companion in three bold images.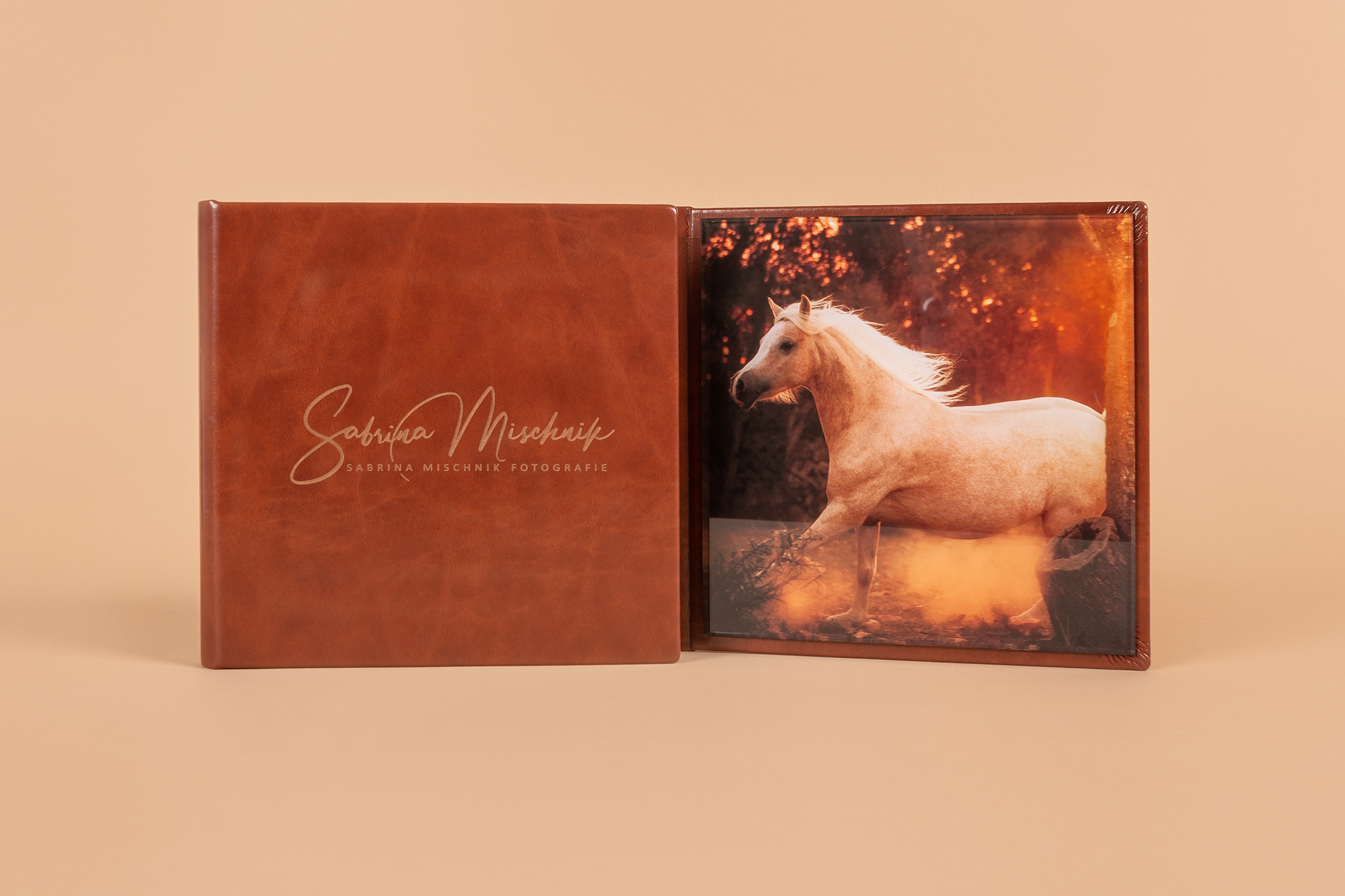 While canvases can be big and bulky and require some small renovation work to display, the Triplex is sleekly designed and easily moved and displayed anywhere in the home without any effort. It can even easily be perched up high on a shelf and enjoyed out of harm's way.
Of course, the nature of this product also makes it a great upselling tool and add-on to an existing order of an Album Set, DreamBook, or Folio Box. In addition, it can make an excellent gift for someone to enjoy their loved pet out of the home – such as a kid off in college or as an office desk decoration.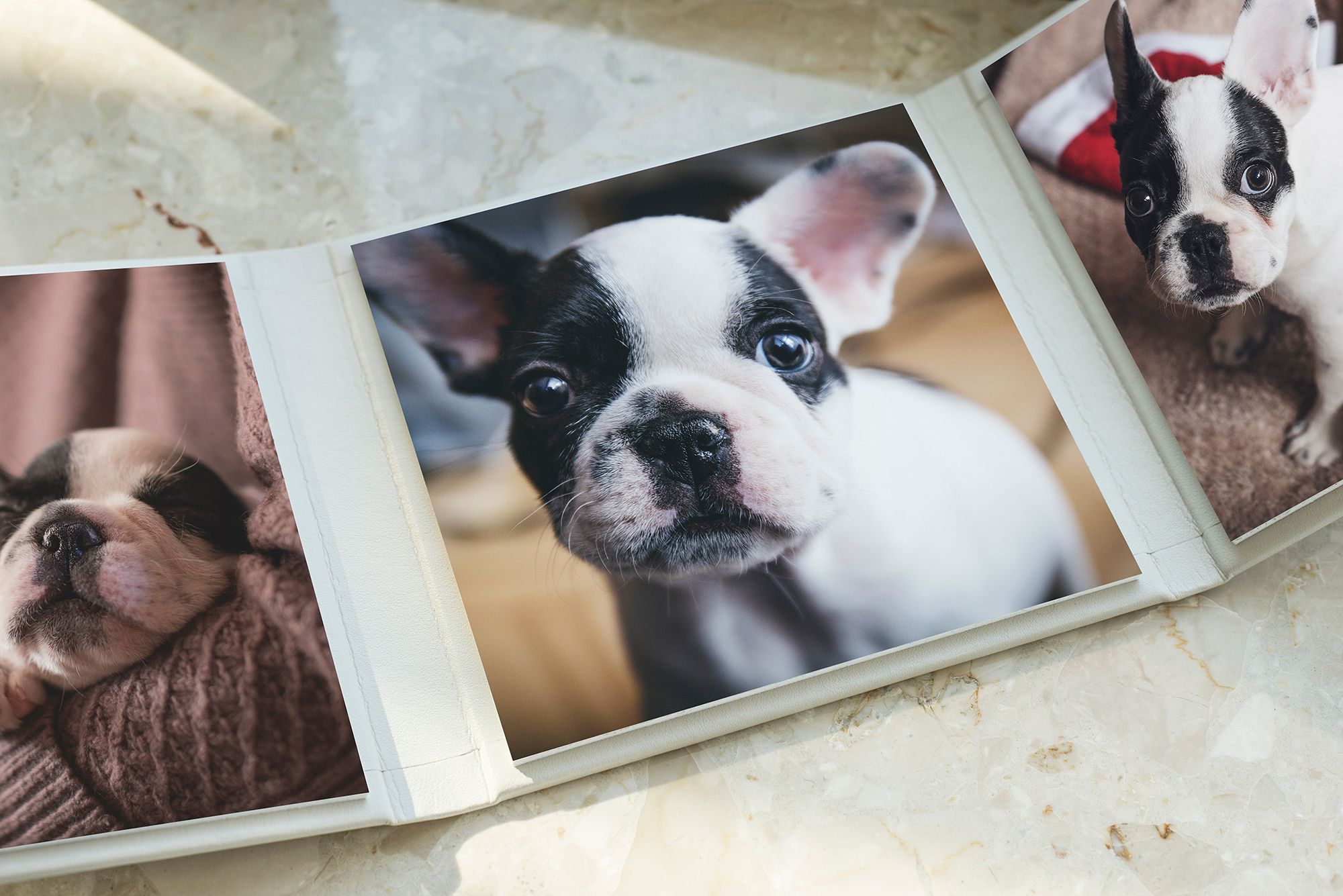 Indeed, the versatility and size of the Triplex is its greatest asset, and its use is only limited by the imagination.

Best Products for a High Return on Investment
If your clients are looking for a large, static statement piece that will require some small effort to display properly, continue offering them a canvas. Honestly, they are gorgeous products.
But, if you want to go for products that better allow you to tell the whole story of the interesting, quirky subjects you work with; are high-quality, long-lasting, and easily accessible; and want to do it all while allowing you the best return on investment, then do yourself and your business a favor and take a look at these four products mentioned.
Truly, these are the four best print products for pet photographers.
For more about professional pet photography and ways you can better and streamline your business, click the video below to hear 5 top tips from experts Caitlin J. McColl and Kirstie McConnell, founders of The Pet Photographer's Club:
Sign up for blog notifications
& Always be up to date on new posts