Let's be real: looks matter.
The way something is presented can make all the difference in the world. Even something considered a 'minor detail' can be the difference between a second look and an after thought; something desired compared to something disregarded.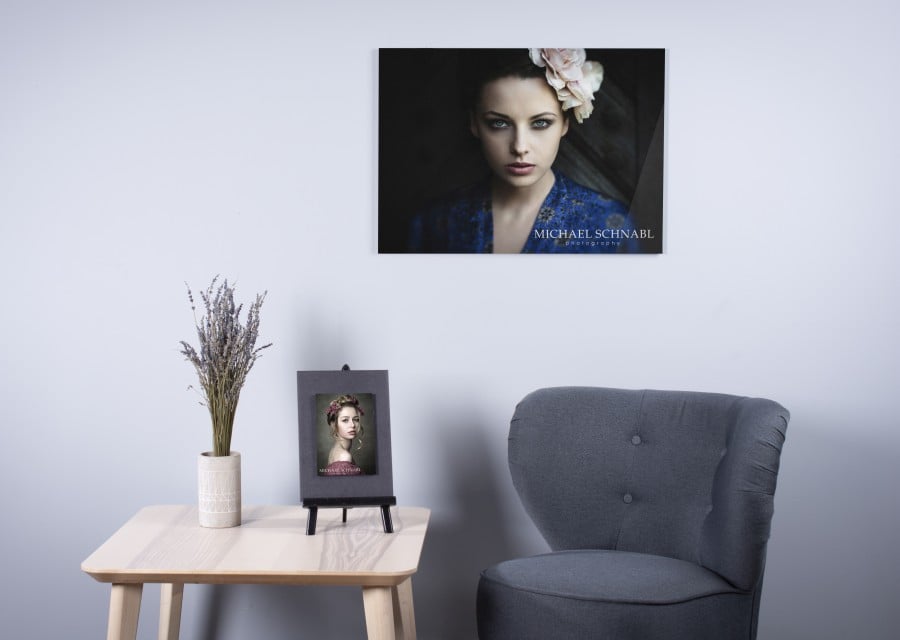 So, given that you've got incredible, gorgeous print products (if not, get some first with us at nPhoto), what can still be done to put your best foot forward and knock out all those 'minor details'?
Your studio and your studio set-up, that's what.
We understand that now it's not possible for clients to visit you in a studio, but that doesn't mean you should neglect this aspect of your brand. In fact, now is the best time to re-assess how you're using the space you have, make sure you're getting the most out of it, and get what you need to ensure you have a real jaw-dropping environment once everything clears up.
And, everything will clear up.
So, how to make the most of your studio, or sales space? Read below to find out the best tricks of the trade:
1) Display Professionally in Your Selling Space
Be sure your studio is on display in the utmost, professional manner. Some may think this goes without saying, but it never hurts to be absolutely clear and review the fundamental basics.
What this means is, take advantage of the high-quality products and display pieces at your disposal as a professional photographer and show off what is possible with printed products.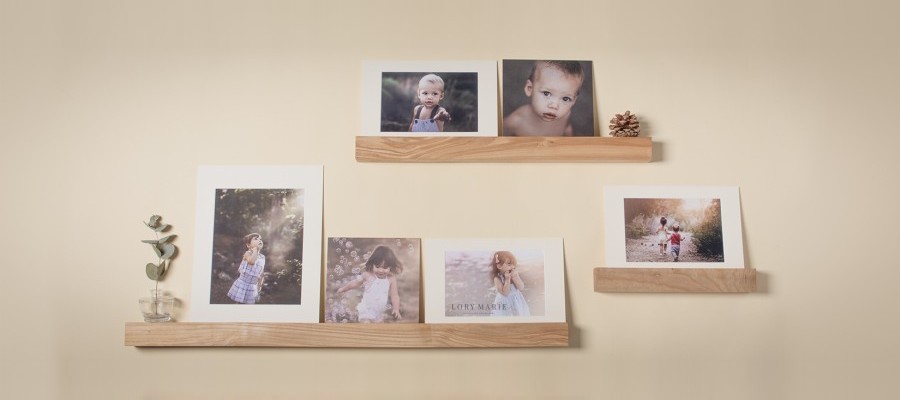 Remember, as a professional you have access to products that an average consumer doesn't – and, those an average consumer likely doesn't even know exists. So with that in mind make sure you show off your best professional products and them show them off in an attractive, artistic way.
For example, at nPhoto we offer exquisite easel and ledge display accessories that will help take your studio to the next level.
Wooden Easels
Our Wooden Easel Stands are hand-crafted using the finest beech wood and come available in two sizes: Mini 10.5" (27cm), and Midi 15" (39cm).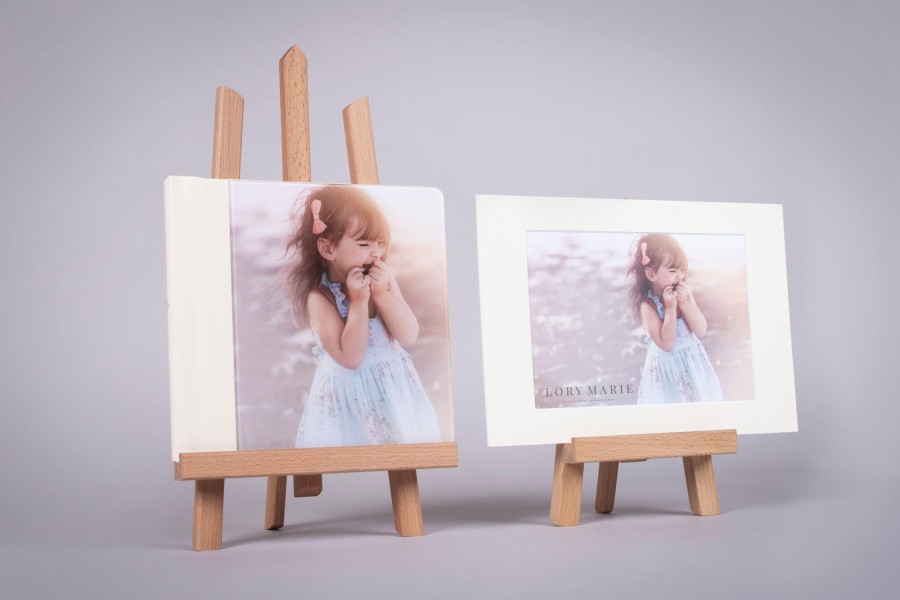 Their natural wood material gives a warm and homely ambiance while they serve as a perfect prop up for prints from our Folio Box, a piece of our metal or acrylic wall decor, or even an album, DreamBook 4K, or Photobook Pro.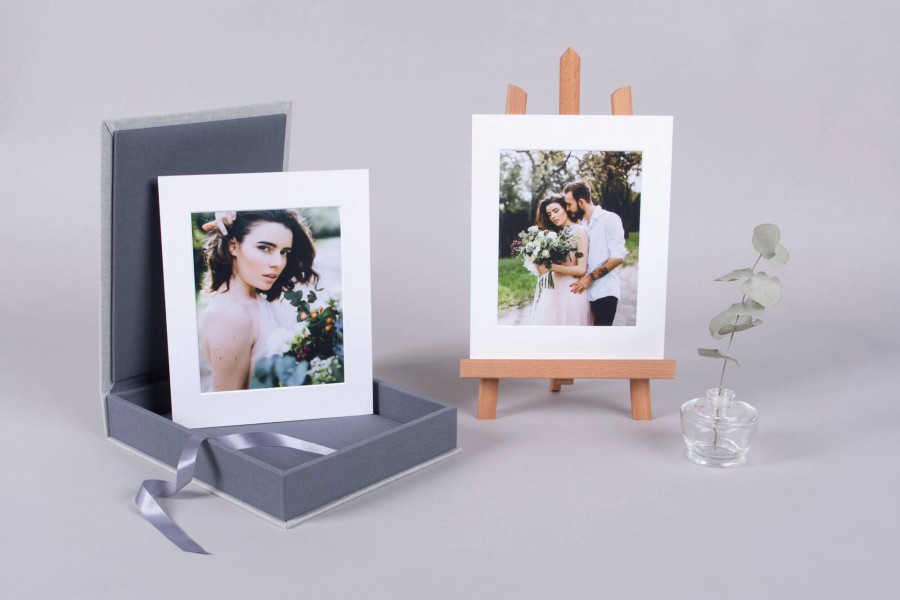 PRO TIP: Display an open Photo Album, DreamBook 4K, or Photobook Pro on an easel in your studio as the quality of the product will be readily apparent. With an album you may even select a spread with a stunning full-spread panorama to show off the wonders of professional, layflat artwork.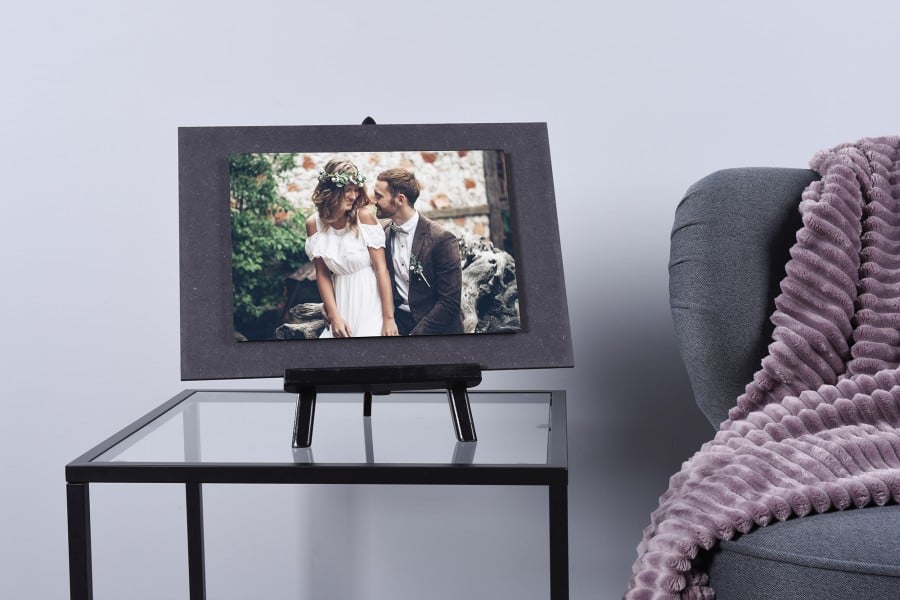 Wooden Ledges
Our Wooden Photo Ledges, meanwhile, are crafted using the finest ash wood and come available in three sizes (lengths): S 13" (34cm), M 25" (64cm), and L 37" (94cm).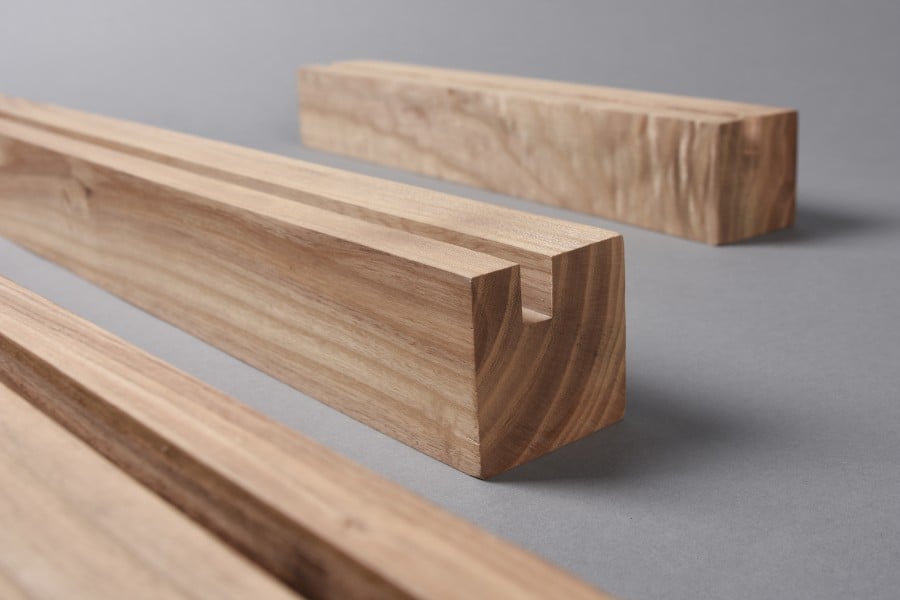 These ledges are ideal for those awkward wall spaces too small to fit a wall décor collage, but too big to leave empty. Perch our Matted, or Mounted Prints from our Folio Box on these ledges to have them come to life and accentuate your work and studio.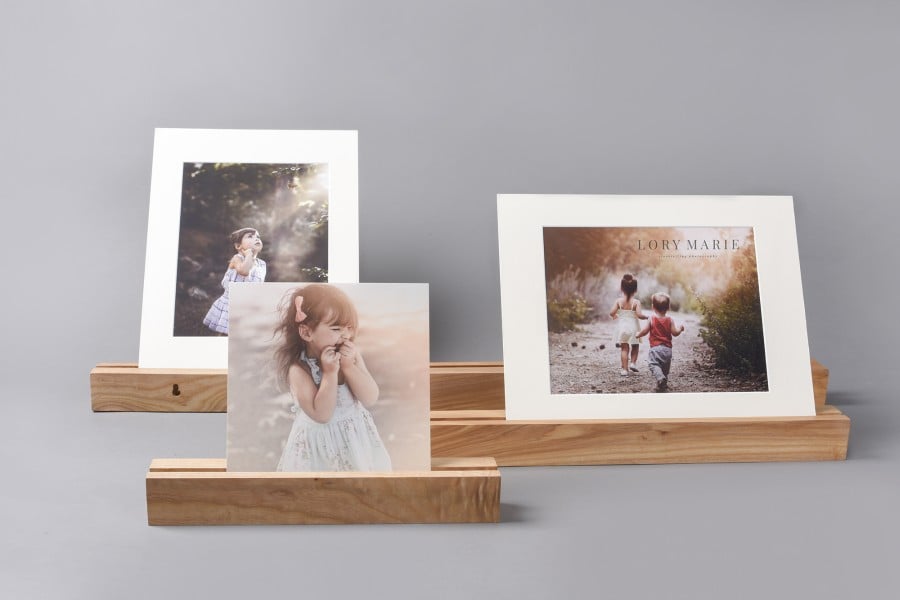 These ledges were designed specifically to fit our products so you can be sure your images will fit perfectly and look spectacular.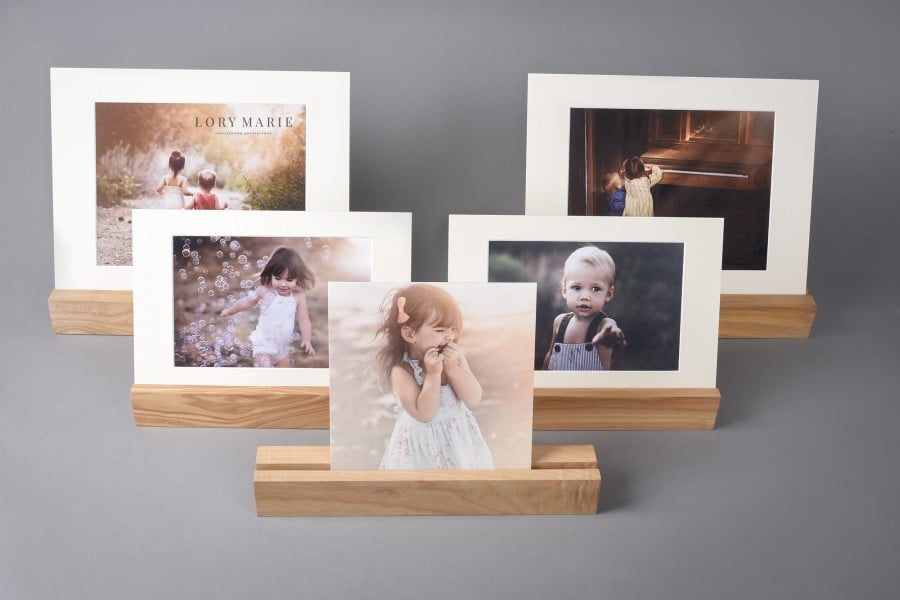 Within your studio space utilize both these display accessories – in a variety of sizes - coupled with our high-quality professional print products to have your brand really emanate professionalism, style, and durable heirloom products.
2) Emphasize the Most Attractive & Best-selling Products
Speaking of display, another tip to help make the most of your studio and product display is to emphasize the most appealing print products possible as well as those you find are most asked about.
We all know this one; it's the six-figure, incredibly fast, sporty, most-upgraded-possible car that's always the first thing you see when entering car salons. It's done, of course, to get the shopper craving the opportunity to buy.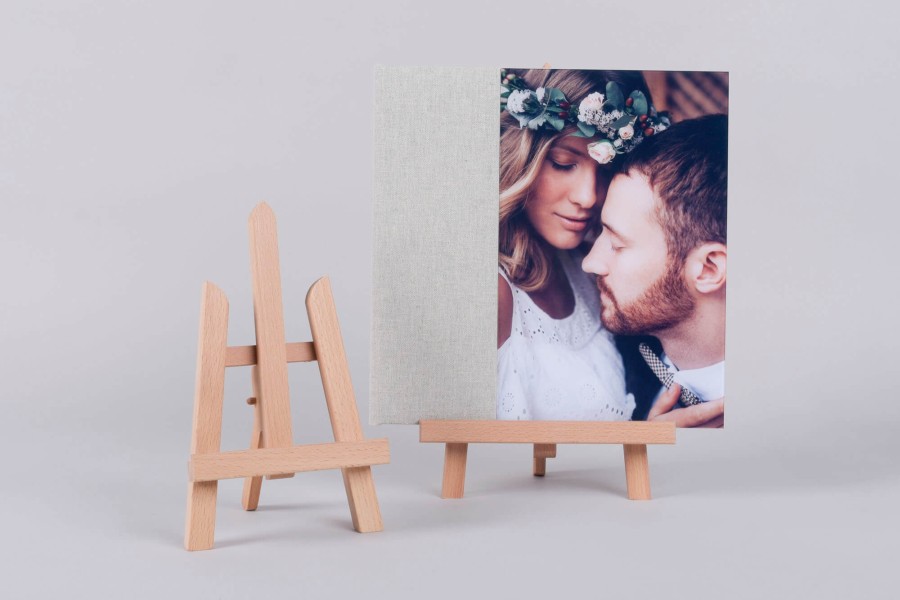 A potential client that is excited to buy; sounds good, doesn't it? You, too, can employ such a strategy with your studio, and, why not?
Remember, 'most attractive' doesn't always have to be the same as 'best-selling'. Ford's top seller isn't the latest Mustang GT model, but that doesn't stop them from displaying it proudly in showrooms and it attracting many curious eyes.
Don't be afraid to go big and bold yourself and display an enticing (dare I say, 'sexy') large-format print option such as our Grand Gallery Photo Book - which measures in at a whopping 20x28in (50x70cm) [also available in Landscape at 28x20in (70x50cm)]. While shoppers may not be leaving with an exact copy of their own, the ability for them to experience print in all of it's grandeur and glory will increase their desire to buy something more practical to their needs.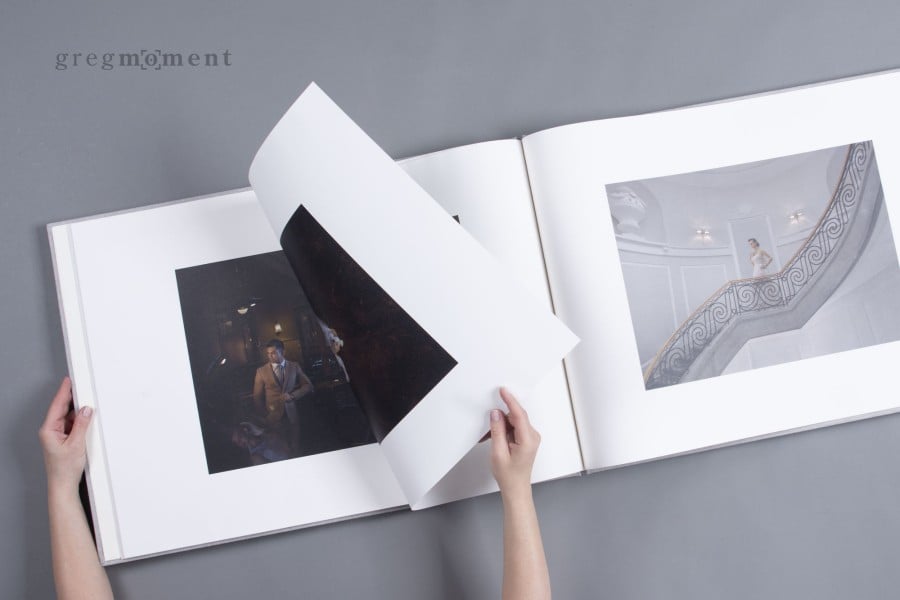 Another fantastic showstopper to display front and center (and in the studio's storefront if you have one) is our 20x28in (50x70cm) Acrylic Print wall decor piece. Acrylic photo products across the board prove to be the most popular with consumers for the enchanting effect an acrylic face has on photos displayed underneath. Putting these products in easy view will only serve better for your business and studio.
Of course, it's not only about the 'show', but also the 'sell'. Be sure to emphasize products you find sell the most, or satisfy the needs of your general clientele the best. While wall décor options are some of the best-selling photo products in their own right, this may also mean showcasing a print product that includes a digital option.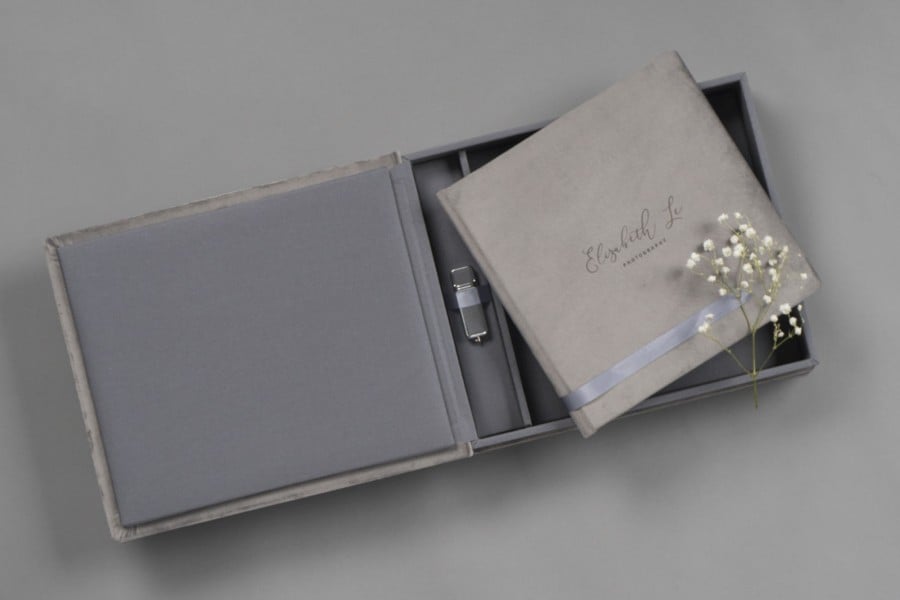 Something like our Complete Sets is the perfect print-meets-digital solution as it offers a full print product in the form of a Professional Album, DreamBook 4K, or Photo book Pro coupled with a digital USB all packaged elegantly in a stylish box. Highlight these practical products in your studio as well so clients can know they will find something that fits their needs.
3) Make your Studio Space Familiar, Relatable, and Comfortable
Arguably the most important tactic to maximize the selling power of your studio is to not only display the products you aim to sell, but to display them in a relatable and comfortable environment for your clients.
The idea is to make it as easy as possible for your clients to imagine your products in their home. This is done by emulating their living experience as much as possible.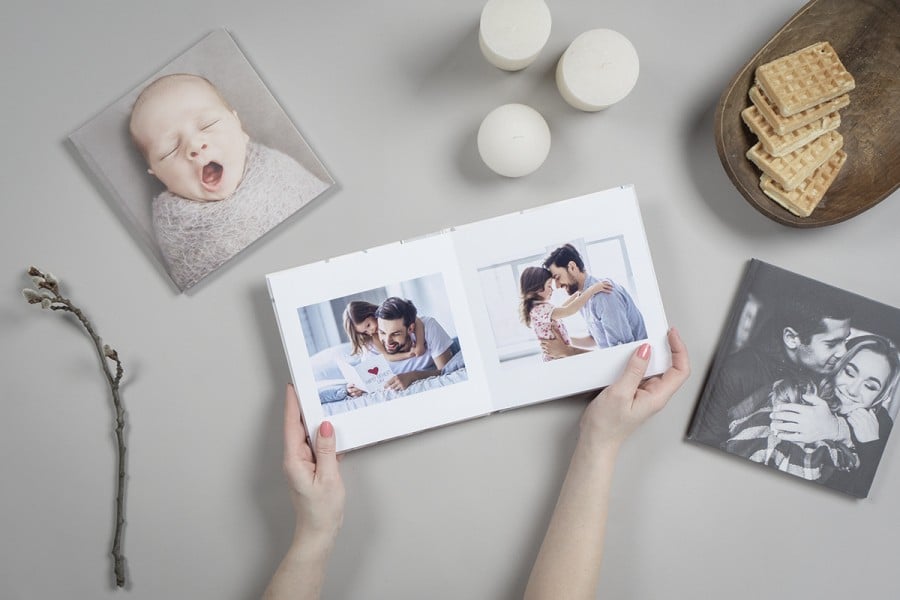 So, set-up your studio in a way that resembles a typical living space for your clientele. Try to incorporate, in a natural way, as many elements of a home as you can. Try to include a table or desk space, a bookshelf, a mantle and/or ledge, a wall space for a wall décor set-up, a comfortable seating area; places that could easily exist in a home setting and are ideal for displaying images and printed works. And, display your products in these areas appropriately!
Take IKEA as an example. Have you ever wondered why their latest furniture collections – whether in their catalog, or store front – are advertised and displayed in a fully-decorated space resembling a real home?
This is done so shoppers can easily envision their home with such furniture and they can be inspired by the professional team on how to use IKEA furniture to improve their home. Set up your own studio in a way that resembles a typical living space for your clientele and provide inspiration and professional-level design guidance for how your clients can improve their living space with your products.
The key factor to keep in mind is the less imagination gymnastics your clients need to do to imagine your products in their home and being a part of their life, the better for your pocketbook. Thus, the value of a relatable, comfortable setting and ambiance cannot be overstated.
4) Promote your Professional Studio!
Once you've gone through all the effort and addressed all the details to make your studio space the perfect place for your clients and your business efforts; then share it!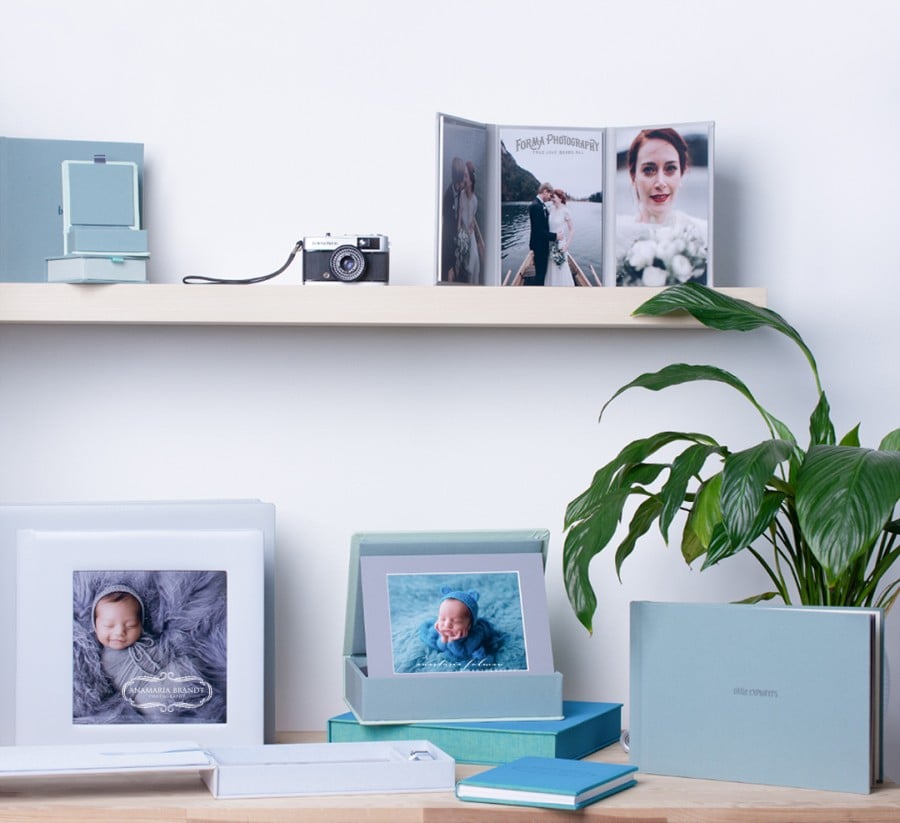 Go on all your social media accounts and on your website and show off pictures of your wonderful space – yes, with printed products and all.
This will generate excitement within your following and get your clients, and potential clients, eager to visit your studio space and see in-person the beautiful products you have on display.
Consider making a major announcement any time you decide to re-arrange your space, and, maybe even attach a small discount, and/or a limited-time flash-sale to the occasion to, again, generate excitement around your space and get feet in the door.
Your Studio is your Product's Stage
In the end, there's no way around it: the set-up of your studio, or selling space, is an important factor in determining your success rate with a sale.
Truth is looks matter. Yet, the sooner this psychological truth is accepted, the sooner you can start to use it to your advantage. Follow these guidelines to be sure you're presenting your professional studio and selling space as best as you possibly can.
After all, while your website and social media is the place to advertise your work and skill as a photographer, your studio and selling space is the time and place for your products to really shine; put them in the best position to succeed for you.
Remember, do right by your studio; do right by your products, and they'll do right by you.
Make Money from Home When Studio Visits aren't Possible
To close, in this time when it is really impossible to meet with your clients in-person you can still provide a wonderful, personal sales experience and earn money without even leaving your home with our Wall Decor and other product mock-ups. These allow you to present our highly-acclaimed products to your clients using your own images inside.
Don't worry, as always, there is no product branding from us anywhere on these images so you can share them confidently with your clients and call them your own.
In fact, take advantage of our current promo and get a Wall Decor sample at 80% OFF.
For more information on how to set-up and use your professional studio to your advantage, be sure to read Pixpa's Complete Guide on How to Setup a Photography Studio.
Sign up for blog notifications
& Always be up to date on new posts