We sat down with professional photographer and selling expert Andrew Miller and asked him how other pros can make more money. Here's what we learned...
Andrew Miller is a highly experienced Bristol Photographer covering Cardiff, South Wales, and the South West of England. He also holds a Masters Level in Coaching & Mentoring from the Institute of Leadership & Management.
We know what you're looking for.
After all, we know the feeling. Finally, after hours and hours, weeks and weeks – months and months of intense work, late nights, and gallons upon gallons of tea and coffee, you're sure you'll finally be able to realize your wildest financial dreams.
Yet, when you sit down to run the numbers, what's left?...well,...at least you still have your camera.
Only, what the heck, right? Our whole lives, we've been told to put in the hard work and everything will be all right. Well, we've done the hard work, so why is it still not right?
The truth?
Hard work is only half the advice. The reality is that you need to do it in the right places.
The key to success in business, and life in general, is knowing where to put in that hard work.
So, we know what you're looking for: you're looking to make more money.
Well, we've got good news for you; we know how you can make more money as a wedding photographer; that right place to put in the work – and it even isn't all that difficult.
What is it? That solution to more money as a wedding photographer: upselling, and it goes a little something like this:
What is Upselling and How to Do It?
Upselling is simply selling more to your client than initially accounted for. So, for example, if you have an item or package at a standard price of, say, $1000 but end up selling for $1500, your upsell was $500.
Easy, right?
It can be, but it is an art form that needs to be practiced, fine-tuned, and perfected. For that reason, we sat down with an 8-year upselling expert and British wedding photographer, Andrew Miller.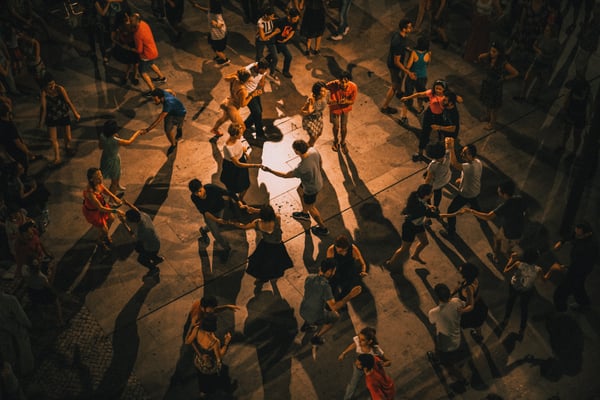 A successful upsell experience is a lot like a good dance - emotional, natural, and fluid. Like a good dance partner, it's essential to recognize that balance of when to let your client lead and, more importantly, when it's your turn to guide gently while being mindful not to step on their toes. Yet, like a good, focused dance, the effort is more than worth it in the end.
Andrew, who also boasts a master's degree in management development, marketing, and coaching, emphatically declares upselling "[is] not pushing an album in front of somebody and saying, 'This is fantastic. Buy it!'
Instead, he informs, it's "a personalized process" that should be "done completely naturally."
"It shouldn't be. You buy this, and then you have to buy this, and then you buy that. You're taking the couples through a personalized process to give them what THEY want, not what you, as a photographer, want to sell them."
The Secret to the Big Sale: Make it Personal
That personalized experience is the foundation of a successful upsell. For example, Andrew meets with each of his clients before their weddings and is sure to keep it about them as he introduces wedding photo albums and his service.
Almost immediately into the pre-consultation process, what Andrew "talk[s] to them about is them; their wedding!" It's often "half an hour after we've met when I'll start talking about the photography itself," he states. "Up until then," he continues, "we're just getting to know each other."
The successful IPS and sales experience is a personal one. Think of it as a personal letter compared to a mass email.
But it isn't just small talk; Andrew will ask informative questions, such as: "How many bridesmaids have they got; how many ushers; how many best men? What's the color scheme? What theme have they got? Are they doing anything different that would be interesting?... I'm asking about the dress."
He does so to help himself prepare for the clients and ensure them a truly personalized experience. "I'm asking about the dress – if it's a heterosexual wedding – because the dress gives me an idea of what I can do. I'm asking about the color scheme because it helps me think about where we can go within a particular venue that will match their wedding."
This is crucial information that Andrew later uses for even more sales and to drive home that out-of-the-park service. After all, the central concept to remember: when done right upselling is "consultative selling: what does the client want? They want to get the vision. They want to get the emotion out of it…."
Andrew suggests asking practical questions about the big day to plan for an even more personalized experience. For example, get a venue to match the dress and color scheme, he says, to get the emotion you want out of your clients - joy.
Even more, Andrew highlights, "It's that personal connection to me, emotional connection, that I make that gives me the credibility; gives them the confidence, and then I can start to talking about 'well, what is it about photography that you like?'"
Family Group Shots Also Bring the Big Bucks
Yet, whether clients mention it out loud or not, Andrew is always sure to catch some family group photos at weddings – and even some random impromptu family portraits.
When asked about his affinity for family group photos at weddings – despite them no longer being en-vogue – he responded pragmatically, "I found that people put them [group photographs; family groups, portraits, stuff like that] in albums – which means there's less space for their photos. Therefore, they buy more from me."
Like them or not, family group shots stand the test of time and are often authentic treasured heirlooms. There's no better time to capture them than at a wedding. Andrew advises you to do yourself and your clients a favor and take advantage of the perfect opportunity.
Moreover, he concluded, "...I know that moms and dads are going to buy X number of prints from me for those family groups. It could be grannies there, great-grandmas, aunties, brothers, or sisters; they're going to buy them because they asked for them. You can't use it digitally on a USB stick and put it on a wall, and people in their 50s and 60s now like to get prints. So I shoot a lot more."
Shooting more – or a lot – is another strategic upselling tactic Andrew has picked up over the years. Working in conjunction with his collections' standard offer of 60-70 photos, or 15 double-sided spreads, he knows that the more you shoot, the more you'll have to sell. "[I]t's a squeeze sometimes to get those photographs in," he states, "therefore, if [the clients] want that big photograph [they're] gonna have to purchase another page."
If it seems like a play on emotion, it may be – but then again, nearly all of the wedding photography and sales is, moreover, he always "leave[s] it to the couples," but, sure enough, "99 times out of 100 they'll buy more pages from me."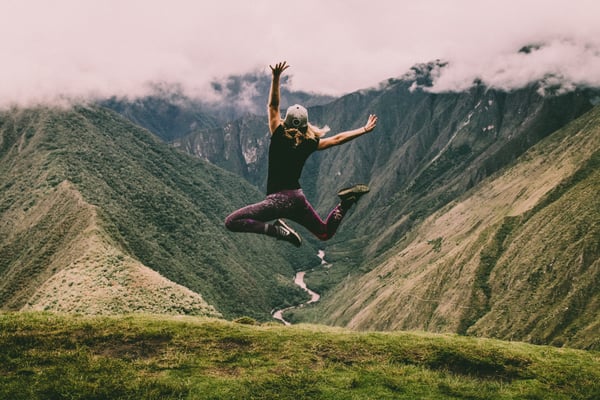 For Andrew, when it comes to weddings as a photographer: more [pictures] means more [money].
Andrew then concludes by re-affirming a critical, often overlooked group for achieving a big wedding sale – the couple's parents. As for himself, he admits, "I sell to the parents just as much as I sell to the couple who's getting married."
Educate Your Couples on the Importance of Print
Such was the advice from Andrew when he was asked if he had any last tips for photographers to achieve a killer sale and upsell.
"You do that from the get-go," he informed, "all the way through to the sales meeting and – at the end of the meeting as well – and then at the wedding." What's worth noting is the thoroughness of this schedule. Truly every step of the way, the couples should be educated – and a little more each time.
Educating your clients on the desirability of print from the very beginning - and throughout the process- will only help you in the long run, implores Andrew.
Most notably, even before that first sales meeting, potential couples should receive information about the importance of print, albums, and printed products.
How so? Back to Andrew:
"So you buy samples. Great, what do you do with them? You take photos; you take videos, you put them on social media. You put them on YouTube; you put them on your website. So you're sharing that, you're sharing that 'look at me; I do these fantastic albums with fantastic photographs in[side].'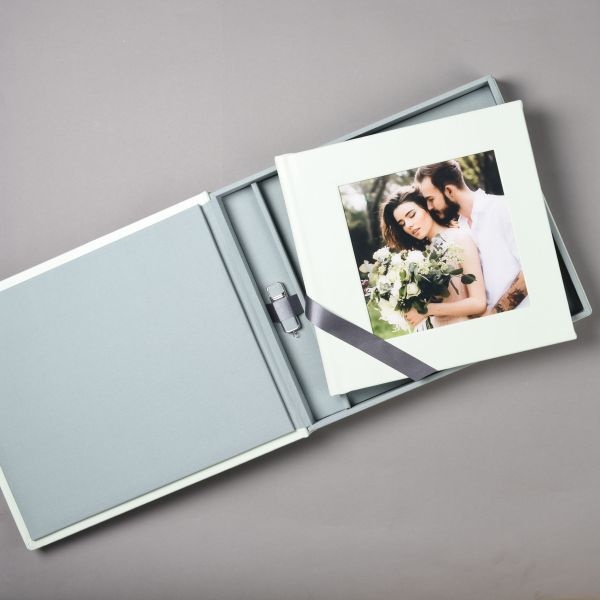 Please don't be shy; take pictures of your beautiful print samples and let it be known you offer print, and that's what to expect.
So essentially, you're educating your couples and potential couples that print is what you do, "that if you book me, you're gonna get an album," or other printed product. And this is something you should do.
Then, when your couples know this, you can plan around it.
For example, Andrew goes through the big day shooting for an album after educating his clients before their wedding. "I'm shooting very wide so I can crop the photograph in to fit an album. I'm shooting big, signature images. And at the time I'm doing that, I'm showing them the back of the camera, and I'm saying things like 'that's gonna look superb as a double-paged spread,' and you can see them going 'that's superb, absolutely!' and it's just on the back of a camera. That will sell me prints. That will sell me double pages in an album – a spread."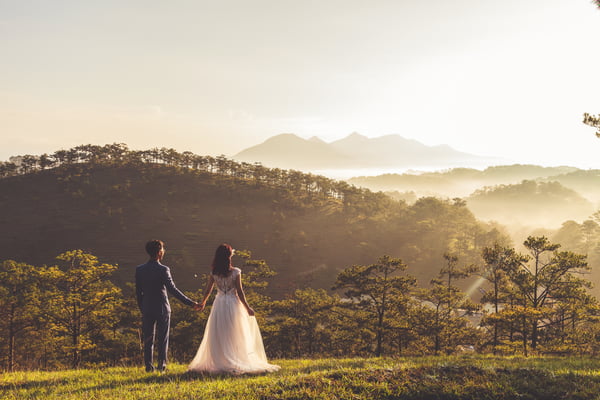 Andrew enlightens that once it's established that your clients are getting an album, you can go through the special day shooting for one and, therefore, be sure your work will translate idyllically into an album.
Another crucial point in successful, well, business and upselling for photographers: if you put in the work before the shoot and during the shoot, the sale after the shoot will be much easier. And again, it will come naturally to the couple and clients, and they will not feel pushed.
Indeed, as Andrew shows, a successful big sale doesn't start from that phone call after the wedding, but instead well before the couple even books you and then throughout the time they are your clients.
The Key to the Successful Upsell
As you see, it's a complete, personal experience. There aren't any effective 'shortcuts' without appearing like you're trying too hard to push an extra sale. So instead, take the time to get to know your couples and plan accordingly. The rest should almost naturally fall into place.
Yet, with that said, don't be afraid to play the salesperson. After all, as Andrew bluntly reminds professional wedding photographers, "It doesn't matter what your work looks like if you can't sell it to a couple."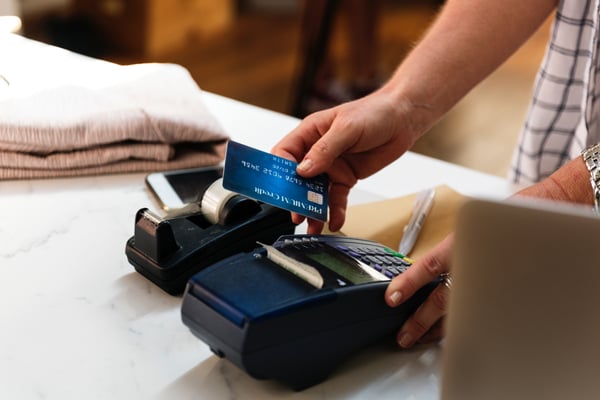 It may pain you to admit, but the truth is if you're a professional photographer, you're also a business and retail person. So approach things with that in mind, and you'll better your business and yourself.
On the big day, you are first and foremost a professional photographer, but you're also always a business person – it's essential to keep this in mind. Andrew himself often catches himself realizing this. As he finishes a tip about letting clients see and feel his albums and explore his 'studio' in his absence, he concludes, "It works in retail, and I'm in retail. I'm selling albums."
Upselling: that's the secret to more money as a photographer. Done right, yeah, it may take some work, it may take some effort to get it right for you – but it's work in the right place. It's work that will leave you reflecting with your feet up on a luxurious vacation, thinking, yeah, this is more than worth it.
We hope you've enjoyed the blog and found useful information to improve your business by creating ways to bring in more income in manageable and simple ways.
If you'd like to stay connected with us and see our full website, you can register for free by clicking the link below.
Sign up for blog notifications
& Always be up to date on new posts