Let's face it, photography is an over-crowded field. It doesn't help that technology nowadays makes it possible for literally everyone with a phone to, well, let's face it again, create pictures of decent quality.
Photographers, professional photographers – the real photographers – no offense amateurs and smartphone wannabes; need a way to stand out among the 'sea of photos,' and 'over-saturation,' as CEO and co-founder of Pixellu-Smart Albums, Daniel Usenko describes it.
But how...?
Printed products...?
Well, that's a start. But, problem is even that's a realization that's catching on. More and more photographers are now seeing the light and jumping on the printed-products-are-the-photographer's-salvation train. This means even being a professional photographer who offers print products is becoming common-place; over-saturated.
So what now?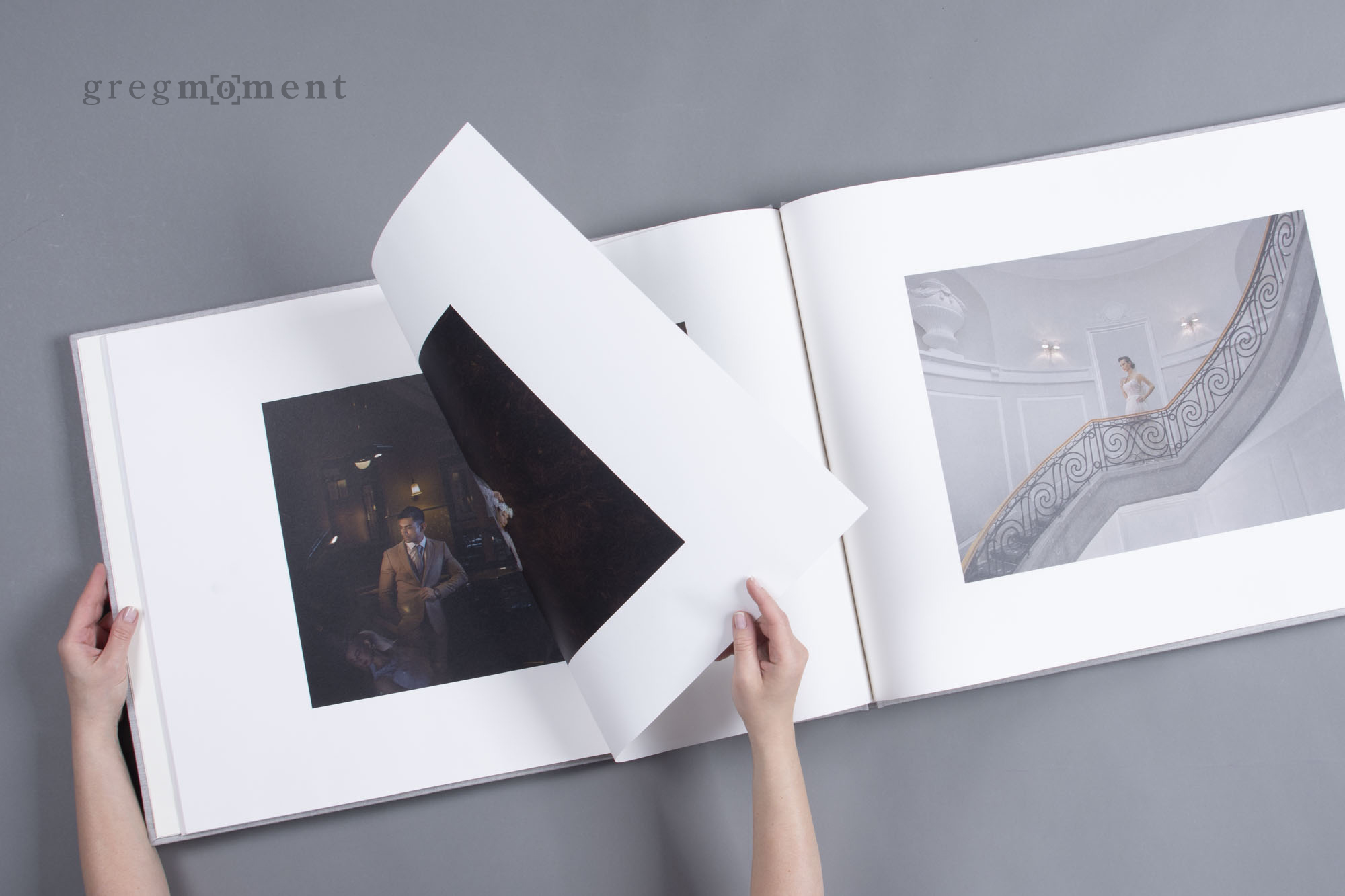 It might seem crazy, but you have to double-down, dig in, DO NOT waver, but instead go big. Don't just be another professional photographer that offers print products. Instead, in order to really stand-out and portray unquestioning value, be grand; make your experience grand, sell and show off grand print products.
That's what makes our Grand Gallery Photo Book the ideal studio asset. No other print product will showcase your beautiful photographic artwork in such a dramatic display; and no other print product will stand-out as much as our Grand Gallery Photo Book.
What Exactly is this 'Grand Gallery Photo Book'?
Before we carry on, allow us to formally introduce our awe-inspiring photo book: the Grand Gallery Photo Book. Coming in at the behemoth size of 20in x 28in (70cm x 50cm) we don't lie when we say nothing will stand-out as much as this gem. Furthermore, this photo book is printed on the HP Indigo 12000 with a seven-dye, fortified ink producing incredible color output and image quality. Additionally, you can select among four paper options to further accentuate your work.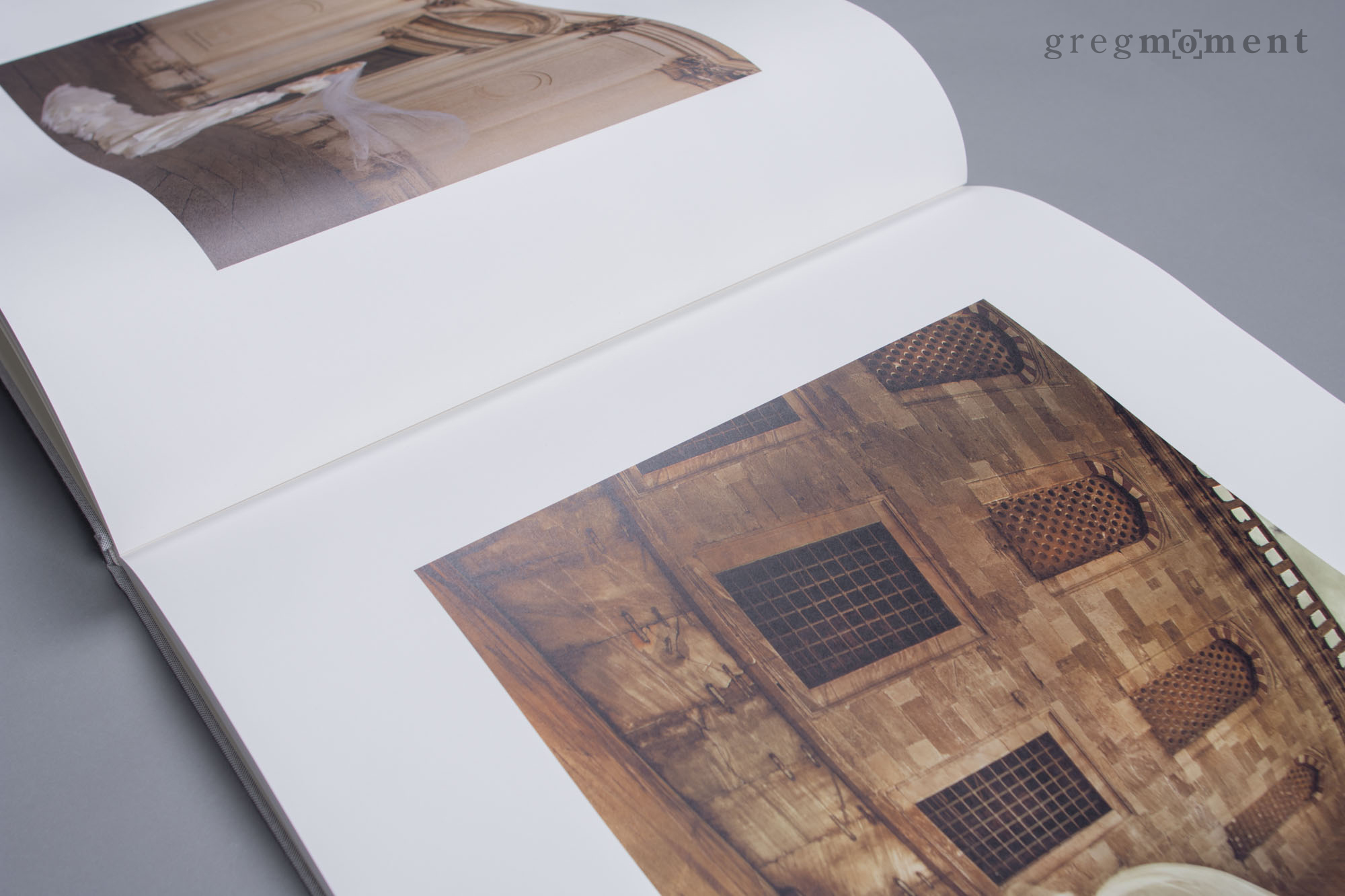 The first paper choice is our Arctic Matte. Available in 170gsm, the Artic Matte's snow white composition combines an unrivaled purity of colors with the soft finish of a matte.
Like any matte finish, this paper option will absorb the light leaving your images free of glare, or worry of finger prints. Yet, contrary to most papers that have a slight yellowish, sepia color in their natural state, the Arctic Matte has a pure white base color allowing for the colors of your images to be presented in their purest form and producing stunning contrasts and skin tones.
Yet, for those looking for more of a shine, our Felix Schoeller Luster option is for you.
Available at 190 gsm, the Luster gives off a subtle pop and sheen. While not quite as dramatic of an effect as a Metallic finish, the Felix Schoeller Luster finish sits wonderfully between the boldness of Metallic and subtlety of Matte.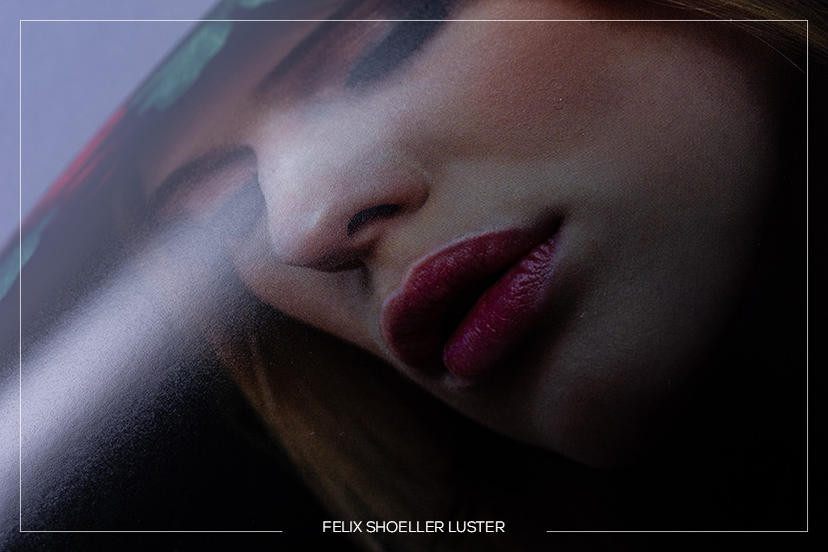 In the end, this paper gives just enough gleam to accentuate the details of your photographic art without the blinding glare.
Our next option brings us back to the matte finish. This time the Grand Gallery Photo Book offers two options of Mohawk Eggshell: 148gsm and 216gsm.
As you might expect, the difference between these two options just comes down to the weight and grammage of the two.
However, this paper differs from our Arctic Matte in that the Mohawk Eggshell has a slight sepia finish in its natural form. This leaves skin tones and colors a little softer in contrasts as opposed to the Arctic Matte paper and finish. But, like any matte finish, the two Mohawk options resist a heavy shine and offer a user-friendly finish that will adapt well to any viewing environment.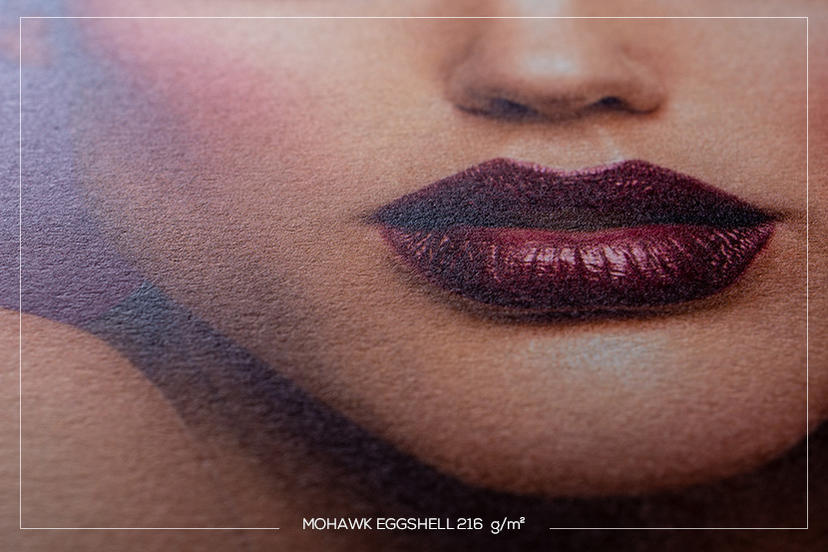 No matter which paper option you decide on, the size of this product combined with the highly-detailed, state-of-the-art print system will finally do your artwork justice and leave your clients and potential clients speechless.
Choose between 60 – 120 pages to fill this marvelous display piece.
Further embellish and customize the Grand Gallery Photo Book to match your brand and image with your choice among a six stylish textiles options; and the option to impose any text, or your own custom logo with UV printing technology.
In just a few, quick and easy steps this product can be made in any way you or a potential client would like to have it.
OK, we know what you're thinking: I'm still not sure what's the use of such a monstrous photo product?
What's the Purpose of nPhoto's Grand Gallery Photo Book?
An understandable question – and also the perfect one. As alluded to earlier, this product, above all, is made to be displayed. So display it.
The Grand Gallery Photo Book is the quintessential show-stopping, stop-dead-in-your-tracks, head-turning, jaw-dropping print product. Have one on-hand and on display in your studio and any other photography fairs, shows, or other places you market your business and services, and watch as you quickly steal the show and become the talk of the town.
In all seriousness, this product is a professional photographer's dream-come-true. It's large size and scope sets free, highlights, and accents the details of the professional artwork it contains. Such display then only re-affirms the skill of the artist who fills it; and portrays it confidently.
With this in mind, the Grand Gallery Photo Book is also ideal for use as a stunning portfolio. There is no better way to show off your work and skill with a camera and editing software than by revealing your work confidently; proudly, and boldly. Portfolio's are supposed to leave that, well, lasting impression and your work in this product will never be forgotten.
Still not sure why a Grand Gallery Photo Book is necessary?
But Why is a Grand Gallery Photo Book Essential?
To be completely straightforward; the Grand Gallery Photo Book will get you noticed. It will get you noticed by that high-profile editor as well as that average couple cautiously feeling out their first professional photography experience, and everyone in between. It truly is that product that will make you stand-out amongst your peers.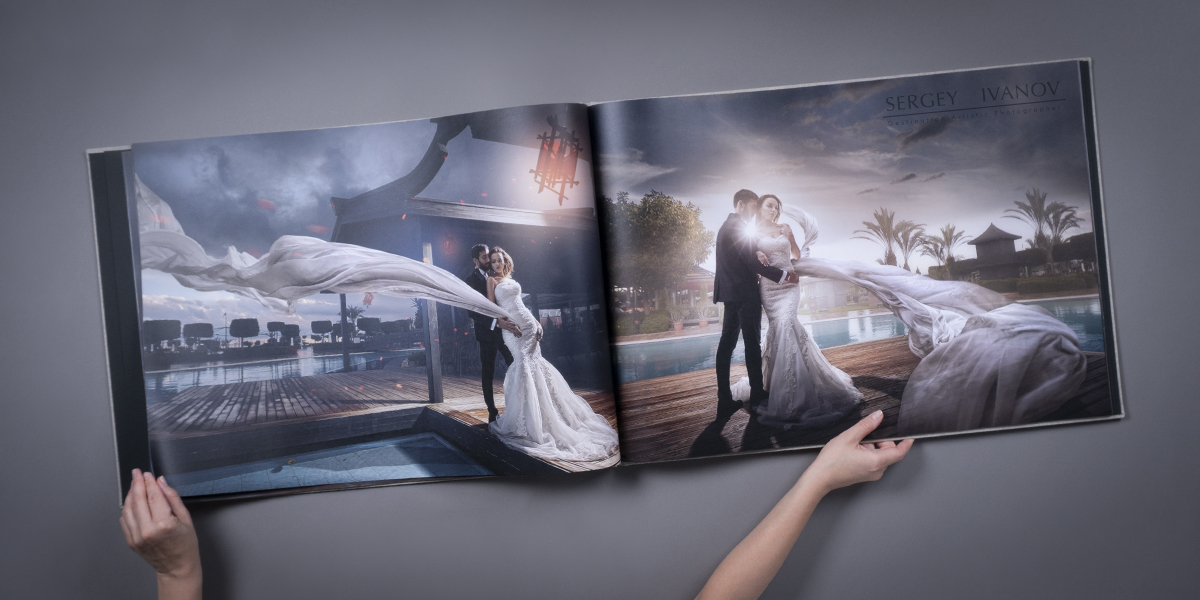 Moreover, there's a commonly held belief among professional photographers that offering print products makes you appear more professional to your prospective clients – helps you to stand-out as more credible from that 'sea' of pro photog wannabes.
Well, if that's true for ordinary print products imagine the effect of a client having their first encounter of your work in a museum-sized display piece. As they turn through the pages of the epic display they'll not only respect you and your work that much more, but they'll also be immersed in the most engaging experience imaginable and emerge eager to get their hands on a print product of their own.
This is precisely another reason why this piece is so essential to your studio. You'll only end up selling what you show, and if you show print and are passionate about print it will rub off on your clients as well. As professional photographer and professional photography business mentor Megan DiPiero reminds, clients get excited for the products you get excited about, and "when you get lit up your clients are going to fed off that energy and be like 'you're right, I need that X, Y, Z.'"
Let's be honest, what professional photographer wouldn't love to display their artwork in a large-format book that seems reserved for priceless, masterpiece paintings of days past?
How Do I Use the Grand Gallery Photo Book to Make More Sales?
Get yourself a Grand Gallery Photo Book, and display it front and center, so when your potential clients notice it, and they won't NOT notice it, you can explain to them – eyes all lit up – just what it is and why print is so important.
Then, even if they don't walk away with larger-than-life print outs, they'll feel an overwhelming urge to buy some printed works. Some printed works from a respected, passionate artist – after all, who else would display their work in such a way? And, a photographic artist that sells prints and commands – not demands – respect: that is an experience that will certainly make you stand-out.
Sign up for blog notifications
& Always be up to date on new posts