No more beating around the bush. We are diving into the ultimate must-have product for any and all professional photographers of today. Are you a photographer? Then read on...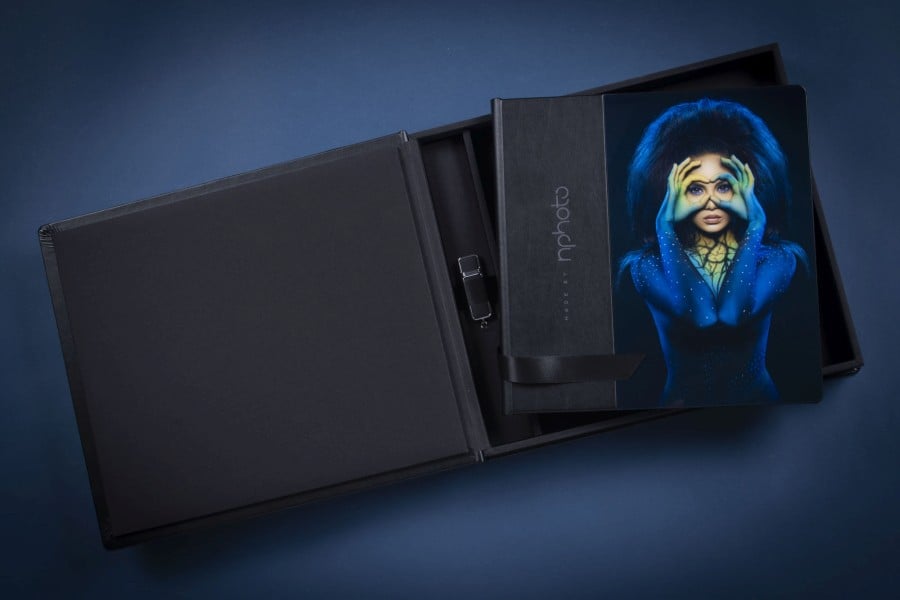 Artwork by Erich Caparas.
There is a quandary.
An everlasting quandary that plagues the professional landscape these days.
A quandary so pervasive it effects all genres and suffocates many in the industry.
It's a philosophical decision seemingly so simple, yet one so profound it cuts deep into the very essence of photography itself. Often times it lingers and haunts photographers all throughout their careers. Of course, that question is: Do I offer my clients a printed album – a more traditional option? Or, digital files – the modern take? Or both?
The answer: both.
Complete Means No Need to Choose
Why?
If you think this question is hard for you – high-quality printed album, or digital alternative – imagine the difficulty it will be for your client.
Now, we hear the backlash: ...but clients only ever ASK for digital!
Yes, because that's all they know in the modern landscape. That, and the photo albums of their parent's and grandparent's glory years: those slip-in, scrapbook-style binders used for small photo prints.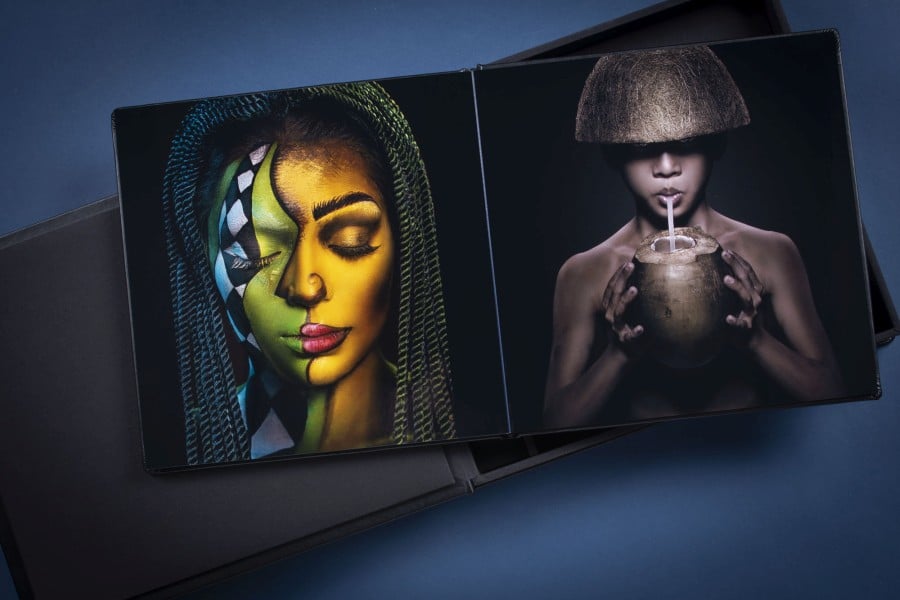 Artwork by Erich Caparas.
Well, professional photography has changed immensely over the decades, and so to have professional print products. Once clients see what modern, high-quality photo albums are actually like these days, and what they and their family look like printed from world-class, cutting-edge professional printers, they're uncomfortably torn between their head leaning toward digital and their heart yearning for the album.
So, don't put them through that stress of decision making. (Remember, high stress equals no sale.) Instead, offer them both.
How?
Complete Album Sets to the Rescue
Our Complete Albums Sets.
Because the truth is we are at a cross-roads; and by 'we' I truly mean 'we all'. Like it or not, technology has entirely infiltrated every facet of society. So much so, no one these days, not even the most stubborn, traditionalist artist can ignore the digital world and digital medium. So don't let yourself be the one out of touch with the times and deny your clients even the consideration of a digital option.
Be realistic, you know they'll be asking for one.
But at the same time, don't let yourself sell your soul to the times – and don't let your clients either. We all recognize print is the much more enjoyable medium. The much more pleasing, rewarding, and satisfying medium. So don't throw that out and go full-digital either.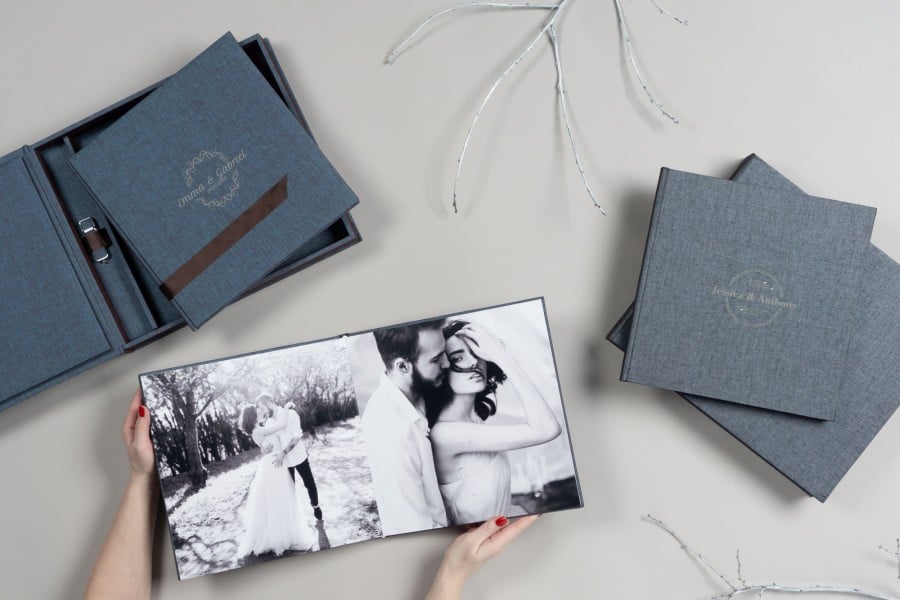 Instead, our Complete Album Sets are the perfect compilation of print and digital. With these sets you get a full-on, high-quality photo album; a digital USB option; and a stylish, sturdy matching box to house these keepsakes. Of course, this bundle comes at an unbeatable price that can't be found anywhere else, and it certainly beats buying the two options separately.
And, to be clear, while the photo album is the more 'traditional' photo presentation product, these are by no-means your parent's photo albums. These are modern, high-end heirlooms that will last generations. In fact, all our albums come hand-crafted in the heart of Europe, lay-flat, flush-mounted and with thick 800gsm spreads.
Moreover, these are printed with the latest, most sophisticated professional printing technology that is only accessible to professionals, such as yourself. With these professional photo albums it'll quickly be realized that while they may be traditional by nature, they are modern, urbane, everlasting products by substance.
Personalizing Made Easy
This brings us to another advantage of print products – especially like an album, compared to digital products: the personalization possibilities. With digital, you get a USB, or flash-drive, and that's about it. There's only so much you can do with a piece of hardware the size of a stick of gum – or smaller!
With albums, meanwhile, you have a seemingly endless shed of customization tools at your disposal. If we look back at our Complete Album Sets, for example, they're offered in a selection of 5 varying Collections from our wedding-inspired White Lady Collection to our most popular Acrylic Prestige Collection featuring a stunning crystal acrylic cover plate standard.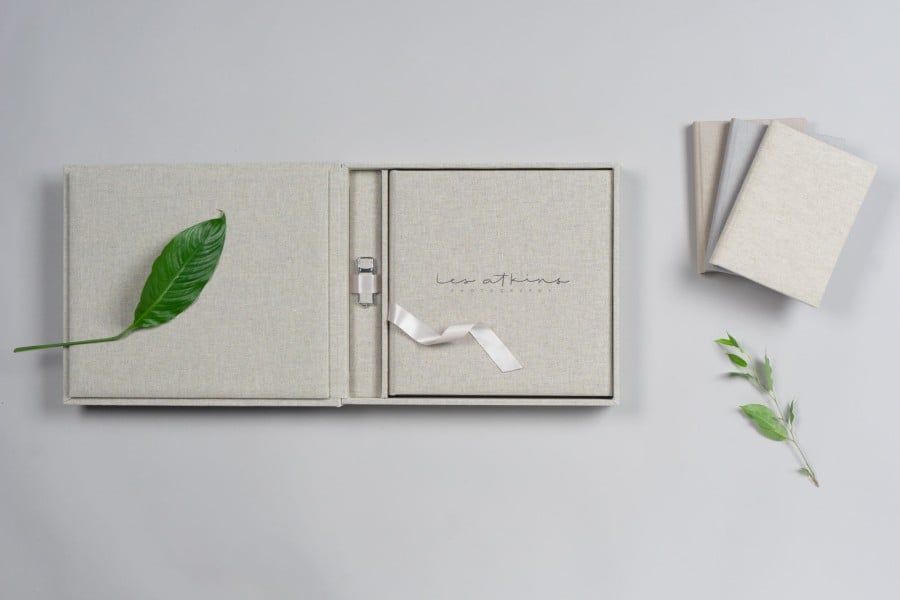 But, the design choices don't stop there. You can then choose among 60+ textile or leatherette options and a host of extra design add-on details. Then, take advantage of our UV printing or Laser Etch technology to add your own custom business logo to the album to really make the product unique not only for your client, but your studio as well.
Couple these options with a 3.0 USB in either 16, 32, or 64GB – standard size or mini – and a matching box to fit the album and USB together, and we begin to see how this really is the ideal professional photography product of today.
High Profits, Easy Sells, Complete Albums
Yet, despite it's high-quality, incredible print output and endless design capabilities, the best thing about the Complete Album Set is the ease in which it sells and it's incredibly high profit margin.
Truly a product that has it all, the Complete Album Set sells with little effort needed because it's what clients want. It certainly has the ability to "revolutionize" your business, as prominent US wedding photographer Les Atkins explains, "the Complete Album Set has been a huge hit with my clients. Not only does it allow my clients to have their images on a keepsake USB, but also a beautiful album and family heirloom."
Artwork by Magdalena Sienicka.
But like the product itself, it's business value is multi-faceted. Not only does it sell itself, but it also has tremendous profit potential.
Being a do-it-all photo product, the Complete Album Set allows you the opportunity to mark up it's price as it, in fact, 'covers all the bases' and provides both print and digital in one. What is actually a cause for savings for you can be a justifiable price mark up you make for your client.
Then, remember all the design details mentioned earlier?
These can be added with an understandable mark up in price as well. Each extra detail can add a certain amount to the product and package. With this it won't take long before you come away with this product, or package, having a price tag in the thousands - but, a high price tag that clients will not question, and a custom product they'll want.
To top all off, then pair that to the rate in which we offer these products and you'll be left pleasantly shocked how much money will be left for your pocketbook.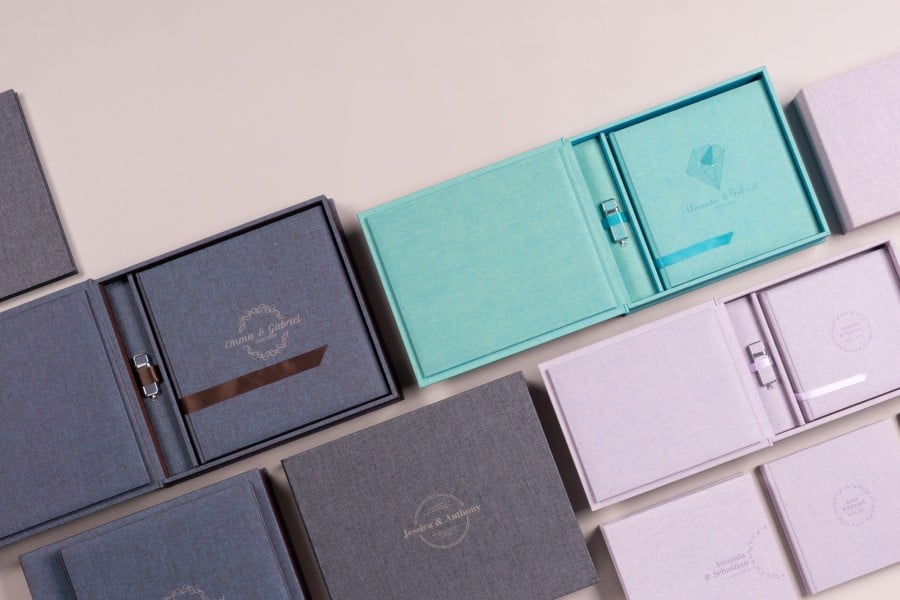 As much as photography is an art, professional photography is a business, and while artistry pleads you to do what is the purest, most exquisite – regardless of most other factors, business is the opposite. Business asks for the practical, what will sell – in other words, what the people want. An album is a professional photographer's honorable, artistic gem, while a USB is the practical, 'what-people-want' photo product these days; putting them together only creates the ideal, perfect photo product that is necessary for the success of all professional photographers of the 21st century.
No longer stress about whether to offer albums, or USBs. Offer them both. With our high-quality Complete Album Sets this is made possible; and made possible with a price tag that allows you to still have enough, and make enough, to enjoy the craft you love most for years to come.
Get yours today.
Need to start offering but don't have a physical sample? Make use of our Free-to-use mockups. Everything you need to know and more below.
Sign up for blog notifications
& Always be up to date on new posts