As our second featured photographer, please meet Maria Mirage, a fantasy photographer living near London, UK. Maria's work is very inspiring and unique and we highly recommend reading more about her.
Please introduce yourself
"I'm Maria Mirage, a photographer inspired by fairy tales and Pre-Raphaelite paintings."

"I love creating dark whimsical romantic pictures with textured looks, dominated by strong colors. My goal is to find a speck of magic in every woman and turn it into a bonfire to light a beautiful vessel of the human body from within. I am glad I can provide women the opportunity to turn their dreams into reality and step into wonderland with me to really cherish their beauty and femininity."
Pictured: Self-portrait by Maria Mirage
"I am very connected with nature and do my photography only outdoors with natural light, I even converted my back garden into my studio which allows me to create the illusion of the outdoors but gives my models a comfortable environment."

"I can create an enchanted forest with a fog machine. I even learned to create a "magical lake" out of pond liners and boxes so I can do all my water photography in my garden."

"To be able to transform people into fairy personages for many years, I am collecting costumes, I am also a designer, so I make costumes and accessories. I have a very hands-on approach. I glue, sew costumes, and create decorations for my garden. Car boots, charity shops, and craft stores are places where I get very inspired. It feels good to give things a second life, to re-birth."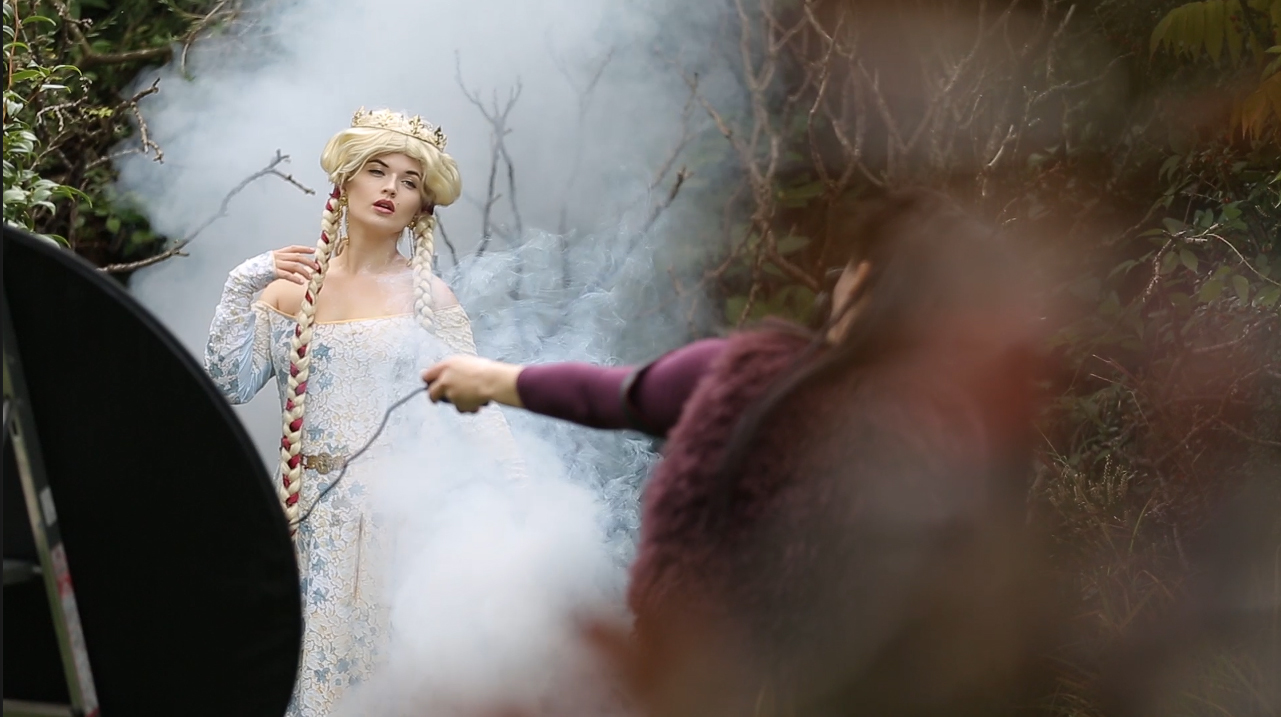 Model: Jessica Megan, behind the scene picture taken by filmmaker Richard Wakefield
"I live in a small village in the UK surrounded by forests, it is very close to London and has broadband so I feel connected to the world, but it's still a very calm and special place. My family includes my husband, son, and three black cats.

How did you get started with photography?
"I have been drawn to the visual side of life for as long as I can remember. In my first essay in school, "What I want to be when I grow up?" I wrote that I wanted to be a science fiction painter. I wanted to paint a purple thunderstorm raging over an alien jungle under two moons."

"My painting was full of mermaids with green hair and eyes guarding treasures and green jungles full of exquisitely beautiful flowers. I was confident in my choice until in time, I realized I am not good at painting. There seemed no way to extract all these beautiful and bizarre paintings out of my mind and put them onto a piece of paper."

"I tried different ways of expressing myself, including body art, but nothing filled the void until I started doing photography. Photography is my substitution for painting. I can channel my creative side but not through the paint brushes but lens and Photoshop."
Pictured: Artwork by Maria Mirage, model: Mermaid Kalynn, makeup: Naomi Barker
"Over more than 20 years, I have explored different sides of photography until I came back to my true vocation, fairy and fantasy photography. Over the last few years, I even started doing mermaid photography which reminds me of my old paintings, but now I can breathe life into my dreams and make other people's dreams come true."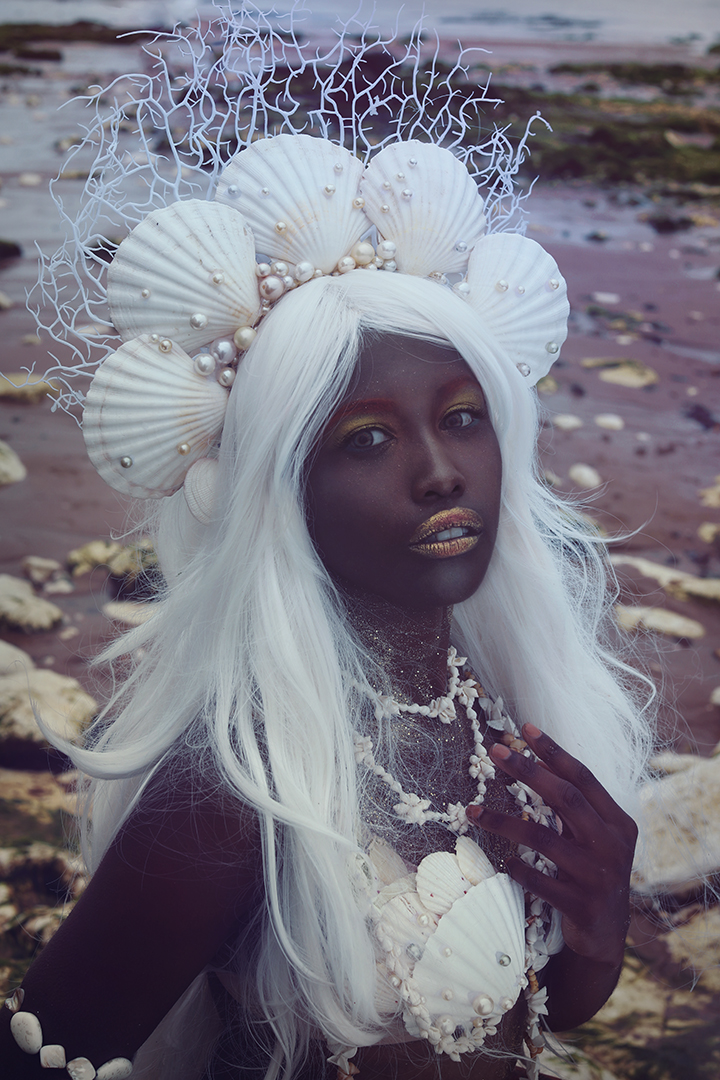 Pictured: Artwork by Maria Mirage, model: Shaleema Burroughs, makeup: Haus of Sinister
What is your #REASONTOPRINT?
"There are two main reasons for me to print; personal and business;
Personally, I love to see my work in print, the ability to touch it, look at different lights, and play with it, like combining it with other decorations on my wall.

It makes my art more real and makes me feel like a real artist. Seeing my prints around me keep inspiring me and lifting me up in difficult time, I feel that I give life to something beautiful, and artwork start having its own life by itself."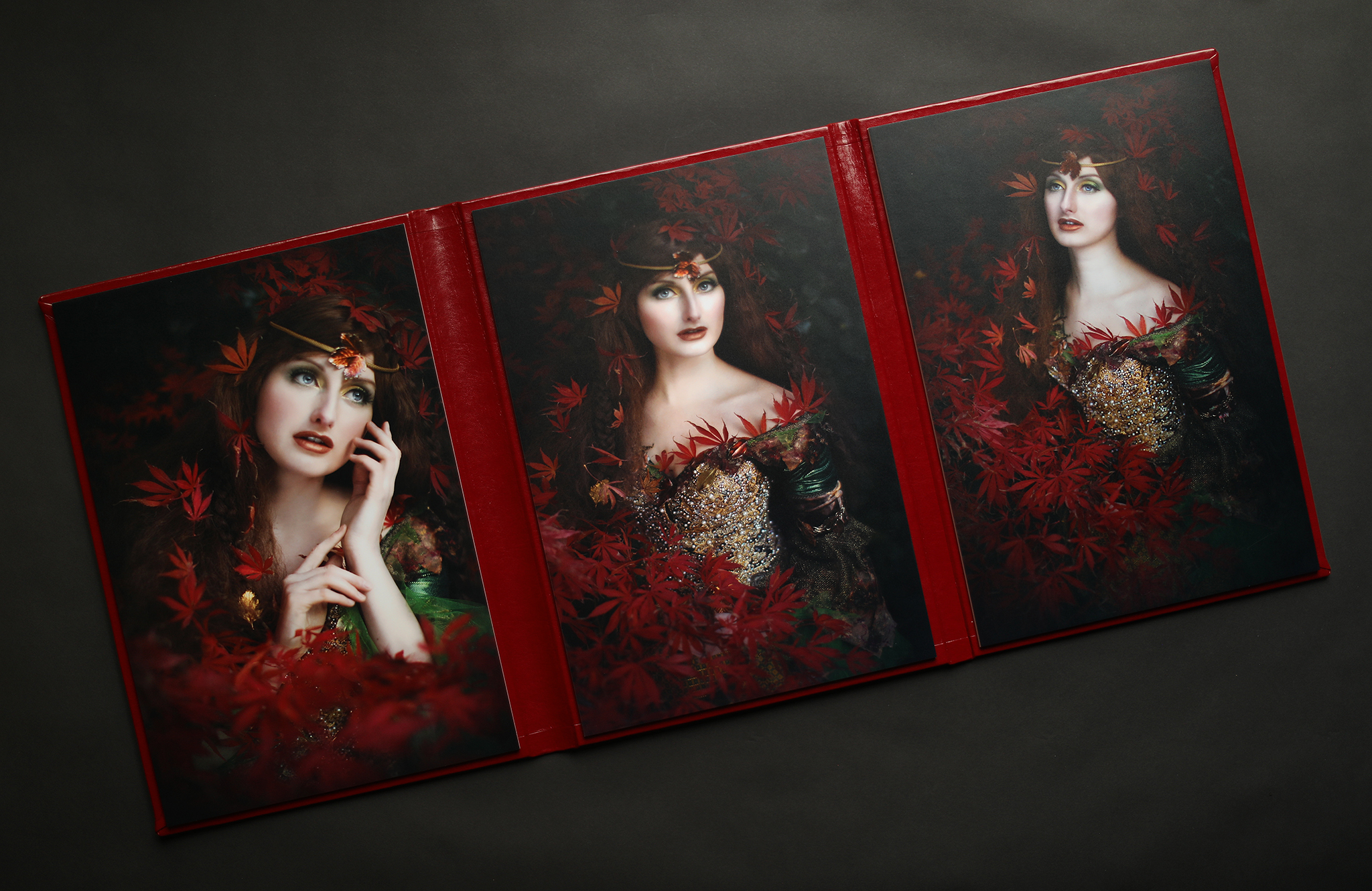 Pictured: Artwork by Maria Mirage, model: Karina Karaulova, makeup: Naomi Barker - 8x10 Triplex Classic C15 Leatherette
"There are also very strong business reasons. Printed artwork changes other people's opinions about my art. In modern words, we're bombarded with a thousand pictures every day. But how many of these pictures we would want to look at every day and put on the wall?"
"When a good-quality picture is professionally printed, it makes the person stop and think about it."
Pictured: Artwork by Maria Mirage, Model: Molly Mae
"I love to take my books with me at events, and I always have a lot of samples in the studio. It helps people to imagine their own pictures as luxurious albums printed on the wall or boxes with prints. I love the principle "Show, don't tell", I let my art speak for me."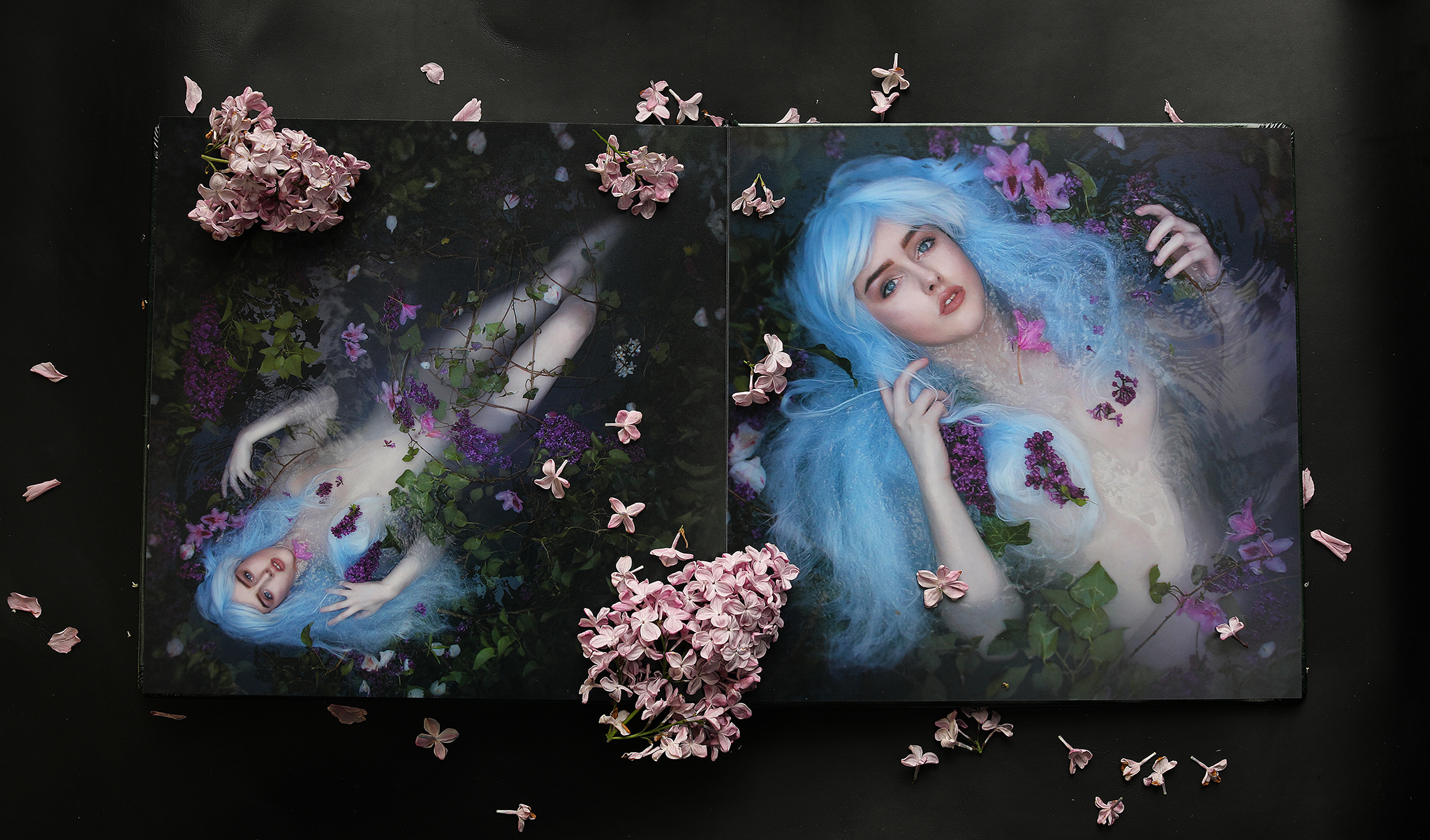 Pictured: Artwork by Maria Mirage - 12x12 Photo Album Pro in G2 Leatherette with AP9 cover Acrylic finish.
What business tips/advice would you give to other photographers?
"I believe the most necessary thing is to be truthful to yourself to be able to see your own strengths and weaknesses. Do not try to do everything at once. You must know what your product or service is and be confident in putting a price tag on it which reflects your belief in its value."

"Keeping a healthy balance between self-confidence and an open mind is important as well. Every artist on his/her way experienced a lot of negativity, don't let haters or people who put you down get to you. However, it is good to receive constructive criticism and keep moving and improving."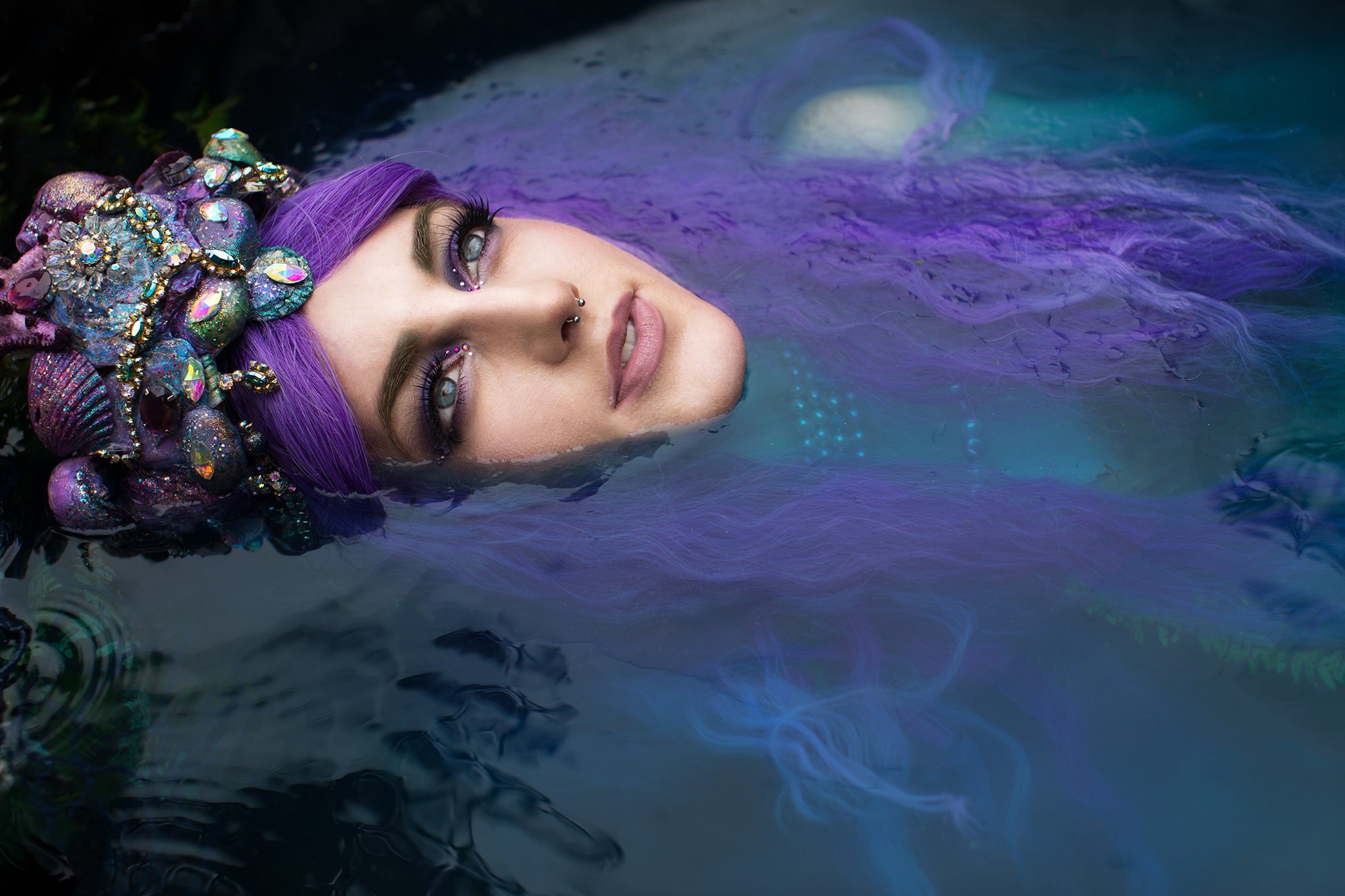 Pictured: Artwork by Maria Mirage, model: Gemma Louise Williams, assistance: Samantha Siren
"Be daring and inventive and believe in yourself, and many things will become possible. I have let myself believe for years that to design costumes and props, I have to have some designer education. But eventually, I picked up a glue gun, wire, nail varnish, and scissors and start creating. I don't think I will ever stop. I create gorgeous mermaid crowns and fairy queen flower crowns which make women feel special. If you like to achieve something, don't wait - take the first step, even if it is a small step!"

"Start taking self-portraits as strangely as it sounds. It will definitely sharpen your skills as it is twice more difficult than taking other people's portraits. You become responsible for everything. As well, being a model will make you understand and empathize with models better, and as a result, you can direct them better in posing. I have also done a lot of modeling, and it was a great way to learn from other photographers."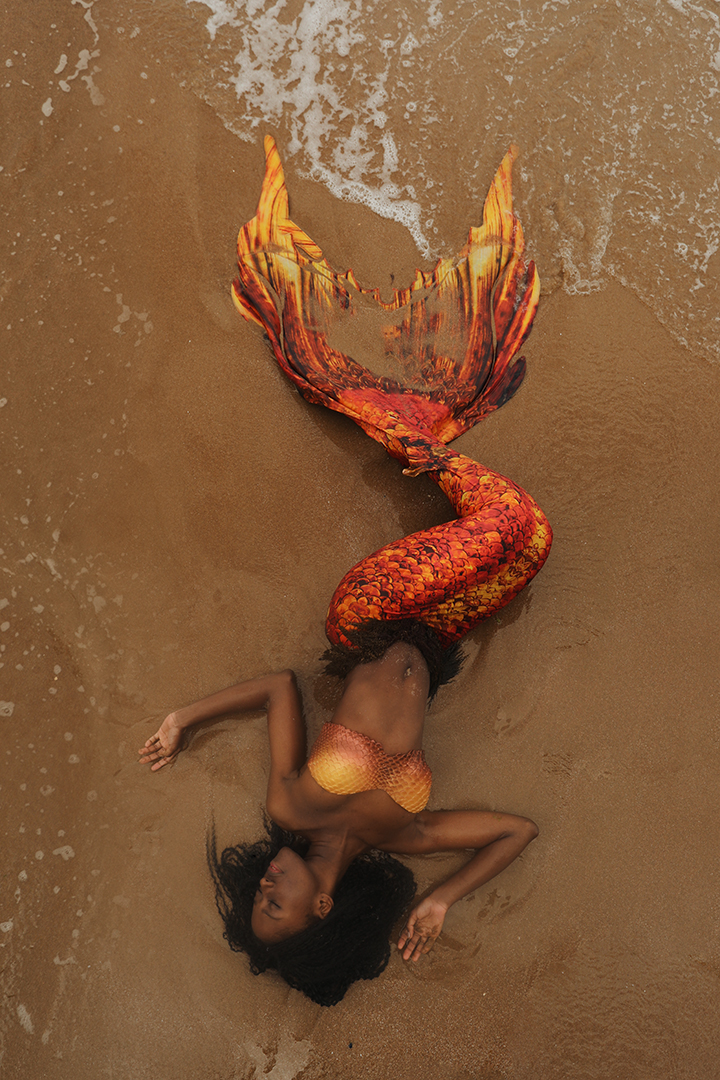 Pictured: Artwork by Maria Mirage, model: Mbalenhle Aretha Madi, assistants: Jesse Ayertey, Emily Sirene, Peter Forbes, tail: Magictail
Post cover, model: Natasha Felix


Thanks for reading this post. Tell us what you think by leaving a comment down below
Please don't forget to check out more of Maria's work at her website: https://mariamiragephotography.com/

Get a huge discount for a sample product
Also make sure to follow her social media:
https://www.facebook.com/maria.mirage.photography/
https://www.instagram.com/maria.mirage.photography/

https://www.youtube.com/channel/UCxvSgThnibeMn1YK7S3pUmw
---
If you would like to be featured on our blog and showcase your work feel free to contact us at: michal@nphoto.com
Sign up for blog notifications
& Always be up to date on new posts