This short blog covers some less common topics and issues you might face when using our website and services.
Our FAQ page offers many answers to common questions, and if you cannot find an answer to your question in this blog, we suggest you take a look there.
1. How to Use Our Discounts
There are two forms of discounts: account discounts and promo codes.
Account discounts are automatically pre-applied to anything you (the client) are currently planning to purchase and have in the cart. Therefore, prices listed in the nShop, during the purchasing process (not the price list), automatically show pricing with the account discount included.
Promo codes are applied during the purchasing process, right before checkout. For the promo code option to appear, you need to first select any product, add the product to your cart, and then design it. After these steps are done, you will see the promo code section in your cart under "Shipping Method," as shown in the picture above.
Some of our promo codes are reusable!
Remember to read T&Cs for deadlines and essential details.
2. Acrylic Print Products and Photos Look Different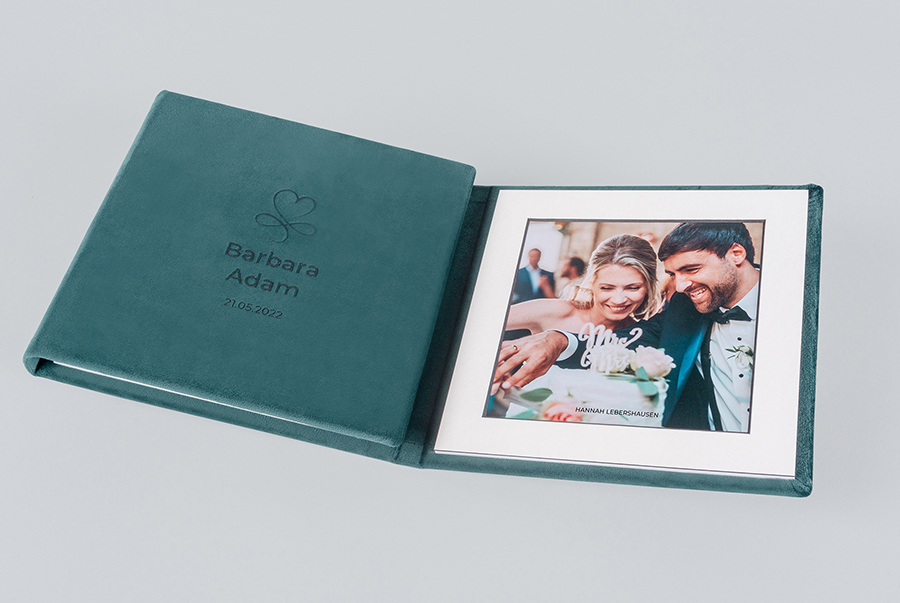 The acrylic itself affects the color. This is an effect of the acrylic itself and not a mistake from us in the photo lab. Products such as Wall Décor and Acrylic Prints use Matte paper underneath the acrylic.
We'd like you to please read this blog to learn why you should consider acrylic products.
3. Figuring Out Shipping Prices Depending on Products Being Ordered
Different shipping providers have different prices for their services. For example, some won't allow for larger packages but may come with a lower cost.
Please take a look at our shipping details.
We also have information about shipping in Europe and worldwide.
4. Folio BOX Size Specifies the OUter Measurements of the MATTED/BOARD-MOUNTED PRINTS and Not the Folio Box Itself
Folio Box size options are based on the total size of the prints themselves because the Folio Box is made to fit prints perfectly inside. Therefore, the box will always be slightly bigger than the specified print size.
Matted prints will have a slightly smaller photo to account for the core frame around them as shown in the image below.
You can find more information about Folio Boxes here.
5. USBs Are Always Dummy USBs When Purchased AS a Sample Product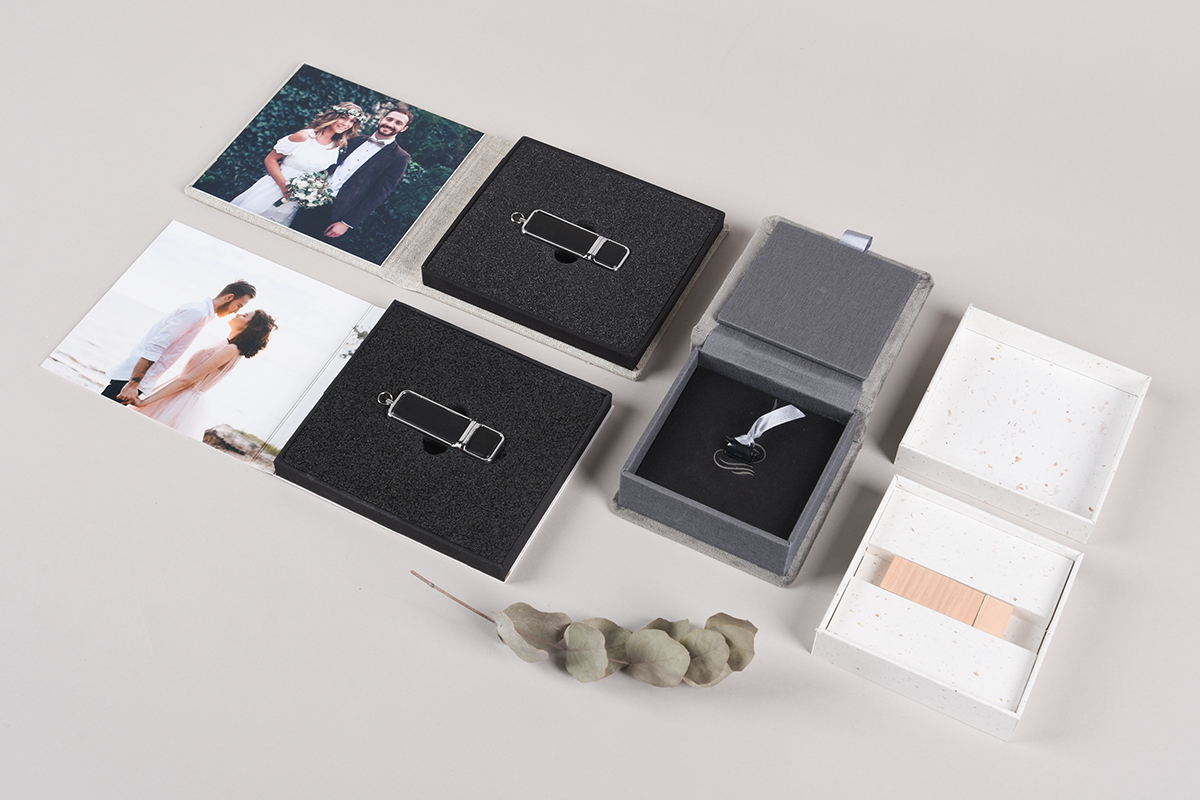 When purchasing sample USBs in the nShop, you can choose a specific memory capacity, but the pendrive you receive will be blank. The sample products will always contain "empty" or memory-less pendrives by default.
They aren't real USBs, and selecting the cheapest USB option is always encouraged when designing a sample product that will include a pendrive.
...Read more about our Data Carriers.
6. Projects Cannot Be Copied Between Products Types
Projects can be copied between albums or similar products of the same size.
Copying to a different sized product, or from one product type to another, may interfere with certain project parameters making it difficult or impossible.
7. The Difference Between Photo Albums and Photo Books
The biggest differences between these two photo products are that Photo Albums are thick, full-spreads, and they're lay-flat.
Lay-Flat means the pages are designed to remain flat and not move around when you've opened the page.
Photo Books are thin, individual pages and are non-lay-flat. One plus for the Photo Books is that they can hold more pages altogether due to their slim design.
Both choices are high-quality options, and we offer them to match the diverse needs of all your customers.
Please read this blog to learn more about Photo Albums, Photo Books, and our DreamBooks.
Here's a quick guide with information about these products: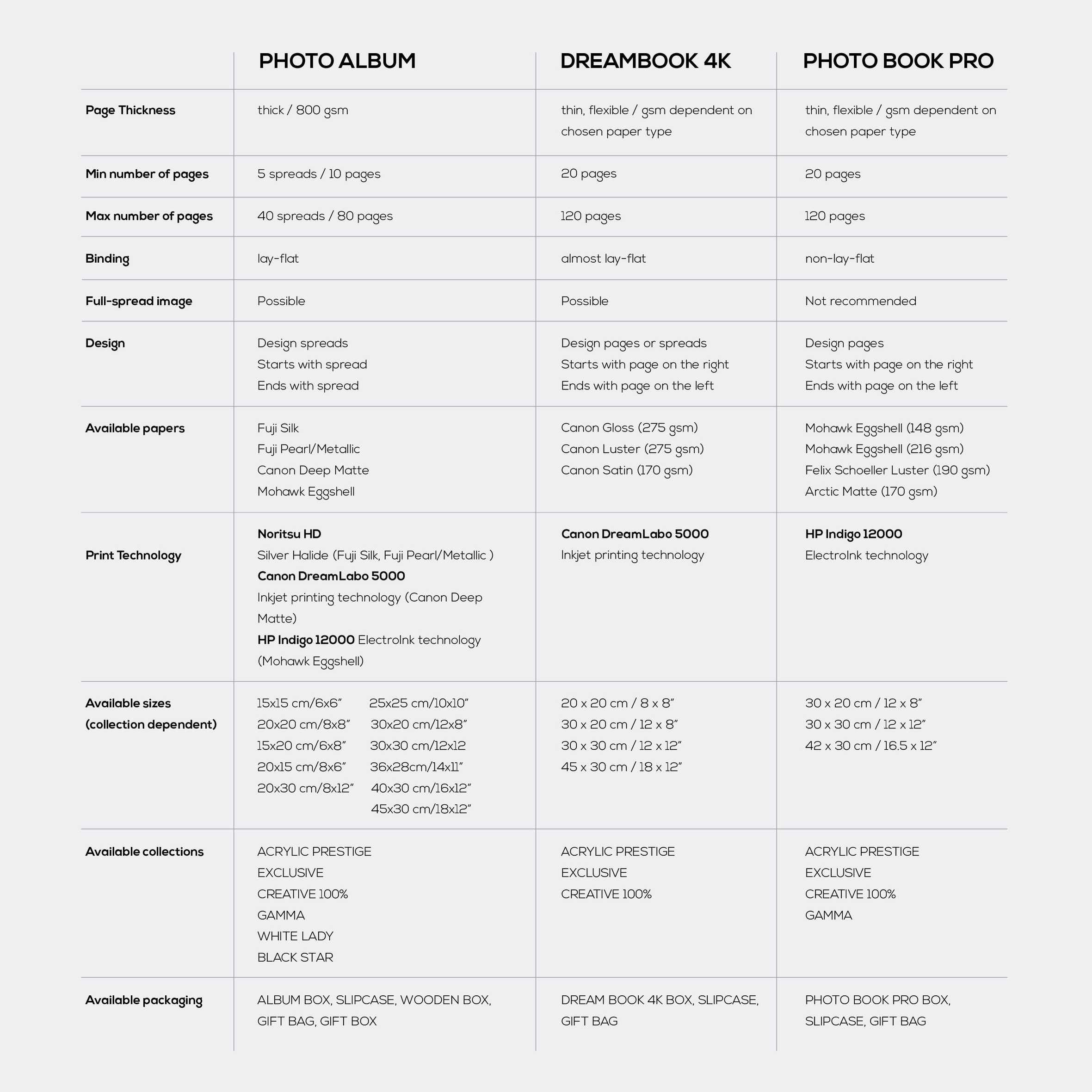 Update: The Gamma collection is no longer available.
8. Adding more products to an existing order
We understand the frustration of not being able to add more products to an order that was just placed.
Adding additional products will usually only be allowed to happen in rare exceptions. Once an order is sent through checkout, it automatically generates all of the necessary shipping documentation and the invoice.
This makes changes to the contents of a package difficult after checkout.
Since we ship from Europe to locations worldwide, we need to follow specific shipping procedures, some of which may be stricter depending on the destination.
For instance, post-Brexit changes in customs have exacerbated this for UK customers, as additional package contents and invoice changes increase the risk of customs placing additional charges or returning the shipment to us.
We follow these guidelines to avoid causing issues & delays for our shipping providers.
Thus, adding in an additional product that isn't found in the originally generated invoice for an order will risk it being returned or charged extra by customs.
The shipment could also be simply delayed, as our accounting department will need to have the invoice revised, which takes time.
Please read this blog to learn about Brexit and how it affects orders.
9. Extended Production Times Are Not Always Avoidable
Delays will occasionally arise due to unexpected changes and are often related to supply shortages, equipment malfunctions, or sudden surges in the number of incoming orders.
We take every measure to prepare for these issues, especially during peak ordering seasons.
Even though it's often impossible to fully predict the demand for each season, we prepare in advance by ordering enough supplies and taking the time to understand changes in the market. Still, there are always new challenges to face.
10. Minimum Order Costs for Users Outside of Europe
Our non-Europe-based customers typically have a minimum order value requirement before checking out.
The minimum order cost is an unfortunate yet necessary part of our order configuration, as it allows us to continue offering our services to photographers worldwide.
Packages sent out under these values would be an expenditure for our lab as they would make it extra challenging to generate a profit.
We Want to Hear From You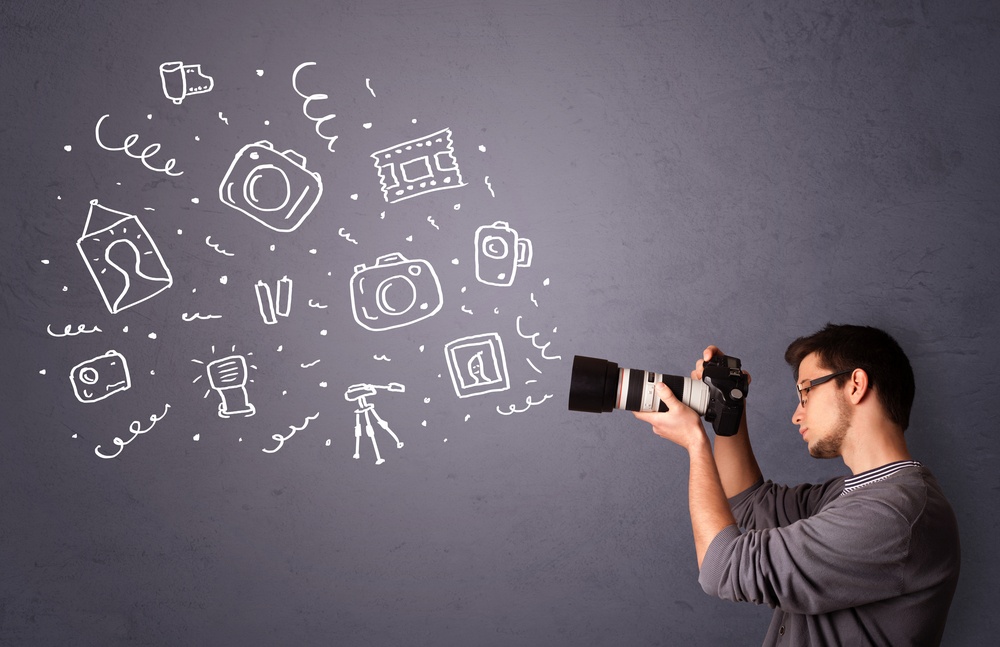 Your experience and satisfaction are always our number one priority, and we continuously work on improving our products and website as new, plausible solutions come up.
We'd appreciate any comments or suggestions on any of the areas covered in this blog.
Please feel free to comment below and sign up to receive new blog notifications.
Sign up for blog notifications
& Always be up to date on new posts