At nPhoto we offer a variety of products, most notably our renowned photo albums, our ultra-high quality Dreambook 4K, and our Photo book PRO line. But, what's the difference between these 3 products even? Read on to find out.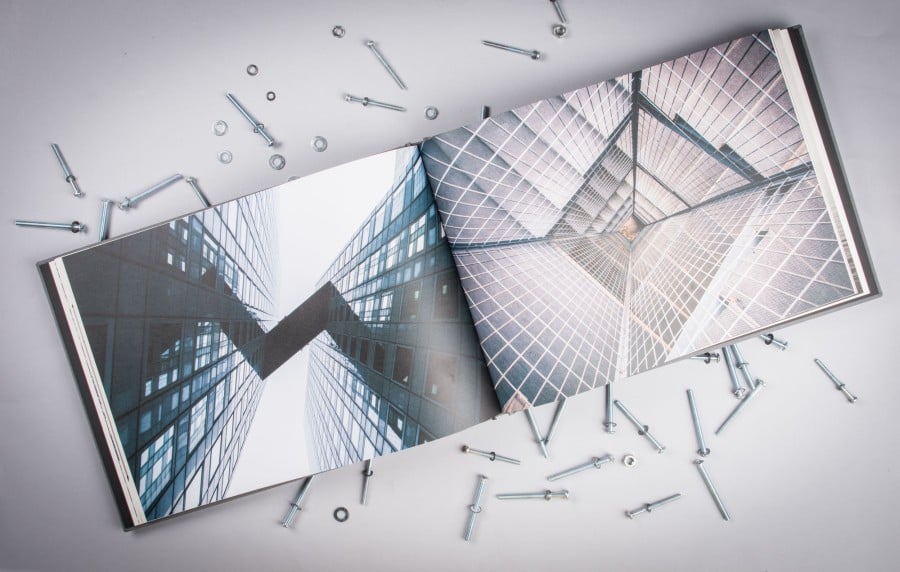 We're going to dig into the nuts and bolts of our three major products. Here is an example of the quality of our Photo book PRO.

One of the greatest things about being a professional photographer today is all the choice that is available. This could be said about anything related to photography, but it certainly applies to your options with us at nPhoto as well.

Amongst many things, the first major decision you'll have to make when you want a bound collection of prints is whether to get a photo album or a photo book (or our ultra high-quality photo book, our Dreambook 4K). But, after all, what's the difference even?
The Overview
The difference between our albums and photo books is vast. From how they're printed to what they're printed on to the capacity they maintain, our albums and books are certainly different animals; but both exquisite forms of quality are more than capable of assisting you in turning a killer profit.
1. Photo Album, 2. DreamBook 4K, 3. Photo Book Pro. Artwork by Lory Marie Photography
The Print Method
First, the method by which they are produced is very different. Our photo albums offer three distinct print methods you can choose from. Our standard spread finishes, Silk and Pearl metallic, are developed using Noritsu HD Silver Halide technology which directly exposes an image to either silk or metallic paper. In this way, our albums don't even use ink at all.
However, if you decide to use an album with our Canon Deep Matte option, or Mohawk Eggshell, your album will be printed with state-of-the-art, fortified, seven-dye ink from our Canon DreamLabo 5000 or HP Indigo 12000 inkjet printers respectively.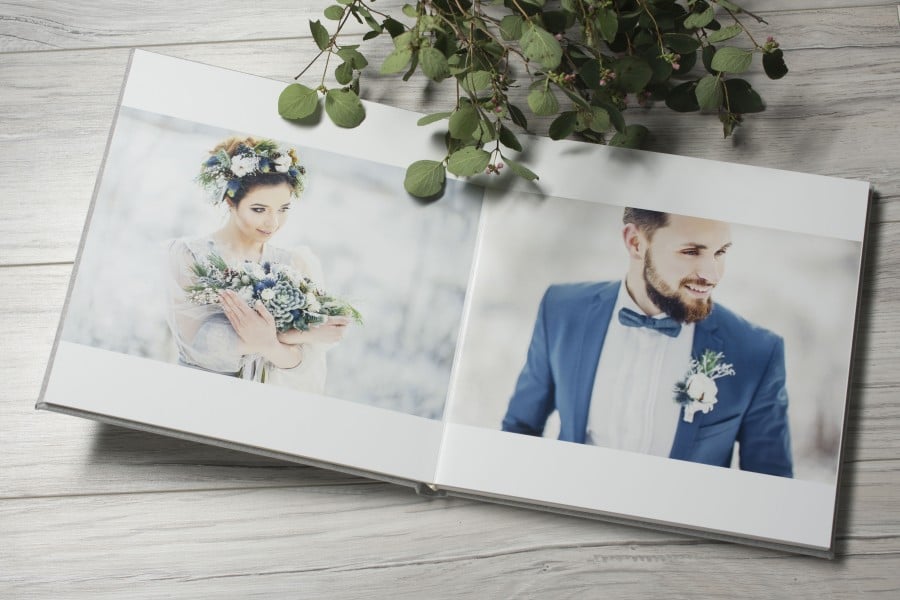 Fun fact: Our photo albums are printed without using any ink! Instead, they are directly exposed to the paper giving impressive and lasting results.
On the other hand, our photo books are printed using inkjet technology. Specifically, our photo book PROs are printed using the HP Indigo 12000 printer, which utilizes a state-of-the-art liquid ElectroInk consisting of seven different ink colors.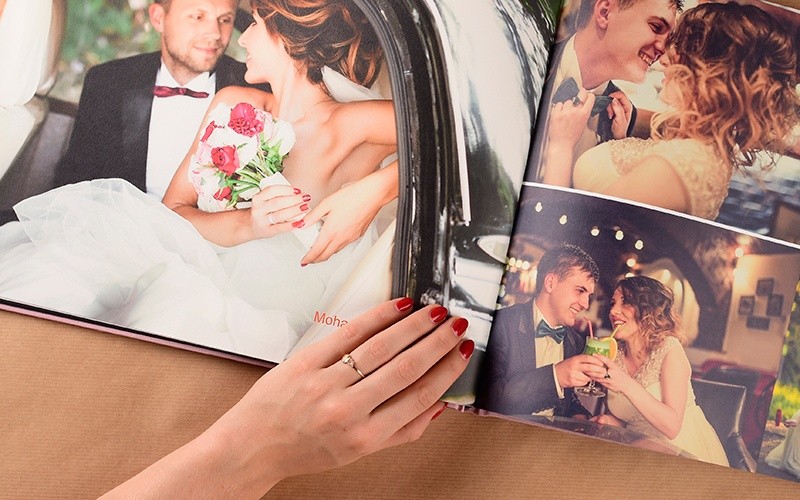 Our Photo book PRO showcases the capability of the HP Indigo 12000 and its inkjet ElectroInk technology. Printed on our Mohawk Matte paper.
Our Dreambook 4K is similar to our photo book PRO, yet enhanced. The Dreambook is printed using the ultra high-definition Canon DreamLabo 5000 inkjet printer consisting of a fortified seven-dye ink. The result images in 2400 DPI printed in 4K definition.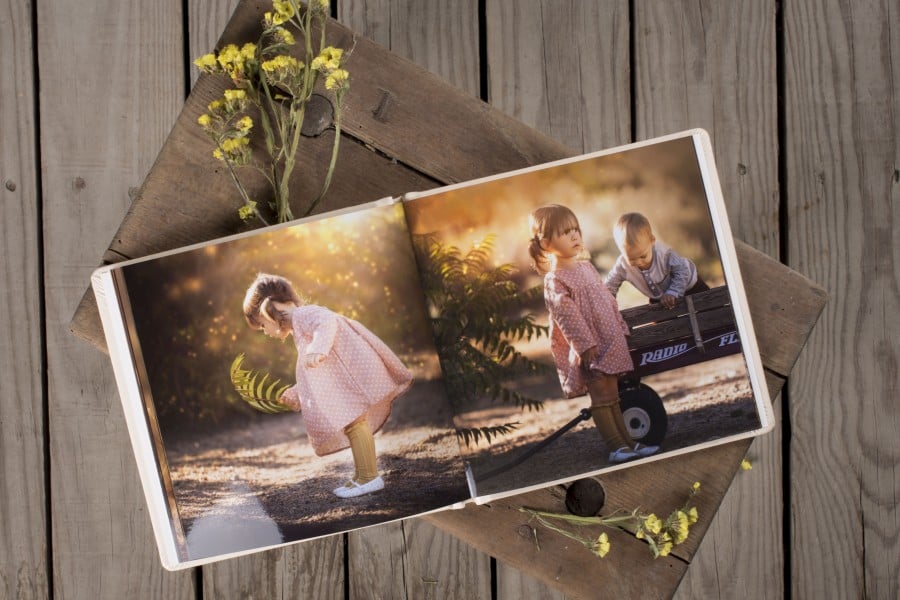 The 2400 DPI and 4K definition of our Dreambook 4K is simply breathtaking. Artwork courtesy of Lory Marie.
The Inner Material
Another major difference between our albums and photo books is the materials the images are printed on.
With our albums, you have the choice of four paper types: Silk (Fuji Silk), Pearl [metallic] (Fuji Pearl), Eggshell (Mohawk Eggshell), and Deep Matte (Canon Deep Matte). Our Canon Deep Matte option uses a paper specifically designed for the Canon DreamLabo 5000 it's printed on.
Moreover, all these papers are later professionally mounted to achieve a beautiful 800gsm as well as integrity and durability to make it the ideal heirloom product that will last generations.

One important point of note here is that we offer the chance to mix silk and metallic spreads within the same album on a spread-by-spread basis. This is just another unique benefit of our lab. However, with the Deep Matte paper in our albums, there is no mixing option available. Deep Matte is all or nothing.

For more about paper options in our albums, check out: The Difference Between Our Paper Options: Albums Edition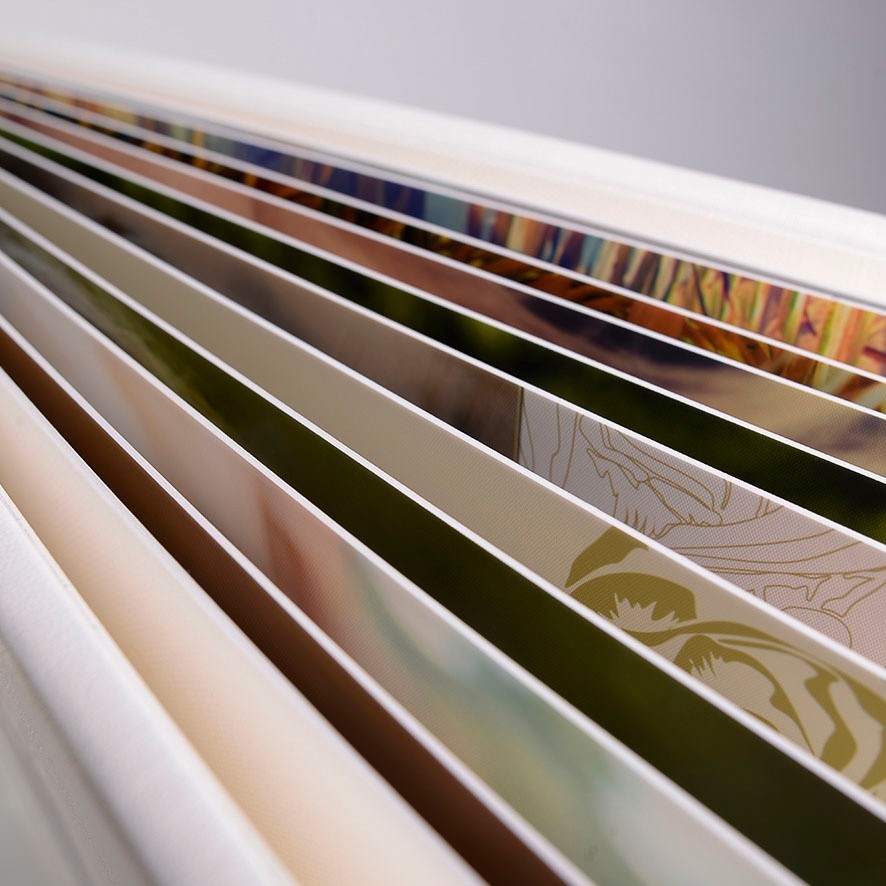 Close-up of our album spreads. Any photo album and paper type you choose will have durable, sturdy 800GSM pages enabling your pictures to last generations.
As for our books, we use a variety of photographic papers. Our Dreambook uses three special Canon papers designed specifically for the DreamLabo 5000 printer and its ink. The three finishes available are glossy (250 gsm), luster (250 gsm), and satin (170 gsm). With our Dreambooks, no mixing option is available; only one paper type can be used throughout each project. For more details about these papers, be sure to check out my other write-up, The Difference Between Our Paper Options: Dreambook 4K Edition, which goes into more depth about the paper options and what they offer.
With the Photo Book PRO, you have the choice between two different paper options. Here the choice is between either Mohawk Eggshell Matte at 148 gsm or 216 gsm or Felix Schoeller Lustre (190 gsm). Also worth noting is that while our photo albums and Dreambooks have a lay-flat design, our Photo Book PRO does not offer this ability. Also, for our Photo Book PROs, like our Dreambooks, paper-mixing within the same product is NOT an option.
For a more comprehensive overview of our paper types, be sure to download our free Paper Types eBook, which will tell you everything you need to know about our paper options, and be sure you are a master of the tools of your trade.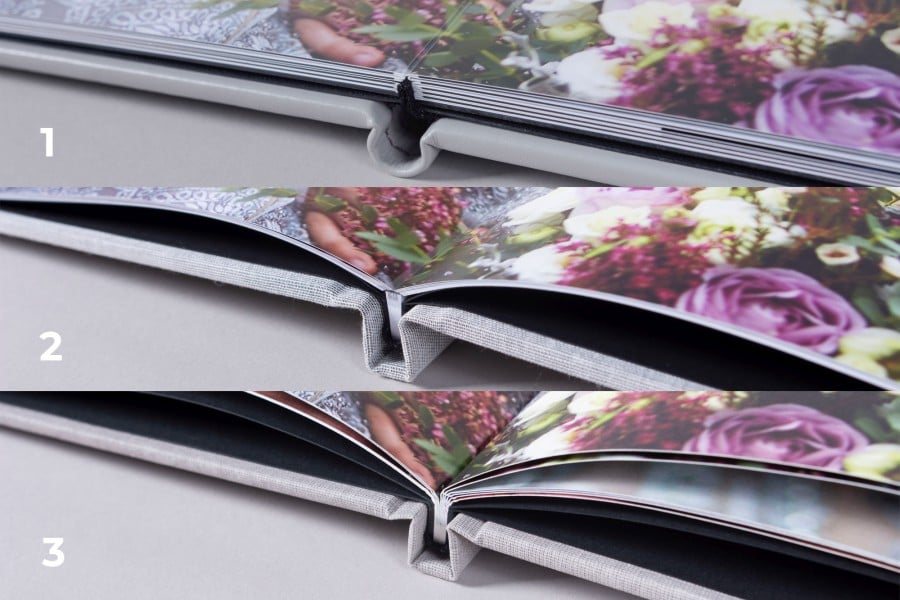 1. Photo Album - thick, lay-flat spreads, 2. DreamBook 4K - hinged, almost lay-flat flexible pages, 3. Photo Book Pro - standard flexible book pages
The Capacity and Options
The last difference between our Dreambook and Photo Book PRO is the capacity. Our albums come standard at 10 spreads (20 pages) but can range from 5 spreads (10 pages) up to 35 spreads (70 pages). Our Dreambook comes standard at 15 but ranges from 10 spreads (20 pages) to 60 spreads (120 pages), while our Photo Book PRO ranges between 20 – 120 double-sided pages and comes standard at 20 pages.

OK, so I tricked you with the "options" header, as this is where we have similarities among the three products. All three products, albums, Dreambooks, and Photo Book PROs, come in a variety of wonderful collections. With that, they all also have access to incredible amounts of design add-on options, so you can be sure never to create the exact product twice.

So, in short, our photo albums, Dreambooks, and Photo Book PROs are certainly different, but they all offer the same result: stunning hand-crafted products with breathtaking print quality. So despite the differences, rest assured that you won't go wrong whichever you choose. Now that's nPhoto #reasontoprint.
Want to learn more about a specific paper type? We've made an entire PDF of all about them. You can download it just below.
Sign up for blog notifications
& Always be up to date on new posts