Ask any craftsman; any master craftsman, and they'll tell you: it's not enough to have the tools, you have to know how to use them…and when. Find out all you need to know about what goes on under the covers (of your album), and be the master creator of your album selection.
Ask any craftsman; any master craftsman, and they'll tell you: it's not enough to have the tools, you have to know how to use them…and when.
So you have professional photo albums on offer in your studio, and you love us at nPhoto and want to offer our albums to your clients (much love, good choice), but you notice we offer four different paper options to use inside the album.
Four!
So what's the difference even?
What would make someone decide to go with Fuji Silk over Canon Deep Matte? Which paper would work best for your style, your type of photography? What's the low-down on each of these paper types? Really, what is 'Mohawk Eggshell' anyway?
We'll address exactly all this below as we discuss the paper options in our professional photo albums and how they can work to benefit your photography and business.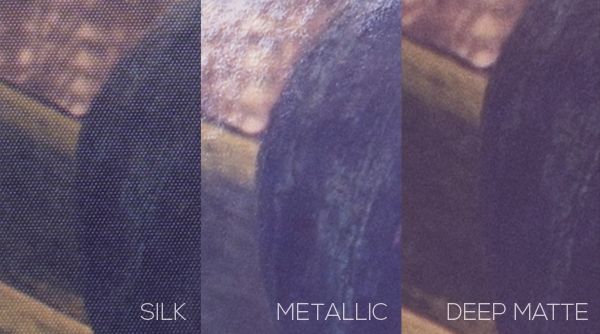 The three paper choices now available in our albums.
Which Paper Type for your Professional Photo Album?
Our albums offer the choice of four incredible paper options: Fuji Silk, Fuji Metallic, Mohawk Eggshell, and Canon DreamLabo Deep Matte.
Differentiating Our Photo Albums, Dreambooks, and Photo Book PROs
3 Ways to Get More Wedding Photography Clients
Why Sample Albums are a Must-Have in a Professional Photography Studio
What KFC Taught Us about Photography

The Silk option is our standard offer in all of our albums and is printed using Noritsu HD Silver Halide technology on Fujicolor Crystal Archive professional photo paper.
Interestingly, selecting this method and paper type means your work will be directly exposed onto the paper, and, therefore, absent of any ink being used in the process. However, this method assures impeccable quality and unrivaled longevity with each print.
Indeed, Noritsu's HD direct exposure technology together with Fujicolor's professional papers will leave your professional images looking stunning.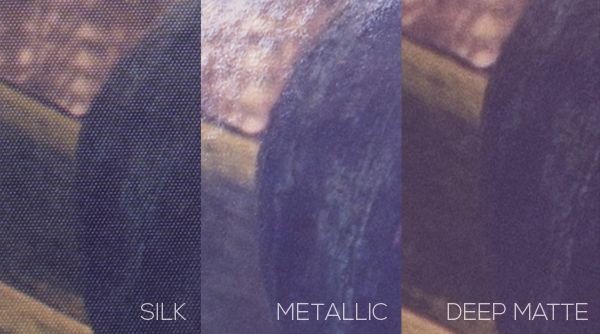 This album is presented in our standard Silk paper option. There's a reason Silk paper is our standard it has a tremendous finish, vivid detail, and leaves an elegant impression.
As for the paper itself, a silk finish offers a soft touch as well as a soft finish to the printed image.
In fact, a silk paper leaves a finish somewhere between a glossy and a matte.
In general, silk paper is created by binding silk fibers together; giving the paper its characteristic finish and feel.
As the name implies, silk paper is the ideal selection to give off that luxury ambiance. It's soft touch and woven texture leave an impression of incredible craftsmanship and elegance, making the paper type desired by many.
Moreover, despite a softer finish, silk paper retains vibrant colors and details and exudes an extremely crisp finish. In this way, it is often viewed as the best of both worlds, in being crisp like a glossy, but soft like a matte.
Such versatility and flexibility allows this paper choice to be appropriate for any photography type and artistic style.
All these benefits and traits explain why Silk is our standard paper option for our albums.
One other benefit of silk paper is it's uniqueness. It's not common to find albums offered with a paper of this characteristic and quality. Having the opportunity to offer your clients something is unique is certainly an advantage and something they will appreciate.
So, silk's relative rarity, matched with it's elegant ambiance and other benefits, makes it a highly desired paper among your clients and an excellent choice in your albums.
Metallic
Metallic paper is big a step-up from silk in the shine and glare department.
Yet, similar to our Fuji Silk, our Fuji Metallic is printed using Noritsu HD Silver Halide technology. The metallic spreads, then, are finished with Fujicolor's Crystal Archive Pearl Metallic paper.
In general, Metallic paper is characterized for its popping details and glossy finish. It's generally accepted that metallic (also read glossy) offers the widest color range, most vibrant color display, best resolution, and, therefore, yields the sharpest image result.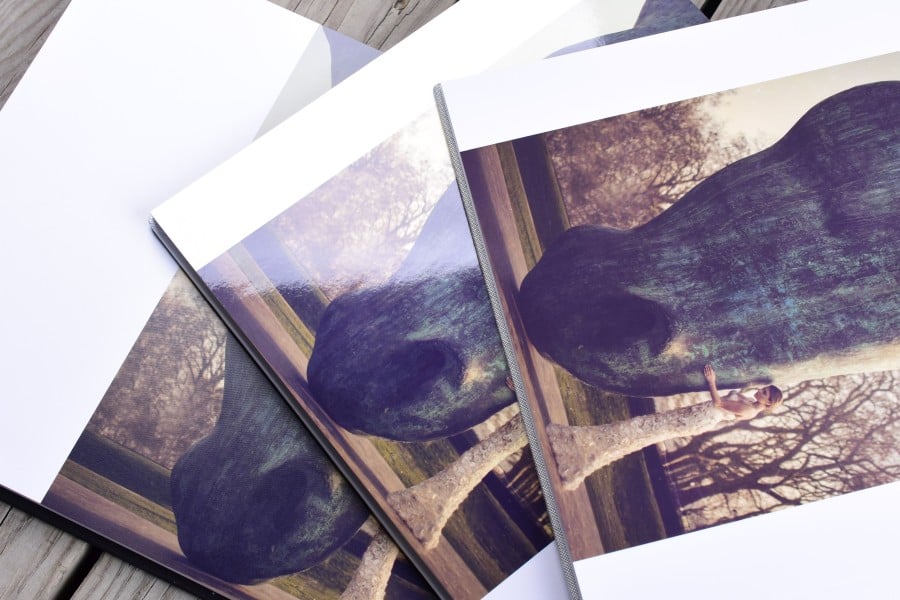 A three-way comparison of our papers. Notice the pop and glare in the middle from the sensational metallic paper and finish.
Fujicolor themselves even boast a, "High D-max," resulting in, "a wide tonal range, producing high image - quality prints with a rich textural quality. Moreover, a "Vibrant Color Reproduction," as well as the, "Highest level of image stability," makes the Digital Pearl Metallic paper, "ideal for display purposes."
In fact, in a forum, professional photographer and user, twmeyer, had this to say about the Fujicolor Digital Pearl paper and its results:
"[I] just had my first experiences with Pearl, never tried Endura. What I liked about Pearl was that the surface isn't like a glossy surface or like the super glossy polyester base of the old Cibachrome and Duraflex/Fujiflex/trans prints. Yet it is a very efficient reflector of the color and tonal range of the finished image. Hence, saturation and dynamic range are much more present and visible, even in a brightly lit gallery and displayed under glass….
"And that's another nice thing about that paper, it lets that image look 'gold' not 'yellow'.
"It has a very slightly diffused almost burnished surface quality that is really nice, and it has a much heavier paper base that other Crystal A[r]chive papers from Fuji...."

(to read the post in its original thread click here)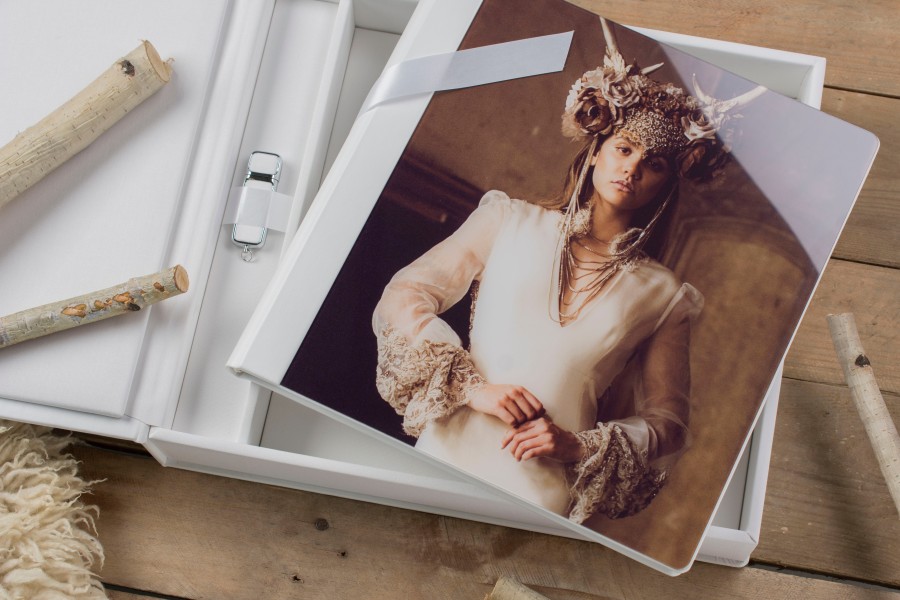 Our high-quality albums also feature in our best-selling Complete Album Set range. Complete with a full album, matching albums box, and your choice of USB (or not) this line is sure to please everyone. Pictured Acrylic Prestige collection.
Lastly, in the words of Fujicolor, what makes the Digital Pearl unique is a, "High gloss combined with [a] Pearl effect. The embedded pearl-like crystals gives a high gloss reflectance, especially in the highlights. Pearl effect is visible because of scattering and interference of light waves at the crystal."

The result, a high-gloss finish that exemplifies details and colors, but is subject to glare and fingerprints.
However, despite this, metallic finishes thrive displayed bare without any obstructions.
Deep Matte
The Deep Matte finish is the absolute antithesis to the metallic finish.
We have the privilege of offering a Deep Matte using the state-of-the-art Canon DreamLabo 5000 printer. This printer is one of the best available on the market and delivers stunning images in 2400 DPI; 4K quality.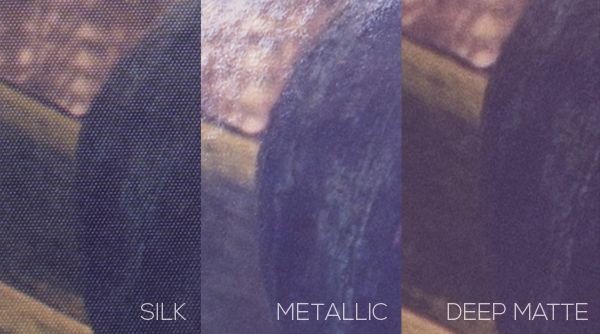 The Deep Matte, on the right, has the lowest light reflection of the three and the colors appear vividly, but softly and artistically.
As for the Deep Matte paper, the DreamLabo uses a specific paper designed especially for the printer. According to canon.com, the single-sided media features a smooth and glossless texture that accentuates the vivid shades, contrasting colors and high-quality image of the Dreamlabo 5000 printer's superb output.
In general a Deep Matte finish is the softest, most muted finish one can hope to achieve. But don't let that fool you. This Deep Matte paper provides stunningly true, pure shades and rich colors that maintain their integrity while appearing warmly and invitingly compared to glossier variants.
Another benefit of Deep Matte is that, in contrast with metallic papers, lighting and glare aren't issues as it's a non-reflective surface.
Moreover, Deep Matte papers are more forgiving when it comes to fingerprints.
From a general sense, matte and deep matte finishes are viewed as gentler than the more durable metallic and silk options.
Yet, due to its soft nature and toned-down finish; Deep Matte is ideal for the more soft, sensitive, intimate shoots. It's often the finish of choice for artistic photographers as the finish leaves a natural, gloss-less, vintage impression.
Mohawk Eggshell
The latest addition to the album papers party is our Mohawk Eggshell paper.
This paper features a soft, matte finish and is printed on the ultra-modern HP Indigo 12000 – using ElectroInk technology and a seven dye ink.
In fact, to get a bit technical, the HP Indigo 12000 and Mohawk Eggshell provide a greater uniformity and tonal continuity on the surface of prints as well as higher quality in dark elements; better projection and reach of true colors; and cleaner, clearer, more natural colors and tones.
The print system offers the widest digital color gamut available; achieving 97% of PANTONE colors.
All this culminates to spectacular image production – particularly with the printing of oranges, violets, and greens.
It's worth to point out, as well, the paper gets it's name 'Eggshell' in part to it's original color state being off-white and creamy. Note – that this paper is not pure white before printing, but instead a slight, subtle beige. This creates wonderful, soft, artistic matte finished images, but be aware of this fact.
Of course, now this incredible printing effect can be combined with our sturdy 800gsm spreads in our professional photo albums to offer your clients a true, bound heirloom that will surely last generations.
In conclusion, our Mohawk Eggshell is a matte finish, like our Canon Deep Matte paper discussed above, and offers the universal benefits of a matte finished – no glare issues as it absorbs light, forgiving for heavy viewing as the finish doesn't display fingerprints, and a soft, artistic finish and feel. Yet, very much unlike the Canon Deep Matte, the Eggshell has a lighter matte effect. Finally, a matte finish is the opposite of a punchy, metallic finish, and below that of a Silk option that is more in the middle of the 'shiny' spectrum.
Decisions, Decisions
In truth, you as the photographer can't go wrong with any of our four paper choices in our albums.
In fact, we even offer the unique ability for you to combine silk and metallic spreads in the same album! NOTE: this is on a spread-by-spread basis. Also, this option is not available for the Mohawk Eggshell or Deep Matte paper.
Alas, as good as words can be, it's best to sample the finishes and see for yourself the output they create to best be able to decide when and where the time is for you to utilize each.
For that, have a look at our Demo Paper Bundle designed for the exact purpose of giving you a hands-on comparison of all our available papers.
Also, be sure to grab a few print product samples as even the best demo papers can't replicate how print looks in displayed in the actual product.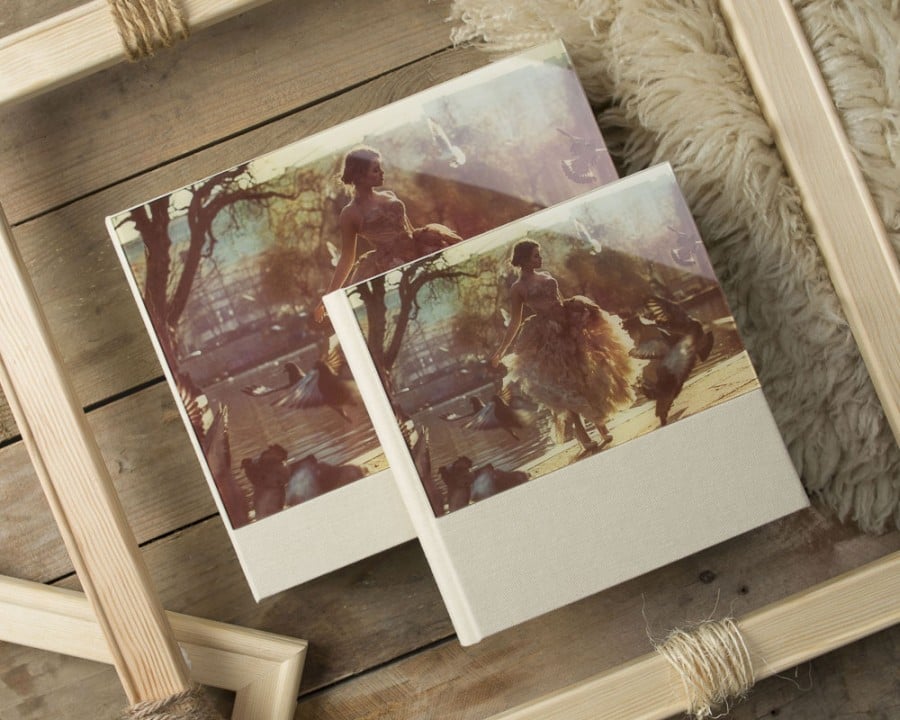 No matter what paper choice you choose, with nPhoto and our photo albums you are sure to get vivid prints with details that are impressive and begging to be displayed.
Remember, Deep Matte and Mohawk Eggshell paper will have the softest finish and leave the colors true and natural, yet muted and soft. It is often the paper of choice for art and fine-art photographers.
By contrast, Metallic paper will give you the most pop. It is known for its sharpness and vivid color display. It's a durable paper, but is susceptible to fingerprints and glare.
Meanwhile, Silk, the standard paper choice in our albums, is a good middle-ground in terms of effects – between the glossy metallic and "dull"; natural matte and Deep Matte - as the Silk option has a little sheen of its own while retaining an incredible sharpness of detail. A soft, yet durable, textile-like paper our Silk perfectly represents our brand of high-quality and versatility.
Now, you know all about the papers that can occupy the space beneath the covers; and, have gone a long way in truly becoming a print product mastercrafts-person.
Yet, to truly get there, experience them yourself, in-person, in-hand; dissect, differentiate, and then decide appropriately like you would any lens.
For that, be sure to check out our tangible Paper Bundles available in our webstore.
Then, for more about our paper options across our product range, see here:
Be sure to also check out the comparison of papers in our ultra-high quality photo book, our DreamBook 4K found here, in the paper options in our Dreambook 4K and Photobook PRO.
Sign up for blog notifications
& Always be up to date on new posts