Stay cool this summer with our summer sale on Sample Photo Book Pros and Complete Photo Book Pros.
Use the code: SUMMERSALE60 to receieve 60% OFF your Sample order of a Photo Book Pro OR a Complete Photo Book Pro.
But, why choose a Photo Book?
Is a Photo Book Even Worth it?
Don't be that professional photographers who turns their nose up at photo books; especially since they are actually incredibly practical and cost-effective photo products. Feeling above photo books will only result in you missing out on the (actual) most valuable professional photo product you can offer: photo books.
- that's right we said it, and, no, it's not Photo Albums.
Why? Because Photo Books can run the gamut from being quality guest signing books, to a more economical, yet equally impressive, stand-in for photo albums.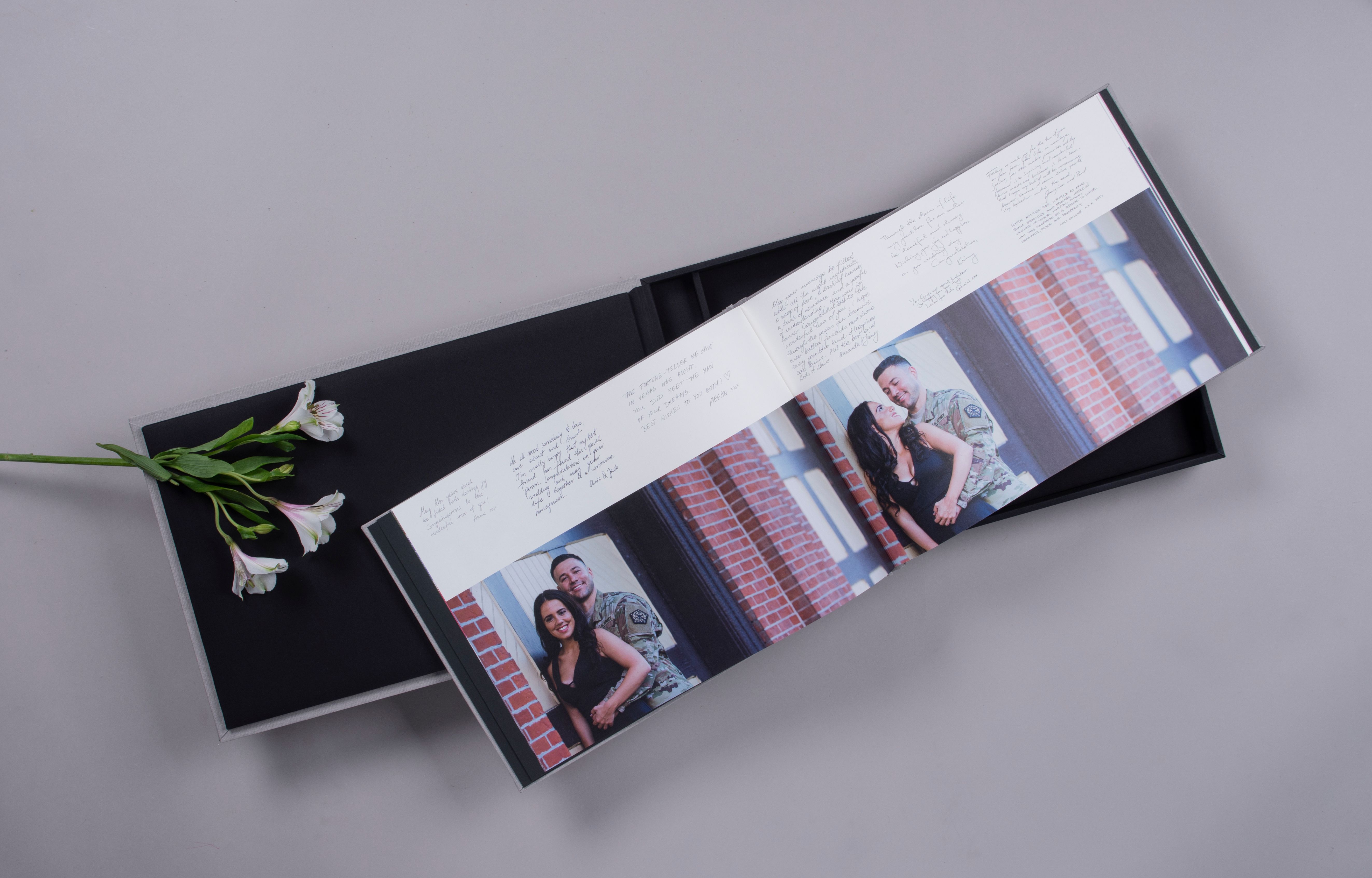 Let that sink in for a minute; photo books are the professional photographer's Swiss Army photo product – or, jack-of-all-trades, if you will. Perhaps, that's a better comparison as, sure, they may not perfectly match up to the experience of a full-blown, luxury album, but, man, are photo books good, and good for many things.
For example, engagement sessions (if done separately from the wedding work), portrait shoots, model calls, portfolios, birthday events, family functions, school/work events, anniversaries, glamour books etc, et al. All these special, but somewhat miscellaneous, occasions that you come across that require something significant but maybe not the all-out decadence of a photo album are the perfect time to employ a photo book.
Heck, with couples these days looking anywhere and everywhere to trim costs on their wedding, it may even serve as the main wedding photo product – it certainly beats the digital package.
How do I Get the Most Out of a Photo Book?
That's the way to use photo books most effectively in your studio. From the professional photographer's perspective, they're a strategic photo product to help cover a different tier of your photo product purchasing structure; that safety net to ensure that client who balks at an album's price doesn't walk away empty handed. They also work as irresistible upsell options ala high quality gifts for family or friends.
Moreover, you can advertise them as a stand-alone product, or, for those stubborn-about-digital clients you can offer up one of our Complete Photo Book Pro sets. Our Complete Sets are a combination of a Photo Book Pro, USB (optional), and matching box.
The uses for Photo Books are, sincerely, limited only to the imagination, and with their price tag lower than that for an album the potential they contain is unparalleled.
Are Photo Books Even Good Quality?
Absolutely.
Especially when bought from the right place: a trust-worthy, high-quality manufacturer.
After all, the key factor to all this photo-books-can-change-your-life talk is the quality of the photo book itself. A photo book can make for a great alternative to an album – if it's a high-quality photo book. That sell isn't going to fly if you go from offering our Acrylic Prestige to a photo book from Wal-Mart (no offence Wal-Mart).
But we understand this and this is exactly why we have our promo on our Photo Book Pros (or, their Complete Set). Our Photo Book Pro is that photo book that can stand in anywhere and never raise a question. For more information about the specifications of your Photo Book Pro you can read about it here.
And, just for good measure, this promo is valid for any of the three collections we offer for our stand-alone Photo Book Pros and either of the collections we offer for our Complete Photo Book Pro; so you can be sure to match the product to the occasion every time.
What are my Photo Book Options?
Our stand-alone Photo Book Pro is offered in three collections: Acrylic Prestige, Creative 100%, and Exclusive.
In the event you are new to us, our Acrylic Prestige Collection is where 'dazzling' and 'prestige' go hand-and-hand as a stunning, acrylic-plated cover protects your astonishing cover photo and accentuates a superb square-format, luxury photo album.
The Creative 100% Collection puts you in complete control of your photo book design as you can add any of your own photos to use as the cover.
The Exclusive Collection then affords you access to the most extensive range of design options available. Also, don't miss our horizontal orientation 16.5in x 12 in, now available in Photo Book Pro Exclusive.
The Complete Photo Book Pro product line allows you to design with either our Acrylic Prestige Collection, or Exclusive Collection. Also, remember, if you want a stylish matching box, and/or a digital USB component to go with our Photo Book Pro - then go with a Complete Photo Book Pro set.
Yet, no matter which collection or specific Photo Book Pro product you ultimately decide upon, you'll always have the choice among four paper options: Mohawk Eggshell Matte (148gsm), Arctic Matte (170gsm), Felix Schoeller Lustre (190gsm), and Mohawk Matte (216gsm). If you're interested to learn more about these paper types and the differences between them see paper options in our Photo Book Pros.
How can I Design a Photo Book Pro in Minutes?
Best yet, designing our Photo Book Pro is a breeze. You are able to finish designing your Photo Book Pro using one of three intuitive options:
1) Our Online Designer – designed by us; specifically for our products you can be sure you projects will always fit perfectly and look stunning.
2) Templates – in the 'Downloads' section of our website you can find downloadable size guidelines and templates for all of our products and sizes, so again, you can be sure things will fit just right.
Then upload the ready-sized and designed spreads using the 'Uploader' option in the cart.
3) Partner Software – design your nPhoto products in one of our partner software programs that you're likely already familiar with. Find our templates by searching 'nPhoto' and the name of your product. Then simply upload the project for a seamless transition and flawless result.
Upload using the 'Uploader'; sliding the slider appropriately while viewing your shopping cart.
We are partnered with AlbumStomp, DgFlick, Fundy, and Smart Albums.
A 60% OFF Discount for Your Photo Book Pro or Complete Photo Book Pro
Apply the code: SUMMERSALE60 in your shopping cart with your choice of one Photo Book Pro Sample, or Complete Photo Book Pro Sample for 60% off.
This code is valid through November 30, 2019. Stay cool with our trendy, high-quality Photo Books and Complete Photo Books.
Sign up for blog notifications
& Always be up to date on new posts